Mexico See & Do
Safety First
Safety is always a concern in Mexico. Much of the violence is concentrated along the northern border with the US and is due to the drug trade. Tourists in Mexico are generally treated well and many cities will have specific tourist police to look out for visitors.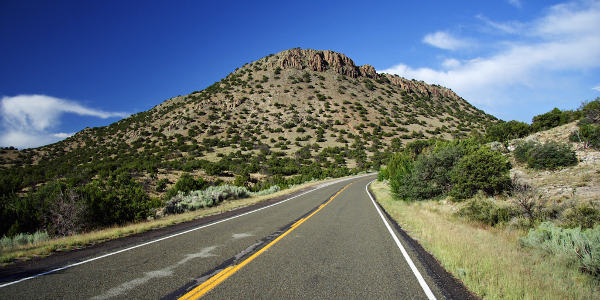 While it is generally safe to drive your rental car in Mexico, do keep in mind the following for safety;
All roads are not created equal in Mexico. Toll roads are nicely paved, generally move quickly and are the safest roads to drive. Secondary roads are often quite safe, and will take you through many smaller towns and other areas of interest. Try to stick to these.
Travel during the daytime only. Stay at official campgrounds, hotels or hostels. Roadside camping is not safe
Expect delays from both construction and checkpoints crossing state lines. These are often run by the military, so don't be alarmed by the heavily armed guards - it's just typical life in Mexico.
If you get pulled over, be respectful. Whether it's the police or the Zapatistas in the southern highlands, it's best to pay the 'fine' and continue on your way.
The "Real" Mexico Tour
Central and southern Mexico is generally what people think of when they think of the country. This rental car tour includes some of the largest Mexican cities, each with a different feel, and will take you from mountains to sunny beaches.
Start in Mexico City, where the large airport means it's easy to fly into and find a rental car. Get the best prices for car rentals by reserving through www.airportcarhire.com, and pick up your rental car right from the Mexico City airport. Be sure to check the "hoy no circulo" laws that restrict driving in the city on certain days by licence plate number.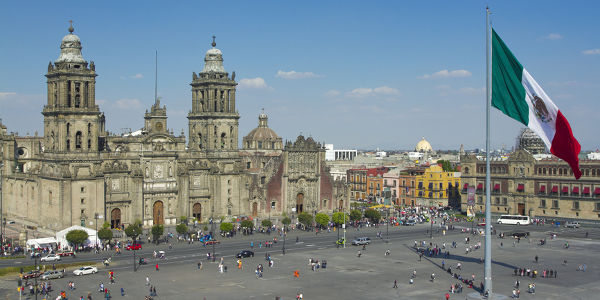 Mexico City has more museums than any other city, so there will be at least one that catches your interest. Be sure to visit Chapultapec Park, the floating gardens and the Presidential Palace. There is always something going on in the Zocalo followed by a walk down Madero street, which is closed to traffic, to see the shops and street performers. When you get to the end, go to the top of the Latino Americano building for a drink or meal and see Mexico City from 44 stories up.
A day trip to Teotihuacan is essential. Climb the pyramids of the Sun and Moon while exploring the vast archeological site. It's just a short drive from Mexico city in your rental car and there is plenty of parking.
Next, head south east to Puebla City. Take in Los Fuertes, the remnants of two military forts. Watch one of the two professional football teams play a game for a true Latin American experience. Hop in your rental car and take a day trip to Cuexcomate, the world's smallest (extinct) volcano or hike in La Malintzi National Park.
Follow highway 190 south east to get to Oaxaca City, which is famous for it's black pottery. If you see one of the pottery factories along the road, stop and ask for a tour. Oaxaca is also known for it's food, so enjoy seven types of mole sauce, quesillo (Oaxacan cheese), hot chocolate and mezcal. For the brave there are chapulines - cooked and seasoned grasshoppers.
End your trip with a trip to the Pacific coast, in a beach town like Puerto Escondido or Mazunte. Puerto Escondido is world renowned for its surf beach and also has great places to swim. Help release baby sea turtles into the ocean or visit the 'glowing lagoon' to get back to nature. Mazunte, about an hour away in your rental car, is known for its turtles. You can also find lots of yoga, relaxation and a fantastic beach.
Ancient Ruins Tour
Aside from beaches, Mexico is known for its archeological sites. While they are located all over the country, the Yucatan area has the highest concentration. Start this tour by flying into Cancun. Make sure to rent a car in Cancun Airport with www.airportcarhire.com to get the best prices for car rentals.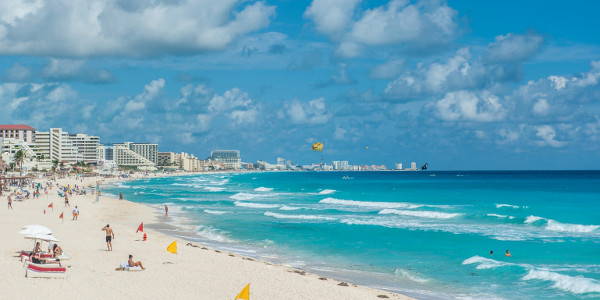 Start by driving south along the coast, in the area known as the Mayan Riviera. Stop off at Paamul along the way if you want to try out some scuba diving. X-caret, in Playa del Carmen, is an ecological amusement park where you can relax for the day, swim in the cenote and learn some history.
Drive your Mexican car rental a little further south to Tulum, where you can find the majestic ruins of an ancient Mayan city. Following the 180 inland, you will come across Coba. This area has the highest pyramid in the region and it's one of the few that you can actually climb.
Continue along the 180, all the way across the peninsula to Merida, the capital of Yucatan state. Enjoy the city by visiting the many museums, churches and other cultural centres. Be sure to try the food, which is more heavily influenced by indigenous flavours than typical Mexican fare. Pork features prominently in many dishes and is often flavoured by achiote, a spice derived from the annatto seed.
Uxmal is considered to be one of the best examples of Mayan ruins, it is a medium sized site which has less tourist focus than many in Mexico. It is a few hours south of Merida and a great day trip.
Saving the biggest for last, Chichen Itza is found on the way back to Cancun. You may have to deal with large groups of tourists, since it is one of the New Seven Wonders of the World. It is the perfect way to finish your ancient ruins Mexican car rental tour before heading back to the beach resorts of Cancun.