Car Hire Free Additional Driver
Last Updated: 14th Jan, 2022
Get a free additional driver from participating rental car companies when you book your car rental with Airport Car Hire Network.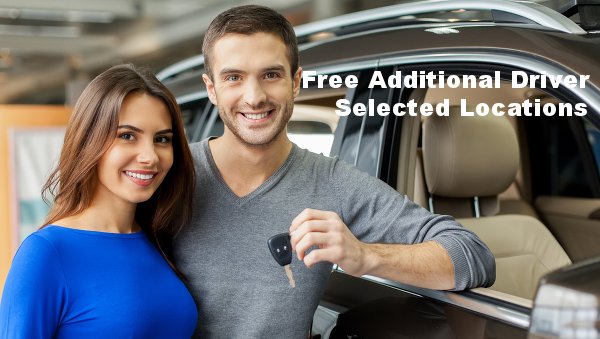 Many car hire companies in Italy, Spain, Greece, Portugal, Croatia, and the USA will offer you the option of a free additional driver, this will save you up to €10 per day on your car rental.
To qualify the second driver must accompany the lead driver when picking up the car, both drivers must be over the minimum age requirement, and hold a valid driving licence for at least 12 months.

Select Free Additional Driver

To add the additional driver, just book your hire car as normal. A list of the available cars will display. On the left hand side panel you will see Filter By, and Special Offers tick the box that says Free additional driver. The list will then show only the cars with the offer you selected.
Filter the Results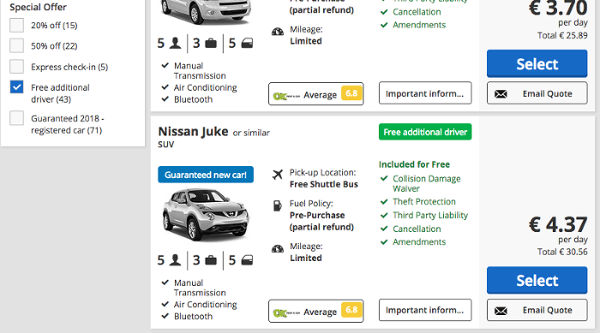 Alternatively from the full unfiltered list choose the car where it states Free additional driver with this car you will get one additional driver free of charge. Complete the booking and when you are picking up the car you simply add the 2nd drivers details at the rental desk.

FAQ Car hire with free additional drivers
Can a second person drive a rental car?
Yes, this is referred to as an additional driver, or second driver option by the car rental companies. We have special offers at selected locations whereby you can add a second driver free on car hire.
Does the additional driver need to be present when collecting the hire car?
Yes all additional drivers must be present when picking up the car. They will also need to have a valid driving licence and their passport with them when the car is being collected.
Can I add the additional driver at a later date?
In most cases yes but this will need to be arranged with the car hire company first. For instance if you are picking up the car inside the security zone at the airport, you will not be able to return. So ask at the desk if they have an office outside of the secure area that you can call to.
Can the additional driver return the hire car?
Yes additional drivers can return the car unaccompanied.
How many additional drivers may we have?
With the free addition driver option, you are only allowed one, but more can be added for an additional fee payable at the desk when you collect the car.
What does free additional driver mean?
It means another person can drive the car you hired. The named driver will have the same level of cover as the main driver They will be fully insured and can either drive the car with or without the main driver present as long as they have a full licence.