Malaga Airport Car Hire
Last Updated: 7th Jan, 2023
Looking to Rent a Car Malaga Airport? We compare car hire prices at Malaga Airport and at Malaga City centre for you in order to get you the best car hire prices in Malaga. Fully inclusive car hire with no hidden extras. All car will be the latest models with low mileage from the the best rent a car companies at Malaga Airport, including Hertz, Avis, Alamo, Budget Dollar, National Car Rental, Sixt, Thrifty Europcar Crown, Helle Hollis and Goldcar. One way rental Malaga to Gibraltar . If you prefer you can pick up your hire car in all major towns along the Costa Del Sol, such as Torremolinos, Benalmadena, Fuengirola, Mijas Marbella Granada Estapona Nerja.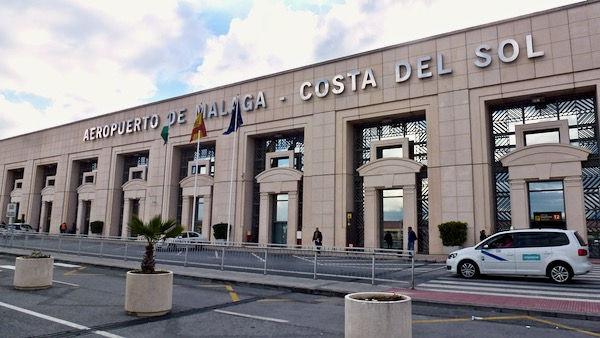 The car hire desks are located in the arrivals hall in the secure area. Look out for the sign above before you exit the secure area. Go down the ramp to the desks and to collect your hire car.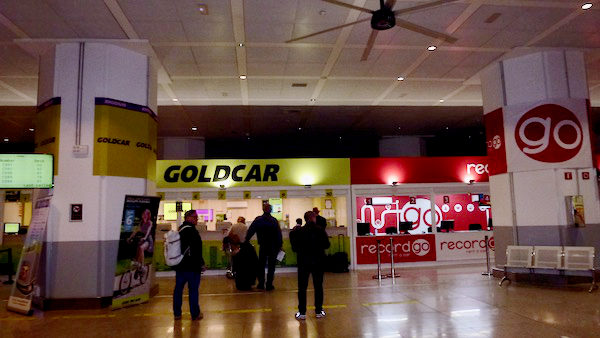 Malaga is a beautiful, traditional city, built around a winding hilltop palace and surrounded by incredible mountains and tranquil countryside. Home to Malaguena, a local form of music and song with Fandango roots, the city is rich in culture, history and tradition as well being a bustling centre for modern art and night life. Head to Malaga to experience for yourself the traditional 'Verdial' culture and welcome.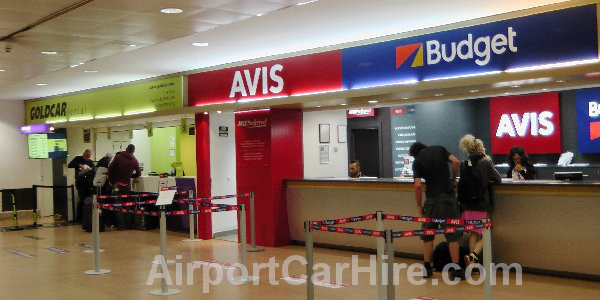 Which car hire companies are in Malaga airport terminal?
Once you process your documentation at the car hire desk, pick up your keys and proceed to the elevators to pick up your rental car.
The car hire parking is on 4 floors see diagram below.
1 Floor: Hertz, Firefly
0 Floor: Europcar, Goldcar, Interent
-1 Floor: Avis, Budget, Sixt, RecordGo,
-2 Floor: Ok Rent a Car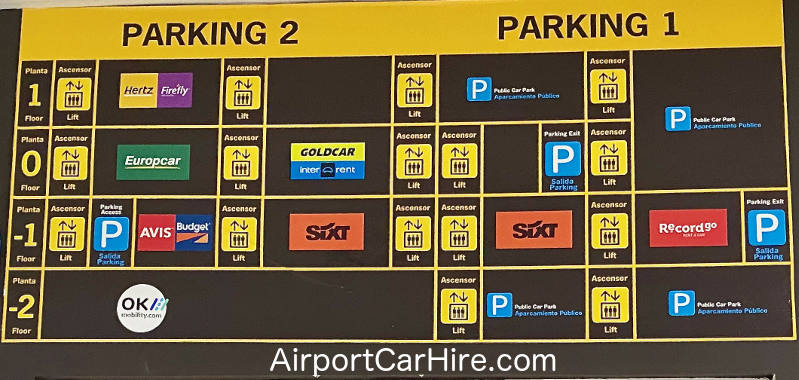 The remaining car hire desk are off airport and you will need to get the shuttle bus to their offices.
Malaga Car Rental FAQ
Which is the best car hire company at Malaga Airport AGP in Spain?
Based on feedback from our customers who hired a car at at Malaga Airport, Alamo have the best customer satisfaction rating with a score of 8.7 out of a maximum of 10 points.
Do I need a credit card to rent a car in Malaga Airport Spain?
No, you do not need a credit card to rent a car in Malaga Airport Spain. We have an arrangement with leading car rental suppliers at Malaga Airport who will accept a debit card for payment.
Can I rent a car without paying a deposit in Malaga Airport Spain?
Yes you get rent a car without paying a deposit or by paying a very low deposit. When you book car hire with us you choose how much deposit you wish to pay. You can choose from Zero to €500 or €501 to €1000. First get a quote and on the left hand side of the results page simply select the amount of deposit you wish to pay. We will then send you a quote based on the amount you choose
Can I rent a car at Malaga Airport with a debit card?
Yes you can hire a car at Malaga Airport with a debit card issued by a bank. Conditions of debit card use: card must be in main driver's name. MasterCard or VISA only. Debit cards must be issued by a bank, and numbers must be embossed. Please note, the deposit amount will be charged if using a debit card and associated transactions fees may apply. Maximum rental duration 28 days if using a debit card. Prepaid and electronic cards (Visa Electron) are not accepted. Be sure to check the filter for Both Credit and Debit Cards on the left side under the heading Cards Accepted At Pick-Up. This will display the car hire companies that will accept Debit Cards. Please feel free to contact us TEL +353 (0)16852606 and we will be glad to assist you.
Can I rent a car at Malaga Airport Spain if I am over 70?
Yes, you can hire a car in Malaga from selected car rental companies up to 99 years of age with no extra charges. Contact us we will be glad to assist you by comparing the leading car hire companies to get you the best deal.
Can I rent a car at Malaga Airport if I am under 25?
You can hire a car at Malaga Airport at 18 years of age, with additional fees. 8 to 22 years. Charge 19.49 EUR per day. Young driver's age: 19 to 24 years. Charge 7 EUR per day. Minimum 21 EUR Maximum 98 EUR.Please contact and we will be glad to explain how to get the best deal for your age group.
Can I take a rental car from Malaga to visit a different Country?
Yes some car hire companies will allow you to take a rental car cross border to, Andorra, Austria, Belgium, Denmark, Finland, France, Germany, Gibraltar, Great Britain, Ireland, Italy, Liechtenstein, Luxembourg, Monaco, Netherlands, Norway, Portugal, San Marino, Sweden, Switzerland but you will need to get permission first. There will be additional fees to cross an International border.
Can I take a rental car from Malaga and drop it off in a different city?
Yes some car hire companies will allow one way rentals, however you will need to get permission first. There will be an additional one way rental fee if you leave the car in a different location to the pick location
How long do I need to hold a licence in order to rent a car at Malaga Airport?
A full licence held for minimum of 1 year with no major endorsements. UK licence holders need to present the photo card
Which documents do I need to hire a car at Malaga Airport?
The principle driver will need to have the following documents in his or her name. A full licence, a credit card, the voucher we will send you when you complete your booking, and a passport.
What is the fuel policy for a hire car at Malaga Airport?
The vast majority of cars have a full to full fuel policy, which means your vehicle will be supplied with a full tank of fuel. To avoid incurring fuel charges, you will need to return it with the same amount of fuel as it had when you collected it.
Please note you will need to check the t&c's under important information for the car you choose, as terms may vary according to the size of the car.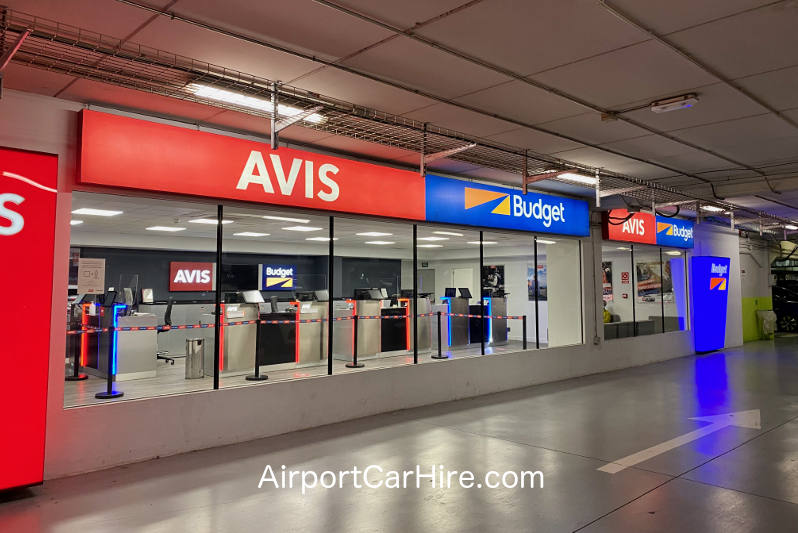 Which is the best car hire company at Malaga Airport?
This rating is taken from feedback we received from our customers that booked car hire at Malaga Airport. Based on overall value for money, cleanliness of the car, service at the rental desk, car hire pick-up process, car hire drop-off process. Alamo have the best customer satisfaction rating with a score of 8.7 out of a maximum of 10 points
Malaga Car Rental Locations
Car Hire Malaga Airport
Airport Pablo Ruiz Picasso Airport, Avd Garcia Morato S / N, AGP Malaga Malaga
Car Hire Malaga City

Malaga - Antequera PAPABELLOTAS 19-21, CITROEN DEALER, MALAGA, MALAGA 29200
Malaga - Avda Garcia Morato 66 Barracks Bldg Cantabria
Benalmadena Costa TRITON HOTEL,
Malaga - Club La Costa Marina del Sol Resort complex 3 Mijaz Costa, Malaga, 29650 Mijaz Costa,
Malaga - Urb Mijas Calahonda, Calahonda, C / Romeral, Calahonda Mijas, Malaga Malaga 54B
Malaga - Ortega Y Gasset MALAGA CITROEN DEALER SAMA. ., Ave. Ortega y Gasset. CARTAMA KM 4, Malaga, 29006
Malaga - Train Station RENFE Railway Station, Concourse De La Estacion S / N, Malaga
Car Hire for 18 to 25 in Malaga
Young drivers between the ages of 18 to 25 years old may rent a car in Malaga but a supplement will apply. The amount will depend on the car rental supplier you choose. Flizzr are the only company that will rent a car to 18 year olds but they charge €14.99 per day. Maximum €199 Includes 21% tax. Over 21 then it is a little cheaper with Centuaro for drivers 21 to 24 years they charge €5 per day. Minimum €15 Maximum €70 in addition to the daily car rental rate. Includes 21% tax.
This fee will be included in the rental price.
Car Hire For over 70's in Malaga
Drivers between the ages of 65 to 99 may rent a car in Malaga without incurring any additional supplement fees. All the rates quoted are fully inclusive and have no hidden fees. This is the drive away price.
Some companies do charge a supplement but most will not
Drivers over 100 years of age are unfortunately unable to rent a car.
Driving licence requirements in Malaga
A full licence held for minimum of 1 years with no major endorsements. UK licence holders need to present the photo card.
Malaga Airport Information
Airport Name: Málaga Airport, Pablo Ruiz Picasso Aeropuerto
Airport Code: AGP
ICAO: LEMG
Address: Málaga Airport, Avenida García Morato, s/n 29004, Málaga,
City: Malaga
Country: Spain
Telephone: 34 913 21 10 00
Time Zone: GMT+1
Coordinates: 36°40′30″N 004°29′57″W
Driving Directions to Malaga Airport Location Situated 8 Km west of Malaga City on the Costa Del Sol Spain. Just off the A7 coast road that links to the AP7 Autopista del Sol motorway for Torremolinos, Benalmadena, Fuengirola and Marbella and Estopnea Gibraltar to the west and Malaga, Nerja, Granada the East
Car Parking: Long and Short Term Parking Facilities Multi storey Car Park for long and short term available
Taxi service: Taxi service is available form out side the airport
Train service: Train service operates between Malaga city and Fuengirola in the West ever 20 minutes until midnight. The train station is underneath the airport terminal
Bus service: Limited bus service operates form the airport
Car Hire: he car rental companies desks are located within the airport terminal Some are located across the road from the airport a free shuttle bus is provided if you choose not to make the 5 minute walk
Information Desk: Information Desk is located on the ground floor in both the arrivals and departure area before security
Facilities: Airport Facilities:
Restaurants and Shops
Bag wrapping service
Bureau de Change
VIP Lounge
Disabled Facilities Facilities available at Malaga for people with limited mobility.
Airlines
Malaga See & Do
Andalucia has a wild and vibrant heritage, culminating in a charming style all of its own. A vast area covering almost 90,000km2, it's a lively mixture of tourist trails, exciting cities, gorgeous secluded whitewashed villages, sandy coves and mountainous backdrops all ready for exploring. Highlights include the freshwater lakes in el Chorro, breathtaking views over the Rhonda gorge, 'burros' donkey taxis in Mijas, prehistoric caves in Nerja and long sandy beaches dotting the coast from Cadiz to Nerja. The tapas can be incredible (try the little town of San Roque) and you'll find some of the best Argentinean steakhouses around. You can also cross the border to visit the imposing Rock of Gibraltar and pick up some dirt-cheap tax-free shopping.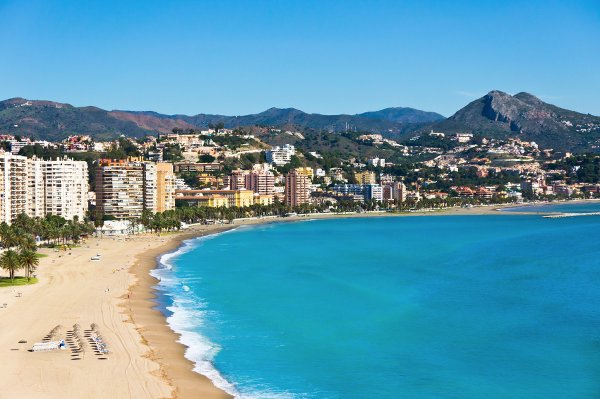 Must see attractions in Malaga
The first stop for any visitor to Malaga has to be the incredible Alcazaba that dominates the city's skyline. Perched on top of the hill, this 11th century palace and fortress is a beautiful, unique structure. Make sure you tour the castle and its information centre after walking the old pathways.
Visit the imposing 16th century Malaga cathedral, erected on the spot where the city's main mosque had stood during eight centuries of Muslim rule. See the sculptures and its impressive old organs; with over 400 pipes they're still in full working order. Make sure you also visit the cathedral museum for a deeper insight into the building's past and significance.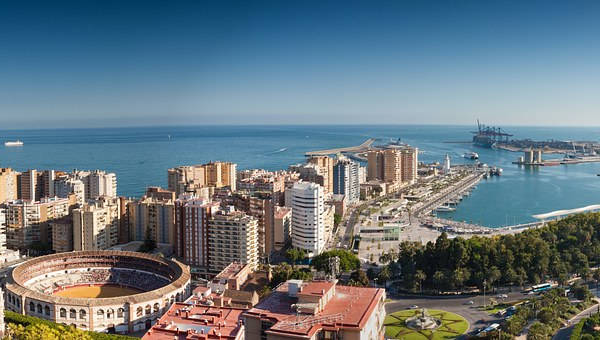 With over twenty museums, culture seekers won't be disappointed. Historians will love the Malaga Museum and the Municipal museum for their excellent collections. The Museo del Vino is also worth a peek and for art lovers, the Picasso Museum displays a vast array of original works by Pablo Picasso. Alternatively, try the Contemporary Art Centre, the Museo de Arte Flamenco or the Picasso birthplace museum.
Wander the beautiful streets and squares of the old town for a feel of everyday Andalucian life, stopping for sherry and tapas in some of the small taverns. For a relaxing stroll, make your way to the Pedro Luís Alonso Gardens. A gorgeous, city-centre haven, take time to relax under the shade of orange trees or cypress hedges and cool off near the water features. The Plaza de la Constitucion holds a beautiful fountain and the Episcopal Palace, fish market and various boutiques are also worth seeing. At night, search out some flamenco or Malaguena, and test out the local wines and cuisine in an open-air restaurant.
Recommended scenic drives from Malaga
Go to Malaga airport to collect your hire car and then head out for a change of scenery. Try the Parque Natural Montes de Malaga for hiking and horseriding in a beautiful setting. Head to Nerja to visit the impressive ancient caves before heading to the beach to relax and soak up some sun. To the East of Malaga Torrox is a lovely little mountainside village that is the perfect choice for some traditional Spanish hospitality, food and tranquillity.
El Chorro is another peaceful haven, complete with mountain bike trails, fresh water lakes and an impressive gorge – there's even a hair-raising wooden walkway along the gorge edge that you can take with a guide. But be warned; it's only for the very brave.
Visit Antequera for a walk up the famous La Pena hill, a hike around the el Torcal nature reserve, and an evening barbecue at the wolf park where you can learn more about these fascinating creatures in their natural habitat. Head also to Gibraltar for the day to see the barbary apes on the Rock of Gibraltar and purchase some duty-free alcohol and perfumes.
Hotels Near Malaga Airport

The Petit Palace Plaza
The Petit Palace Plaza is a 4 star hotel located in Málaga city centre and it offers the perfect accommodation alternative for those willing to explore this beautiful city in Andalusia, Spain. Only steps away from Larios main street in the historic centre, the hotel is easy to reach from the international airport and well-connected by public transport. Just a short-walk away from Málaga's renaissance-style cathedral, one of Andalusia's most important monuments, the Petit Palace Plaza Hotel is ideal for those travelling on business or people looking to enjoy the city's charm. Málaga's port is also close to the accommodation as well as the world-famous Museo Picasso museum.
Hotel Malaga Centro
Hotel Malaga Centro This is a newly constructed establishment located 300m. from the historical centre of Málaga and 500m. from the seaside promenade. It has an excellent and renowned restaurant, the Guernica, which offers an exquisite and finely balanced cuisine. Fully equipped with all the facilities and services you may need for your business trips, celebrations and other occasions, such as banquets and conventions. Comfort and ease will make you feel at home. The Hotel counts with 147 rooms (junior suites and double) equipped with all kinds of accessories.
Hotel Molina Lario
Hotel Molina Lario Located in front of the Cathedral of Málaga, in the commercial and cultural centre of the city, just a few metres away from the Port and the Picasso Museum.Newly built hotel, inaugurated in August 2006, consisting of three buildings, two of which have been completely refurbished, keeping the original 19th. Century façade, and the third absolutely new, together comprising a unique hotel set in the heart of the city.
Princesa Playa, Marbella
P is located on the south coast of Spain, this elegant aparthotel is ideally situated on Marbella's main seafront promenade within walking distance of the centric old town and at only 10 minutes drive from Puerto Banús. With its 100 rooms (64 studios and 36 apartments), this exclusive beach front aparthotel offers a heated swimming pool, restaurant and terrace bar with breathtaking views over the Mediterranean Sea and the mountains, providing an excellent place to sunbathe and enjoy a marvellous holiday.
The Hotel Los Monteros, Marbella,
quality tourism pioneer since more than 40 years, is one of the most traditional hotels in the Costa del Sol. The refinement dominating its rooms, the professionalism of its staff and the taste for the exquisite, recognize the Hotel Los Monteros as one of the well known properties in the national and international tourism industry.
The Vincci Selección Estrella del Mar
is a Luxury 5-Star establishment belonging to the Vincci Hoteles chain. The Vincci Selección Estrella del Mar is in Marbella, 8 km from the centre of town and 43 km from Malaga airport. The hotel is set in an exceptional location in the heart of the Costa del Sol, in the area known as "Elviria–Las Chapas", regarded as one of the town's most desirable spots and near what is surely the best beach on this part of the coast.