Car Hire Germany
Last Updated: 30th June, 2023
Airport Car Hire Network Germany we will compare car hire prices from Hertz, Avis, Alamo, Budget Dollar, National Sixt, Thrifty Europcar at all major airports in Germany plus City Car Hire Germany Great deal available from Avis Autovermietung, Hertz Autovermietung, Sixt Autovermietung, Budget Autovermietung , Autovermietung Europcar, Enterprise Autovermietung.
Germany Car Rental FAQ
What is the best car hire company in Germany?
Based on feedback from our customers who hired a car in Germany, Enterprise Rent A Car Car Hire have the best customer satisfaction rating with a score of 8.3 out of a maximum of 10 points.
Can I rent a car in Germany with a debit card?
Yes you can book car hire with a debit card in Germany , no credit card required. Conditions of debit card use: card must be in main driver's name. MasterCard or VISA only. Debit cards must be issued by a bank, and numbers must be embossed. Please note, the deposit amount will be charged if using a debit card and associated transactions fees may apply. Maximum rental duration 28 days if using a debit card. Prepaid and electronic cards (Visa Electron) are not accepted. Be sure to check the filter for Both Credit and Debit Cards on the left side under the heading Cards Accepted At Pick-Up.
Can I rent a car in Germany if I am over 70?
Yes, you can hire a car in Germany from some car rental companies up to 99 years of age with no extra charges or fees. Contact us we will be glad to assist you by comparing the leading car hire companies to get you the best deals for drivers over 70 in Germany.
Can I rent a car in Germany if I am under 25?
You can hire a car in Germany at 18 years of age, with additional fees. You can hire a car in Germany at 19 years of age, with additional fees. Young driver's age: 21 to 24 years. Charge 8.4 EUR per day. (Excludes tax). Young driver's age: 18 to 22 years. Charge 29.23 EUR per day. Maximum 175.35 EUR. Includes 19% tax. Please contact us and we will be glad to explain how to get the best deal for your age group in Germany.
Can I take a rental car from Germany to visit a different Country?
Yes some car hire companies will allow you to take a rental car cross border, but you will need to get permission first. Andorra, Austria, Belgium, Denmark, Finland, France, Germany, Gibraltar, Great Britain, Ireland, Italy, Liechtenstein, Luxembourg, Monaco, Netherlands, Norway, Portugal, San Marino, Sweden, Switzerland, Spain and Vatican. Croatia, Czech Republic, Estonia, Hungary, Latvia, Lithuania, Poland, Slovakia and Slovenia. There may be additional fees to cross an International border.
Can I pick up a rental car in Berlin and drop it off in a different city?
Yes some car hire companies will allow one way rentals, however you will need to let them know before hand. There may be an additional one way rental fee if you leave the car in a different location to the pick location.
How long do I need to hold a licence in order to rent a car in Germany?
A full licence held for minimum of 1 year with no major endorsements. UK licence holders need to present the photo card.
Which documents do I need to hire a car in Germany?
The principle driver will need to have the following documents in his or her name. A full licence, a credit card, the voucher we will send you when you complete your booking, and a passport. A printed version of your voucher must be produced upon arrival at the rental desk. Failure to present the voucher means the car rental agent may charge you at the local rates. If your form of identification does not include or match your current address, then a separate printed proof of address will be required.
What is the fuel policy for a hire car in Germany?
This will depend on the car hire supplier you select. The vast majority of cars have a full to full fuel policy, which means your vehicle will be supplied with a full tank of fuel. To avoid incurring fuel charges, you will need to return it with the same amount of fuel as it had when you collected it. You can also choose pick up full return empty. This maybe more convenient if you wish to drop the car back without delays, but it will be more expensive.

Germany See & Do
Germany is a world of its own and offers endless attractions for travelers across the globe. From infamously historical sites to bold cuisine, tourists have much to discover in this country. The ultimate manner of seeing all it has to offer is via a car hire after you fly in (a convenient way to choose an automobile is online prior to your departure). Moreover, landing in northern Germany, grabbing your car at the airport, and venturing south to various locations would more than suffice those seeking a German holiday full of exploration.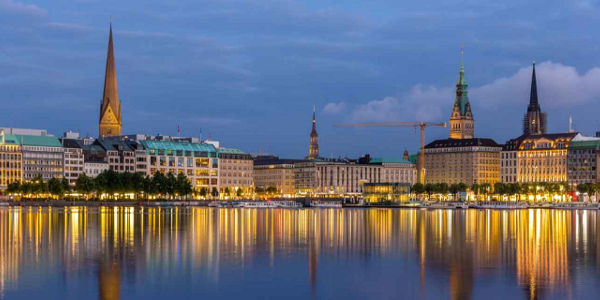 One of the most popular spots to visit is Hamburg, and geographically, this city creates a phenomenal location to spring board your once-in-a-lifetime road trip through Germany. After all, everyone's favorite meal, the hamburger, was named after this ancient site after many Germans migrated to the United States of America many moons ago. While exploring here, discover why it earned the name as the "Venice of the North" with its massive harbor and winding waterways and canals.
Furthermore, if aquatic attractions are your forte, drive less than three hours east on A20 to Rügen where white sand beaches line the seaside city. Catch a ride on the Rasender Roland steam train or spend your time indulging yourself in a few stiff German bees and a couple hearty Bratwursts.
After leaving Rügen, continue three more hours south on A20, merge onto A11, and find yourself in the renowned metropolis of Berlin. For a first time visitor to Germany, this cultural oasis remains a staple in German tourism and plays a significant role in the vast depth of the country. As an economic and creative powerhouse, Berlin is a perfect location to add to your journey through the artistically rich and naturally beautiful country of Germany. With such historic attractions as the remaining Berlin Wall and natural reserves like the Tiergarden, this ancient city is a must-visit while exploring Germany.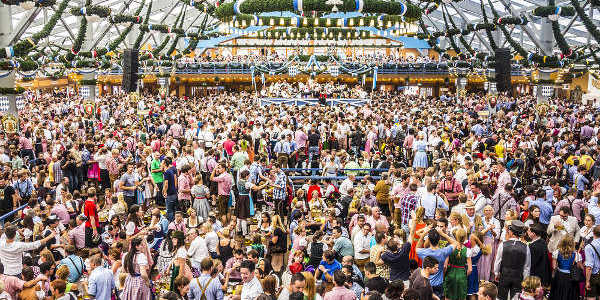 To end your road trip with a bang, don't miss the opportunity to see Munich as it is about six hours south of Berlin via A9. If you can time your trip properly, visiting during fall would be worth the drive tenfold during the world famous Oktoberfest. Once you have completed your daring cross country drive, you can conveniently drop your hired car off at Munich Airport and leave Germany feeling culturally accomplished as a conqueror of all things German.