Italy Car Hire
Last Updated: 14th Jan, 2022
We will compare car hire in Italy to obtain for you discounts on Italian cars from the following rent a car companies. Hertz, Avis, Alamo, Budget Dollar, National Car Rental, Sixt, Thrifty Europcar Auto Europa, Locauto, Maggiore, Gold Car. If you would like to hire a car in Italy you come to the right place. We have a cars for hire in all Airports as well as city and town centre locations. You can rent a car at railway stations, bus stations and in your hotel depending on the location you choose. Lock in the price of your car now as you have free cancellation up to 24 hours before pick up time.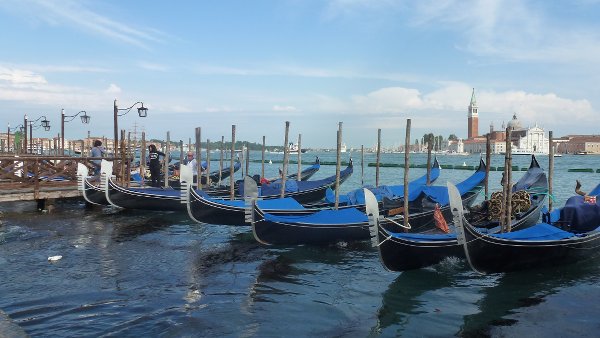 Venice, Italy
We will will provide cross border car rentals and you bring a rented car to France, Germany, Switzerland, Austria, Croatia, Bosnia, Slovenia and many more countries. So for Cheap Car Hire in Italy please enter your requirements below and we will search for the cheapest prices for car hire on the internet for you. .
When you rent a car with The Airport Car Hire Network, you're opening up plenty of adventure and travel options. Convenient, safe and affordable, a hire car from Airport Car Hire enables you to cover longer distances, visit more quaint destinations and build a holiday itinerary to suit your travel needs and habits. No queues, no awkward tour times and complete freedom to move around as you please. But now you have this freedom – where will you go?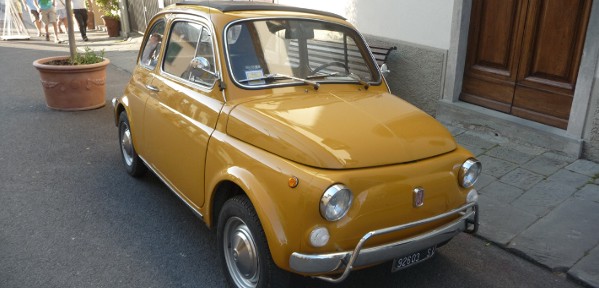 Fiat 500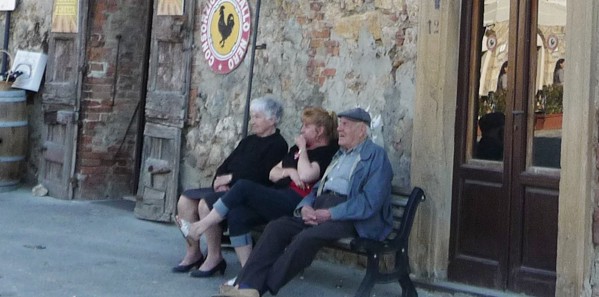 Watching the day go by
Italy Car Rental FAQ
What is the best car hire company in Italy?
Based on feedback from our customers who hired a car in Italy, Locauto Car Hire have the best customer satisfaction rating with a score of 8.2 out of a maximum of 10 points.
Can I rent a car in Italy with a debit card?
Yes you can book car hire with a debit card in Italy , no credit card required. Conditions of debit card use: card must be in main driver's name. MasterCard or VISA only. Debit cards must be issued by a bank, and numbers must be embossed. Please note, the deposit amount will be charged if using a debit card and associated transactions fees may apply. Maximum rental duration 28 days if using a debit card. Prepaid and electronic cards (Visa Electron) are not accepted. Be sure to check the filter for Both Credit and Debit Cards on the left side under the heading Cards Accepted At Pick-Up.
Can I rent a car in Italy if I am over 70?
Yes, you can hire a car in Italy from some car rental companies up to 99 years of age with no extra charges or fees. Contact us we will be glad to assist you by comparing the leading car hire companies to get you the best deals for drivers over 70 in Italy.
Can I rent a car in Italy if I am under 25?
You can hire a car in Italy at 18 years of age, with additional fees. Please contact us and we will be glad to explain how to get the best deal for your age group in Italy.
Can I take a rental car from Italy to visit a different Country?
Yes some car hire companies will allow you to take a rental car cross border, but you will need to get permission first. There may be additional fees to cross an International border.
Can I pick up a rental car in Rome and drop it off in Pisa?
Yes some car hire companies will allow one way rentals, however you will need to let them know before hand. There may be an additional one way rental fee if you leave the car in a different location to the pick location.
How long do I need to hold a licence in order to rent a car in Italy?
A full licence held for minimum of 1 year with no major endorsements. UK licence holders need to present the photo card.
Which documents do I need to hire a car in Italy?
The principle driver will need to have the following documents in his or her name. A full licence, a credit card, the voucher we will send you when you complete your booking, and a passport. A printed version of your voucher must be produced upon arrival at the rental desk. Failure to present the voucher means the car rental agent may charge you at the local rates. If your form of identification does not include or match your current address, then a separate printed proof of address will be required.
What is the fuel policy for a hire car in Italy?
This will depend on the car hire supplier you select. The vast majority of cars have a full to full fuel policy, which means your vehicle will be supplied with a full tank of fuel. To avoid incurring fuel charges, you will need to return it with the same amount of fuel as it had when you collected it. You can also choose pick up full return empty. This maybe more convenient if you wish to drop the car back without delays, but it will be more expensive.
Italy See & Do
Tuscany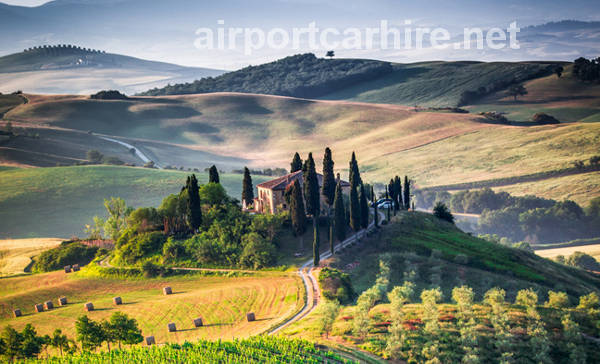 Tuscany, Italy
A holidaymakers dream, Tuscany is famous for many things including its vineyard landscapes, art, traditions and history. There are several World Heritage Sites to visit such as the cathedral of Pisa, the Val D'orcia and several historical centres (including Pienza, Siena and Florence). But far from being stuffy, Tuscany is also recognized as having a permanent and persuasive influence over all modern artistic practice. For wannabe sommeliers, the local tipples are unbeatable, with well-known wines such as Chianti and Montepulciano produced in this region
Tip:
If you are flying into Pisa. Explore Pisa on foot and when you are ready to tour Tuscany, pick up your car hire at Pisa Airport and drop it off in Florence. Explore Florence and then take the train back to Pisa.
Rome
Although Rome offers plenty to do, you might want to escape the noise and bustle of the city and enjoy a slower pace and more serene atmosphere for a day or two. Take the opportunity to relax and reset, or else enjoy some water sports and a bit of exercise in the fresh air, before returning to life in the fast lane.
Car Hire is available in may locations in the city of Rome. However you will a better choice of cars at the airports Rome Ciampino and Rome Fiumicino
. The airports will also be more suitable for out of office pick ups.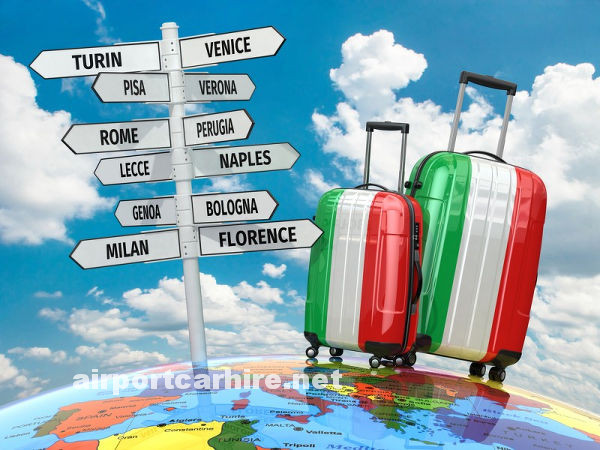 One way rentals
Lake Bracciano (1 hour from Rome)
The eighth-largest lake in Italy, Northwest of the capital, offers the perfect getaway. A delightful mix of nature and historical sightseeing, you can immerse yourself in peace and tranquillity in just over an hour's drive. Take the Cassia Bis highway to avoid clogged traffic and cruise your way through farmland and rolling hills. Just after the stunning descent into the Valle di Baccano – a huge extinct volcanic crater - take the Bracciano exit and follow the pleasant tree-shaded road until you see the sparkling waters ahead.
Lake Bracciano boasts three medieval towns that you can explore at leisure. All three towns have gorgeous waterfront walks and winding streets for exploring, but as you would expect, each also has its own charm and sites to see. The centre of Anguillara is steeped in history and perfect for an eye-opening stroll. Bracciano offers a splendid castle, complete with majestic ramparts and bastions while the imposing tower of Trevignano's church of Santa Maria Assunta is well worth a look. As you drive from town to town, you will also find an interesting military aircraft museum, as well as the San Liberato botanical gardens and a gorgeous ninth-century Romanesque church that is viewed by appointment only.
The drive around the 35km perimeter lake will take a total of one hour, but if you're hungry for a stretch of the legs and a bit of action, why not hire bikes, take a ferry or rent your own sailboat or canoe? You can also take a dip in the lake or hire sun loungers for a bit of well-earned rest and relaxation. But before you head back to the city, make sure you avail of some of the great local produce and perhaps purchase some fine wines to sample after your drive back to the hotel.
Tuscany
If you want to explore the picture postcard areas of Tuscany, then a hire car is essential. The drives are not only enjoyable, they are so packed full of gorgeous scenery and beautiful countryside that they actually make up a memorable part of the holiday. Enjoy leisurely drives along winding roads and visit an array of medieval towns and villages that represent the true heritage of this stunning region.
Florence to Arezzo scenic route
Head east out of Florence on the SS67 until you reach the pretty wine town of Pontassieve. Continue east on the SS70 to Diacceto, famous for its sorbets, taking note of the Nipozzano castle along the way. At this point, turn south along a long and winding road to Vallombrosa. If you would like a stretch of the legs, this is a good place to start as you can visit the impressive abbey and palace that houses Italy's most beautiful arboretum, a chapel-filled forest and important works of art. Take the high road north of here through an imposing forest and catch brief views over Florence until you reach the 3,500-feet Passo della Consuma.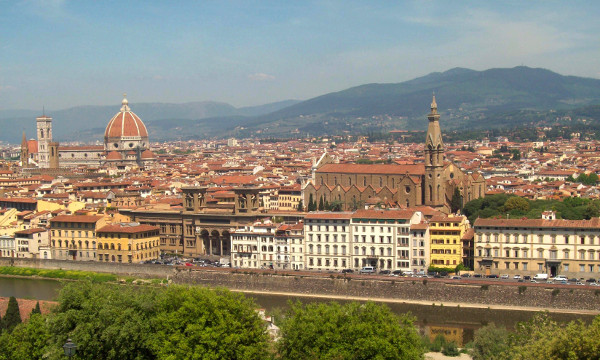 Florence
Follow the road towards Poppi and after 10km shift left onto a small rural road (signposted Pratvecchio) to visit the charming country chapel of San Pietro di Romena. Drive on to the market town of Pratovecchio where you can stop for a bite to eat, or continue on towards Arezzo until you come to Poppi with its beautiful 13th century castle. The next stop on the list is Bibbiena, and we recommend you take a slight (24km) detour to La Verna abbey, famous for the stigmata of St Francis. Return to Bibbiena and enjoy the drive onwards to Arezzo, the perfect place to stop to eat.
If you're in a rush to get back to Florence, the A1 Autostrada will see you home within the hour if traffic is kind. But if you'd like to continue with a beautiful drive, then head towards Loro Ciuffena and you'll be driving on the Cassia Vetus, the old pilgrim route to Rome. Art lovers; take note of the ancient Ponte a Buriano bridge just outside of Arezzo as some scholars believe this is in fact the backdrop of the Mona Lisa. There is another chapel to view in Gropina, as well as lovely scenery through to Terranuova Bracciolini. At this point, take the 45-minute motorway trip back to Florence.
Siena to Grosseto circular route
For countryside and sea views, this is an unbeatable drive. Take a southwest route out of Siena on the SS73 road (signposted Massa Marittima) and marvel at the unspoilt and rather wild landscape. After about 30km, turn right onto the SS441 and keep an eye out for the San Galgano turn. One of the treasures you will find here is the majestic open-air Gothic abbey - particularly beautiful on a cloudless day but atmospheric in any weather conditions.
Return to the SS73 and backtrack about 2km until you find the right turn towards Grosseto, taking in the hilltop village of Roccastrada. You'll spy amazing cork oak plantations before the road joins the main Rome-Genoa road overlooked by the walled village of Montepescali. Head east towards Vetulonia and visit Castiglione della Pescaia, a laid-back and charming small seaside town. If you'd like to see a more up-market resort, continue along to L'Andana for a delectable seafood lunch and a bit of people spotting. Only 15 minutes away is Grosseto, a typically beautiful Tuscan walled town. If you're in a rush to get back to Siena, you can opt for the SS223 from here, but for a more leisurely and rewarding option, switch to the right at Paganico towards Montalcino. This is a particularly lovely stretch, complete with vineyards, farmhouses, forest, hilltop villages and impressive views of Monte Amiata. Montalcino itself is worth a quick visit and offers some good outdoors dining; the fortress is decent but less impressive than the abbey you saw earlier so if you'd rather wander the streets and soak in the atmosphere, feel free to skip. The drive from Montalcino via Buonconvento takes less than an hour so make sure you take in all the sights before turning back.
Salerno to Positano
The busy port of Salerno is a convenient place to begin your Amalfi coast drive. Starting from the Autostrada A3, join the SS163 at the famous ceramics village of Vietri sul Mare and take advantage of the incredible views over the stretching coastline. Along the winding road you will come to several viewing points, each boasting picture-perfect photo opportunities with the stop at Capo d'Orso considered by locals and tourists alike to be the best. En route to Ravello, you will encounter the village of Maiori, with its lovely sandy beach, and the ruins of a 1st century Roman villa at Minori, before turning inland towards Ravello.
Here you will find one of the most romantic towns in this region. A steep, winding town, Ravello boasts gorgeous gardens, intricate lane ways and a sleepy atmosphere with breath-taking views over the sea below. Visit the 11th-century cathedral and the famous 13th century Villa Rufolo that once housed popes and kings. When you've had your fill of this beautiful town, hop back in the car and head onwards to Amalfi. A busy port for sea trade, Amalfi is the home of one of the world's oldest maritime codes. The gorgeous seafront promenade is the perfect place to take a stroll, get some fresh sea air and sample the local seafood, but its popularity and gorgeous locale makes it an expensive option. While here, visit the unforgettable Duomo di Sant'Andrea, a 9th century cathedral with a highly celebrated decorated frontal façade. If you fancy stretching the legs, take a hike into the surrounding hills via the popular Valle dei Mulini walk to view the steep ravines and abandoned watermills. Driving west from Amalfi towards Praiano, the roads become increasingly stunning. Look out for the emerald-green waters of the Grotta dello Smeraldo marine cave. If you have time, it's certainly worth a visit by boat. You should also visit the impressive Vallone di Furore gorge, one of the best in the area, before hitting the lovely coastal villages of Praiano and Positano for more incredible views and laidback hospitality.
Sicily
Although Sicily has a bit of a reputation when it comes to driving, it's well worth taking the time to see what the island has to offer via car. Take advantage of gorgeous sea views, mountainous terrain and secret pockets of Sicilian culture.