Car Hire Specials Bergamo
Bergamo Airport Car Hire BGY
Last Updated: 1st May, 2021
Bergamo airport is one of three airports servicing Milan the other two are Milan Malpensa and Milan Linate. Cross border car rentals available at Bergamo airport for travelling from Italy to Austria, Slovenia, Croatia., Bosnia and much more. Rent a Fiat 500 2 door economy car or a top of the range BMW at Bergamo Airport and tour the length and breath of Italy. AIRPORT CAR HIRE NETWORK will shop around and compare car hire at Bergamo Airport from approved rent a car companies at Bergamo Airport Hertz, Avis, Alamo, Budget Dollar, National Sixt, Thrifty Europcar. As well as saving you time and money we will get you the best deal when you rent a car Bergamo Airport
Bergamo town is divided into two distinct areas – Bergamo Bassa (lower town) and Bergamo Alta (the hilltop medieval upper town) - both offering their own charms.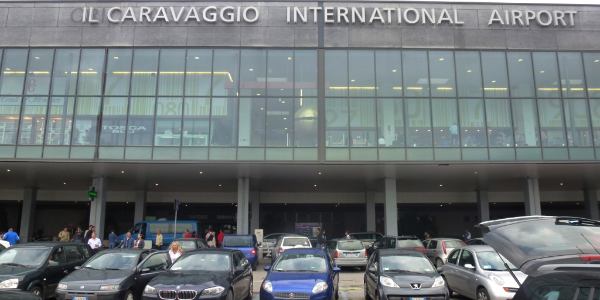 Bergamo Airport to Milan by car
Bergamo Airport to the city of Milan is approximately 50 km and takes about 50 minutes on the A4 / E64. Milano one of the most popular cities in the world, famed for its Venetian style architecture and local art. Although Milan is serviced by its own airport (Orio al Serio), its close proximity to to Bergamo make a peaceful, hassle free destination for anyone choosing to holiday in Milan with access to a rental car. Book with Bergamo Airport Car Hire Network for all your car rental requirements.
Bergamo Car Rental FAQ
What is the best car hire company at Bergamo Airport?
Based on feedback from over 10,000 customers Leasys and Locauto have the highest satisfaction rate with a score of 8.3 out of a maximum of 10 points..
Can I rent a car at Bergamo Airport with a debit card?
Yes you can hire a car at Bergamo Airport with a debit card issued by a bank. Conditions of debit card use: card must be in main driver's name. MasterCard or VISA only. Debit cards must be issued by a bank, and numbers must be embossed. Please note, the deposit amount will be charged if using a debit card and associated transactions fees may apply. Maximum rental duration 28 days if using a debit card. Prepaid and electronic cards (Visa Electron) are not accepted. Be sure to check the filter for Both Credit and Debit Cards on the left side under the heading Cards Accepted At Pick-Up. This will display the car hire companies that will accept Debit Cards. Please contact us and we will be glad to explain how rent a car with a debit card
Is it safe to rent a car during Coronavirus Covid-19 at Bergamo Airport?
Yes, car hire is one of the safest methods of transport during Covid-19. Car rental companies are essential service providers and will remain open during the Covid-19. Additional precautions and safety measures are currently in place. All cars are deep cleaned and sanitised along with the rental office in line with WHO guidelines. Alamo, Avis, Budget, Dollar, Enterprise, Hertz, National, Sixt, Thrifty are the car hire companies that sanitise rental cars at Bergamo Airport.
Can I rent a car in Bergamo Airport Italy if I am over 70?
Yes, you can hire a car in Bergamo from selected car rental companies up to 99 years of age with no extra charges. We will compare the leading car hire companies for you to get you the best deal.
Can I rent a car in Bergamo Airport if I am under 25?
You can hire a car at Bergamo Airport at 18 years of age, with no additional fees from Autovia. We will explain how to get the best deal for your age group.
Age Requirements to Rent a Car in Bergamo Italy
The minimum age to rent a car at Bergamo Airport is 21 but there will be a supplement. The maximum age is 99. Please confirm the driver's age requirement for the car you choose, as the age requirement may vary according to the size of the car. Please see the ages requirement for each of the car hire companies in Bergamo
Can I take a rental car from Bergamo, Italy to Slovenia?
Yes some car hire companies will allow you to take a rental car cross border, but you will need to get permission first. There will be additional fees to cross an International border.
How long do I need to hold a licence in order to rent a car in Bergamo Airport?
A full licence held for minimum of 1 year with no major endorsements. UK licence holders need to present the photo card
Which documents do I need to hire a car at Bergamo Airport?
The principle driver will need to have the following documents in his or her name. A full licence, a credit card, the voucher we will send you when you complete your booking, and a passport.
What is the fuel policy for a hire car in Bergamo Airport?
The vast majority of cars have a full to full fuel policy, which means Your vehicle will be supplied with a full tank of fuel. To avoid incurring fuel charges, you will need to return it with the same amount of fuel as it had when you collected it.
Bergamo Car Hire Locations
Car Hire Companies Ratings Bergamo Airport
This rating is taken from feedback we received from over 10,000 customers that booked car hire at Bergamo Airport Italy.
Bergamo Car Rental Locations
You can rent a car at Bergamo Airport Orio al Serio Apt, or if you prefer in Bergamo city at Borgo Palazzo, Bergamo Cenrral, and Bergamo Stradio Atleti Azzurri d'Italia
Bergamo Airport Information
Airport Name:
Bergamo Airport Il Caravaggio International Airport, also known as Bergamo Orio al Serio Airport
Airport Code:
BGY
ICAO:
LIME
Address:
Via Aeroporto, 13, 24050 Orio Al Serio BG, Italy
City:
Bergamo
Country:
Italy
Telephone:
+39 035 326323
Location:
Bergamo Airport is located 4km from Bergamo and 47km from the city of Milano
Time Zone:
GMT + 1
Coordinates:
45°40′08″N 009°42′01″E
Car Parking:
Long and Short Term Parking Facilities available
Public Transport:
Bus , taxi and car hire
Taxi service:
available in front of terminal
Bus service:
From out side the main terminal you can get buses
Car Hire:
Exit the arrivals gate on the ground floor, turn left and you will reach the rent a car area where you will find all the major car hire companies including Hertz, Avis, Leasys, Locauto, Maggiore, Enterprise plus many more.
Information Desk:
On the ground floor
Bergamo See & Do
Bergamo see & do
Città dei Mille" or "City of the Thousand", these are the other ways as to referring to the city of Bergamo. Situated in Lombardy, Italy, the city is about 25 miles north east of Milan and 19 miles from the lakes Como and Iseo, not to mention that the foothills of the Bergamo Alps begin immediately north of the town. This city preserved his historical sites very well, despite the destruction brought by the World War II and the urbanization. The old and the new of this world combine into one holiday destination, and that is the city of Bergamo.
Upper City of Bergamo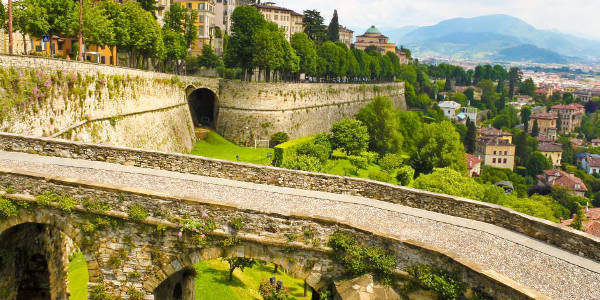 You must not miss the Upper City of Bergamo (Citta Alta)! Just rent a car and drive towards it, you will be surprised not only by the amazing views, but to get the chance of seeing the medieval town around which modern city of Bergamo has expanded is unique. As this is the main touristic area here, combination of old buildings and the restaurants, shops and cafes will amaze you. If you get tired of visiting the old city, you can always go for a drive to the city wall, or the Cinta Muraria, how the locals call them. Here you will have the opportunity to see the most beautiful sights of the Lower City. Just take your rental car and drive to the Citta Alta, since the most important landmarks of Bergamo, like the Basilica di Santa Maria Maggiore, Duomo di Bergamo, and Cappella Colleoni are located here.
Lake Como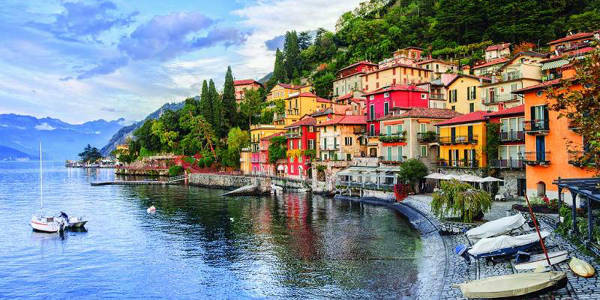 Since the lake Como is so close to Bergamo, driving there seems like the best idea of spending an afternoon. When driving there, it is recommended to take the time to visit the cute little city of Como, that is right off the lake. This like is one of the biggest attractions in the area, being able to offer you the greatest sightseeing possible. Once Como is explored, you can take a 40 minutes drive to Bellagio, one of the first internationally-known tourist resorts in Italy, often called "The Pearl of the Lake". The possibilities here are endless, you can either drive to the southern leg of Como, and then back on the other side of the leg, or choose to take your car on the ferry from Bellagio to Varenna.
Going further into exploring the not so famous, but historically rich sights of Italy can go on, since the lovely village of Bellano is about five minutes drive from Varenna. You will be amazed to by these surrounding, since the place is filled of Baroque architecture and some excellent restaurants along the way. Of course, history is not for everyone, but since Bergamo is so close to Milan, why not take you rental car for a spin and do some shopping in one of the most fashionable cities in the world? Book you rental car now!
Hotels Near Bergamo Airport

If you require hotel accommodation in Bergamo, please use the Hotels 365 to find the best Discount Hotel near Bergamo Airport or Bergamo City Centre. Up to 60% discount and secure online reservations available.
Place/bergamo.htm">

Hotel Piemontese, Piazzale Marconi 11, 24122 Bergamo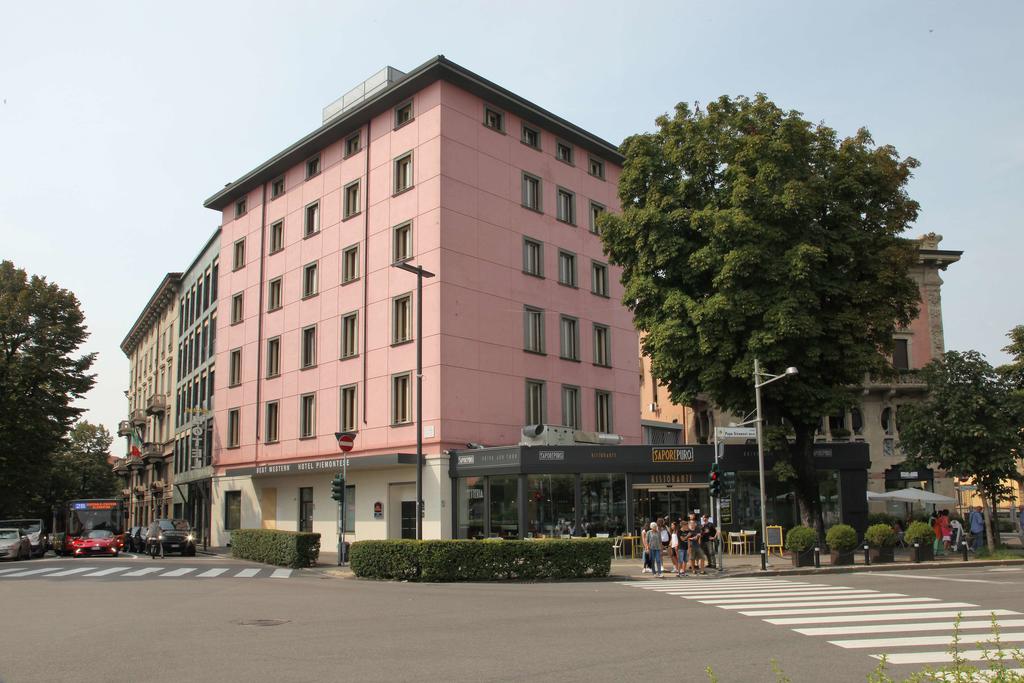 Located in the city centre, Hotel Piemontese is just 50 metres from Bergamo Train and Bus Station, and a 10-minute walk from historic Bergamo Alta. Rooms have satellite TV. The Piemontese has recently renovated rooms which are air conditioned and have flat screen TVs. Each has a large, private bathroom. Orio al Serio Airport is 4.5 km away and the airport bus stops right outside the hotel. Telephone: 00 39 35 242 629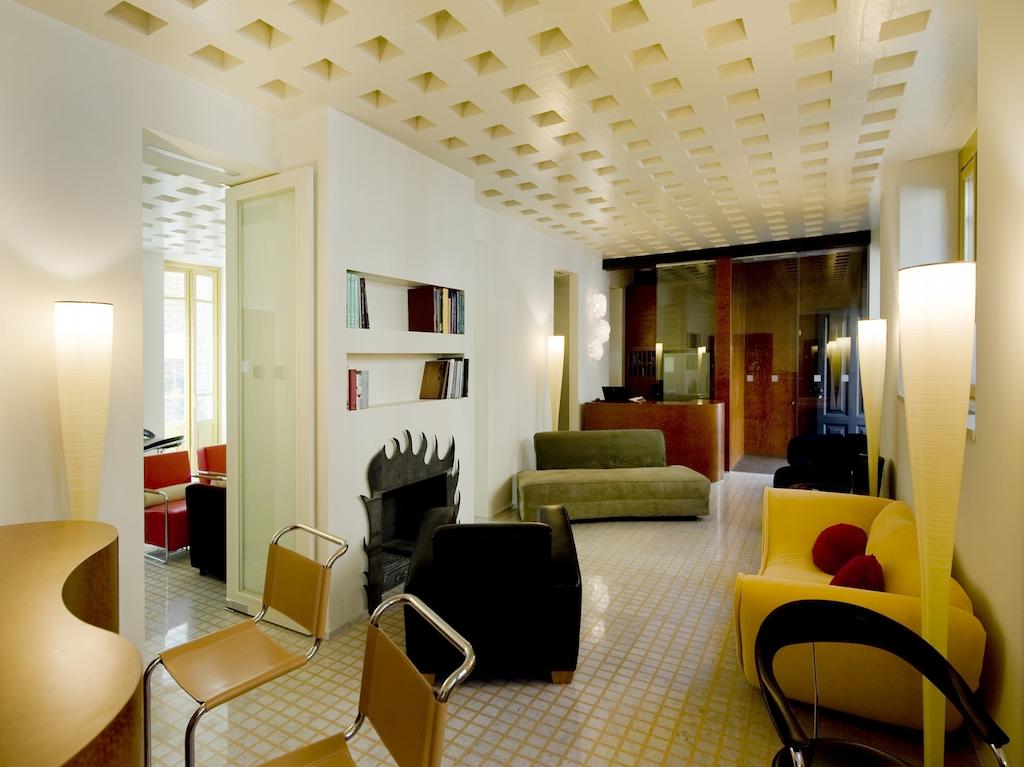 Petronilla
Hotel In Bergamo, Via San Lazzaro 4, 24122 Bergamo The Petronilla is a boutique hotel located in the heart of Bergamo's lower city, in the historic San Lazzaro area. Each room is unique and features modern art and free Wi-Fi. Breakfast at this hotel is an extensive buffet of homemade foods, and is served outside on the courtyard in the summer months. On request, a dinner of Lombardy specialities is available.
Petronilla Hotel features a sauna, a jacuzzi, a small meeting room and a gym. Staff are available 24 hours a day and can recommend the best places to visit during your stay. Hotel Petronilla is just a few steps from Bergamo's main shopping district and public buses are 100 metres away. Bergamo Train Station is 15 minutes' walk. Telephone: 00 39 35 271 376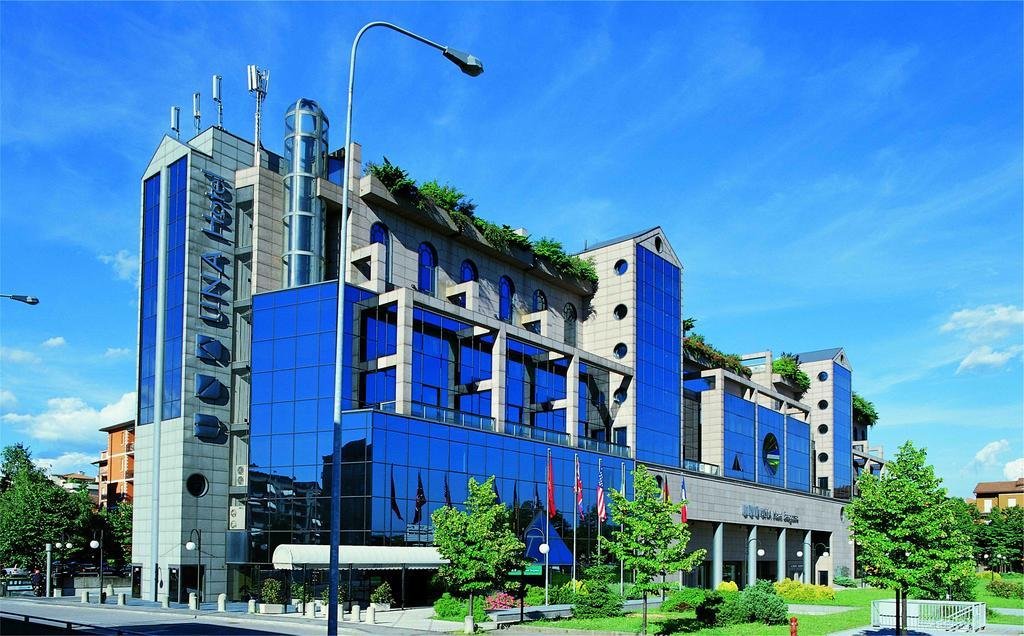 UNA Hotel Bergamo,
Via Borgo Palazzo 154, 24125 Bergamo
UNA Bergamo is a light, modern hotel, 10 minutes' drive from both Orio al Serio Airport and Bergamo city centre. The hotel runs a free shuttle service into the city. Rooms at the Bergamo are spacious and all feature sauna shower or jacuzzi, soundproofing and satellite TV. Some rooms include a private balcony. Guests can enjoy a classic aperitif or evening drink at the hotel's American bar. The restaurant overlooks the nearby mountains, and serves both Italian and Lombard specialities. The Bergamo also has a fitness room, and beauty and wellness treatments are available upon request. Wi-Fi is available throughout the building. The hotel is located 5 km from the A4 Milan-Brescia Motorway. Telephone: 00 39 35 308111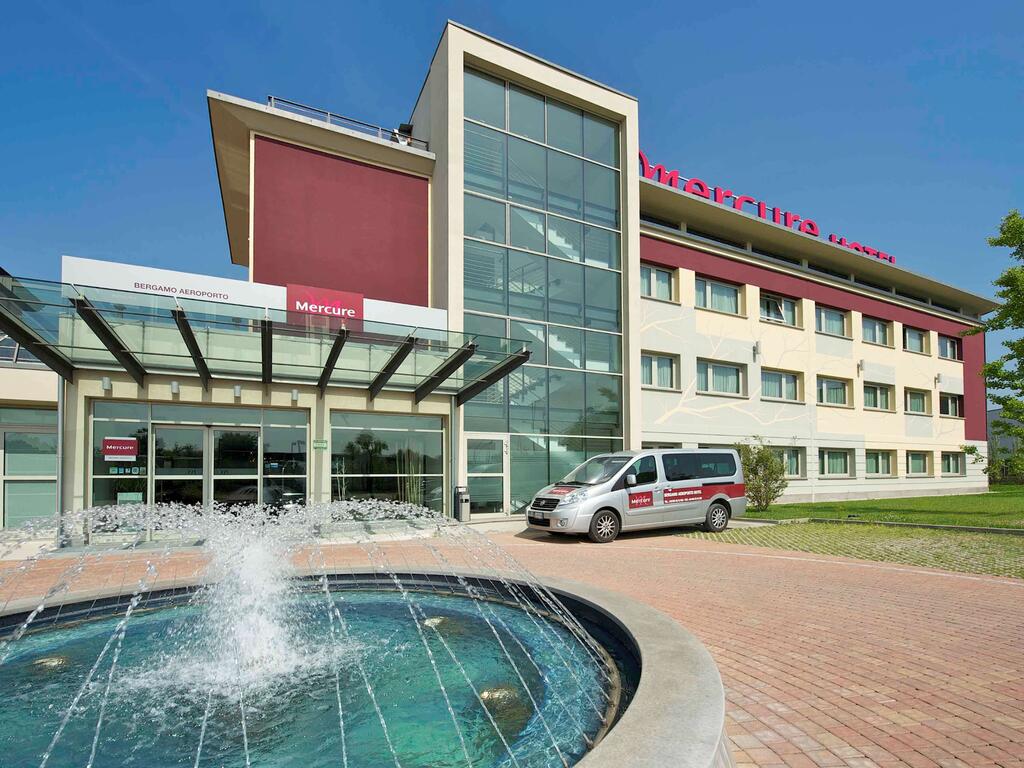 Mercure Bergamo Airport Hotel , Via Arrigo Boito 12, 24040 Stezzano
Mercure Bergamo Hotel formerly the Hotel Pegaso provides modern accommodation and free parking in Stezzano. It is just off the A4 motorway and a 15-minute drive from Bergamo Orio Al Serio Airport. Rooms at Pegaso Hotel are air conditioned and soundproofed, with Wi-Fi access. They all feature a flat-screen TV with satellite channels, a mini bar and a work desk. The breakfast buffet includes both savoury and sweet food and is served every morning. At the bar you can enjoy snacks and cocktails. The Mercure Bergamo Hotel is 5 km away from Bergamo centre and a 30 minute-drive from Milan. Telephone:001 800 221 4542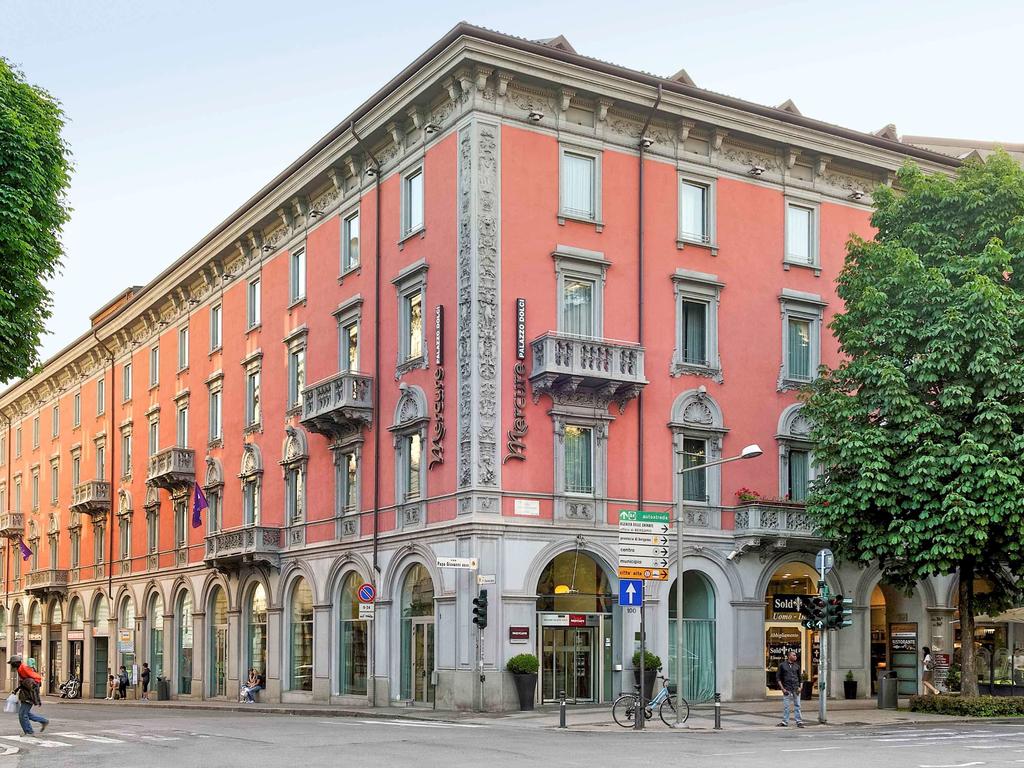 Mercure Bergamo Hotel, Via Papa Giovanni XXIII 100, 24121 Bergamo,
This 4 star hotel is ideally located for the bus station for those trying to get to Bergamo airport for an early morning flight. It is also near the Tourist Office and the bus for Bergamo's Old Town can be found just across the road. Ideal base for visiting Bergamo and a lovely comfortable, modern hotel in Bergamo. Telephone: 001 800221 4542