Czech Republic Car Hire
Last Updated: 30th June, 2023
Czech Republic Car Hire provides the lowest car hire prices and fantastic customer care when you rent a car in the Czech Republic. Pick up a hie car at Borno Airport Ostrava Airport and Prague Airport from the leading rent a car companies. Hertz, Avis, Alamo, Budget Dollar, National Sixt, Thrifty Europcar. We will find the perfect car rental deal for you! Just use our simple and secure booking process to make your reservation in three easy steps. and we find the perfect car rental deal for you!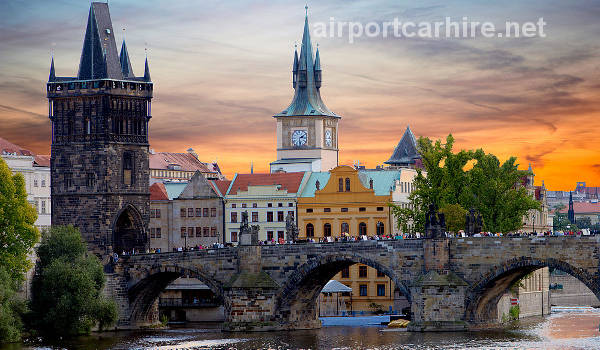 Czech Republic Car Rental Locations
Brno Holiday Inn, Kriskovskeho 20, Brno
Brno - Airport BRNO TURANY AIRPORT, BRNO, 62700
Ceske-Budejovice Rekrea, Siroka 12, 37001 Ceske Budejovice, Ceske-Budejovice, Ceske Budejovice
Hradec Kralove REKREA, HRADEC KRALOVE, 50002, CZ
Karlovy Vary - Zahradni TERMA TRAVEL S.R.O, KARLOVY VARY, 36001, CZ
Karlovy Vary- Grand Hotel Pupp Mirove Namesti 2, Karlovy Vary, 360 91
Karlovy Vary- Taborska Taborska 400/28, Karlovy Vary, 360 04
Kutna Hora CESTOVNI AGENTURA, KUTNA HORA, 28401, CZ
Liberec REKREA, LIBEREC, 46001, CZ
Ostrava - Airport Arrivals Hall, Ostrava, Ostrava
Ostrava- Mosnov Mosnov 1, Ostrava
Pelhrimov CEDOK PELHRIMOV, PELHRIMOV, 39301, CZ
Plzen HOTEL U ZVONU 326 00 PLZEN
Prague - Airport Prague International Airport, Ruzyne, Prague 6
Prague - BBCentrum Vyskocilova 4, budova BETA, Prague 4, 140 00
Prague - Downtown Na Prikope 12, Prague 1
Prague - Headquarters Cistovicka 100, Prague 6
Prague - Hotel Hilton Pobrezni 1, Prague, 186 00
Prague - Hotel Intercontinental Hotel Intercontinental, Nam. Curieovych 5, Prague 1
Prague - Parizska PARIZSKA STREET 28, PRAGUE, 11015
Prague - Rekrea Revolucni REKREA TRAVEL AGENCY, PRAGUE, 11000
Prague - Za Opravnou Za Opravnou 1, Prague 5 -, Prague, 5 - 150 00,, Czech Republic
Usti Nad Labem HOTEL VLADIMIR, USTI NAD LABEM, 40001, CZ
Czech Republic Road Trips
Over the past decade, the Czech Republic and Prague, have grown into one of the most popular destinations in Europe. The mysterious and medieval aura that this country has turns out to be very attractive to foreigners, Europeans, Americans and Asians, alike. The Czech Republic is a 10-million strong Central European country that has a rich history and culture, as well as an interesting language. The country is riddled with medieval monuments and castles and natural beauty, as we will soon see.
Ceske Budejovice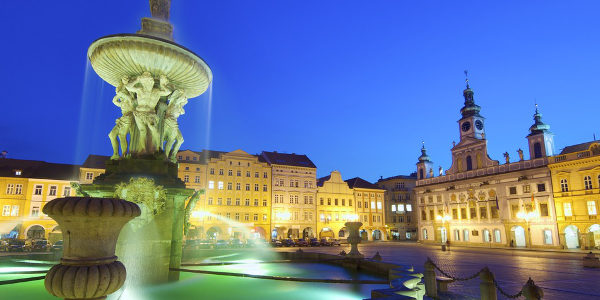 Road trips in the Czech Republic can start either in Prague that houses the country's biggest airport or Munich, one of the largest cities in Germany and a major transportation hub in Europe. Both have excellent car rental facilities (there is even a "car rental shopping mall" in Munich - a bit crowded at times, but still a good selection of rentals). From Munich, drive east and enter the Czech Republic not on a motorway, but on a small country road looping through the Central European mountains. The first city you'll stumble upon in the Czech Republic will be Ceske Budejovice, one of the oldest Czech towns and a monument of classical German architecture. The Old Town square, though rather small, has numerous cafes and small shops that you would enjoy loosing time in. Ceske Budejovice is also the birthplace of the legendary beer Budweiser, popular today all over the world.
Prague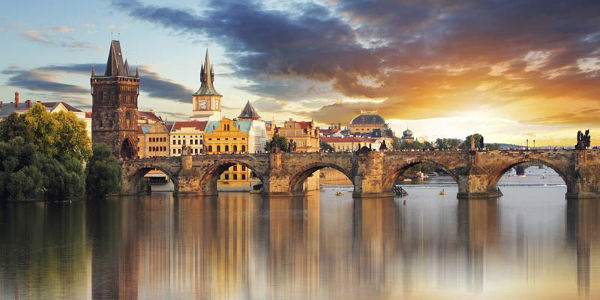 Driving up north for two and a half hours, you will reach Prague. The city is the 5th most visited in Europe and one of the best preserved big medieval towns on the continent. The main attractions of Prague lie on the banks of the Vltava River that flows through the city: Charles Bridge, built in the 12th century, has withstood all of the floods and fires that have hit Prague over the centuries and now serves as a meeting point for visitors; the Powder Tower, situated at the end of the bridge; the city's old market, together with its clock tower (Prague houses the world's oldest, still working, astronomical clock). Outside the center, the Dancing House is an interesting visit for those in love with modern architecture.
We leave Prague behind and travel west again, towards the spa town of Karlovy Vary. Also named Carlsbad (it used to belong to the Germans), Karlovy Vary is the Czech Republic's prime spa center. This picturesque 19th century settlement is full of fancy hotels and restaurants, as well as numerous spa centers that use the thermal waters coming out of the Bohemian Mountains. The town is frequently visited by rich tourists from all over the world.
The final destination in your tour of the Czech Republic should be the so-called Czech Switzerland, a group of mountainous forms made out of sandstone that guards the Czech border with Germany. The landscape is highly spectacular and hikes through these Bohemian forests can be really relaxing. The symbol of Bohemian Switzerland is the Pravcicka Brana, Europe's largest sandstone arch that resembles a bit the prop of a Western movie. Enjoy!
The majority of visitors to Czech Republic spend their time in the country's fantastic capital city, Prague. In fact, only around 10% of tourists in the Czech Republic venture beyond the city to the countryside, meaning the 90% that don't are missing out on a real tourism treat. While Prague is indeed beautiful, exciting and cosmopolitan, with a skyline of spires and architecture that could be described as a medieval banquet for the eyes, beyond the city there are sights just as stunning and memorable. A glorious landscape of gently undulating hills, high mountains, vast plains, thick forests and fertile farmland awaits, yours to explore with the freedom of Czech Republic Car Hire.
Among the most striking regions are the river valleys of the Vltava and Labe, the Šumava Mountains of south Bohemia - which offer excellent trails for hiking and walking, and well-conserved medieval villages and towns such as Český Krumlov.
Get the most from your Czech Republic holiday, with the freedom and flexibility of Czech Republic Car Hire. With City Car Rentals Czech Republic, you can take advantage of the lowest Czech Republic Car Hire prices online, guaranteed.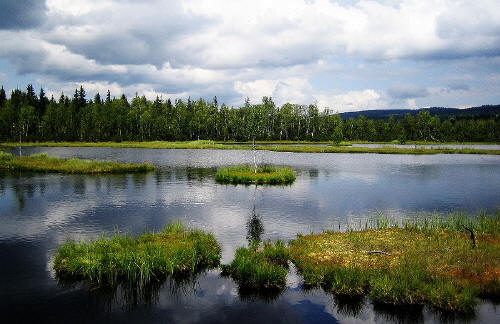 Bohemia is also a trendy skiing/snowboarding and winter sport destination, lively and full of tourists in the winter season. In the northeast, the Český Ráj (Bohemian Paradise) is wonderful for climbing and mountaineering amidst remarkable, beautiful surroundings. The eastern part of the Czech Republic - the lush and productive farming area of Moravia, presents a diversity of forested moorland, vineyards, and castles with a superb culture and much lovely folk art. Life here moves at a nice, relaxed pace. In particular the town of Brno is an exceptional base location for exploring important historic towns nearby, for example Kromeríz Telc, and Olomouc.
With Czech Republic Car Hire you can see the country at your leisure and in style. Book your Czech Republic Car Hire online today with City Car Rentals Czech Republic, and enjoy the best deals online
Hotels Near Czech Republic Airport

Plaza Alta Hotel
Plaza Alta Hotel, Ortenovo Nam. 22, Prague 07, 170 00 Prague The Plaza Alta Hotel is located only 20 minutes from the airport with easy access to the D8 motorway and 3 minutes from Holesovice train and metro station. Guests who would like to spend their time exploring the beautiful Old Town and the city's major attractions, will need just a few minutes to get to the centre by car, metro or tram. A direct tram line brings you to the Old Town and Mala Strana and stops just 50 metres from the Plaza Alta Hotel. You will enjoy superb views of the Castle and the river Vltava on this 12-minute ride. The hotel was recently certified as environmentally friendly and is a holder of the Eco Label.
Unitas Hotel,
Unitas Hotel, Bartolomejska 9, Prague 01, 110 00 Prague The Unitas Hotel enjoys a quiet location in a former convent, 250 metres from Charles Bridge. It offers safe courtyard parking and air-conditioned rooms with free internet, a DVD player and a film library. Decorated with carefully chosen fabrics and carpets, each room in the Unitas Hotel also has a satellite TV and a coffee and tea maker. The Národní třída Metro Station is only 350 metres away from the Unitas Hotel. The building represents Czech history in a unique way. Built by the Jesuits, it was later transformed into a nunnery, during the Communist period it housed the secret police and finally it was transformed into a hotel.
Andel´s Hotel Prague,
Andel´s Hotel Prague, Stroupeznickeho 21, Prague 05, 15000 Prague Located next to the Andel Metro Station and Shopping Mall, this hotel is a 5-minute metro ride from Charles Bridge and Wenceslas Square. It offers a rich breakfast buffet. In the Andel's Bar & Brasserie, guests can enjoy Italian coffee, a fresh, light lunch or a dinner. Breakfast is served in the restaurant Delight, which also serves local specialities. The Andel's Hotel Prague also features a Japanese restaurant. The Andel's Hotel is surrounded by pedestrian zones with cafés and restaurants and various shops.
Falkensteiner Hotel
Falkensteiner Hotel Maria Prague, Opletalova 21, Prague 01, 110 00 Prague The charming Falkensteiner Hotel Maria Prag can be found in the heart of the city, a few steps away from famous Wenceslas square. Free Wi-Fi is available in all rooms. The elegantly decorated rooms feature air conditioning, satellite TV and a hairdryer. A spa area including a sauna, a steam bath and a fitness room is offered. Guests can enjoy these facilities free of charge. The Falkensteiner offers regular live music evenings. Located in a quiet side street, Falkensteiner Hotel Maria Prag is within walking distance of the State Opera, the Old Town Square with its astronomical clock and the Charles Bridge.
Orea Hotel
Orea Hotel Voronez 1, Krizkovskeho 47, 60373 Brno The Orea Hotel Voronez 1 next to the Brno Trade Fair grounds (Veletrhy Brno) offers great conference facilities, fine cuisine, inviting rooms and easy access to the city centre. It features the largest and most modern congress centre in the region, equipped with the latest audiovisual technology. All rooms offer direct dialling phones with connections for PC/fax modems, the TV sets come with an interactive system for direct contact to the reception desk, as well as satellite channels (including CNN and CNBC) and Pay TV. The nearest tram stop (N1, Vystaviste stop) is 150 metres away from the Orea Hotel Voronez 1, offering easy access to the city centre.
Comsa Brno Palace Hotel, Silingrovo namesti 2, 602 00 Brno Situated on Silingrovo Square in a prestigious historical building known as Mestsky Dvur, the Comsa Brno Palace can be found in the heart of the city. The Cathedral of Saint Peter and Paul and the Spielberk Castle and other numerous historical sites are just a few steps away. Wired internet is available in all rooms free of charge.
Mamaison Business & Conference Hotel Imperial Ostrava, Tyrsova 6, 70138 Ostrava The Mamaison Business & Conference Hotel Imperial Ostrava is just a few steps from famous Stodolni street and offers 2 restaurants and free access to the sauna and the salt-water pool. Wired internet access is available in all rooms at reasonable rates. All of them have recently been refurbished and are soundproofed. Rooms on the 6th floor are air-conditioned. You can park your car in the garage and even have it washed on site.
Hotel Brioni, Stodolni 8, 70200 Ostrava The Hotel Brioni is located in the pedestrian zone, in the heart of Ostrava. It features air-conditioned rooms with a minibar, cable TV and free Wi-Fi. A sauna and a steam bath are at guests' disposal. Hotel Brioni provides secured parking for guests. There is a free shuttle service from the hotel to the airport or bus station with bookings of minimum 5 nights.
Mercure Ostrava Center, Českobratrská 18/1742, 70200 Ostrava Located right in the centre of Ostrava, the Mecure Center hotel offers elegantly, air-conditioned rooms with LCD TV, free Wi-Fi and tea/coffee making facilities. After a day of doing business or sightseeing you can relax in the steam bath or do a workout in the fitness area of the Mercure Ostrava. The Ostrava Central Train Station is 2 km away and the Husuv Sad stop of the 479 bus can be reached within a 2-minute walk from the Mercure Ostrava. Stodolni Street with its numerous clubs is just 500 metres away.Additional room facilities include an iPod docking station, bathrobes, slippers and a laptop-size safe.