Larnaca Car Rentals
Last Updated: 9th April, 2021
Larnaca International Airport is located 4 kms South West of Larnaca city in Cyprus. Larnaca is the largest of the two Airport in Cyprus the other airport being Paphos Airport which is situated in the West of the Island.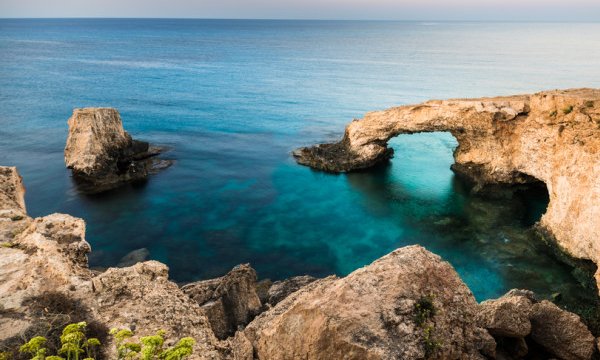 Larnaca airport car hire network provides discount car rental from the following rent a car companies, Herrtz, Avis, Sixt, Europcar, rightcars, greenmotion. We shop around and compare car rentals prices in Cyprus to get you the cheapest car hire in Larnaca. Choose from economy cars Ford Fiesta VW Golf, People Carriers Ford Galaxy and VW Touran to open top convertibles and Jeeps.
Larnaca Car Rental FAQ
What is the best car hire company at Larnaca Airport?
Based on feedback from over 10,000 customers who hired a car at Larnaca Airport, Alamo Car Hire had the best customer satisfaction rating with a score of 9.0.
Can I rent a car at Larnaca Airport Cyprus if I am over 70?
Yes, you can hire a car at Larnaca Airport from selected car rental companies up to 99 years of age. However they will charge an additional supplement if you are over 76. Thrifty is one of the lowest charges of €5 per day. Contact us and we will be glad to assist you by comparing the leading car hire companies to get you the best deal.
Can I rent a car at Larnaca Airport if I am under 25?
You can hire a car at Larnaca Airport if you are over 21 years of age. There will be an additional supplement of €5 per day depending on the car hire company you choose. Please contact us directly and we will be glad to explain how to get the best deal for your age group.
Can I take a rental car from Cyprus to another country?
Travel is not permitted outside of Cyprus. All international, state and island crossings are disallowed.
How long do I need to hold a licence in order to rent a car in Larnaca Airport?
A full licence held for minimum of 1 year with no major endorsements. UK licence holders need to present the photo card
Which documents do I need to hire a car at Larnaca Airport?
The principle driver will need to have the following documents in his or her name. A full licence, a credit card, the voucher we will send you when you complete your booking, and a passport.
What is the fuel policy for a hire car in Larnaca Airport?
The vast majority of cars have a full to full fuel policy, which means Your vehicle will be supplied with a full tank of fuel. To avoid incurring fuel charges, you will need to return it with the same amount of fuel as it had when you collected it.
Larnaca Car Rental Locations
Larnaca - Airport Terminal, Larnaca International Airport, Larnaca CY
Larnaca - Downtown 59 Makarious Avenue (2nd floor), Antonis Moyais Towers, Larnaca,
Car hire Cyprus
Ayia Napa Shops 9-10, 52 Nissi Avenue, Ayia Napa CY Ayia Napa
Famagusta Old Town, Famagusta, Cyprus CY Famagusta
Kyrenia Mete Adanir Ave., Kyrenia CY Kyrenia
Larnaca - Airport Terminal, Larnaca International Airport, Larnaca CY Larnaca Larnaca - Downtown 59 Makarious Avenue (2nd floor), Antonis Moyais Towers, Larnaca, Larnaca CY Larnaca
Limassol Onsillou Street, Kantara Village 2 shop 1, Anathunta, Limassol, Anathunta CY Limassol
Limassol - Omonia 38-40 OMONIA AVENUE, LIMASSOL CY LIMASSOL
Nicosia Street Acropolis, Armenias 11, Nicosia CY Nicosia
Nicosia - Cyprus Hilton Hotel Cyprus Hilton Hotel, Nicosia CY Nicosia
Paphos Marina Court, Apostle Paul Avenue, Paphos CY Paphos
Paphos - Airport Counter in Terminal, 8320 Paphos, Paphos, Paphos CY Paphos
Polis-Latsi Demetraki Papameltiadous Street, Polis-Latsi CY Polis-Latsi
Protaras 46 Nissi Avenue, Protaras, Protaras, Protaras CY Protaras
Goldcar Laranca Cyprus
Pickup Address:
Elefterias Avenue & 5 trion ierarchon, Dromolaxia, Larnaca, Cyprus, 7020
Opening Hours:
Monday: 09:00 - 21:00
Tuesday: 09:00 - 21:00
Wednesday: 09:00 - 21:00
Thursday: 09:00 - 21:00
Friday: 09:00 - 21:00
Saturday: 09:00 - 21:00
Sunday: 09:00 - 21:00
Direction to Goldcar Desk Larnaca Cyprus
After collecting your luggage, please go through Customs and once outside the arrivals hall, turn right and follow the signs until you reach the Shuttle Bus Service Area. Please board the Goldcar's shuttle bus here (the bus will also have the Goldcar logo). This bus will take you directly to the GoldCar airport office located across the road from the airport terminal, just 5 minutes from the airport. When returning a Goldcar hire car please return to the same rental office, where you can avail of the shuttle bus to take you back to the airport.
Full details and direction will be printed on your car rental voucher.
Larnaca Airport Information
Airport Name: Larnaca International Airport
IATA LCA
ICAO: LCLK
Address: Larnaca 7130 Cyprus
City: Larnaca
Country: Cyprus
Telephone: + 357 24816130
Time Zone: GMT + 2
Coordinates:
Location: 4 kms South West of Larnaca city
Driving Directions to Larnaca Airport The main access roads for Larnaca are the B4, B5 and A2
Car Parking: Larnaca Airport has over 500 car parking spaces.
Taxi service: Available in front of terminal
Train service:
Bus service: Larna Airport offers good facilities for disabled passangers.
Car Hire: The car rental desks are located outside the terminal
Information Desk: Located in the arrivals hall
Disables Facilities: Larna Airport offers good facilities for disabled passangers.

Flight Destinations from Larnaca Airport
Flights and destination from Larnaca airport
Aegean Airlines Athens, Heraklion Rhodes Thessaloniki
Aeroflot Moscow-Sheremetyevo
Aerosvit Airlines Kiev-Boryspil
Air Berlin Nuremberg
Air Malta Malta
Air Moldova Chisinau
ArkeFly Amsterdam
Arkia Israel Airlines Tel Aviv-Sde Dov
Armavia Beirut
Astra Airlines Kos, Mykonos, Rhodes, Santorini, Skiathos
Austrian Airlines Vienna
Baboo Geneva
Belavia Minsk
Blue Air Bucharest-Băneasa, Milan-Bergamo, Vienna, Warsaw [begins 28 March]
British Airways London-Heathrow
Bulgaria Air Sofia
Condor Berlin-Schönefeld, Düsseldorf, Frankfurt, Hamburg, Hanover Leipzig/Halle, Munich, Stuttgart
Cyprus Airways Amman, Amsterdam, Athens, Bahrain, Beirut, Birmingham, Brussels, Cairo, Damascus, Dubai, Frankfurt, Heraklion, Jeddah, Kiev-Boryspil, Kuwait, London-Heathrow, London-Stansted, Manchester, Milan-Malpensa, Moscow-Sheremetyevo, Paphos, Paris-Charles de Gaulle, Rhodes, Riyadh, Rome-Fiumicino, Sofia, Tel Aviv, Thessaloniki, Vienna, Zürich
Czech Airlines Prague
Donbassaero Donetsk
EasyJet London-Gatwick
Edelweiss Air Geneva, Zürich
EgyptAir Cairo
Emirates Dubai, Malta
Etihad Airways Abu Dhabi
Eurocypria Airlines Berlin-Schönefeld, Dresden, Düsseldorf, Hamburg, Hanover, Leipzig/Halle, Munich, St Petersburg, Stuttgart
Gulf Air Bahrain
Jat Airways Abu Dhabi , Belgrade, Dubai , Tel Aviv
Jet2.com Leeds-Bradford
LOT Polish Airlines Warsaw
Lufthansa Frankfurt, Munich
Malév Hungarian Airlines Budapest
Middle East Airlines Beirut
Monarch Airlines Birmingham, London-Gatwick, London-Luton, Manchester
Norwegian Air Shuttle Oslo-Gardermoen,Stockholm-Arlanda ,Copenhagen
Novair Gothenburg-Landvetter
Olympic Air Athens
Primera Air Dublin
Rossiya St Petersburg
Royal Jordanian Amman
SmartWings Prague
Swiss International Air Lines Zürich
Syrian Air Damascus
Transaero Airlines Moscow-Domodedovo
Travel Service Budapest, Prague
TAROM Bucharest-Henri Coandă
Thomas Cook Airlines Belfast-International, Birmingham, Bristol, Cardiff, East Midlands, Glasgow-International, Leeds/Bradford, London-Gatwick, London-Stansted, Manchester, Newcastle upon Tyne
Thomson Airways Birmingham, Bristol, Cardiff, Doncaster/Sheffield, Dublin, Glasgow-International, London-Gatwick, London-Luton, London-Stansted, Manchester, Newcastle upon Tyne
Ural Airlines Yekaterinburg
XL Airways France Strasbourg

Larnaca See & Do
Perched on the southern coast of Cyprus, Larnaca is an interesting mish mash of commercial port, natural beauty and tourist resort. Based around the Marina, Larnaca also offers lovely sand beaches, a salt lake with abundant birdlife - especially when the flamingoes and swans flock into town – and palm-lined seafront promenades. There is plenty to see and do in and around the city, and the excellent weather makes it a good choice year round.
Must See Attractions In Larnaca
For beaches, try the quiet seashore about 100m south of Larnaca Castle, or Foinikoudes, the main beach of Larnaca town. The Foinikoudes Promenade on the right hand side of Athinon Avenue is a perfect example of Cyprian palm-lined walkways and a hot spot for locals and visitors alike. Beaches in and around the city offer plenty of sun loungers, beach sports and sea-front eateries. For the more adventurous, there are underwater diving adventures available at the wreck of the Zenobia.
Visit Larnaca castle for a taste of bygone days, and soak up more history in the Pieridis Museum of Antiquities. Tour the celebrated Ayios Lazarus, a small shrine built for Saint Lazarus, which still houses his tomb today. For theatre and art, head to the Cornaro Institute in the old town, a cultural centre which houses temporary exhibitions and events. Music lovers won't be disappointed; there is a philharmonic orchestra, a fine range of year-round concerts and the locals are particularly proud of their 60-strong municipal band that plays everything from parades to traditional Greek favourites.
Recommended Scenic Drives in Larnaca
Pick up your car hire at Larnaca Airport and head straight for an altogether different holiday experience: quad biking around Salt Lake. Offering some of the most spectacular scenery around Larnaca, the salt lake is the perfect place to get away from it all and explore some natural beauty. The lake is particularly impressive in the winter months when flocks of migratory birds such as flamingoes, ducks and swans arrive to feed in the abundant waters. There is also a mosque at the lake, complete with lush gardens and tombs. The mosque reflects beautifully in the clear waters during winter, creating a magical atmosphere and memorable experience.
Another heavenly spot in the immediate locality is Kalavasos Dam; a remote and scenic area offering enjoyable hikes in a tranquil setting. Follow the old earthen road to view the remnants of an old working mine, or simply enjoy the gorgeous views of the countryside. Kalavasos village is also worth a stop off, if only to sample some of the local food and wander its quaint streets. On the outskirts of the village, seek out the old abandoned mine trains.
For some fresh mountain air, drive into the Troodos mountain range to visit stunning monasteries and soak up incredible views – but make sure you check the weather guides carefully so you don't end up in a snowdrift. Alternatively, head north to Nicosia, a city of old walls, ancient passageways, impressive Turkish architecture and a lively performing arts and nightlife scene. Kyrenia, a town on the northern coast of Cyprus, noted for its historic harbour and castle, is also a worthy option
Hotels Near Larnaca Airport

Petrou Apart Hotel
is a city centre self catering hotel providing comfortable accommodation at reasonable prices. Only 10 minutes drive away from Larnaca International Airport, conveniently located in the heart of Larnaca surrounded by restaurants, bars and all kind of shops. The famous Palm Tree promenade and the long sandy beach of Larnaca city is just a 2 minutes walk away.
Frangiorgio Hotel Apartments
Frangiorgio Hotel Apartments situated in the heart of Larnaca, these comfortable apartments offer a relaxing base, just steps away from the local boutique shops and the seafront. Frangiorgio Hotel is conveniently situated just 10 minutes' drive from Larnaca International Airport. Its prime location allows you to easily access Larnaca's major attractions. The comfortable studios and apartments are appointed with modern amenities, including a well-equipped kitchen and satellite TV. Throughout your stay you can also enjoy free wireless internet access in the public areas of Frangiorgio Hotel and free private parking. Larnaca's sandy beach is just steps away from Frangiorgio Hotel.
Le Meridien Limassol Spa and Resort
The Luxurious 'residents only' Le Meridien Limassol Spa and Resort is situated on 100,000 square metres of landscaped gardens and is Cyprus's only international five star chain hotel on the beach. The hotel is renowned for its award winning Spa, delicious range of dining options, unrivalled children's facilities including Penguin Village and Leisure Land, and not forgetting its impeccable service and warm hospitality.