Ireland Car Hire
Last Updated: 30th June, 2023
Renting a car in Ireland is easy through the Airport Car Hire Network. We compare cars hire prices from al the leading suppliers such as Hertz, Avis, Budget, Europcar Dooleys, Sixt and many more to get you the best deal. One way rental is available in Ireland, so if you wish to rent a car in Dublin Airport, Cork Airport, Shannon Airport, Kerry Airport or Belfast please allow us to give you an all inclusive quote you will not be disappointed.
You are not confined to renting a car at Irish Airport, car hire is also available in cities and most large towns. Great deals are available in Dublin City Centre, Cork City and Killarney town centre,
If you are planning on renting a self-catering holiday home in Ireland check out Self Catering Ireland
Ireland Car Rental FAQ
What is the best car hire company in Ireland?
Based on feedback from our customers who hired a car in Ireland, Enterprise Car Hire have the best customer satisfaction rating with a score of 8.8 out of a maximum of 10 points.
Can I rent a car in Ireland if I am over 70?
Yes, you can hire a car in Ireland from some car rental companies up to 99 years of age with no extra charges or fees. Contact us we will be glad to assist you by comparing the leading car hire companies to get you the best deals for drivers over 70 in Ireland.
Can I rent a car in Ireland if I am under 25?
You can hire a car in Ireland at 19 years of age, with additional fees. Please contact us and we will be glad to explain how to get the best deal for your age group in Ireland.
Can I take a rental car from Ireland to visit Northern Ireland?
Yes some car hire companies will allow you to take a rental car cross border, but you will need to get permission first. There may be additional fees to cross an International border.
Can I pick up a rental car in Dublin and drop it off in Cork or Belfast?
Yes some car hire companies will allow one way rentals, however you will need to let them know before hand. There may be an additional one way rental fee if you leave the car in a different location to the pick location.
How long do I need to hold a licence in order to rent a car in Ireland?
A full licence held for minimum of 1 year with no major endorsements. UK licence holders need to present the photo card.
Which documents do I need to hire a car in Ireland?
The principle driver will need to have the following documents in his or her name. A full licence, a credit card, the voucher we will send you when you complete your booking, and a passport. A printed version of your voucher must be produced upon arrival at the rental desk. Failure to present the voucher means the car rental agent may charge you at the local rates. If your form of identification does not include or match your current address, then a separate printed proof of address will be required.
What is the fuel policy for a hire car in Ireland?
This will depend on the car hire supplier you select. The vast majority of cars have a full to full fuel policy, which means your vehicle will be supplied with a full tank of fuel. To avoid incurring fuel charges, you will need to return it with the same amount of fuel as it had when you collected it. You can also choose pick up full return empty. This maybe more convenient if you wish to drop the car back without delays, but it will be more expensive.
Ireland Car Rental Locations
The easiest and best place to rent a car in Ireland is at one of the many airports located around the country. Car rental is also available in the large cities of Dublin, Cork, Belfast, Galway and Killarney
Guide to renting a car in Ireland
At Airport Car Hire we are on your side to help you get the best deal when renting a car in Ireland. We compare the leading car hire companies and assist you by pointing out the pitfalls, which will save you money if you choose to hire a car in Ireland.
Rental Locations
The most convenient place to pick up your rental car is from the airports. They are open up to 20 hours a day, and will have a better selection of cars, they will also be cheaper than the than the smaller city centre offices.
Additional Driver
A second driver will cost at least €10 per day from most suppliers. This will push the rental cost up by at least 50% so work out do you really need a second driver before you book. Look out for special offers where you get the extra driver free,
Child Seats
Car hire companies tend to keep the price of the car rental low, but will jack up the price of the additional extra, Child seat will cost from €10 per day. It you are renting for a week or tow it may be better to bring your own, especially if it is only a booster seat you require.
GPS
Again can work out expensive at over €10 per day. Bring you own or rent a large car you may pay €4 or €5 Euro extra for the larger car but it may have GPS as standard.
Fuel
Be sure to check the your documentation to see which fuel type to use. Petrol or Diesel the green or black nozzle head at the pumps. If you use accidentally use the incorrect one the car hire company will charge you a penalty. Fuel while not cheap at approximately €1.40 per litre is below the price of most European countries. Next check the fuel policy of your rental. It can be either full to full meaning that you pick up full and most return it full. Full to empty means you collect it full and return it empty. Please pay attention to this as you will not be refund the cost of the fuel if you return it full when it should have been returned empty.
Drivers Age
Best rates are for drivers aged between 25 and 99. Drivers between 21 and 25 will need to pay a daily insurance supplement of approximately €40 per day.
Transmission
Manual or Automatic will differ in price with automatic usually 33% more expensive. Automatics will account for 15% of car rentals so they are in short supply. It is important to book your car in advance more so, if it is an automatic you require.
World Master Car Insurance
Visitors from USA can use World Master Car Insurance cover. Please contact your credit car company in advance to obtain a letter to say they will fully cover you in Ireland. You will need to present this letter when you collect the car.
Car Hire Locations in Ireland
Ireland See & Do
The Wild Atlantic Way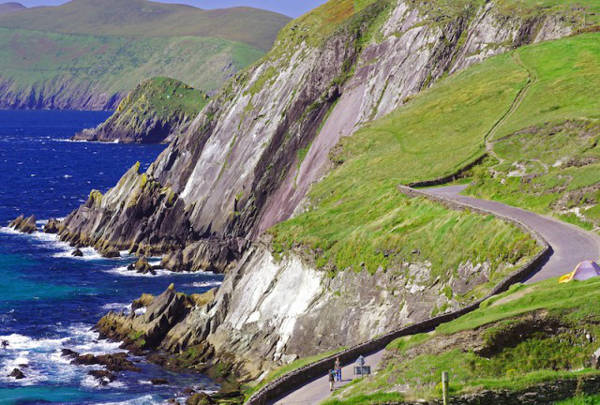 Stretching from Donegal in the North West of Ireland and travels down the West coast to Kinsale in County Cork. The route is 2,500km london-gatwick-airport and spans seven of Ireland's counties.