Norway Car Rental FAQ
Which is the best car hire company at Oslo Airport Norway?
Based on feedback from over 10,000 customers who hired a car at at Oslo Airport, Alamo have the best customer satisfaction rating with a score of 8.9.
Can I rent a car in Norway if I am over 70?
Yes, you can hire a car in in Norway from some car rental companies up to 99 years of age with no extra fees or charges. Contact us we will be glad to assist you by comparing the leading car hire companies to get you the best deal.
Can I rent a car in Norway if I am under 25?
You can hire a car in Norway at 18 years of age, with additional fees. Young driver's age: 18 to 24 years. Charge 125 NOK per day. Maximum 1,000 NOK. Please contact us directly and we will be glad to explain how to get the best deal for your age group
Can I take a rental car from Norway to visit a different Country?
Written permission is required for driving an Alamo vehicle outside Norway. Alamo Norway vehicles can be driven only to Austria, Belgium, Czech Republic, Denmark, Finland, France, Germany, Italy, Liechtenstein, Luxembourg, Netherlands, Portugal, San Marino, Spain, Sweden, Switzerland, and United Kingdom. Regarding one-way rentals, please check the rental agent's one-way policy. We kindly reminds that violation of above restrictions makes our insurance terms void/invalid. In such cases, the total responsibility of any damages caused to/by the rented vehicle passes over to the renter. Cross border fee does not apply for rentals to Denmark & Sweden. A penalty fee of NOK 10.000 will apply in case the car is driven abroad without prior permission from the rental office.
Can I take a rental car from Oslo and drop it off in a different city?
Yes some car hire companies will allow one way rentals, however you will need to get permission first. There will be an additional one way rental fee if you leave the car in a different location to the pick location
How long do I need to hold a licence in order to rent a car at Oslo Airport?
A full licence held for minimum of 1 year with no major endorsements. UK licence holders need to present the photo card
Which documents do I need to hire a car in Norway?
The principle driver will need to have the following documents in his or her name. A full licence, a credit card, the voucher we will send you when you complete your booking, and a passport.
What is the fuel policy for a hire car in Norway?
This will depend on the car hire supplier you select. The vast majority of cars have a full to full fuel policy, which means your vehicle will be supplied with a full tank of fuel. To avoid incurring fuel charges, you will need to return it with the same amount of fuel as it had when you collected it. You can also choose pick up full return empty. This maybe more convenient if you wish to drop the car back without delays, but it will be more expensive.

Norway See & Do
Norway Roadtrips
Oslo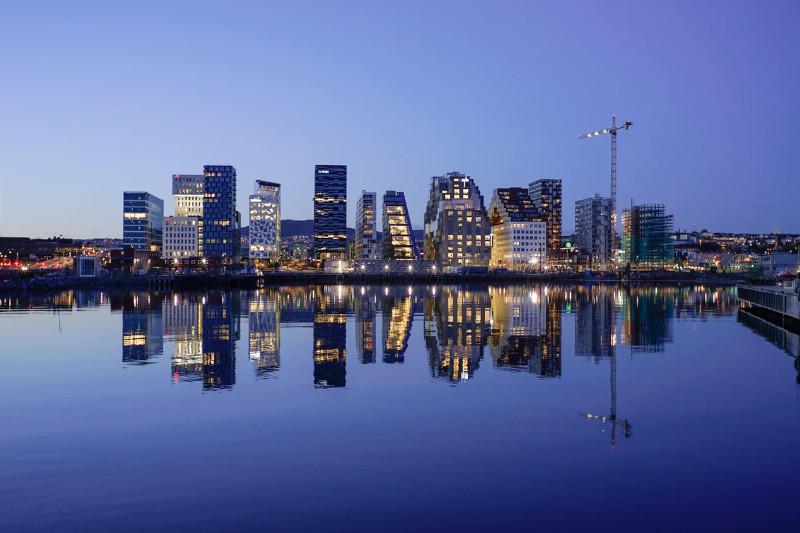 Oslo Norway
Oslo is the obvious starting point for a proper road trip in Norway. It hosts the country's biggest international airport where car rentals are fairly easy to find. Travelling around Norway with a rental is quite a popular way of visiting the country. Oslo is not the most spectacular city in the world, but it has some interesting sights: the Norwegian Royal Palace, the Oslofjord (the waterway on which the city is located), the Akershus Fortress, overlooking the fjord, and the very interesting Folkemuseum, housing different architectural examples of typical Norwegian settlements.
Stavanger and Bergen
Driving towards the West, around the country's rugged coast, we arrive in the ports of Stavanger and Bergen, two of Norway's main departure points for the code ships (fishing brings a large income to the country). Not before we pass by Voringfossen, one of the highest waterfalls in Norway, with 198 meters of complete fall.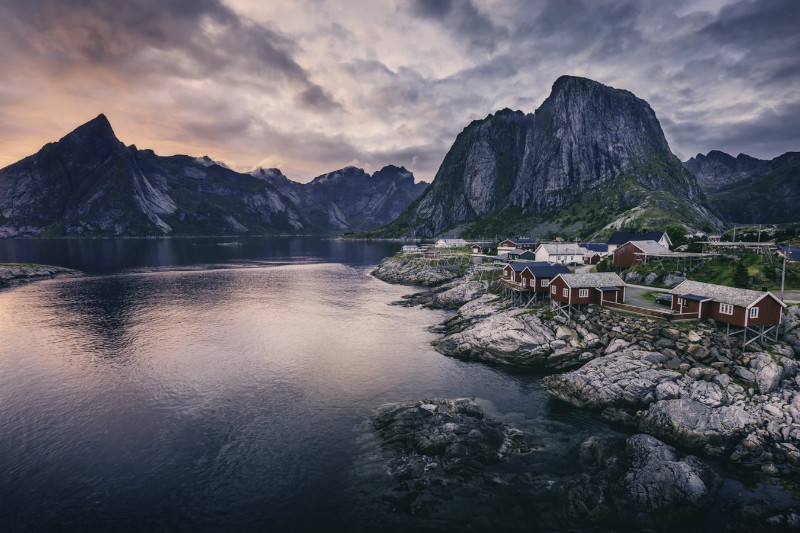 Norway
The Hanseatic architecture in these two cities is splendid, being kind of a mix between the Norwegian and German styles. Beautiful panoramas of the cities and the adjacent fjords can be seen from surrounding mountains - usually, they can be easily hiked or a cable car will bring you to the top. Stavanger also boosts the oldest cathedral in Norway - the Stavanger domkirke.
If you want to take the hire car further north, be advised that proper winter gear is needed. But if you decide to take on the eternal winter, it will pay off for sure. That's because, a couple of hundred of kilometers to the North, we find Norway's prime attraction for motorists - the Trollstigen. This incredible piece of road that is literally named "Troll's Path" consists of a series of twists and bends that will make your heart beat faster - all this at a 10% slope. The road is one of Norway's main tourist attractions and even has a tourist center on its highest point.
Nearby, the Geiranger fjord, a World Heritage Site natural wonder, awaits its visitors. It has 15 km in length - incredibly far from the coastline - and is roamed all day by ships participating in the two hours visitors cruises. The Seven Sisters waterfall will miraculously appear out of nowhere on one of the mountain facades that guard the fjord. Unfortunately, you can explore all these wonders only by boat and, even worse, this is the end of our trip. Hope you enjoyed it!
Where Can I Rent a Car in Norway
Car rental available from the following locations in Norway
ß
Aal Sundrevegen 97
Aalesund EUROPCAR / SYDSIDEN BILUTLEIE AS, AALESUND, 6008
Aalesund - Airport EUROPCAR, AALESUND / VIGRA, 6040
Alta EUROPCAR / ALTA MOTOR AS, ALTA, 9512
Alta - Airport AIRPORT SERVICE LOCATION, ALTA, 9512
Andenes Industriveien 3, Andenes
Andenes - Airport EUROPCAR/ANDENES AIRPORT, ANDENES, 8480
Arendal ESSO HISOEY SERVICENTER AS, HIS - ARENDAL, 4817
Bardufoss EUROPCAR / LUNDEBERG BILSERVICE AS, BARDUFOSS, 9325, NO
Bardufoss - Airport AIRPORT SERVICE LOCATION, BARDUFOSS, 9327
Bergen Vestre Strømkaien 5, Bergen
Bergen - Airport Flesland, Bergen Airport, Bergen, Bergen
Bergen - South KANALVN 48,, Bergen, 5068
Bodo EUROPCAR / BILSENTRET BODO AS, BODO, 8000
Bodo - Airport Bodo Airport, Airport Service Location, Bodo
Bronnoysund EUROPCAR/FORSIKRINGSSENTERET, BRONNOYSUND, 8900, NO
Bronnoysund - Airport AIRPORT SERVICE LOCATION, BRONNOYSUND, 8900
Byggstad - Airport AIRPORT SERVICE LOCATION, FOERDE, 6800
Drammen EUROPCAR/PARK BILUTLEIE AS, DRAMMEN, 3018, NO
Elverum - Downtown Lundegaardsveien 15
Evenes EUROPCAR/ JOHNSENS BILUTLEIE AS, EVENES/LILAND, 8534
Evenes - Airport Arrivals Hall, Evenes Airport.
Fagernes - Airport Fagernes Airport
Finnsnes Otterveien 2, Finnsnes
Floro Gunhildvagen (Floro bilskade),, Floro, Floro
Floro - Airport FLORO AIRPORT, FLORO, 6800
Forde - Airport Forde Airport, Forde Lufthavn
Fredrikstad Etter avtale, Fredrikstad
Gjovik EUROPCAR, GJOVIK, 2815, NO
Hamar SERVICE LOCATION see page down, HAMAR, NO
Hammerfest EUROPCAR/HAMMERFEST AUTO AS, RYPEFJORD, 9610, NO
Hammerfest - Airport AIRPORT SERVICE LOCATION, HAMMERFEST, 9615
Harstad Samagaten 33, Harstad
Harstad/Narvik Evenes - Airport Evenes Airport, Harstad
Haugesund - Airport HAUGESUND AIRPORT, AVALDSNES, 4262
Horten Etter avtale, Horten
Kirkenes EUROPCAR/KIRKENES BIL AS, KIRKENES, 9901, NO
Kirkenes - Airport AIRPORT SERVICE LOCATION, KIRKENES, 9901
Kongsberg EUROPCAR/SKRIM BIL AS, KONGSBERG, 3603, NO
Kongsvinger EUROPCAR/QUELLE AS, KONGSVINGER, 2212, NO
Kristiansand Oddemarka Auto AS, Oestre Ringvei 86, Kristiansand
Kristiansand - Airport Kristiansand Airport, Kjevik, Kristinasand, N4750
Kristiansund EUROPCAR/SLATLEM AS, KRISTIANSUND, 6517, NO
Kristiansund Kvenberget - Airport Kristiansund Airport, Airport Service Location, Kristinasand
Lakselv - Airport EUROPCAR/ FFR AS, LAKSELV, 9700
Larvik ESSO-ELVEVEIEN VEISERVICE AS, LARVIK, 3262
Leknes EUROPCAR/VIAN BILUTLEIE AS, LEKNES, 8370, NO
Leknes - Airport AIRPORT SERVICE LOCATION, LEKNES, 8370, NO
Lillehammer EUROCPAR, LILLEHAMMER, 2609, NO
Mandal Etter avtale, Mandal
Mo-I-Rana EUROPCAR/FORSIKRINGSSENTRET AS, MO I RANA, 8626
Mo-I-Rana - Airport AIRPORT SERVICE LOCATION, MO-I-RANA, 8600
Molde EUROPCAR/BJARNE RODSETH AS, MOLDE, 6416
Molde - Airport AIRPORT SERVICE LOCATION, MOLDE, 6416
Mongstad EUROPCAR, MONGSTAD, 5954, NO
Mosjoen EUROPCAR FORSIKRINGSSENTERET AS, MOSJOEN, 8656
Mosjoen - Airport Arrivals Hall, Mosjoen Airport., Mosjoen, Mosjoen
Namsos EUROPCAR, SPILLUM, 7820
Namsos - Airport AIRPORT SERVICE LOCATION, NAMSOS, 7800, NO
Narvik EUROPCAR/BOTNMARK SERVICE ENK, NARVIK, 8506, NO
Narvik - Airport AIRPORT SERVICE LOCATION, NARVIK, 8506
Narvik/Evenes Etter avtale, Narvik/Evenes
Oersta-volda - Airport Bil & Gummiservice
Oslo - Downtown National Norsk Bilutleie AS, Ensjoveien 20, Oslo, 0661
Oslo - Gardermoen Airport Oslo Gardermoen Airport, Oslo
Oslo - Haakon VII'S Gate 9 EUROPCAR / ESSO GAS STATION, OSLO, 0161
Oslo - Oekernveien Hovinveien 43, OSLO EAST, 0576, NO
Porsgrunn SERVICE LOCATION, PORSGRUNN, 3901, NO
Roros - Airport AIRPORT LOCATION, ROROS, 7374, NO
Rygge - Airport Etter avtale, Moss
Sandane - Airport EUROPCAR/NORDFJORD BILUTLEIGE AS, SANDANE, 6823,
Sandefjord EUROPCAR, SANDEFJORD, 3217
Sandefjord - Airport Sandefjord Airport (Oslo Torp), Airport Service Location, Sandefjord
Sandnessjoen EUROPCAR/HANSENS BILVERKSTED AS, SANDNESSJOEN, 8805, NO
Sandnessjoen - Airport AIRPORT SERVICE LOCATION, SANDNESSJOEN, 8800
Ski EUROPCAR/INTEX NORGE AS, SKI, 1406, NO
Skien - Airport AIRPORT SERVICE LOCATION, SKIEN, 3700
Skjetten EUROPCAR, SKJETTEN, 2026, NO
Sogndal - Airport AIRPORT SERVICE LOCATION, SOGNDAL, 6856
Sogndal/Kaupanger EUROPCAR/ ANI UTLEIE AS, SOGNDAL / KAUPANGER, 6854, NO
Sortland EUROPCAR/SG BIL UTLEIE AS, SORTLAND, 8400, NO
Stathelle EUROPCAR/SJO OG LAND AS, STATHELLE, 3960, NO
Stavanger - Airport Stavanger Airport, FR. Nansensvei 45, Stavanger, N-4019
Stokmarknes - Airport AIRPORT SERVICE LOCATION, STOKMARKNES, 8400
Stord EUROPCAR/REISBYRAET STORD, STORD, 5417
Stord - Airport STORD AIRPORT, STORD, 5410
Svolvaer - Airport AIRPORT SERVICE LOCATION, SVOLVAER, 8300
Tonsberg EUROPCAR/DEKKMESTERN TONSBERG, TONSBERG, 3112
Tromso Stakkevoldveien 329,, Tromso, Tromso
Tromso - Airport EUROPCAR, TROMSO, 9265
Trondheim Thonning Owesensgate 36, PB 1491 Leangen 7444, Trondheim
Trondheim - Airport Arrivals Hall, Trondheim Varnes Airport., Trondheim, Trondheim
Vadso EUROPCAR/VARANGER AUTO AS, VADSO, 9801
Vadso - Airport AIRPORT SERVICE LOCATION, VADSO, 9801