Lisbon Car Hire
Last Updated: 30th June, 2023
We compare car hire prices in Portugal in order to get you the cheapest car hire prices at Lisbon Airport. All cars are supplied by the leading car hire companies Hertz, Avis, Alamo, Budget Dollar, National Sixt, Thrifty Europcar and we will discount there prices in order to get the best car hire prices in Lisbon Airport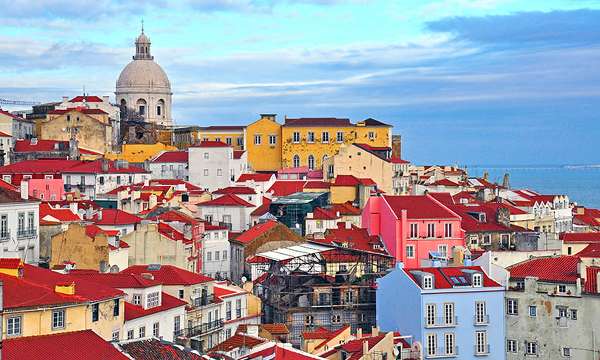 Colourful Lisbon
Lisbon, the dramatic city of Gothic cathedrals, impressive monasteries, winding backstreets and unusual museums is also worth a visit. An enchanting mix of legend, history, culture and music, Lisbon provides an excellent city break.
Lisbon Car Rental FAQ
Where to drop off rental car at Lisbon airport
Which is the best car hire company at Lisbon Airport in Portugal?
Based on feedback from our customers who hired a car at at Lisbon Airport, Cael Car Hire have the best customer satisfaction rating with a score of 8.9 out of a maximum of 10 points.
Can I rent a car at Lisbon Airport with a debit card?
Yes you can hire a car at Lisbon Airport with a debit card issued by a bank. Conditions of debit card use: card must be in main driver's name. MasterCard or VISA only. Debit cards must be issued by a bank, and numbers must be embossed. Please note, the deposit amount will be charged if using a debit card and associated transactions fees may apply. Maximum rental duration 28 days if using a debit card. Prepaid and electronic cards (Visa Electron) are not accepted. After the search results appear be sure to check the filter for Both Credit and Debit Cards. This is located on the search results page at the bottom of the left column under the heading Cards Accepted At Pick-Up. This will display the car hire companies that will accept a debit card for car hire at Lisbon Airport. Please feel free to contact us TEL +353 (0)16852606 and we will be glad to assist you.
Can I rent a car at Lisbon Airport Portugal if I am over 70?
Yes, you can hire a car in Lisbon from some car rental companies up to 99 years of age with no extra charges. Contact us we will be glad to assist you by comparing the leading car hire companies to get you the best deal.
Can I rent a car at Lisbon Airport if I am under 25?
You can hire a car at Lisbon Airport at 19 years of age, with additional fees. Drive on Holidays will charge young driver's age: 21 to 23 years. Charge 5 EUR per day. Includes 23% tax. Aged 19 to 20 years. Charge 7.5 EUR per day. Includes 23% tax. Goldcar will charge young driver's age: 21 to 24 years. Charge 7.95 EUR per day. Maximum 96 EUR. Includes 23% tax. Please contact us and we will be glad to explain how to get the best deals for your age group.
Can I take a rental car from Lisbon to visit a different Country?
Yes some car hire companies will allow you to take a rental car cross border, but you will need to get permission first. There will be additional fees to cross an International border. For example Avis cars can be taken to following countries: Austria, Albania, Andorra, Belgium, Croatia, Cyprus, Denmark, France, Finland, Germany, Greece, Hungary, Iceland, Italy, Ireland, Israel, Luxembourg, Malta, Netherlands, Norway, Poland, Spain, Sweden, Switzerland and United Kingdom.
Can I take a rental car from Lisbon and drop it off in a different city?
Yes some car hire companies will allow one way rentals, however you will need to let them know before hand. There will be an additional one way rental fee if you leave the car in a different location to the pick location
How long do I need to hold a licence in order to rent a car at Lisbon Airport?
A full licence held for minimum of 1 year with no major endorsements. UK licence holders need to present the photo card.
What documents do I need to hire a car at Lisbon Airport?
The principle driver will need to have the following documents in his or her name. A full licence, a credit card, the voucher we will send you when you complete your booking, and a passport. A printed version of your voucher must be produced upon arrival at the rental desk. Failure to present the voucher means the car rental agent may charge you at the local rates. If your form of identification does not include or match your current address, then a separate printed proof of address is required
What is the fuel policy for a hire car at Lisbon Airport?
This will depend on the car hire supplier you select. The vast majority of cars have a full to full fuel policy, which means your vehicle will be supplied with a full tank of fuel. To avoid incurring fuel charges, you will need to return it with the same amount of fuel as it had when you collected it. You can also choose pick up full return empty. This maybe more convenient if you wish to drop the car back without delays, but it will be more expensive.
Car Rental Companies in Lisbon













The best car hire company at Faro Airport
This rating is taken from feedback we received from our who booked car hire at Faro Airport. The score is based on overall value for money, cleanliness of the car, service at the rental desk, car hire pick-up process, car hire drop-off process. Cael Rent a Car have the best customer satisfaction rating with a score of 9.1 out of a maximum score of 10 points
Lisbon Car Rental Locations
Car Rental Lisbon Airport
Lisbon Airport Aeroporto da Portela, Lisbon, 1700-008, LIS
Car Rental Lisbon City Centre
Lisbon Joao Crisostomo 85, 57, 89A, Lisboa, 1069-080
Amadora Lisbon - IKEA Zona Industrial de Alfragide,
Carnaxide Edificio Ramazzotti, Av. do Forte, n. 6,
Cidade Lisbon - Cidade R. Castilho, 72 A/B/C, Lisboa,
Downtown Lisbon - Downtown Av. Alvares Cabral 45-B,
Gare Do Oriente Lisbon - Gare Do Oriente ED.GARE DO ORIENTE
North Lisbon - North Av. Marechal Gomes da Costa 21-F, Lisbon,
Nº7 – 7A Edifício Hertz, Prior Velho, 2685-379, Prior Velho
R. Bolhao Pato Lisbon - R. Bolhao Pato R., 3 E, Lisbon, 1700-081
Rua Castilho Lisbon - Rua Castilho Rua Castilho, number 167,
Santa Apolonia Lisbon - Santa Apolonia ESTACAO DLISBOA, 1100
Lisbon - SEDE AAC Lisbon , Av Joao Cristomo, 1069-080

Lisbon Airport Information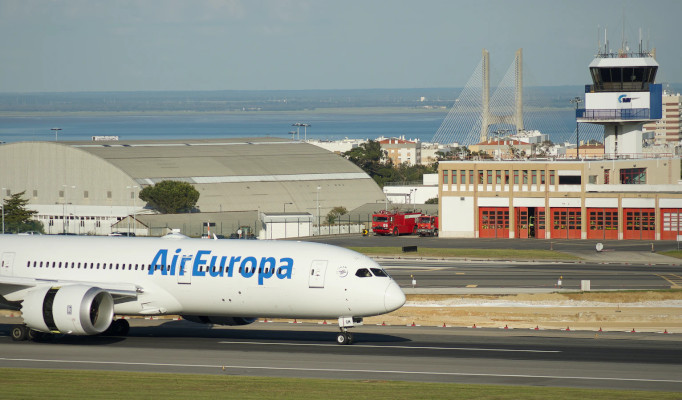 Lisbon International Airport
Airport Name: Lisbon International Airport, Aeroporto de Lisboa
IATA LIS
ICAO:
Address: Alameda das Comunidades Portuguesas, Lisbon Portugal
City: Lisbon
Country: Portugal
Telephone: +351 218413500
Time Zone: GMT + 1
Coordinates:
Location: Lisbon Airport is located 7kms from Lisbon the capital of Portugal.
Driving Directions to Lisbon Airport Lisbon Airport is located 7kms from Lisbon the capital of Portugal.
Car Parking: Lots of car parking spaces available at Lisbon airport for short or long term parking.
Taxi service: Available in front of terminal
Train service: no direct connection with Lisbon airport but the nearest metro terminal is 15 minute away by bus, a reasonably prices service.
Bus service: Bus Line No 91 which travels every 20 minutes from the Airport to Lisbon's centre.
Car Hire: The car rental desks are located in the arrivals hall
Information Desk: Located in the arrivals hall
Disabled Facilities: Assistance for disabled passengers is available in Lisbon Airport on request. My Way service (mobility assistance service provider) should be pre-booked with the air carrier or its agent up to 48 hours before departure time.

Lisbon See & Do
A sprawling hilltop city, Lisbon is a dramatic mix of Gothic cathedrals, imposing monasteries, labyrinth backstreets and unusual museums. A city where legend and gossip is shared in traditional squares, music resonates from small night time tavernas and surprises lurk around every corner, Lisbon is an exciting and sophisticated destination that retains its old world charm..
Must see attractions in Lisbon
Rich in architecture, Lisbon is a fantastic city to explore on foot. Look out for examples of Romanesque, baroque, Gothic and Modern constructions throughout the city, particularly along the Avenida da Liberdade, Avenida Fontes Pereira de Melo, and Avenida da República.
Head to the Moorish Alfama neighbourhood to visit the Jeronimos Monastery, a beautifully ornate monument of great importance and a designated UNESCO World Heritage Site. Also seek out the imposing Lisbon cathedral, the resting place of the bones of the city's patron saint Vincent of Saragossa, for a taste of 12th century craftsmanship.
Stroll the ornate and traditional Baixa district to see what surprises you can encounter, have a ride on the evocative, century-old wooden trams and iron funiculars, or for a pleasant outdoors walk, head to the Monsato Forest Park for plenty of greenery and flowering plants, including a permanent subtropical and tropical collection in the winter garden.
The Natural history Museum and Botanical Gardens are also highly recommended. Visit the important Christ the King monument that overlooks the city, a memorial of World War II, and take advantage of the hop-on hop-off bus to get to the main attractions in extra quick time.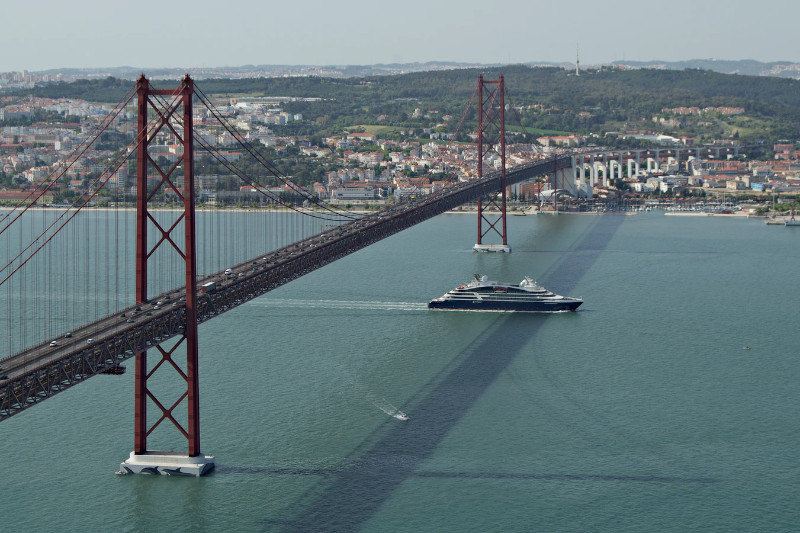 Lisbon de Abril Bridge
To learn more about the city's past, head to one of the many galleries and museums in the locality. The Lisbon City Museum is extremely informative, National Museum of Ancient Art houses a vast and exciting collection, the National Museum of Costume and Fashion makes an interesting change, while the Electricity Museum and National Coach Museum provide alternative aspects of a rich heritage. If you'd like take in a show at Lisbon's Opera House, the Centro Cultural de Belém, or the Teatro Camões..
Scenic Drives from Lisbon
Collect your hire car at Lisbon Airport and take a short drive to the small coastal town of Cascais; previously a small fishing village, it is home to lovely beaches, water sports and the impressive collection of art at the former palace, now known as the Conde de Castro Guimarães Museum.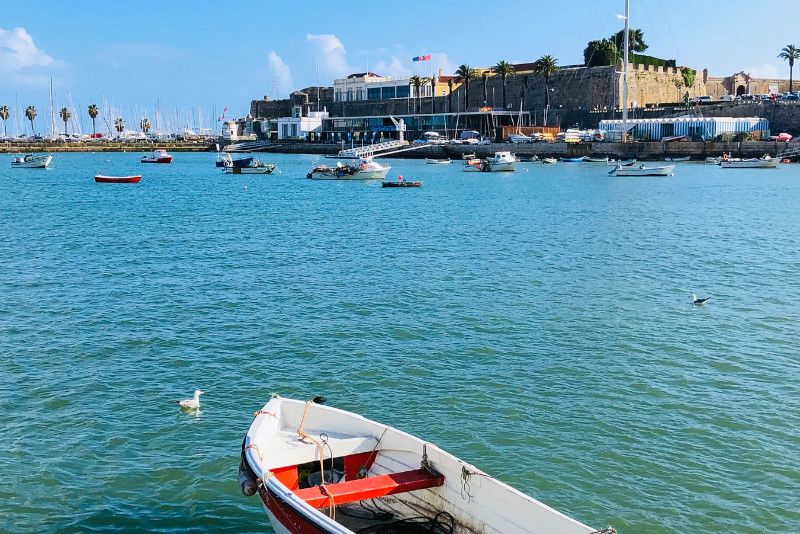 Cascais near Lisbon
Sintra is another poplar destination, with its castles, historic mansions and lush hilly backdrop. Visit the Palácio Nacional de Sintra, the picture-book perfect Palácio da Pena, and the complicated Quinta de Regaleira with gorgeous surrounding gardens. The Moorish Castle and the Palácio de Monserrate should also not be missed.
Surfers and adventures might like to take a drive to Nazare; boasting the double importance of being Portugal's most famous fishing village as well as an essential destination for big wave surfers, this is a surprising and beautiful destination.
For an historical trip, Faro in the Algarve region is the perfect spot for soaking up history. With its ancient streets, impressive palace, various ruins and glorious beaches, Faro is the perfect complement to any stay in Lisbon. Be sure to stop off at some of the unspoilt, rugged coves to make the most of this scenic drive
Hotels Near Lisbon Airport

The Holiday Inn
The Holiday Inn Express Lisbon Airport is located next to Lisbon International Airport, minutes away from FIL trade fair venue, the Atlantic Pavilion and Lisbon City Centre. This brand new and modern hotel offers 120 guest rooms, one breakfast room, a laid-back 24-hour Lobby bar, a 24-hour self-service Business Centre and two meeting rooms. Whether you're travelling on business or leisure, you'll find both comfort and value so you can relax, recharge and face the day with a smile.
The Radisson SAS Hotel
The Radisson SAS Hotel Lisbon's most visible hotels, is sheathed in pink stone and rises 12 floors above the Campo Grande residential district. The stylish interior is conservative and the lobby is decorated with slabs of grey and white marble. The hotel's proximity to the business district and the airport has made it a very sought after business hotel. Just 15 minutes from the city centre, out hotel is only 5 minutes from the Lisbon International airport. 221 newly-renovated and spacious rooms are equipped with high-quality amenities and come with large windows and comfortable
The Altis Park Hotel
The Altis Park Hotel is a stunning 4 star hotel located in the heart of Lisbon. This modern Portuguese hotel offers new standards in hotel living in the 21st Century. It provides guests with accommodation in a variety of rooms and suites while the hotel facilities include meeting rooms, in-house dining, leisure and swimming pool (150 m away). The excellent location of this Lisbon Altis Park Hotel makes it an ideal location for business and leisure travellers alike.
The Corinthia Hotel
The Corinthia Hotel in Lisbon is a modern stylish hotel, close to Lisbon's most important attractions. It takes no more than a few minutes to get to the historical centre, the main shopping areas and the city's nightlife. The accessibility is excellent, the subway and other public transports are at our door step. For family fun, the zoo, one of the largest in Europe, is just across the street, the Caloust Gulbenkian Foundation and other cultural spots are also nearby. The international airport is only 7 km away.
Tivoli Oriente
Tivoli Oriente in Lisbon provides contemporary accommodation within Lisbon's iconic Parque das Nações, overlooking the Tagus River. It features an indoor pool with jacuzzi, relaxation facilities and a well-equipped gym. Renovated and soundproofed rooms at Tivoli Oriente hotel offer catchy interior decorations, most with designer furnishings. They all include satellite TV channels and en suite bathrooms with bathtub. Quality grilled meat and other Mediterranean specialities are served at the in house restaurant.
The Olissippo Oriente
The Olissippo Oriente, Lisbon is 150 metres from Terminal Station Oriente, has convenient public transport links to Lisbon city centre. All of the contemporary rooms feature a seating area and LCD TV. The Olissipo Oriente's restaurant serves a combination of Portuguese and international cuisine. Guests can also enjoy a variety of snacks and light meals on the shaded terrace at Coffee Shop Oriente. The rooms at the Oriente are sound proofed and include a luxury marble bathrooms, work desk and minibar. The Vasco da Gama shopping centre and Lisbon Oceanarium are within a 15-minute walk from the hotel. Lisbon International Airport is just 3 km away.
Sofitel Lisbon Liberdade comfort, luxury and style reign supreme at the Sofitel Lisbon Liberdade. Located on the prestigious avenue of the same name, its 171 rooms will live up to your expectations. Near the convention center and business district, and bordering historic neighborhoods, like the typical Alfama district, our hotel combines business and relaxation, but won't mix the two. Add our AdLib restaurant, a fusion of French culinary know-how and Portuguese cuisine and your Sofitel Lisbon Liberdade experience is complete. Well-equipped conference rooms, Wi-Fi access throughout the building, fitness center, lounges or library, as well as a devoted, multilingual team of staff.
Holiday Inn Lisbon-Continental hotel stay close to central Lisbon when you choose the Holiday Inn Lisbon-Continental hotel.A curvaceous high-rise building on a lively boulevard, the contemporary Holiday Inn Lisbon-Continental is a 10-minute taxi ride from Lisbon Airport. We're just a minute's walk from Campo Pequeno metro station for direct subway trains to Lisbon city centre. Settle in and surf the web with wireless Internet in your smart Guest room. Have a productive stay at Holiday Inn Lisbon-Continental, with 9 modern meeting rooms for up to 200 people and a 24-hour Business Centre. We're close to the banking district, Instituto Superior Técnico engineering school, and major companies like Ernst and Young. Lisbon Congress Centre is a 15-minute metro ride away, and the hotel offers ample parking and easy access to the IP7 motorway.
Lisbon City Hotel, the newest urban design hotel in Lisbon within easy walking distance of Lisbon downtown and just five minutes from Lisbon International Airport. The sophisticated modern architecture and welcoming atmosphere boast excellent accommodation offering individually-controlled air-conditioning, sound-proofed windows, cable TV, safe-deposit box, direct-dial telephone, work desk, Free Wi-Fi. Facilities and services include conference and meeting rooms, rent-a-car, laundry, well equipped business center, the exquisite City Lounge Bar, baby-sitting, sightseeing excursions and a metro station right outside the hotel.