Slovenia Car Hire
Last Updated: 14th Jan, 2022
Slovenia Car Hire Network provides Car Hire at Ljubljana Brnik Airport, Maribor Airport, Portoroz Airport Rent a Car in Bled , Aerodrom Ljubljand and Ljubljana down town, Slovenia.and all major cities from Hertz, Avis, Alamo, Budget Dollar, National Sixt, Thrifty Europcar
The most developed ex-Yugoslav state, Slovenia takes the eyes of the world with its splendid natural beauty, interesting culture and convenient location (in the North-east of Italy). The Adriatic country is one of the smallest in Europe, with 2 million inhabitants and a surface similar to the one of Beijing. A mountainous country, Slovenia has many spectacular roads to show off, especially when you get off the motorway and on some smaller roads. Being very small, it's decisively advised that you visit the country using a car, as it enables you to see the main tourist points in just a couple of days.
Slovenia Car Rental FAQ
What is the best car hire company in Slovenia?
Based on feedback from our customers who hired a car in Slovenia, Green Motion Car Hire have the best customer satisfaction rating with a score of 8.2 out of a maximum of 10 points.
Can I rent a car in Slovenia with a debit card?
Yes you can book car hire with a debit card in Slovenia , no credit card required. Conditions of debit card use: card must be in main driver's name. MasterCard or VISA only. Debit cards must be issued by a bank, and numbers must be embossed. Please note, the deposit amount will be charged if using a debit card and associated transactions fees may apply. Maximum rental duration 28 days if using a debit card. Prepaid and electronic cards (Visa Electron) are not accepted. Be sure to check the filter for Both Credit and Debit Cards on the left side under the heading Cards Accepted At Pick-Up.
Can I rent a car in Slovenia if I am over 70?
Yes, you can hire a car in Slovenia from some car rental companies up to 99 years of age with no extra charges or fees. Contact us we will be glad to assist you by comparing the leading car hire companies to get you the best deals for drivers over 70 in Slovenia.
Can I rent a car in Slovenia if I am under 25?
You can hire a car in Slovenia at 19 years of age, with additional fees. Please contact us and we will be glad to explain how to get the best deal for your age group in Slovenia.
Can I take a rental car from Slovenia to visit a different Country?
Yes most car hire companies will allow you to take a rental car cross border within EU (except Sweden, Finland, UK and Greece), Switzerland, Lichtenstein, Vatican, San Marino, Monaco, Bosnia, Serbia, Montenegro, and Macedonia. You will need to get permission first. There may be additional fees to cross an International border. There may be additional fees to cross an International border.
Can I pick up a rental car in Ljubljana and drop it off in a different city?
Yes some car hire companies will allow one way rentals, however you will need to let them know before hand. There may be an additional one way rental fee if you leave the car in a different location to the pick location.
How long do I need to hold a licence in order to rent a car in Slovenia?
A full licence held for minimum of 1 year with no major endorsements. UK licence holders need to present the photo card.
Which documents do I need to hire a car in Slovenia?
The principle driver will need to have the following documents in his or her name. A full licence, a credit card, the voucher we will send you when you complete your booking, and a passport. A printed version of your voucher must be produced upon arrival at the rental desk. Failure to present the voucher means the car rental agent may charge you at the local rates. If your form of identification does not include or match your current address, then a separate printed proof of address will be required.
What is the fuel policy for a hire car in Slovenia?
This will depend on the car hire supplier you select. The vast majority of cars have a full to full fuel policy, which means your vehicle will be supplied with a full tank of fuel. To avoid incurring fuel charges, you will need to return it with the same amount of fuel as it had when you collected it. You can also choose pick up full return empty. This maybe more convenient if you wish to drop the car back without delays, but it will be more expensive.
Slovenia Car Rental Locations
Slovenia Airports
Ljubljana Airport
Maribor Airport
Portoroz Airport

Car hire Slovenia
Bled
Celje
Crnomelj
Koper
Kranjska Gora
Ljubljana
Ljubljana- Hotel Lev
Ljubljana- Railway Station
Maribor
Novo Mesto
Portoroz
Portoroz-Kempinski Palace Hotel

Slovenia Airport Information
Airport Name: Ljubljana Jože Pučnik Airport,
IATA LJU
ICAO: LJLJ
Address: Zgornji Brnik 130a, 4210 Brnik, Slovenia
City: Slovenia
Country: Slovenia
Telephone: +386 4 206 10 00
Time Zone: GMT + 1
Coordinates:
Driving Directions to Slovenia Airport
Car Parking: Long and Short Term Parking Facilities available
Taxi service: Available in front of terminal
Train service:
Bus service:
Car Hire: The car rental desks are located in the arrivals hall
Information Desk: Located in the arrivals hall
Facilities:

Slovenia See & Do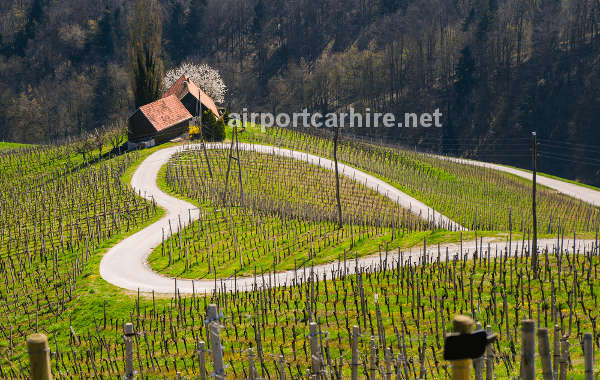 The easiest way to get to Slovenia is to travel to… Venice. Being one of the largest destinations in Italy, it's well connected to more or less all of Europe and North America. Venice is located just one hour away from the Slovenian border, passing through the lovely port of Trieste. Car rentals are available in large numbers in Venice airport, as well as in the city center.
Koper
The first town you'll stumble upon when you enter Slovenia is Koper, the country's main port. Once a formation of two islands, the city of Koper is now an important historical landmark, with the old town still maintaining its Venetian heritage. The region of Koper, called Istria, is considered a natural landmark in Slovenia and is visited every year by thousands of domestic and foreign tourists. Close to the Croatian border, the small town of Piran, named after the homonymous bay, is a splendid site, especially in summer. The town has the same atmosphere as the small localities on the Italian Coast, just 100 km away.
Postojna Cave
Half an hour by car towards the east and you arrive at what is probably Slovenia's best known tourist attraction: the Postojna Cave. This 24 km long cave system is one of the longest in the world and definitely the largest in Europe. The cave houses an underground railway system, a large natural "concert hall", as well as thousands of meters of passages and turns that will make you lose a whole day exploring this natural wonder.
Ljubljana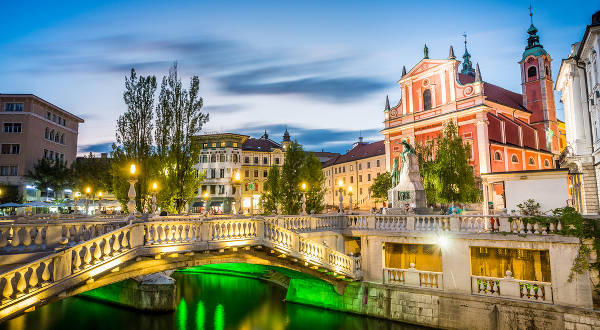 After Postojna, the next obvious destination is Ljubljana, the national capital. A small town of just 300 thousand people, Ljubljana is situated in a small flatland surrounded by the Dinaric Alps and is home to Slovenia's biggest monuments and national heritage buildings. The castle is probably the most visited spot, as it is a belvedere point overlooking the entire valley. In the city center, the Triple Bridge and numerous buildings, such as the Town Hall and Cathedral, are likely to capture your attention. Interestingly, Ljubljana might be the only European capital that includes marshes and wetlands inside its administrative boundaries.
Triglav National Park
Our final stop on the Slovenian road trip is the Triglav National Park, located just next to the winding mountain roads heading towards Austria. The Triglav is also Slovenia's highest peak and a favourite outdoor destination for Slovenians and Austrians alike. The area is perfect for mountain-lovers and hikers, as well as for people trying to take a break from the concerns of the real world.
Hotels Near Slovenia Airport

Grand Hotel Union Business
Grand Hotel Union Business, Miklosiceva 3, 1000 Ljubljana Grand Hotel Union Business was renovated in 2010. It enjoys a privileged location in the financial and shopping district of Ljubljana's city centre, offering free Wi-Fi. Grand Hotel is less than a 30-minute drive from the International Airport. The Grand Hotel features an indoor swimming pool, a souvenir shop, a fashion boutique and a jewellery shop.
Hotel Pri Mraku
Hotel Pri Mraku, Rimska cesta 4, 1000 Ljubljana Located in Ljubljana, this hotel is just 300 metres from the centre of the city and the Old Town. It has a 24-Hour front desk, a lush garden and an airport shuttle. The rooms at the Hotel Pri Mraku have cable TV, a spacious work desk and a private bathroom with a hairdryer. Free Wi-Fi is also available in the rooms. The Ivan Cankar Cultural and Congress Centre is located nearby.
Lesar Hotel Angel,
Lesar Hotel Angel, Gornji Trg 7, 1000 Ljubljana The luxuriously equipped Lesar Hotel Angel boasts a prime location at the very foot of the Ljubljana Castle Hill, offering spacious and bright accommodation with free wired internet access. The property is surrounded by a charming garden which reaches up to the castle itself. The central location of the Lesar makes it a great starting point to explore Ljubljana and its surroundings.
Hotel Bohinj
Hotel Bohinj, Ribcev Laz 45, 4265 Bohinjsko Jezero Hotel Bohinj is situated next to Bohinj Lake, surrounded by nature, with view over Mount Triglav in the Julian Alps. A sauna and massages are available at the hotel.The rooms are spacious and decorated with Alpine-style furniture. A big garden in front of the Bohinj offers relaxation for all guests. During the wintertime guests can store their ski equipment in the storage room.
Hotel Convent
Hotel Convent - Hotel & Resort Adria Ankaran, Jadranska c. 25, 6280 Ankaran Renovated in 2011, Hotel Convent is only 100 metres away from the sea in Ankaran. It offers a rich buffet breakfast every morning. All en suite rooms come with satellite TV and a minibar. Guests can use the sauna and gym facilities at the hotel. Half board is available at the restaurant. Koper is only a 5-minute drive away from Convent Hotel. Trieste and Ronchi dei Legionari Airport can be reached in just 35 minutes by car.