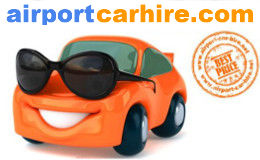 Last Updated: 23rd Dec, 2020
Sanitising procedures designed to protect you when you hire a car.
Car rental companies are essential service providers and will remain open for business during the Coronavirus Covid-19. If you plan to rent a car during coronavirus pandemic you will need to wear a mask and practice social distance when you arrive to pick up your car. As car hire is considered one of the safest methods of transport during the Covid-19 pandemic we checked with the major car rental companies to see what additional measures they are taking to ensure their rental cars are safe.
All car hire companies said that additional precautions and safety measures are currently in place. All cars are deep cleaned and sanitised as are the rental offices and shuttle buses in line with WHO guidelines. Once a car is disinfected it is then sealed and flagged as clean and safe. It is important that you book your car hire in in advance.
Avis Covid-19 Safety Measures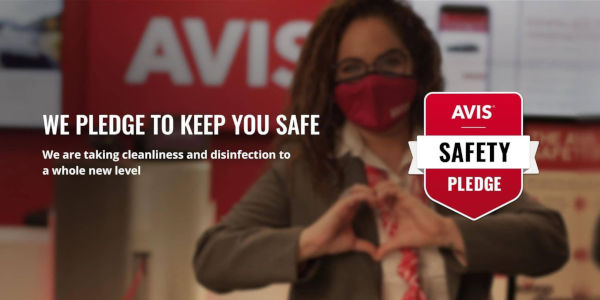 AVIS Safety Pledge applies to Avis and Budget car rentals
Avis has partnered with Dettol to ensure every vehicle is carefully cleaned before you rent a car during coronavirus pandemic. Counters and hard surfaces within our rental locations are being cleaned at regular intervals.
Avis will use counter-screens to observe social distancing protocols where possible.
Hand sanitisers are available for customers
Paperless rental agreements are available at most locations
Social distancing floor markings at rental desks
Avis staff wear masks and gloves
Limited amount of passengers on each shuttle bus
Hertz Covid-19 Safety Measures.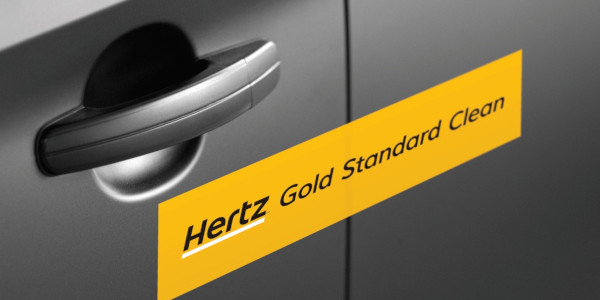 Hertz Gold Standard Clean applies to Hertz, Dollar and Thrifty
In the rental offices all areas such as door handles, counters, kiosks and other hard surfaces are regularly wiped down with disinfectant.
Alcohol based hand sanitisers are available for customers and staff
Social distancing of between 1 – 2 metres is maintained, depending on the laws of the country in which the office is located.
Customers are provided with disposable gloves
Hertz Gold Standard Clean is a 15-point cleaning process, which disinfects the car interior with particular attention paid to door & boot handles, gearshift, Instrument panels, steering wheel, seats, centre console, pockets, key & key fob and all high-touch areas.
Enterprise Covid-19 Safety Measures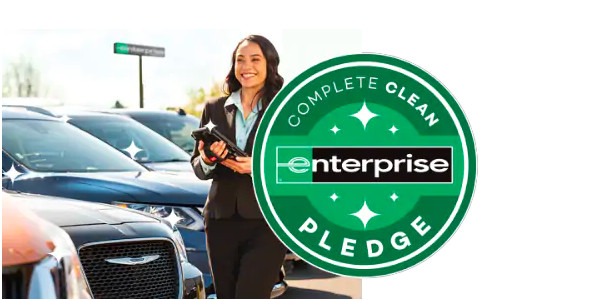 Complete Clean Pledge applies to Enterprise, Alamo an National car hire
Enterprise has implemented a 20 point cleaning checklist called the Complete Clean Pledge to all rental cars. All cars are thoroughly cleaned & sanitised using disinfectant.
(1) Key & key fob
(2) Steering wheel
(3) Steering column
(4) Seat belts
(5) Center console
(6) Door interiors
(7) Door pockets
(8) Interior door handles
(9) Exterior door handles
(10) Seat pockets / seat surfaces
(11) Areas between seats & consoles
(12) Areas between seats & door frame
(13) Cupholders / compartments
(14) Instrument panel
(15) Accessory panel / touchscreen
(16) Rearview mirror / side mirrors
(17) Visors / visor mirrors
(18) Dashboard / vents
(19) Gear stick / gear shift
(20) Trunk release
Goldcar Covid-19 Safety Measures
Social distancing floor markings at rental desks
Plexiglass screens are at the desks
Hand sanitisers available for customers use
Gloves and face masks are worn by all staff
Car key and key fob are disinfected and placed in a sealed envelope
Limited amount of passengers on each shuttle bus
Stringent cleaning and disinfection of stations and vehicles
Cars are fully sanitised with special attention given to driver and passenger areas
After sanitisation the car is locked and sealed and not opened again until you collect it
Tips on how to rent a car during coronavirus.
Book in advance with most rentals you have free cancellation. Car hire prices are at an all time low right now.
Only book with the car hire companies that follow the WHO guidelines.
Bring additional gloves and hand sanitiser with you and keep them in the glove compartment for the following days.
Think twice before you book car hire with an airline. Remember how difficult it was to get a refund in 2020?
Book with a trusted car hire company such as AirportCarHire.com it is proud to say that all customers that cancelled were refunded in 2020 and the same will apply for 2021.
Remember to wash your hands and sanitise your hands often, and always when exiting or re-entering your vehicle.
Take car and stay safe
All product names, logos, and brands are property of their respective owners.