Car Hire Gran Canaria Airport
Last Updated: 1st May, 2021
Aeropuerto de Gran Canaria or Las Palmas Airport car hire, We compare the car hire market for you in Gran Canaria to provide the best car rental deals.
Looking to rent a SUV in Gran Canaria? We have thousands to choose from. Maybe you prefer a convertible to tour Gran Canaria Check out our best prices for car hire in Las Palmas Airport, Maspalomas, Puerto Rica, Puerto de Mogán and San Agustín in one easy steps.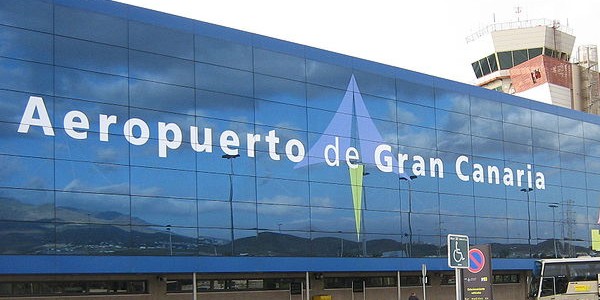 We will search and compare thousands of car deals and whether it is a small economy little urn around you are looking for, spacious estate, 7 seat mini van, or stylish convertible we got the rental car for you.
We will save you time and money by comparing the top car hire companies Hertz, Avis, Cicar Europcar, Sixt and many more. Pick up at the airport in Gran Canaria Las Palmas, or in the towns of Puerto Rico & Mas Palomas & Plays de Ingles.
Gran Canaria is the second largest of the Canary Islands after Tenerife, and has so much to explore. When you rent a car it will open up the whole of the island for you. At you leisure you will visit the beautiful beaches at Maspalomas which are among the best in the Canary Islands, and the resort of Playa de Ingles. For the golfing enthusiast, Gran Canaria is a mecca with 6 fantastic golf courses to choose from.
Gran Canaria Car Rental FAQ
Which is the best car hire company at Gran Canaria Airport LPA in Spain?
Based on feedback from over 10,000 customers who hired a car at at Gran Canaria Airport, Hertz have the best customer satisfaction rating with a score of 8.8 out of a maximum of 10 points.
Is it safe to rent a car during Coronavirus Covid-19 in Gran Canaria Spain?
Yes, car hire is one of the safest methods of transport during Covid-19. Car rental companies are essential service providers and will remain open during the Covid-19. Additional precautions and safety measures are currently in place. All cars are deep cleaned and sanitised along with the rental office in line with WHO guidelines. Avis Goldcar, Europcar, Hertz, Sixt, are thecar hire companies that sanitise rental cars in Gran Canaria Spain.
Can I rent a car at Gran Canaria Airport with a debit card?
Yes you can hire a car at Gran Canaria Airport with a debit card issued by a bank. Conditions of debit card use: card must be in main driver's name. MasterCard or VISA only. Debit cards must be issued by a bank, and numbers must be embossed. Please note, the deposit amount will be charged if using a debit card and associated transactions fees may apply. Maximum rental duration 28 days if using a debit card. Prepaid and electronic cards (Visa Electron) are not accepted. After the search results appear be sure to check the filter for Both Credit and Debit Cards. This is located on the search results page at the bottom of the left column under the heading Cards Accepted At Pick-Up. This will display the car hire companies that will accept Debit Cards for car hire at Gran Canaria Airport. Please feel free to contact us TEL +353 (0)16852606 and we will be glad to assist you.
Can I rent a car at Gran Canaria Airport Spain if I am over 70?
Yes, you can hire a car in Gran Canaria from selected car rental companies up to 99 years of age with no extra charges. Contact us we will be glad to assist you by comparing the leading car hire companies to get you the best deal.
Can I rent a car at Gran Canaria Airport if I am under 25?
You can hire a car at Gran Canaria Airport at 18 years of age, with additional fees. Young driver's age: 21 to 24 years. Charge 7.95 EUR per day. Young driver's age: 18 to 22 years. Charge 19.49 EUR per day. Maximum 215.88 EUR Please contact us directly and we will be glad to explain how to get the best deal for your age group.
Can I take a rental car from Gran Canaria to visit a different Canary Island?
Vehicles collected in the Canary Islands may travel to other Canary Islands as long as the customer contracts the Cross-Border cover. If this Cross-Border cover is not contracted by the customer then the basic cover included in every rental will only be valid on the island where the vehicle was collected.
Can I take a rental car from Gran Canaria and drop it off in a different Island?
Cross border is permitted to Gran Canaria, Tenerife, Lanzarote, Fuerteventura, La Palma and mainland Spain. Customers will have to pay a 75EUR fee.
How long do I need to hold a licence in order to rent a car at Gran Canaria Airport?
A full licence held for minimum of 1 year with no major endorsements. UK licence holders need to present the photo card
Which documents do I need to hire a car at Gran Canaria Airport?
The principle driver will need to have the following documents in his or her name. A full licence, a credit card, the voucher we will send you when you complete your booking, and a passport.
What is the fuel policy for a hire car at Gran Canaria Airport?
The vast majority of cars have a full to full fuel policy, which means your vehicle will be supplied with a full tank of fuel. To avoid incurring fuel charges, you will need to return it with the same amount of fuel as it had when you collected it.
Gran Canaria Airport Car Hire Locations
Maspalomas Car Hire Locations
Playa De Ingles, Car Hire Locations
Gran Canaria Car Rental Locations
Car Hire Gran Canaria Airport
Gran Canaria, Telde.Airport Aeropuerto GC. Terminal Llegadas Of. 69., Gran Canaria, Telde.
Car Hire Gran Canaria City
Bahia Feliz Bahia Feliz resort served by Playa del Ingles, officeCabrera Medina C / RUPERTO GONZALEZ NEGRIN, 8,
Gran Canaria Airport Information
Airport Name: Las Palmas Airport Gran Canaria
Airport Code: LPA
ICAO: GCLP
Address: Telde 35071 Gran Canaria
City: Las Palmas
Country: Canary Islands
Telephone: 34 928579130
Time Zone: GMT
Coordinates: 27°55′55″N 015°23′12″W
Car Hire: The car rental companies desks are located are located in the arrivals hall
Driving Directions to Gran Canaria Airport Gran Canaria Airport is located on the Canary Island of Gran Canaria. It is 18kms from Las Palmas.along the CG3 and GC1 Highway signposted Aeropuerto
Car Parking: Long and Short Term Parking Facilities available
Taxi service: Taxi service available from the front of the terminal
Train service: There is no train service
Bus service: Bus service to and from the city center.
Information Desk: Information Desk is located on the Arrivals floor.
Facilities: Disabled Facilities Lifts and ramps are available and designated car parking spaces. Shops and Restaurants Duty Free Shopping Bank and Bureau de Change Tourist Information Office
Gran Canaria See & Do
The Canary Islands consist of seven large islands, there are some smaller one but the main ones are Gran Canaria, Fuerteventura, Lanzarote, Tenerife, La Palma, La Gomera, and El Hierro.
The island of Gran Canaria is more than meets the eye. It is split into three unique atmospheres; you have a vivacious capital, Las Palmas de Gran Canaria, the shopper's delight of the commercial sector, and the sprawling white, sandy beaches of Playa del Ingles and Maspalomas in the south. In order to get around, we recommend renting a car in Gran Canaria to experience every location, including any little detours you would like to make along the way.
Getting Around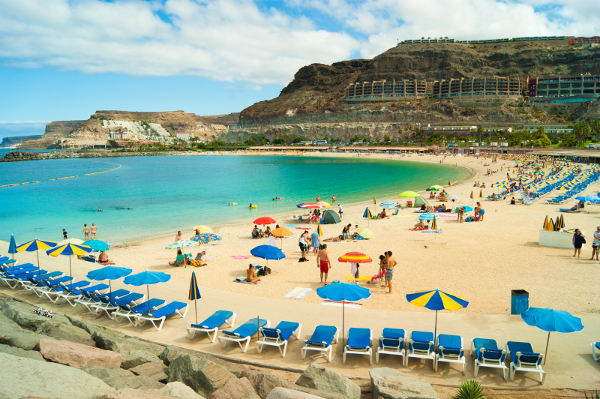 You can pick up your rental car at Las Palmas Airport or in any of the major resorts on the island, Avis Hertz, Sixt, Europcar operate here, as well as local alternatives for competitive rates. What isn't recommended, however, is booking your hire car when you arrive It will cost a lot more if you do this.
If you start from top to bottom, as soon as you arrive, you'll start high up on the rocky landscape of Gran Canaria. There are some great hiking trails that lead into Caldera Pinos de Galdar. Hop into your rental car and start heading inland, right in the middle of the island sits the Pico de las Nieves, this is an excellent spot to get the full perspective of such a beautiful island. You'll also be able to see Mount Teide over on the neighboring Tenerife.
You can find a hiking trail practically any direction you drive on Gran Canaria, leading into caves, romantic lakesides, forests, and of course the walks along the beaches. The best thing about this island is the strong level of accessibility, both by rental car and by foot.
Beach Life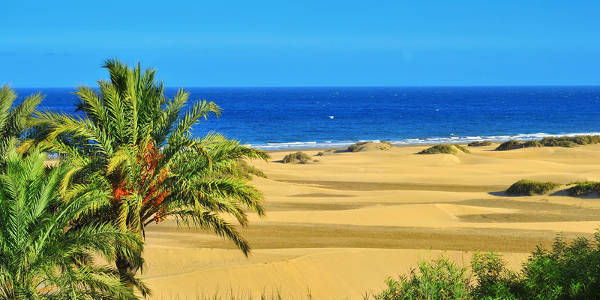 Gran Canaria has a great breadth of beaches, there are so many favorites, each with their own personality. Starting off with the most famous beaches are Playa del Ingles and Maspalomas, this section of beaches are fully nude, people come from all parts of the world to sunbathe here. Nude beaches a generally much more quieter and chill, but you can go scuba diving in the nude. The Amadores and "Puerto Rico" beaches are also worth mentioning, they seem to be always packed with surfers and activities.
Scuba diving is also very popular in Gran Canaria. The reason being is due to the sheer level of clarity and comfort while in the waters. They are warm, vibrant, and home to some of the coolest species of sea life, like the Damselfish, Clownfish, Parrotfish, Angel Sharks, Butterfly and Mobula Rays.
We highly recommend taking surfing and scuba diving lessons while you're in Gran Canaria, they are affordable, educational, and will really make your experience on the island much more memorable.
Gran Canaria makes it very easy to drive your rental car from one beach to another, experiencing all there is to offer. You can even drive yourself off the beaten path, all the way to a nearby golf course. The oldest gulf club in Spain is found on the southern tip of the island.
Dont Miss
Puerto de Mogan
Take a drive along the CG-1 to the picturesque resort and fishing village of Puerto de Mogan. Situated on the South West of Gran Canaria it features an impressive marina with luxury yachts and small cruises. Nicked named Little Venice because of it Italian style footbridges that crosses it little canal. Playa de Amadores, or Lovers' Beach, a Blue-Flag can be found nearby.
Hotels Near Gran Canaria Airport

Aparthotel Morasol Suites
Aparthotel Morasol Suites opened its doors in September 2004, it is the most luxurious and comfortable accommodation that Morasol Hotels have in the Canary Islands. The main characteristics' of the complex are its family and luxurious atmosphere. We offer a friendly reception service, a heated swimming pool for adults and for children, a la carte restaurant, also breakfast or half board buffet are in the restaurant (extra charge), lobby, bar, sunbeds, parasols and pool towels, internet available (exta charge). Live music serveral times a week. Located on the sports Marina of Puerto Rico with wonderful views to the sea and only 400 meters from the beach. There are also several shopping centres in the area.
---
Hotel AC Gran Canaria
Hotel AC Gran Canaria overlooks the city of Las Palmas, Gran Canaria's capital. It offers public Wi-Fi access, a gym, sauna and swimming pool. The hotel's fashionable restaurant is set on the 23rd and 24th floors. It has impressive views of the city. Rooms at the AC Gran Canaria have a free minibar, air-conditioning and satellite TV. They also have a pillow menu, and enjoy 24 hour room service. The hotel is set beside Santa Catalina Park, surrounded by shops, restaurants and nightlife. The city's main beach is also just a short walk away.
---
Barceló Margaritas
Barceló Margaritas is one of the flagship hotels of Barceló Hotels & Resorts in the Canary Islands . It is situated in the Playa del Inglés, the island of Gran Canaria 's main tourist area. With a wide variety of services and facilities, this hotel is ideal for families looking for an full service holiday hotel. However, it is also located right by a popular tourist area buzzing with activity round the clock.
---
Reina Isabel
Reina Isabel This fantastic, beachfront hotel allows you to relax on the golden sands of Las Canteras beach or take in the amazing views from its rooftop swimming pool. Enjoy views over the city of Las Palmas and the Atlantic Ocean from the Reina Isabel's scenic pool, which is heated during the winter months. On the top floor you can also spend a session in the sauna or steam bath before cooling off in the jacuzzi. There is also a gym for those looking to stay in shape while enjoy their holiday.
---
BlueBay Beach Club
BlueBay Beach Club is set just 15 minutes from the beaches of Playa del Inglés and Maspalomas. The complex has a heated pool with Jacuzzi, a sauna and fitness centre. All apartments at the BlueBay Beach Club have a private terrace and views over the sea. They each have a sound system and a flat-screen TV. Apartments include a kitchen with a microwave and fridge, as well as ironing facilities. They offer air conditioning in the bedroom. At the complex, there is a supermarket, a boutique and special pool for children and a games area. The La Hacienda restaurant offers à la carte dining, and a pool bar and snack bar are also available. BlueBay Beach Club is within the exclusive Bahía Feliz area. There is free parking on site, and many bars, shops and restaurants can be found nearby.
---
HOTEL RURAL CASA DE LOS CAMELLOS
HOTEL RURAL CASA DE LOS CAMELLOS,C/ EL PROGRESO, Nº 12 AGUIMES-GRAN CANARIA, AGUIMES, 35260 The 2-palmtree Hotel Escuela Rural Casa de los Camellos is settled in the old quarter of the village of Agüimes, in beautiful and picturesque surroundings. With over 100 years of existence, it is an establishment of large historical background concerning its architecture. In past times, it housed a granary and a stable for camels that helped to carry local goods to the market. Because it is only 15 minutes from Gran Canaria international airport and at the same distance from the capital as from the tourist area, it is the ideal location for leisure, relax and entertainment. Besides, it is equally convenient for business due to its proximity to the business district and a large number of companies.
---