Tenerife Car Hire
Last Updated: 8th July, 2019
Tenerife South Airport formely known as Tenerife South Reina Sofia Airport, is one of two airports on the island of Tenerife and one of the six airport where you can rent a car on the Canary Islands. The other five are Grand Canaria Airport Car Hire, Lanzarote Airport Car Hire, La Palma Island Airport Car Hire, La Gomera Airport Car Hire, Fuerteventura Airport Car Hire,
Tenerife is part of the Canary Islands, it is in fact one of the largest of the Canary Islands just located off mainland Africa, and is lucky to enjoy good sunshine most of the year, making it a very popular Winter holiday destination. Tenerife is a volcanic island and ends the island to a variety of landscapes and formations such as Parque Nacional del Teide and the magnificent volcano that is Mount Teide. Due to the volcanic history of Tenerife the sands tend to be dark and gritty but that will not take from the beauty of this Spanish Island.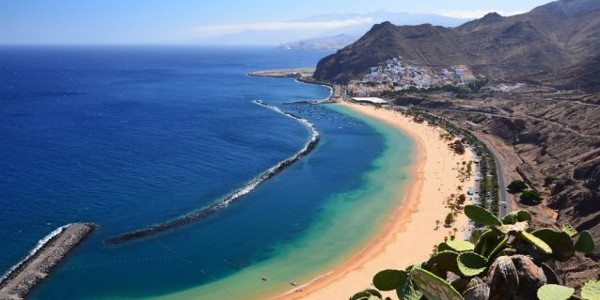 We compare the car hire market in Tenerife for you to provide the best car rental deals from the major rent a car companies in Tenerife Avis, Budget, Europcar, Hertz, Auto Reisen, Goldcar, Cicar . For the cheapest car hire in Tenerife please let us provide you with a quote. Special offers for car hire available at both Tenerife South (Tenerife Sur) and Tenerife North airports
Where can I rent a car in Tenerife
You can rent a car at either of the two airports on the island of Tenerife or at the following towns and cities
Tenerife Car Rental Locations
Car Hire Tenerife Airport
Tenerife - Airport South TFS Tenerife south airport (TFS), Tenerife, Tenerife Tenerife TFSTenerife - Airport Tenerife North TFN De Las Rodeos Airport, Tegueste, Centra General Del Socorro Km 259,

Car Hire Tenerife

Arcade Shopping Centre Ave Antonio Dominguez 4
Central Ctra. General TF-320 Km. 2 ( La Vera), Puerto La Cruz, Tenerife
Costa De Adeje Avda. de Bruselas, CC El Duque local 53 Costa De Adeje
Hotel Maritim El Burgado - Los Realejos Maritim
Los Gigantes Hotel Tamaimo Tropical,
C/ Honduras s/n, Puerto Santiago, Los Gigantes, 38436, Tenerife
Muelle Ribera Edificio Ciduad, Santa Cruz de Tenerife Muelle
Playa Americas APARTAMENTOS LOS CARDONES Avda. Rafael Puig Luvina,,
Playa De Santiago TENERIFE-PLAYA DE SANTIAGO,C/CALETA DEL
Port Estacion Maritima Los Cristianos,, Tenerife,
Puerto De La Cruz Avda.Generalisimo Franco 20, Puerto De La Cruz, Tenerife
Reina Sofia 38610 Tenerife Tenerife, (ca)
Santa Cruz V. Ecotours - C/ La marina, 21 38002 Sta. Cruz
Tenerife Airport Information
Airport Name: Tenerife-South Airport
Airport Code: TFS
ICAO: GCTS
Address: 38610 Granadilla, Santa Cruz de Tenerife, Spain
City: Tenerife
Country: Canary Islands
Telephone: +34 913 21 10 00
Time Zone: GMT
Coordinates: 28°02′40″N 016°34′21″W
Driving Directions to Tenerife Airport XXXX
Car Parking: Long and short term parking right beside the airport building
Taxi service: In form of the terminal building
Train service: No train service
Bus service: Bus service operates from outside the terminal. Take Line 341 to Santa Cruz and Line 470 to Playa de Las Americas run by the local TITSA Bus service. Bono Bus is a pre-paid ticket which allows discount on Tenerife buses. The Bono Bus ticket can be bought at the bus station, newsagents and Tourist Office.
Car Hire: The car rental companies' desks are located in the arrivals hall.
Information Desk: information Desk is located on the Arrivals floor.
Facilities: shops, restaurants and duty free


Tenerife See & Do
Tenerife is the striking amazing gem in the island chain. Pulling in more than 10 million guests per year, the island's most well known southern resorts offer European party and night life, consolidated with white sandy shorelines and exhaustive resorts. Yet, step past the lavish voyagers and what you'll discover is a refined and edified island of uncommon exotic qualities.
This blend of encounters incorporates tropical climate adventuress and architectural shop struts; dim outlets leading into volcanic magma; a provocative and sultry carnival festivity that is second just to Rio, and a stash of galleries, parks, and quaint old pioneer towns. Be that as it may, this is an island of dramatization, and nothing comes more emotional than the snowcaps of Pico del Teide, Spain's tallest mountain and home to probably the most remarkable trekking in all the nation.
Get to where the fun is at
A considerable lot of the younger crowds hang out on the south of the island with more seasoned and family-oriented travelers picking Puerto de La Cruz and its surroundings. On the south side there is predictable summer weather, practically no wind, and essentially flawless shoreline climate for a great part of the year, however there have been uncommon occurrences of cool to frigid climate in the January to February period. Additionally, expect some extremely wet days for that season of year, however most days will in any case be sunny.
On the north side of the island you will discover more green and dynamic nearby culture. There is a more Spanish laid-back springtime feel. The climate is less predictable here, but on the other hand is for the most part wonderful with slightly lower temperatures.
In the centre of the island sits, Mount Teide or in Spanish Pico del Teide and at 3,718-metre (12,198 ft) it is Spain's tallest mountain
Rental car is the way to go Tenerife don't miss

Take a cable car up to Mount Teide - Tenerife's Volcano and explore the surrounding Teide National Park
Santa Cruz is the capital of Tenerife so take some time to visit this city and shipping port.
Looking for a Beach in Tenerife start with Playa de Las Teresitas where the white sands have been brought over from the Sahara.
Visit the old town of La Orotava and its botanical garden.
Choose from one of the many wildlife parks to visit such as the Eagle, Monkey, Camel or Loro Park.
The area of Los Gigantes or the Cliffs of the Giants is a beautiful area of high cliffs descending into the sea.
Piramides de Guimar are a fine example of step pyramids similar to those in Mexico and Peru just 13 miles from Santa Cruz