Compare Car Hire Fuerteventura
Aeropuerto de Fuerteventura El Matorral
Last Updated: 20th Feb, 2023
Fuerteventura Airport FUE is located on the Spanish Island of Fuerteventura one of the Canary Islands close to Lanzarote . It is situated on the East coast of the island 5 km from Puerto del Rosario, and 10 minutes from the popular resort of Caleta de Fuste. Corralejo is a little further which is 35 minutes further north if you take the FV-3 and bypass Puerto del Rosario.
The airport can be busy during the high season as it receives nearly 5 million passengers per annum. Book online in advance and avail of big savings for your car rental at Fuerteventura Airport. We will compare prices for you. Car hire is available from leading rent a car companies Hertz, Avis, Top Car Auto Reisen, Cicar, Payless which are located at Fuerteventura airport terminal.
With low taxes on fuel and beautiful scenery Fuerteventura is a great island to tour by car. Use our simple and secure booking process to make your reservation in three easy steps. With Free Cancellation Free Amendments and No Credit Card Fees you have nothing to loose when you book with Airport Car Hire Network
Cheapest Car Hire Fuerteventura Airport No Excess
Car rental prices can change on a daily basis currently the cheapest car hire at Fuerteventura Airport with no excess option is Topcar which is situated at Fuerteventura Airport Terminal.
Cheaper car hire is available but you will need to leave a deposit.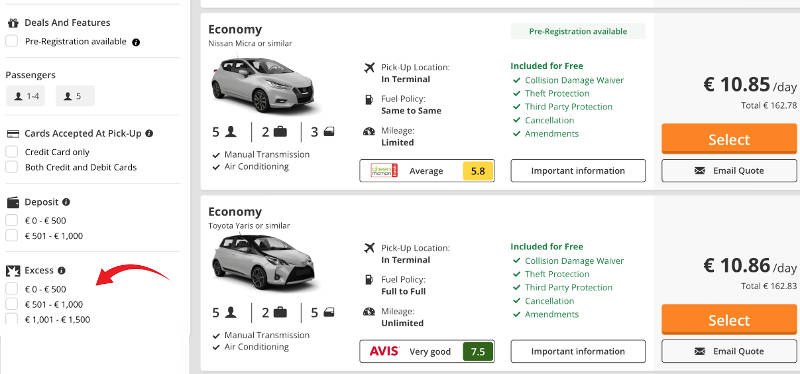 To choose how much excess you would like to pay, first get a quote. On the result page, tick the box for the amount of excess you would like to pay It is located on the left hand side of the results page, please see diagram above
As with all insurance the higher the excess the less you pay.
Cheapest Car Hire Fuerteventura Airport No Deposit
At Fuerteventura Airport some car rental companies require no deposit or a low deposit.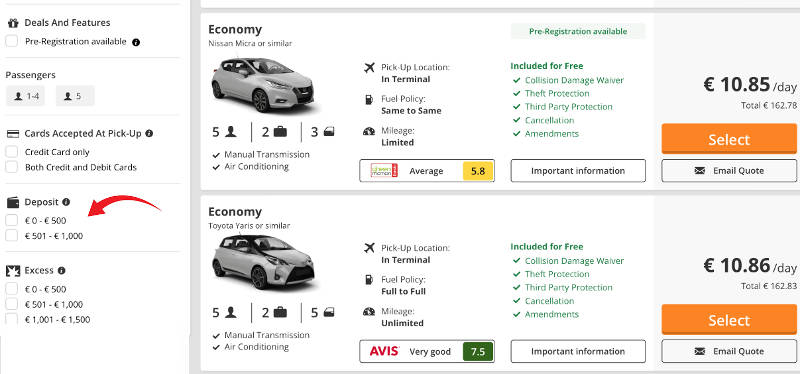 To choose how much deposit you would like to pay, first get a quote A filter is located on the left hand side of the results page. Just tick the bo for the mount of deposit you would like to leave. Please see diagram above
Cheapest Car Hire Fuerteventura Airport No Credit Card
You can now rent a car at Fuerteventura Airport without a credit card. Do a search to view the available cars. Then filter the results so as to show companies that will accept debit cards by ticking the box Both Credit and Debit Cards. This will then display all companies at Fuerteventura Airport that do not require a Credit Card.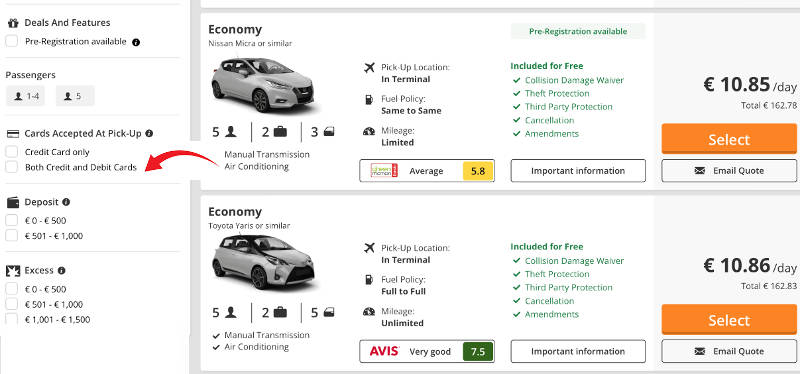 Fuerteventura Car Rental FAQ
Which is the best car hire company at Fuerteventura Airport FUE in Spain?
Based on feedback from our customers who hired a car at at Fuerteventura Airport, KeyandGo have the best customer satisfaction rating with a score of 8.1.
Is it safe to rent a car during Coronavirus Covid-19 in Fuerteventura Spain?
Yes, car hire is one of the safest methods of transport during Covid-19. Car rental companies are essential service providers and will remain open during the Covid-19. Additional precautions and safety measures are currently in place. All cars are deep cleaned and sanitised along with the rental office in line with WHO guidelines. Avis Goldcar, Europcar, Hertz, Sixt, are thecar hire companies that sanitise rental cars in Fuerteventura Spain.
Can I rent a car at Fuerteventura Airport with a debit card?
Yes you can hire a car at Fuerteventura Airport with a debit card issued by a bank. Conditions of debit card use: card must be in main driver's name. MasterCard or VISA only. Debit cards must be issued by a bank, and numbers must be embossed. Please note, the deposit amount will be charged if using a debit card and associated transactions fees may apply. Maximum rental duration 28 days if using a debit card. Prepaid and electronic cards (Visa Electron) are not accepted. Be sure to check the filter for Both Credit and Debit Cards on the left side under the heading Cards Accepted At Pick-Up. This will display the car hire companies that will accept Debit Cards. Please feel free to contact us TEL +353 (0)16852606 and we will be glad to assist you.
Can I rent a car at Fuerteventura Airport Spain if I am over 70?
Yes, you can hire a car in Fuerteventura from selected car rental companies up to 99 years of age with no extra charges. Contact us we will be glad to assist you by comparing the leading car hire companies to get you the best deal.
Can I rent a car at Fuerteventura Airport if I am under 25?
You can hire a car at Fuerteventura Airport at 18 years of age, with additional fees. Young driver's age: 21 to 24 years. Charge 7.95 EUR per day. Young driver's age: 18 to 22 years. Charge 19.49 EUR per day. Maximum 215.88 EUR Please contact us directly and we will be glad to explain how to get the best deal for your age group.
*Please note you will need to check for the driver's age under important information for the car you choose, as age group may vary according to the size of the car.
Can I take a rental car from Fuerteventura to visit a different Canary Island?
Vehicles collected in the Canary Islands may travel to other Canary Islands as long as the customer contracts the Cross-Border cover. If this Cross-Border cover is not contracted by the customer then the basic cover included in every rental will only be valid on the island where the vehicle was collected.
Can I take a rental car from Fuerteventura and drop it off in a different Island?
Cross border is permitted to Gran Canaria, Lanzarote, Fuerteventura, La Palma and mainland Spain. Customers will have to pay a 75EUR fee.
How long do I need to hold a licence in order to rent a car at Fuerteventura Airport?
A full licence held for minimum of 1 year with no major endorsements. UK licence holders need to present the photo card
Which documents do I need to hire a car at Fuerteventura Airport?
The principle driver will need to have the following documents in his or her name. A full licence, a credit card, the voucher we will send you when you complete your booking, and a passport.
What is the fuel policy for a hire car at Fuerteventura Airport?
The vast majority of cars have a full to full fuel policy, which means your vehicle will be supplied with a full tank of fuel. To avoid incurring fuel charges, you will need to return it with the same amount of fuel as it had when you collected it.
Which car hire companies are at Fuerteventura Airport?
Rent a car service also available at Corralejo, Caleta de Fuste, Jandia, Puerto de Corralejo, Costa Calma to get you the best deals on hire cars in Fuerteventura.














Which is the best car hire company at Fuerteventura Airport?
This rating is taken from feedback we received from our customers that booked car hire in Fuerteventura. Key and Go have the best customer satisfaction rating with a score of 8.1 out of a maximum score of 10 points.
Fuerteventura Car Rental Locations
Car Hire Fuerteventura Airport
Airport Aeropuerto De Fuerteventura, Puerto del Rosario FUE
Car Hire Fuerteventura Towns
Caleta de Fuste C.C. Villa Florida - Avda. del Castillo, s/n, Caleta de fuste - Antigua
Castillo Central CC El Castillo s/n Local G, Caleta de Fuste.Antigua, Fuerteventura
Corralejo AVDA. JUAN CARLOS I Nº 25, Fuerteventura, Fuerteventura
Corralejo II C.C.Cactus Local 5, Avda.Grandes Playas, Corralejo-La-Oliva
Costa Calma Centro Comercial Bahia Calma 17,, Fuerteventura, Fuerteventura
Jandia C.C.Palm Garden Local 30, Avda.Del Saladar, Fuerteventura - Jandia
Puerto de Corralejo Estacion Maritima de Corralejo, Corralejo - La Oliva
Puerto De Jandia Estacion Maritima De Jandia, Jandia, Fuerteventura -
Fuerteventura Airport Information
Airport Name: Fuerteventura Airport El Matorral Airport,
Airport Code: FUE
ICAO: GCFV
Address: Fuerteventura Spain
City: Puerto del Rosario
Country: Spain
Telephone: +34928860600
Time Zone: GMT + 1
Coordinates: 28°27′10″N 013°51′50″W
Car Hire:Topcar, Avis, Budget, Cicar, Hertz, Payless, AutoReisen, Europcar and Goldcar car rental desks are all within the airport terminal.
Driving Directions to Fuerteventura Airport: The main access road is FV-1
Car Parking: Long and Short Term Parking Facilities available
Taxi service: Available in front of terminal
Train service: No Train Service available
Bus service: Buses, Line 3 or Line 10 are regular buses.
Information Desk: Located in the arrivals hall
Facilities: Free WIFI access Internet hotspots and printers in the arrivals and departures lobby and the boarding area.

Fuerteventura See & Do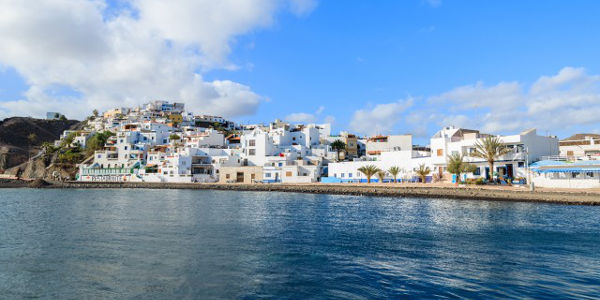 Fuerteventura is a little slice of North Africa, while sharing the personality of neighboring Lanzarote. This is the second largest island in the Canaries, Tenerife being the first. The volcanoes dominate the horizon, reminding you of the raw beauty that is Mother Nature. This island is divided into two breath-taking sections.
Most guests, in any case, are more intrigued by mastering the waves and the wind than considering the dramatic feel of the landscape. The primary traveler resorts lie at inverse paths of the island. At the northern tip is Corralejo, darling beaches for sun-seekers, while due south lies Morro Jable, to a great extent frequented by Germans and an extraordinarily intriguing spot for those who lust for adventure.
That means, you should make sure you have your own hire car to take advantage of all that Fuerteventura has to offer. It's affordable, convenient, and much more fun than taking buses.
Corralejo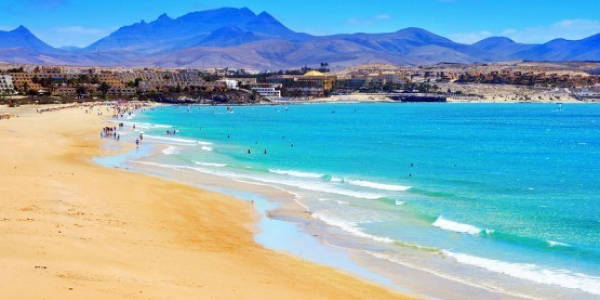 Your experience of this region will depend entirely upon where you are standing. In spite of the quantity of sightseers, the iconic town close to the harbor and shoreline still has charm, with bountiful amounts of great fish restaurants and even an fishermans cottage or two. Wander inland several paces and you locate the anticipated popular resort of Corralejo with boating, fish sticks, and french fries and a slew of roads to wander off in, in your rental car. It's a good opportunity to scout for local favorites; the structures are low-lying and you can easily locate a couple of neighborhood Spanish taverns for some fun.
What makes Corralejo, nonetheless, are the miles of sand rises toward the south of town, clearing once more into delicate sugar-piece moves from the ocean and impressive expansive sandy shorelines.
Morro Jable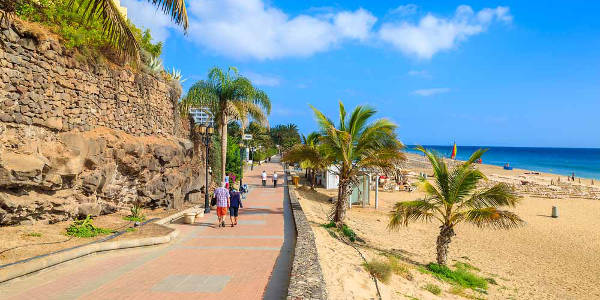 More staid than its northern partner Corralejo, Morro Jable is heavily German populated. The shoreline is the primary fascination, with pale brilliant sand extending for around 10 miles from the more seasoned, quaint portion of town. It's fronted by low-lying, flawlessly arranged flats and lodgings. Once again from the shoreline, the appeal is undeniable, with a double carriageway lined with business focuses and inns. The more seasoned town drawing, up the slope, gives a look of what the town more likely than not looked like before the development started on the island.
Getting Around
Fuerteventura may be the second biggest of the Canary Islands, but you will discovered it easy and fast to drive around in a rental car. The coastal road north is straight and direct, there are a larger number of goats that outnumber individuals, and a delight to traverse by rental car. Fuerteventura's form of Ayer's Rock reinvigorates your enthusiasm along the way, changing hues with the presence of the sun. The smell of the fresh air and salty ocean will make any road trip feel like a dream vacation
Hotels Near Fuerteventura Airport

Hotel & Villas Paradise Dunas
Hotel & Villas Paradise Dunas The complex, Hotel & Villas Dunas Paradise, disposes of 333 accommodation units, is sutated in the upper part of the "Dunas Jandía Resort". Amongst the facilities there is a 24 hour reception, a lobby with internet corner, lifts, laundry service, medical service and a hairdresser in the resort. Further more the hotel & villas feature two outdoor swiming pools with integrated kids pool (heatable in winter), a sun terrace with deck-chairs, parasols, pool-towels (deposit) and each with an attractive pool bar.
Suite Hotel Atlantis
Suite Hotel Atlantis Fuerteventura Resort The Suite-Hotel Atlantis Fuerteventura Resort by Be Live is placed in one of the Fuerteventura most privileged spots, to the north of the island, close to the National Park of the Dunes in Corralejo. Surrounded by extensive beaches of fine, white sand and clear turquoise waters, it is the ideal scene to escape the stress of the modern life. All this within an area of 65.000 square meters with tropical and autochthonous gardens and 383 stylishly decorated suites in buildings of just two floors.
Iberostar Palace
Iberostar Palace Fuerteventura An elegant hotel in Fuerteventura with a fantastic location on Jandia beach, 45 minutes on foot from the fishing village of Moro Jable. Located on the seafront of the 25-kilometre-long fine-sand beach, around 1.5 Km. from Jandia. You can walk along the beach who will take you to the small fishing village of Morro Jable, about 3 Km away.
Villas Siesta
Villas Siesta Situated within the popular golf complex of Caleta de Fuste, Villas Siesta are attractive villas furnished to a high standard throughout. The well equipped lounge leads out to a large covered dining terrace, ideal for al fresco dining in the warm Canarian sun. Beyond the terrace area is an inviting outdoor pool with roman steps, perfect for either families or groups of friends to enjoy. This is an ideally located holiday home for both golfing and beach holidays.
The Barceló Fuerteventura
The Barceló Fuerteventura Thalasso Spa, is situated on the edge of the Caleta de Fuste beach, on the Canary island of Fuerteventura. Built in 2001, this hotel offers guests a total of 462 rooms spread over 4 floors. There is a spacious lobby with a 24-hour reception and lifts. Further facilities include a lounge bar, a TV room, a restaurant and Internet access. A laundry service, car parking facilities and a children's play area are also all available to guests.