Copenhagen Airport Car Hire
København lufthavn Biludlejning
Last Updated: 30th June, 2023
Airport Car Hire Network will compare the market at Copenhagen Airport for you to get you the cheapest car hire prices and best deals from the following rent a car companies. Hertz, Avis, Budget, Sixt, Europcar. One way car rental from Denmark to Sweden available, pick up your rental car at Copenhagen Airport and drop it off in Sweden or Norway.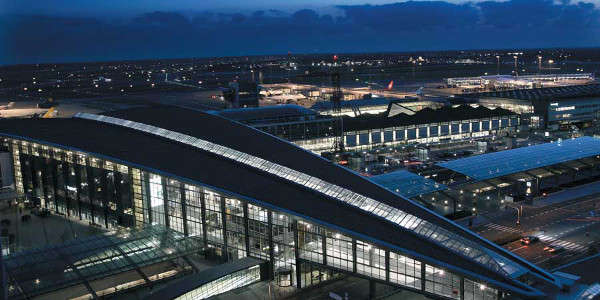 Copenhagen Airport Københavns Lufthavn Terminal 3
Copenhagen Airport is situated 8 km south of Copenhagen city centre on the island of Amager. The Airport used to be called Kastrup Airport but now the official name is Copenhagen Airport, Kastrup, or Københavns Lufthavn, Kastrup in Danish. Copenhagen Airport now has four terminals. Terminal 1 is for Domestic airlines, Terminal 2 and 3 are for international airlines while the new terminal 4 know as CPH Go is for low cost budget airlines
Copenhagen Car Rental FAQ
What is the best car hire company at Copenhagen Airport?
Based on feedback from over 10,000 customers who hired a car at Copenhagen Airport, Hertz & Alamo have the best customer satisfaction rating with a score of 8.6 out of a maximum of 10 points.
Where are the car hire desks located at Copenhagen Airport?
The car hire desks are located in the Car Rental Centre at Copenhagen Airport. It is open from 7:00 to 23:00 7 days per week.
Do I need a credit card to rent a car in Copenhagen?
No, you do not need a credit card to rent a car in Copenhagen. We have an arrangement with leading car rental suppliers in Copenhagen who will accept a debit card for payment.
Can I rent a car without paying a deposit in Copenhagen?
Yes you get rent a car without paying a deposit or by paying a very low deposit. When you book car hire with us you choose how much deposit you wish to pay. You can choose from Zero to €500 or €501 to €1000. First get a quote and on the left hand side of the results page simply select the amount of deposit you wish to pay. We will then send you a quote based on the amount you choose
Is it safe to rent a car during Coronavirus Covid-19 at Copenhagen Airport?
Yes, car hire is one of the safest methods of transport during Covid-19. Car rental companies are essential service providers and will remain open during the Covid-19. Additional precautions and safety measures are currently in place. All cars are deep cleaned and sanitised along with the rental office in line with WHO guidelines. Alamo, Avis, Budget, Europcar, Hertz, National, Sixt, Thrifty car hire companies that sanitise cars at Copenhagen Airport.
Can I rent a car at Copenhagen Airport Denmark if I am over 70?
Yes, you can hire a car in Copenhagen from selected car rental companies up to 99 years of age with no extra charges. Contact us we will be glad to assist you by comparing the leading car hire companies to get you the best deal.
Can I rent a car at Copenhagen Airport if I am under 25?
You can hire a car at Copenhagen Airport at 19 years of age, with additional fees for drivers 19 to 24 years. Charge 125 DKK per day. Includes 25% tax. Please contact us directly and we will be glad to explain how to get the best deal for your age group.
Age Requirements to Rent a Car in Copenhagen Airport
The minimum age to rent a car at Copenhagen Airport is 19 but there will be a supplement. The maximum age is 99. Please confirm the driver's age requirement for the car you choose, as the age requirement may vary according to the size of the car. Please see the ages requirement for each of the car hire companies at Copenhagen Airport
Can I take a rental car from Denmark to Sweden or Norway?
Yes some car hire companies will allow you to take a rental car cross border, but you will need to get permission first. If driving outside of Denmark Cross Border Fee is applied (payable at the rental desk): DKK12 per day, max DKK 120 per rental.
A full licence held for minimum of 1 year with no major endorsements. UK licence holders need to present the photo card
Which documents do I need to hire a car at Copenhagen Airport?
The principle driver will need to have the following documents in his or her name. A full licence, a credit card, the voucher we will send you when you complete your booking, and a passport.
What is the fuel policy for a hire car in Copenhagen Airport?
The vast majority of cars have a full to full fuel policy, which means your vehicle will be supplied with a full tank of fuel. To avoid incurring fuel charges, you will need to return it with the same amount of fuel as it had when you collected it.
Copenhagen Car Hire Locations
Car Hire Companies Reviews Copenhagen Airport
This rating is taken from feedback we received from over 10,000 customers that booked car hire at Copenhagen International Airport Kastrup Denmark in the last 12 months.
Copenhagen Car Rental Locations
You can rent a car at Copenhagen - Airport Copenhagen A/S, Lufthavnsboulevarden, DK-2770, Kastrup, Denmark or at the following location in Copenhage city centre
Copenhagen Kirstinehoj 14, Copenhagen, 2770
Copenhagen- Amager Copenhagen- Amager, COPENHAGEN, 2770

Copenhagen Airport Information
Airport Name: Copenhagen Airport, Københavns Lufthavn
Address: Lufthavnsboulevarden 6
City: 2770 Kastrup
Country: Denmark
Telephone: 45 32313231
Fax:
Airport Code:
IATA CPH
ICAO: EKCH
Location: Copenhagen Airport is situated 8 km south of Copenhagen city centre on the island of Amager. The Airport used to be called Kastrup Airport but now the official name is Copenhagen Airport, Kastrup, or Københavns Lufthavn, Kastrup in Danish. Copenhagen Airport has three terminals and a forth one will be opened 2010.
Time Zone: GMT +1
Coordinates: 55°37′05″N 12°39′22″E
Driving Directions to Copenhagen Airport E20 is the main access road to Copenhagen Airport. Sweden is accessible from Copenhagen Airport by means of the Øresund Bridge, 16 kilometres long, and it offers acess to Sweden by car, train or bus. Øresund Bridge is a toll bridge. A train crosses the bridge every 20 minutes. Gråhundbus operates the bus services across the Øresund bridge Copenhagen-Ystad-Rønne (line 866). Copenhagen-Malmo-Lund (line 999).
Car Parking: 24hr Car Parking service available at Copenhagen Airport. Budget Parking is marked a light Blue "P", Standard Blue is darker Blue "P" and Direct Parking is Grey
Public Transport:
Taxi service: Taxis can pick up outside Terminal 1 and Terminal 3
Train service: The train ticket office in Copenhagen Airport is located in Terminal 3 above the railway station. There are lifts and travolators between the platforms and Terminal 3. You can take the free shuttle bus which runs between Terminal 1 and Terminal 3, where the station is located.
Bus service: The free shuttle bus departs from Terminal 1 (Domestic), and Terminal 2 and 3 (International). Train Station in Terminal 3. Parkingareas P15 and P17. Bus no. 5A Copenhagen Airport (Københavns Lufthavn) – Husum Torv Bus no. 35 Copenhagen Airport – Island Brygge Bus no. 36 Copenhagen Airport – Nøragersmindevej
Copenhagen Metro: Tickets for the Metro are available at the Metro station and at the DSB ticket sales counter in Terminal 3. Please note that the ticket machines do not accept notes, only coins and cards such as the Dankort, VISA, etc. How to travel by Metro to and from Copenhagen airport. The Metro station is located at the end of Terminal 3 and is covered by the roof of the terminal. The Metro operates at 4-6 minutes intervals during the day and evening hours and at 15-20 minutes' intervals during the night. The travel time from Nørreport Station in central Copenhagen to the airport is 15 minutes.
Car Hire: The car rental companies desks are located in the arrivals hall
Information Desk: Is located right in front of the Duty Free shops

Copenhagen See & Do
With a history that dates all the way back to 1043, Copenhagen is an intriguing city bursting with historic landmarks, significant buildings, interesting sights and important museums. Boasting one of the best shopping districts in Europe and one of the strangest suburban areas – a bohemian free town – Copenhagen is an intriguing mix of culture, artistic vision and ambient charm
Must see attractions in Copenhagen
The three most famous attractions in Copenhagen are probably the Tivoli Gardens amusement park (over 100 years old), the statue of The Little Mermaid and the quirky free-town of Christiania. But there's also plenty more on offer
Visit the home of the Royal family at Amalienborg Palace to see one of the greatest works of Danish Rococco architecture in the world; if you get the timing right, you'll also witness the changing of the guard. The commanding Christiansborg Palace is a must-see, as are many of the nearby old churches and shop fronts. The world's oldest amusement park, Bakken, is a short distance from the city centre and guaranteed to delight young and old alike with its traditional fairground ride and scenic deer park. For more outdoors adventures, visit the 25-acre botanical garden containing rare trees, plants and edible herbs.
If museums and culture are more your thing, head to the ARKEN Museum of Modern Art in the south or the National Gallery, Denmark's largest art museum. Experimentarium is an excellent 4,000 square metre hands-on museum for kids just north of Copenhagen, while Frilandsmuseet Open Air museum is a unique and enchanting experience. Demonstrating the culture around the time of Hans Christian Anderson, it's like stepping back in time. For shopping, try Strøget, Europe's longest pedestrianised street housing well-known chains, designer brands and small boutiques. If you're looking for some evening entertainment, head to Nyhavn for its nightlife and eateries. .
Recommended scenic drives from Copenhagen
There is plenty to see and do around Copenhagen city once you collect your hire car from Copenhagen airport. Kronborg Castle in Helsingør is a short drive north of the city. Dating to the 16th century, it was made world-famous by Shakespeare's Hamlet. For an interesting half-day trip, drive out of Copenhagen along the beautiful coastal road (known as Strandvej) to Humlebæk, home of the Louisiana Museum of Modern Art; considered one of the greatest art museums in the whole of Scandinavia, it's a must-visit for art lovers.
Drive west of the city for a visit to Hillerød to see the moat-surrounded Frederiksborg Castle - known as 'the Danish Versailles' - which also houses the Museum of National History. Continue on along Route 6 to Roskilde, where you can visit the Roskilde Domkirke and take a boat tour of the Roskilde Fjord or the Lejre Research Center, a beautifully reconstructed Iron Age village.
Hotels Near Copenhagen Airport
Place/Copenhagen.htm">

Park Inn Copenhagen
Park Inn Copenhagen is centrally located and is therefore extremely convenient for travel to and from Copenhagen. The hotel is with its 197 rooms, 20 conference rooms, indoor swimming pool, fitness centre, free Internet and free parking to all our guests, an attractive mid range hotel.
The hotel is close to the city centre with great opportunities for shopping and culture; in addition it is close to the forest, beach and airport. The Metro to the airport and the city centre is 50 meters from the hotel, which means the journey to the city centre takes 10 minutes and to the airport 3 minutes. Opening on September 1st, 2008 a new ultra modern fitness centre, where quality and the individual customized training will be the top priority
The Quality Airport Hotel Dan
The Quality Airport Hotel Dan offers accommodation located near Copenhagen Airport Kastrup. This is the only hotel in Copenhagen that offers a free shuttle service between Copenhagen Airport and the Airport hotel. At Quality Airport Hotel Dan you'll feel the international atmosphere as soon as you walk through the front door. The hotel offers accommodation in quiet surroundings near Copenhagen Airport Kastrup. The nearby Metro and highway E20 provide easy and convenient access to Copenhagen Airport Kastrup, southern Sweden, Orestad, the beautiful Amager beach and of course central Copenhagen with its many sights and attractions. Free shuttle service between Copenhagen Airport and the Airport hotel. We are the only hotel in Copenhagen to offer free shuttle service between Copenhagen Airport and the hotel. Free internet connection is available as is access to our guest PC, which is located in the lobby.
Hilton Copenhagen Airport hotel
Hilton Copenhagen Airport hotel is directly connected to Terminal 3 by a covered walkway. Located only 12 minutes' away from the city centre and top attractions like Tivoli Gardens, Nyhavn and The Little Mermaid statue, the beach is also nearby. Enjoy delicious cuisine in one of our Scandinavian restaurants where you can choose from the exquisite Horizon All Day restaurant for Sunday brunch or unwind with a refreshing drink in our Axis Lounge Bar. Indulge in a treatment at the Ni'mat Spa or work-out at the fitness center. Business is a pleasure at Hilton Copenhagen Airport hotel with 29 meeting rooms for up to 450 delegates, 2 business centres and wireless internet access throughout. Upgrade to an Executive Room for Executive Lounge access. The pool is only open during the opening hours of Ni'mat Spa.
Copenhagen Star Hotel
Copenhagen Star Hotel This budget hotel offers good value for money, just 100 meters from Copenhagen Central Station. All rooms include cable TV and a private bathroom. Copenhagen Star's guests can enjoy a drink on the pleasant courtyard. Breakfast is served in the lounge each morning.The famous Tivoli Gardens is only 5 minutes walk from Copenhagen Star Hotel.
Copenhagen Airport Hotel
Copenhagen Airport Hotel is the ideal hotel for anyone looking for quick and easy access to the local Copenhagen Airport (Kastrup) terminals and to the bridge connecting Denmark and Sweden (6 km). Please note that the hotel is situated in two buildings. The old main building and the new annex where we have the possibility of turning the double rooms into family rooms. For your information we cannot guarantee you that your booking will be in the old main building, you may be booked in the annex. The hotel is situated between the Bella Exhibition Centre (4 km) and 7.1 km to the Kastrup Airport. The bus station is within a 5 minute walk of the hotel.