The June Special Offer
Free Additional Driver.
Not only do Airport Car Hire Network  source the best car hire prices for you, we also  provide you with free additional extras when available. Rent a car from as little as €2.91 per day, plus admin fee of €30 and you get an additional driver free. Why pay more? You can rent a Fiat 500 at Malaga Airport for one week with an extra driver for as little as €50.37.
7 Days Total price €50.37
14 Days Total price €70.74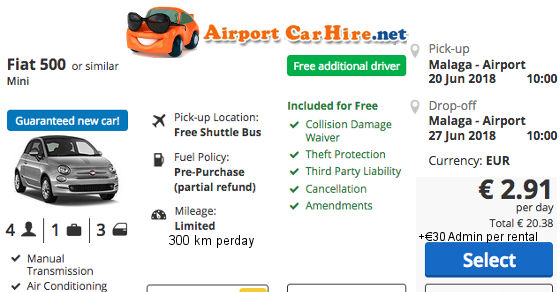 This is the drive away price, with no additional  extras only fuel. You pay for the fuel upfront, but you can avail of the partial refund. This means you will be  credited for any unused fuel.   Return it as full as possible to get your money back. It is usually measured in 1/8 s
The supplier is located off airport, actually only 3 minutes away across the road. It is possible to walk over to the depot,  or you can use  the free shuttle bus which is provided to and from the airport.
Whats included when you rent a car at Malaga
Collision Waiver (CDW)
Third Party (TP)
Theft Waiver (TW)
Personal Accident Insurance
Breakdown Assistance
Taxes & VAT
Airport Fees
No Credit Card Fees
No Booking Fees
Free Amendments
Free Cancellations