Montpellier Car Hire
Montpellier Méditerranée Airport
Last Updated: 1st May, 2021
Discount car rental from the following rent a car companies at Montpellier Airport France Hertz, Avis, Alamo, Budget Dollar, National Sixt, Thrifty Europcar. The car rental desks are situated outside the terminal building, opposite the Business Centre.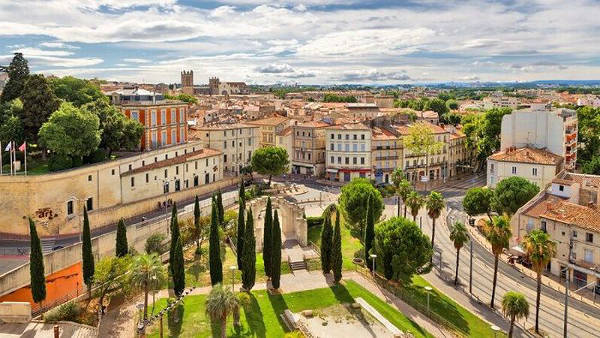 Having collected your car hire at Montpellier Airport Car Hire or downtown in Montpellier explore Montpellier and the surrounding areas, and why not use the Montpellier City Card which allows discounts when visiting some of the cultural sights ranging from 12 Euro for 24hr access, 48 hour costs 19 Euro and 72 hour is priced at 25 Euro.
Choose your vehicle from our vast car hire selection to get you around the city in style and comfort.
Montpelier Car Rental FAQ
Which is the best car hire company at Montpelier Airport in France?
Based on feedback from over 10,000 customers who hired a car at at Montpelier Airport, Europcar Car Hire have the best customer satisfaction rating with a score of 8.2 out of a maximum of 10 points.
Can I rent a car at Montpelier Airport France if I am over 70?
Yes, you can hire a car in Montpelier from some car rental companies up to 99 years of age with no extra fees. Contact us we will be glad to assist you by comparing the leading car hire companies to get you the best deal.
Can I rent a car at Montpelier Airport if I am under 25?
You can hire a car at Montpelier Airport at 18 years of age, with the following additional fees. SIXT Young driver's age: 18 to 24 years. Charge 32.5 EUR per day. Maximum 324.9 EUR. Includes 20% taxThrifty Young driver's age: 21 to 24 years. Charge 48.04 EUR per day. Maximum 490.03 EUR. Includes 20% tax. Europcar Young driver's age: 23 to 26 years. Charge 30 EUR per day. Maximum 370 EUR. (Excludes tax) Hertz Young driver's age: 21 to 24 years. Charge 40.84 EUR per day. Maximum 490.03 EUR. Includes 20% tax. Thrifty Young driver's age: 21 to 24 years. Charge 48.04 EUR per day. Maximum 490.03 EUR. Includes 20% taxPlease contact us directly and we will be glad to explain how to get the best deal for your age group.
Can I take a rental car from Montpelier to visit a different Country?
Yes some car hire companies will allow you to take a rental car cross border to the following countries. Cross border policy is subject to change. Vehicles may only be taken in the following countries: Andorra, Austria, Belgium, Denmark, Finland, Germany, Gibraltar, Ireland, Italy, Liechtenstein, Luxembourg, Monaco, Netherlands, Norway, Portugal, San Marino, Spain (not including the Spanish enclaves of Ceuta and Melilla), Sweden, Switzerland and the United Kingdom. Additional cross border fees may apply. You will need to get permission first. There may be additional fees to cross an International border depending on which supplier you choose.
Can I take a rental car from Montpelier and drop it off in a different city in France?
Yes some car hire companies will allow one way rentals, however you will need to let them know before hand. There will be an additional one way rental fee if you leave the car in a different location to the pick location
How long do I need to hold a licence in order to rent a car at Montpelier Airport?
A full licence held for minimum of 1 year with no major endorsements. When renting within the EU, customers who do not hold a driving licence issued by an EU/EEA country or Switzerland must also present an International Driving Permit along with their domestic licence. If your driver's licence is not in the Roman alphabet (i.e. if it is in Arabic, Greek, Cyrillic or Chinese) you are required to bring an International Driving Permit and your domestic licence. For driving licenses from countries not part of the international driving license treaty, an official translation of the license must be presented with the original license.
What documents do I need to hire a car at Montpelier Airport?
The principle driver will need to have the following documents in his or her name. A full licence, a credit card, the voucher we will send you when you complete your booking, and a passport. A printed version of your voucher must be produced upon arrival at the rental desk. Failure to present the voucher means the car rental agent may charge you at the local rates. With Budget rentals you will also need one original form of proof of address.
What is the fuel policy for a hire car at Montpelier Airport?
This will depend on the car hire supplier you select. The vast majority of cars have a full to full fuel policy, which means your vehicle will be supplied with a full tank of fuel. To avoid incurring fuel charges, you will need to return it with the same amount of fuel as it had when you collected it. You can also choose pick up full return empty. This maybe more convenient if you wish to drop the car back without delays, but it will be more expensive.
Montpellier Car Rental Locations
Car Hire Montpellier Airport
Car hire desks are situated out side the airport terminal
Car Hire Montpellier city
Is available at Montpellier Bus and Railway stations
Montpellier Airport Information
Airport Name: Montpellier Méditerranée Airport
Airport Code: MPL
ICAO:
Address: 34137 Mauguio, France Montpellier France
City: Montpellier
Country: France
Telephone: +33 4 67 20 85 00
Time Zone: GMT + 1
Coordinates: 43°34′35″N 003°57′47″E
Driving Directions to Montpellier Airport
Car Parking: Long and Short Term Parking Facilities available
Taxi service: Available in front of terminal
Train service:
Bus service:
Car Hire: Outside the terminal building, opposite the Business Centre
Information Desk: Located in the arrivals hall
Facilities:

Destinations from Montpellier Airport
Air Algérie Air Arabia Maroc
Air France
Alitalia
easyJet
easyJet
KLM
Lufthansa Regional
Royal Air Maroc
Ryanair
Scandinavian Airlines
Transavia
Volotea
Montpellier See & Do
Hug the coastal roads from Montpellier, with overnight stays in Arles and Marseilles, to enjoy some of the most beautiful sea views in France. Visit the enchanting Aigues-Mortes walled village on the sea, then head through the protected Carmagues wetlands to view the 400 species of birds, endless trails of sea lavender, the Carmague bull and equally famous wild white horses. Take note of the stunning vineyards en route to Arles and make a stop-off for some excellent souvenirs or gifts. In Arles, book yourself in for an overnight stay and visit the amphitheatre, Museum of Antiquity and countless restaurants.
From Montpellier, drive towards the northeast to visit the Arena in Nîmes before continuing on towards Avignon for an overnight stop. On the way, stop at the Pont du Gard, an excellent example of an Ancient Roman aqueduct bridge. A stroll here is the perfect antidote to a day's driving, and well worth stopping for.
Hotels Near Montpellier Airport

La Maison Blanche
La Maison Blanche, 1796 avenue de la Pompignane , Montpellier, 34000 White ship in a green oasis, La Maison Blanche stands gracefully at 5 minutes from historical centre, 10 minutes from the airport and 15 minutes from the beaches. Its restaurant Le Mas des Sablons will delight all your senses by the fire place in winter, under the Linden trees in summer.
Hôtel d'Aragon,
Hôtel d'Aragon, 10, rue Baudin , Montpellier, 34000 Charming Boutique Hotel entirely renovated. A warm environment and a sophisticated atmosphere await you. The Hotel is located 2 minutes, walking from the Place de la Comédie, near the SNCF train station, the Corum and the Fabre Museum. Haven of elegance, French charm and peace. Situated in the heart of Montpellier, it is an ideal base for those who wish to discover one of the most beautiful French cities, visit the region or be at the centre of artistic, cultural or economic events. Non-smoking hotel.
Pullman Montpellier Antigone
Pullman Montpellier Antigone, 1, rue des Pertuisanes, 34000 Montpellier Located in the city centre, near the famous Place de la Comédie, the hotel is just 15 minutes from the Mediterranean coast and 10 kilometres from the international airport. All of the guestrooms feature a unique décor and cosy accommodation. They are spacious, comfortable and offer a panoramic view of the surrounding area. Whether you are visiting the hotel for business or pleasure, you will appreciate access to the latest in communication technology including Wi-Fi internet access available throughout the entire hotel. Pullman Montpellier Antigone features a restaurant and 2 bars. The Ciel d'Azur features regional cuisine served in the dining room, by the swimming pool or on the panoramic terrace.
Newhotel du Midi+33 4 67 20 85 00
Newhotel du Midi sits on Place de la Comédie in the city centre of Montpellier, opposite the Opera house. Its rooms are individually decorated and have satellite TV. The rooms also have private bath or shower, air-conditioning and a work desk. Some rooms have been decorated to create a romantic ambiance. Breakfast is served each morning from 07:00 to 12:00 in the hotel's breakfast room. Wi-Fi internet access is available, free of charge, in the Newhotel du Midi's lobby. It is available in the rooms at an additional charge. New Hotel du Midi benefits from an ideal location in Montpellier. It is only 40 minutes from the beaches and only a 5-minute walk to the train station. And a short car trip will get you to the Montpellier airport.