Paris Charles De Gaulle Car Hire
Location de Voiture Aéroport de Roissy-Charles de Gaulle
Last Updated: 1st May, 2021
Paris charles de gaulle provides cheap car hire from the following rent a car companies Hertz, Avis, Alamo, Budget Dollar, National Sixt, Thrifty Europcar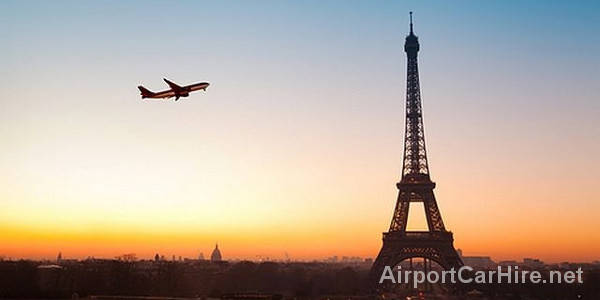 Paris Charles De Gaulle Car Rental FAQ
Which is the best car hire company at Paris Charles De Gaulle Airport in France?
Based on feedback from over 10,000 customers who hired a car at at Paris Charles De Gaulle Airport, Enterprise Car Hire have the best customer satisfaction rating with a score of 8.3 out of a maximum of 10 points.
Can I rent a car at Paris Charles De Gaulle Airport France if I am over 70?
Yes, you can hire a car in Paris Charles De Gaulle from some car rental companies up to 99 years of age with no extra fees. Contact us we will be glad to assist you by comparing the leading car hire companies to get you the best deal.
Can I rent a car at Paris Charles De Gaulle Airport if I am under 25?
You can hire a car at Paris Charles De Gaulle Airport at 18 years of age, with the following additional fees. Sixt Young driver's age: 18 to 24 years. Charge 32.5 EUR per day. Maximum 324.9 EUR. Includes 20% tax Thrifty Young driver's age: 21 to 24 years. Charge 48.04 EUR per day. Maximum 490.03 EUR. Includes 20% tax. Europcar Young driver's age: 23 to 26 years. Charge 30 EUR per day. Maximum 370 EUR. (Excludes tax)National Young driver's age: 21 to 24 years. Charge 32 EUR per day. Maximum 320 EUR. Includes 20% tax Thrifty Young driver's age: 21 to 24 years. Charge 48.04 EUR per day. Maximum 490.03 EUR. Includes 20% taxPlease contact us directly and we will be glad to explain how to get the best deal for your age group.
Can I take a rental car from Paris Charles De Gaulle to visit a different Country?
Yes some car hire companies will allow you to take a rental car cross border to the following countries. Cross border policy is subject to change. Vehicles may only be taken in the following countries: Andorra, Austria, Belgium, Denmark, Finland, Germany, Gibraltar, Ireland, Italy, Liechtenstein, Luxembourg, Monaco, Netherlands, Norway, Portugal, San Marino, Spain (not including the Spanish enclaves of Ceuta and Melilla), Sweden, Switzerland and the United Kingdom. Additional cross border fees may apply. You will need to get permission first. There may be additional fees to cross an International border depending on which supplier you choose.
Can I take a rental car from Paris Charles De Gaulle and drop it off in a different city in France?
Yes some car hire companies will allow one way rentals, however you will need to let them know before hand. There will be an additional one way rental fee if you leave the car in a different location to the pick location
How long do I need to hold a licence in order to rent a car at Paris Charles De Gaulle Airport?
A full licence held for minimum of 1 year with no major endorsements. When renting within the EU, customers who do not hold a driving licence issued by an EU/EEA country or Switzerland must also present an International Driving Permit along with their domestic licence. If your driver's licence is not in the Roman alphabet (i.e. if it is in Arabic, Greek, Cyrillic or Chinese) you are required to bring an International Driving Permit and your domestic licence. For driving licenses from countries not part of the international driving license treaty, an official translation of the license must be presented with the original license.
What documents do I need to hire a car at Paris Charles De Gaulle Airport?
The principle driver will need to have the following documents in his or her name. A full licence, a credit card, the voucher we will send you when you complete your booking, and a passport. A printed version of your voucher must be produced upon arrival at the rental desk. Failure to present the voucher means the car rental agent may charge you at the local rates. With Budget rentals you will also need one original form of proof of address.
What is the fuel policy for a hire car at Paris Charles De Gaulle Airport?
This will depend on the car hire supplier you select. The vast majority of cars have a full to full fuel policy, which means your vehicle will be supplied with a full tank of fuel. To avoid incurring fuel charges, you will need to return it with the same amount of fuel as it had when you collected it. You can also choose pick up full return empty. This maybe more convenient if you wish to drop the car back without delays, but it will be more expensive.
Paris Car Rental Locations
Charles De Gaulle Airport 95700 Roissy-en-France, France
Car Hire Paris city centre
Car Hire available at Airports, Railway stations, bus stations and hotels in Paris
Paris Charles De Gaulle Airport Information
Airport Name: Aéroport Paris Charles de Gaulle, Aéroport de Roissy-Charles de Gaulle
Airport Code: CDG
ICAO: LFPG
Address: BP 20102, 95711 Roissy Cedex
City: Paris Charles De Gaulle
Country: France
Telephone: +33 170 36 39 50
Time Zone: GMT + 1
Coordinates:
Driving Directions to Paris Charles De Gaulle Airport Main access road is the A1
Car Parking: Lots of car parking spaces available at Charles de Gaulle Paris Airport. Long and Short Term Parking Facilities available
Taxi service: Taxi's are available outside the Arrivals terminal and it may cost 40 euro to go to Paris city centre.
Train service: There is a regular train service, RER, which goes to the city centre. There is also a high speed rail service TGV.
Bus service: Regular local bus service to Paris city centre.
Car Hire: The car rental desks are located in the arrivals hall
Information Desk: Located in the arrivals hall
Facilities:

Paris Charles De Gaulle See & Do
Located in the Île-de-France region, Paris is one of the most romantic and alluring cities in the world. Remarkable architecture, rich culture, captivating history, vibrant art and music scenes, delicious food and endless innovation; these are just a few of the delights that Paris is famous for. Top attractions include the Moulin Rouge, Champs d'elyse, Sacre Coeur, Eifel Tower, River Seine, Musee Picasso and the Louvre. But if you have a hire car to hand, there are also a variety of scenic drives that you can embark on from the capital, to get a real taste for the area.
Île-de-France scenic drive
Head out of Paris on one of the inviting D roads via Compiegne and Meaux to Troyes. In Compiegne, visit the famous forest, the site where World War I ended on November 11, 1918, and the Musees et Domain Nationaux de Compiegne, the royal chateau where Marie Antoinette first met the Dauphin. Meaux is a great spot for walking and sightseeing, soaking up the beautiful riverside views, gardens and local historical sights and monuments. Likewise, Troyes – a city existing since Roman times - is built upon the Seine banks, housing multitudes of half-timber buildings in the quaint and enchanting old town. There is also a plentiful selection of museums and galleries to visit, documenting the city's importance and influence throughout French history.
From Troyes, travel onwards via small, winding roads and you'll come across even more beautiful and historic towns. Your first stop is Auxerre, another town of Roman origin, with its impressive fairytale clock tower, Gothic cathedral and 9th century abbey. Continue on to Nevers to see the grand Place de la République and Ducal Palace. Marvel at the narrow winding streets leading from the quay through the town, filled with architectural gems from the 14th to 17th centuries. Drive south via Moulins, with its imposing cathedral, and on to sprawling Clermont Ferrand, famed for its chain of volcanoes and its statue on Place de Laude, sculpted by Frédéric Bartholdi; the artist who also completed the Statue of Liberty.
The A75 from Clermont Ferrand is a wonderful route through the mountains of Auvergne. Cross the magnificent Millau viaduct and head towards the coast, choosing the left turn for Montpellier, Arles and the Cote D'Azur, or the right turn for Beziers, Perpignan and Barcelona.
Hotels Near Paris Charles De Gaulle Airport

HotHilton Paris Charles De Gaulle Airportelname
Hilton Paris Charles De Gaulle Airport Roissypôle, Rue de Rome, BP16461, Roissy, 95708 The modern Hilton Paris Charles de Gaulle Airport hotel is just 5 minutes by free shuttle from the airport. Do business in one of 24 meeting rooms before dining á la carte at Les Aviateurs restaurant. Unwind with a swim or opt for an aperitif at La Caravelle under the glass atrium.The hotel has 24 meeting rooms for 2-850, a business center and Executive Lounge. Contemporary Hilton Guest Rooms, Deluxe Rooms and Executive Rooms all have high-speed internet access. Executive Rooms have Executive Lounge access. The Louvre, the Eiffel Tower and other central Paris attractions are just 30 minutes away. After a day sightseeing, relax in the sauna or plunge into the pool at the hotel's fitness center. Sip cocktails at La Caravelle or enjoy a buffet at Les Aviateurs
Radisson Blu Charles de Gaulle Airport
Radisson Blu Charles de Gaulle Airport rue de la Chapelle , Paris, 77990. An elegant and modern complex in a large private garden, the Radisson BluHotel Charles de Gaulle Airport is conveniently located at the doors of the Charles de Gaulle and the Parc de Villepinte exhibition area. Located at the airport, the hotel is close to the centre of Paris and is just a 30-minute drive from Disneyland Resort Paris. The hotel offers a free shuttle service to and from the airport and RER and TGV station every day from 6 a.m. to 11:30 p.m.
Novotel Convention & Wellness Roissy CDG
Novotel Convention & Wellness Roissy CDG ALLEE DES VERGERS , Paris, 95700. The Novotel Convention and Wellness Roissy CDG is a 4 star hotel with 289 rooms located near Roissy CDG Airport, 25 km from Paris. Ideal for a business trip to Paris or for seminars and conferences with 1,200 sqm of space across 18 modular rooms. Relax in our Wellness Club, a 600 sqm spa centre with heated swimming pool, Turkish steam bath, sauna, gym, massages and beauty treatments. Contemporary and friendly, our Novotel Cafe will tempt you with its original and varied menu. City tax-0.90€ excl.
Comfort Hotel CDG,
Comfort Hotel CDG, 1Bis, Rue De Paris , Paris, 77990 All our team will do its best to ensure you have a lovely stay in our convenient hotel at Charles de Gaulles Airport. Located close to Roissy Charles de Gaulle airport, the Roissy International Business Centre, the Parc des Expositions at Villepinte, and the Disneyland and Asterix theme park, our establishment provides modern comfort and a warm welcome. With 177 soundproof and air conditioned rooms, you should have an enjoyable stay. A free shuttle bus service will help with your transfers.
BEST WESTERN Paris CDG Airport
BEST WESTERN Paris CDG Airport, 1Allee du Verger, Roissy En France, 95700. Park, sleep and fly package: stay one night at hotel and park your car for seven nights. Only three minutes from Roissy-Charles de Gaulle International Airport and less than ten minutes from the Villepinte and Bourget exhibition centres in the north of Paris, the Best Western Paris CDG Airport is the ideal stopover for business and leisure trips. We are perfectly situated to enjoy all the attractions in and around Paris, 25 kilometers from the historic centre of the capital, 20 minutes from Parc Asterix, 40 minutes from Disneyland Paris and 15 kilometers from the Stade de France. Our hotel has 244 rooms renewed in 2010. Our rooms are comfortable, spacious, air-conditioned, and includes 26 'superior' rooms.