Eindhoven Airport Car Hire Netherlands
Last Updated: 30th June, 2023
Airport Car Hire Network provides discount car rental, by comparing car hire prices at Eindhoven Airport for you, to bring you the best deals from the following rent a car companies Hertz, Avis, Alamo, Budget Dollar, National Sixt, Thrifty Europcar. One way rentals available, pick up you hire car at Eindhoven and drop off at Amsterdam or Rotterdam. You can even go cross border and rent from Netherlands to France or Belgium or any other country in Europe.
Eindhoven Car Rental FAQ
Which is the best car hire company at Eindhoven Airport?
Based on feedback from over 10,000 customers who hired a car at Eindhoven Airport, Thrifty Car Rental have the best customer satisfaction rating with a score of 8.6 out of a maximum of 10 points.
Can I rent a car at Eindhoven Airport with a debit card?
Yes you can hire a car at Eindhoven Airport with a debit card issued by a bank. Conditions of debit card use: card must be in main driver's name. MasterCard or VISA only. Debit cards must be issued by a bank, and numbers must be embossed. Please note, the deposit amount will be charged if using a debit card and associated transactions fees may apply. Maximum rental duration 28 days if using a debit card. Prepaid and electronic cards (Visa Electron) are not accepted. Be sure to check the filter for Both Credit and Debit Cards on the left side under the heading Cards Accepted At Pick-Up. This will display the car hire companies that will accept Debit Cards. Please contact us and we will be glad to explain how rent a car with a debit card
Can I rent a car at Eindhoven Airport Netherlands if I am over 70?
Yes, you can hire a car in Eindhoven from some car rental companies up to 99 years of age with no extra charges. Contact us we will be glad to assist you by comparing the leading car hire companies to get you the best deal.
Can I rent a car at Eindhoven Airport if I am under 25?
You can hire a car at Eindhoven Airport at 18 years of age, with additional fees. Young driver's age: 21 to 25 years. Charge 16.53 EUR per day. Maximum 160.33 EUR. Includes 21% tax. SIXT Young driver's age: 21 to 24 years. Charge 18.99 EUR per day. Maximum 189.99 EUR. Includes 21% taxPlease contact us directly and we will be glad to explain how to get the best deal for your age group.
Can I take a rental car from Eindhoven to visit a different Country?
Yes some car hire companies will allow you to take a rental car cross border, but you will need to get permission first. There may be additional fees for some countries. Cross border travel is permitted to the following countries where prior authorisation has been granted by the rental agent.
Can I take a rental car from Eindhoven and drop it off in a different city in Europe?
Yes some car hire companies will allow one way rentals, however you will need to let them know before hand. There will be an additional one way rental fee if you leave the car in a different location to the pick location.
How long do I need to hold a licence in order to rent a car at Eindhoven Airport?
A full licence held for minimum of 1 year with no major endorsements. UK licence holders need to present the photo card. When renting within the EU, customers who do not hold a driving licence issued by an EU/EEA country or Switzerland must also present an International Driving Permit along with their domestic licence.
What documents do I need to hire a car at Eindhoven Airport?
The principle driver will need to have the following documents in his or her name. A full licence, a credit card, the voucher we will send you when you complete your booking, and a passport. A printed version of your voucher must be produced upon arrival at the rental desk. Failure to present the voucher means the car rental agent may charge you at the local rates. If your form of identification does not include or match your current address, then a separate printed proof of address is required
What is the fuel policy for a hire car at Eindhoven Airport?
This will depend on the car hire supplier you select. The vast majority of cars have a full to full fuel policy, which means your vehicle will be supplied with a full tank of fuel. To avoid incurring fuel charges, you will need to return it with the same amount of fuel as it had when you collected it. You can also choose pick up full return empty. This maybe more convenient if you wish to drop the car back without delays, but it will be more expensive.

Eindhoven Airport Information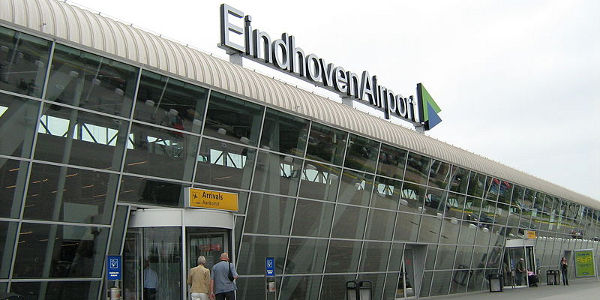 Airport Name: Eindhoven Airport
IATA EIN
ICAO: EHEH
Address: Luchthavenweg 25, 5657 EA,
City: Eindhoven
Country: Netherlands
Telephone: +31 402919818
Location: Eindhoven Airport is 7km west of Eindhoven city centre, just 100km from Amsterdam.
Time Zone: GMT + 1
Driving Directions to Eindhoven Airport
Car Parking: Long and Short Term Parking Facilities available
Public Transport:
Taxi service: available in front of terminal
Train service: Take the bus to Eindhoven Central Station, a 20 minute journey
Bus service: Regular bus service from Eindhoven Airport to Eindhoven Central Station. AirExpressBus travels to Amsterdam/Utrecht.
Car Hire: The car rental companies' desks are located in the arrivals hall
Information Desk: in the arrivals hall

Flight Destinations from Eindhoven Airport
Air France operated by CityJet London-City
Ryanair Alghero, Alicante, Brindisi, Dublin, Faro [begins 28 April] Girona, London-Stansted, Madrid, Màlaga , Marseille, Milan-Orio al Serio, Oslo-Rygge Pescara, Pisa, Porto, Reus, Rome-Ciampino, Stockholm-Skavsta, Trapani
Transavia.com Alicante, Bodrum, Faro, Málaga
Wizz Air Budapest, Gdańsk, Katowice, Prague, Sofia, Warsaw, Wroclaw

Eindhoven See & Do
If you are renting your car at Eindhoven Airport, be sure and explore Eindhoven city centre. Endhoven Airport is only 2.5 miles from the city centre. Eindhoven known as the 'City of Lights' due to it being the home of Philips Electronics and here you can visit the Philips Museum. Visit the lively Stratumseind street with its many cafes and pubs. Eindhoven also has many pedestrian streets for ease of exploring the city. More of Eindhoven's Museums to be visited include:
Van Abbemuseum
Daf Museum
Designhuis
Museum Kempenland Eindhoven
Visit Eindhoven's parks such as Stadswandel Park and Genneper Park, De Groote Peel National Park and Biesbosch National Park. Safaripark Beekse Bergen If you are looking for sport here in Eindhoven you might be able to take in a football match at PSV Eindhoven football stadium. Enjoy some indoor shopping in Heuvel Galerie Eindhoven. Aquabest is the ideal centre for taking in a swim and somewhere to keep the kids entertained with indoor and outdoor activities. Antwerp and Maastricht are just 45 miles away from Eindhoven.
Hotels Near Eindhoven Airport

Crown Inn
Crown Inn, Markt 35, Centrum, 5611 EC Eindhoven Excellently situated on the market square, right in the heart of the city, Crown Inn offers a friendly atmosphere and comfortable accommodation. The lively setting of the market is the ideal starting point for exploring the charming city of Eindhoven. With all the main attractions within easy reach, you can wander the bustling shopping streets and return to the hotel in between sightseeing. Crown Inn is just a 2-minute walk from the central train station for your convenience.
Van der Valk Hotel
Van der Valk Hotel Eindhoven, Aalsterweg 322, Stratum, 5644 RL Eindhoven Located only 5 minutes' drive from Eindhoven's city centre, this hotel has an extensive sports centre with an indoor pool and fitness facilities. Its spacious accommodation has balconies and free parking included. The on-site sports centre offers an indoor pool area, outdoor tennis and a fitness centre. Wi-fi internet is available throughout Van Der Valk Eindhoven, the first hour is free of charge. Eindhoven Airport is 10 minutes away from Van Der Valk by car, the hotel is directly off the A2/A67 highway. An airport shuttle is available on request.
Hotel de Collse Hoeve
Hotel de Collse Hoeve, Collsehoefdijk 24, 5674 VK Nuenen Situated in a centuries' old farmstead in the Brabant countryside of Nuenen, Hotel de Collse Hoeve offers rooms with cable TV, just a 15-minute drive from Eindhoven's city centre. The renovated farm has an authentic atmosphere. All the rooms of Hotel de Collse Hoeve are equipped with a telephone, a work desk, and a private bathroom. Some rooms have a private terrace. Wi-Fi internet is available. Hotel de Collse Hoeve also offers free on site private parking. Hotel de Collse Hoeve is just a 5-minute drive from the city of Nuenen, where guests can see several national monuments which feature in the paintings of Vincent van Gogh.
Novotel Eindhoven
Novotel Eindhoven, Anthony Fokkerweg 101, Strijp, 5657 EJ Eindhoven Novotel Eindhoven is conveniently located with Eindhoven Airport only 1 km away. Free internet is available in the lobby. This Novotel offers modern rooms that are spacious and have extra longs beds. Tea and coffee is available in all rooms. The outdoor swimming pool offers a refreshing moment during summer days. For children there is a play corner and an X-box 360. Guests can benefit from a discount in the nearby fitness centre, a 5-minute walk away. The city centre of Eindhoven is 10 minutes away by car.