Eindhoven Airport Car Hire
Last Updated: 11th April, 2017 | By Chris Williams
Airport Car Hire Network provides discount car rental, by comparing car hire prices at Eindhoven Airport for you, to bring you the best deals from the following rent a car companies Hertz, Avis, Alamo, Budget Dollar, National Sixt, Thrifty Europcar. One way rentals available, pick up you hire car at Eindhoven and drop off at Amsterdam or Rotterdam. You can even go cross border and rent from Netherlands to France or Belgium or any other country in Europe.
We would definitely recommend and use Airport Car Hire Network again

- Alfredo Azzaro / London.
Where can I rent a car in Eindhoven
Airport Eindhoven Airport, Eindhoven
Eindhoven city center Hugo Van De Goeslaan 49, Eindhoven, 5643 TX
Flights to and from Eindhoven Airport Holland
Air France operated by CityJet London-City
Ryanair Alghero, Alicante, Brindisi, Dublin, Faro [begins 28 April] Girona, London-Stansted, Madrid, Màlaga , Marseille, Milan-Orio al Serio, Oslo-Rygge Pescara, Pisa, Porto, Reus, Rome-Ciampino, Stockholm-Skavsta, Trapani
Transavia.com Alicante, Bodrum, Faro, Málaga
Wizz Air Budapest, Gdańsk, Katowice, Prague, Sofia, Warsaw, Wroclaw

Eindhoven Airport Information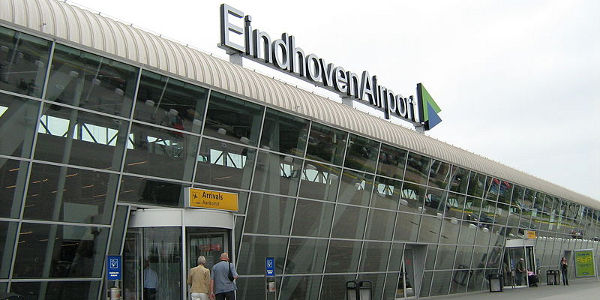 Airport Name: Eindhoven Airport
IATA EIN
ICAO: EHEH
Address: Luchthavenweg 25, 5657 EA,
City: Eindhoven
Country: Netherlands
Telephone: +31 402919818
Location: Eindhoven Airport is 7km west of Eindhoven city centre, just 100km from Amsterdam.
Time Zone: GMT + 1
Driving Directions to Eindhoven Airport
Car Parking: Long and Short Term Parking Facilities available
Public Transport:
Taxi service: available in front of terminal
Train service: Take the bus to Eindhoven Central Station, a 20 minute journey
Bus service: Regular bus service from Eindhoven Airport to Eindhoven Central Station. AirExpressBus travels to Amsterdam/Utrecht.
Car Hire: The car rental companies' desks are located in the arrivals hall
Information Desk: in the arrivals hall

Eindhoven Airport Map
Eindhoven see & do
Places to visit when you rent a car at Eindhoven Airport
If you are renting your car at Eindhoven Airport, be sure and explore Eindhoven city centre. Endhoven Airport is only 2.5 miles from the city centre. Eindhoven known as the 'City of Lights' due to it being the home of Philips Electronics and here you can visit the Philips Museum. Visit the lively Stratumseind street with its many cafes and pubs. Eindhoven also has many pedestrian streets for ease of exploring the city. More of Eindhoven's Museums to be visited include:
Van Abbemuseum
Daf Museum
Designhuis
Museum Kempenland Eindhoven
Visit Eindhoven's parks such as Stadswandel Park and Genneper Park, De Groote Peel National Park and Biesbosch National Park. Safaripark Beekse Bergen If you are looking for sport here in Eindhoven you might be able to take in a football match at PSV Eindhoven football stadium. Enjoy some indoor shopping in Heuvel Galerie Eindhoven. Aquabest is the ideal centre for taking in a swim and somewhere to keep the kids entertained with indoor and outdoor activities. Antwerp and Maastricht are just 45 miles away from Eindhoven.
Hotels close to Eindhoven Airport
Place/Eindhoven.htm">

Crown Inn
Crown Inn, Markt 35, Centrum, 5611 EC Eindhoven Excellently situated on the market square, right in the heart of the city, Crown Inn offers a friendly atmosphere and comfortable accommodation. The lively setting of the market is the ideal starting point for exploring the charming city of Eindhoven. With all the main attractions within easy reach, you can wander the bustling shopping streets and return to the hotel in between sightseeing. Crown Inn is just a 2-minute walk from the central train station for your convenience.
Van der Valk Hotel
Van der Valk Hotel Eindhoven, Aalsterweg 322, Stratum, 5644 RL Eindhoven Located only 5 minutes' drive from Eindhoven's city centre, this hotel has an extensive sports centre with an indoor pool and fitness facilities. Its spacious accommodation has balconies and free parking included. The on-site sports centre offers an indoor pool area, outdoor tennis and a fitness centre. Wi-fi internet is available throughout Van Der Valk Eindhoven, the first hour is free of charge. Eindhoven Airport is 10 minutes away from Van Der Valk by car, the hotel is directly off the A2/A67 highway. An airport shuttle is available on request.
Hotel de Collse Hoeve
Hotel de Collse Hoeve, Collsehoefdijk 24, 5674 VK Nuenen Situated in a centuries' old farmstead in the Brabant countryside of Nuenen, Hotel de Collse Hoeve offers rooms with cable TV, just a 15-minute drive from Eindhoven's city centre. The renovated farm has an authentic atmosphere. All the rooms of Hotel de Collse Hoeve are equipped with a telephone, a work desk, and a private bathroom. Some rooms have a private terrace. Wi-Fi internet is available. Hotel de Collse Hoeve also offers free on site private parking. Hotel de Collse Hoeve is just a 5-minute drive from the city of Nuenen, where guests can see several national monuments which feature in the paintings of Vincent van Gogh.
Novotel Eindhoven
Novotel Eindhoven, Anthony Fokkerweg 101, Strijp, 5657 EJ Eindhoven Novotel Eindhoven is conveniently located with Eindhoven Airport only 1 km away. Free internet is available in the lobby. This Novotel offers modern rooms that are spacious and have extra longs beds. Tea and coffee is available in all rooms. The outdoor swimming pool offers a refreshing moment during summer days. For children there is a play corner and an X-box 360. Guests can benefit from a discount in the nearby fitness centre, a 5-minute walk away. The city centre of Eindhoven is 10 minutes away by car.
Go to top of page