Rotterdam Car Hire
Last Updated: 1st April, 2021
Airport Car Hire Network provides discount car rental. We compare car hire prices at Rotterdam Airport for you, and bring you the best deals from the following rent a car companies at Rotterdam airport Hertz, Avis, Budget, Sixt, Europcar. One way rental available on selected hire cars. Pick up your car in Holland and drive anywhere in Europe, Spain, Italy, Croatia just to name a few.
Rotterdam Car Rental FAQ
Which is the best car hire company at Rotterdam Airport in Netherlands?
Based on feedback from over 10,000 customers who hired a car at Rotterdam Airport, Budget Car Rental have the best customer satisfaction rating with a score of 7.6 out of a maximum of 10 points
Can I rent a car at Rotterdam Airport with a debit card?
Yes you can hire a car at Rotterdam Airport with a debit card issued by a bank. Conditions of debit card use: card must be in main driver's name. MasterCard or VISA only. Debit cards must be issued by a bank, and numbers must be embossed. Please note, the deposit amount will be charged if using a debit card and associated transactions fees may apply. Maximum rental duration 28 days if using a debit card. Prepaid and electronic cards (Visa Electron) are not accepted. Be sure to check the filter for Both Credit and Debit Cards on the left side under the heading Cards Accepted At Pick-Up. This will display the car hire companies that will accept Debit Cards. Please contact us and we will be glad to explain how rent a car with a debit card
Can I rent a car at Rotterdam Airport Netherlands if I am over 70?
Yes, you can hire a car in Rotterdam from some car rental companies up to 99 years of age with no extra charges. Contact us we will be glad to assist you by comparing the leading car hire companies to get you the best deal.
Can I rent a car at Rotterdam Airport if I am under 25?
You can hire a car at Rotterdam Airport at 18 years of age, with additional fees. Young driver's age: 21 to 25 years. Charge 16.53 EUR per day. Maximum 160.33 EUR. Includes 21% tax. SIXT Young driver's age: 21 to 24 years. Charge 18.99 EUR per day. Maximum 189.99 EUR. Includes 21% taxPlease contact us directly and we will be glad to explain how to get the best deal for your age group.
Can I take a rental car from Rotterdam to visit a different Country?
Yes some car hire companies will allow you to take a rental car cross border, but you will need to get permission first. There may be additional fees for some countries. Cross border travel is permitted to the following countries where prior authorisation has been granted by the rental agent Goldcar : Belgium, Luxembourg, Germany, Denmark, France, Monaco, Switzerland, Liechtenstein, Austria and Northern Italy. While Europcar allows travel to Andorra, Austria, Belgium, Denmark, France, Finland, Germany, Ireland, Italy, Luxembourg, Norway, Portugal, Spain (excl Ceuta and Millila), Sweden, Switzerland and the UK.
Can I take a rental car from Rotterdam and drop it off in a different city in Europe?
Yes some car hire companies will allow one way rentals, however you will need to let them know before hand. There will be an additional one way rental fee if you leave the car in a different location to the pick location. For example you can hire a car in Rotterdam and drop it off in Amsterdam, Brussels, Cologne, Munich from €55 per day including one way rental fee.
How long do I need to hold a licence in order to rent a car at Rotterdam Airport?
A full licence held for minimum of 1 year with no major endorsements. UK licence holders need to present the photo card. When renting within the EU, customers who do not hold a driving licence issued by an EU/EEA country or Switzerland must also present an International Driving Permit along with their domestic licence.
What documents do I need to hire a car at Rotterdam Airport?
The principle driver will need to have the following documents in his or her name. A full licence, a credit card, the voucher we will send you when you complete your booking, and a passport. A printed version of your voucher must be produced upon arrival at the rental desk. Failure to present the voucher means the car rental agent may charge you at the local rates. If your form of identification does not include or match your current address, then a separate printed proof of address is required
What is the fuel policy for a hire car at Rotterdam Airport?
This will depend on the car hire supplier you select. The vast majority of cars have a full to full fuel policy, which means your vehicle will be supplied with a full tank of fuel. To avoid incurring fuel charges, you will need to return it with the same amount of fuel as it had when you collected it. You can also choose pick up full return empty. This maybe more convenient if you wish to drop the car back without delays, but it will be more expensive.

Rotterdam Car Rental Locations
You can rent a car at Rotterdam airport or in Rotterdam city centre at the following locations
Rotterdam City Car Hire
Rotterdam TANDWIELSTRAAT 2, ROTTERDAM, 3083 AV
Rotterdam Airport Car Hire Zestienhoven Airport, Arrival Hall, Rotterdam, 3045 AP
Rotterdam City Hilton Hotel Walenburghof 17, Rotterdam, 3033 HK
Rotterdam Airport Information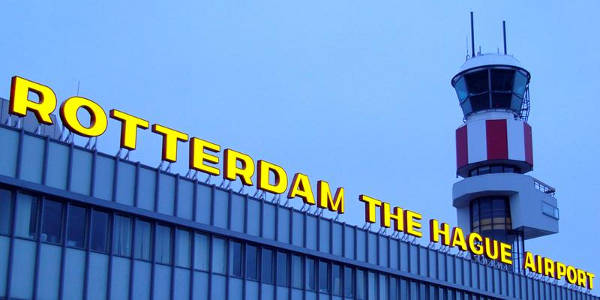 Airport Name: Rotterdam Airport
IATA RTM
ICAO: EHRD
Address: Rotterdam Airportplein 63045 AP Rotterdam
City: Rotterdam
Country: Netherlands
Telephone: : +31 10 446 3444
Fax:
Location: Rotterdam Airport
Time Zone: GMT + 1
Coordinates: 51°57′25″N 004°26′14″E
Driving Directions to Rotterdam Airport
Car Parking: Long and Short Term Parking Facilities available
Public Transport:
Taxi service: available in front of terminal
Train service:RandstadRail opperated form the airport to Rotterdam Central Station and Hague Central Station
Bus service: Opperated by RET from outside the terminal building. Bus number 33 will take you into Rotterdam city
Car Hire: The car rental companies' desks are located in the arrivals hall
Information Desk: Tel +31 (0)10 - 446 34 44.

Shopping
Rotterdam Airport Shop is to be found in the departure hall, and offers an extensive selection of products at competitive prices. In addition to travel necessities and gifts, the shop also sells perfumes and other cosmetic items, tobacco, liquor, china, crystal, jewellery, clothing and other luxury goods.
Food and drinks
Rotterdam Airport has excellent restaurant facilities for travellers and visitors to the airport. In the departure hall, the luxury self-service restaurant De Basseri offers a very varied assortment of refreshments to passengers who have already passed through security control. The attractive grand café/restaurant Horizon, located on the first floor of the central hall of the terminal building, is accessible to all visitors to the airport.
Wireless internet
Wireless Internet is available throughout the terminal
Airport Shuttle
The RET Airport Shuttle nr. 33 runs very frequently between Rotterdam Central Station and Rotterdam Airport. From Rotterdam Central Station you can travel by train directly or with only one change to a very large number of stations in the Netherlands or you can take trams, buses or a metro (underground) to travel within Rotterdam and the region.
Taxi
A Taxi Rank is directly outside Rotterdam Airport terminal building
Parking
All parking areas are situated within walking distance of the airport terminal. Fill in when you wish to drop off and pick up your car. A personal parking advice with the rate for the cheapest parking place will be determined.
Flight Destinations from Rotterdam Airport
CityJetHamburg, London-City Corendon Airlines Antalya, Kayseri
Iceland Express Reykjavík-Keflavík
Pegasus Airlines Antalya
Sky Airlines Antalya
Bergerac, Bodrum , Bourgas , Corfu , Dalaman , Faro, Genoa , Girona Heraklion , Kos , Las Palmas , London-Gatwick, Málaga, Nice, Palma de Mallorca, Rhodes, Rome-Fiumicino, Tenerife

Rotterdam See & Do
Rotterdam is a port city, second in size to Amsterdam, it is a vibrant city, beside the River Maas. If you are picking up your Rent a Car from Rotterdam Airport you can continue and drive to Rotterdam City Centre in just 20 minutes. Rotterdam has a very good road network which leads into the city centre from the A4, A13, A15, A16 and A20. If you are looking for day events, attractions and sights in Rotterdam there are the following:
Laurenskerk Church
Rotterdam Zoo
Museum Boijmans Van Beuningen
The Stedelijk Museum Schiedam
The World Museum
Maritime Museum Rotterdam
Looking to enjoy some shopping in Rotterdam the main shopping areas are Lijnbaan, Meent, and Hoogstraat, and the shopping mall at Alexandrium.
Rotterdam also displays great feats of architectural works such as:
Erasmus Bridge - Erasmusbrug
Euromast
Enjoy a harbourside walk in Rotterdam, taking in the wonderful architecture along the walk and the harbour activitiy. Take in some of Rotterdams Gardens and Parks at the Trompenburg Arboretum, Botanical Gardens, Historic garden Schoonoord, Museum Park & Rose Garden, Leuvehoofd Park & Boompjes Waterfront. Looking for a night out in Rotterdam take in some live entertainment at the beautiful New Luxor Theatre, Zuidplein or Rotterdamse Schouwburg.
Why not travel to the town of Delft from Rotterdam in your rented car, to explore this picturesque town of Delft made famous for the renowned Delft Blue pottery, Royal Delft. Delft like the other towns and cities in Holland is blessed with its canal network and its charming old city centre and street. You can continue on to The Hague and take in any number of its museums, The Royal Picture Gallery Mauritshuis, The Historical Museum of The Hague, Louis Couperus Museum, Van Kleef Museum and Distillery, Jan van Goyen House. Vist The Hague outdoor market and take in the colours and activities or enjoy shopping on Grote Marktstraat and Frederikstraat. The Hague is also where you can enjoy the beach at Scheveningen and its wonderful pier.

Hotels Near Rotterdam Airport

Regardz Airport Hotel Rotterdam
Regardz Airport Hotel Rotterdam, Vliegveldweg 59 - 61, Overschie, 3043 NT Rotterdam Regardz Airport Hotel is situated along the Rotterdam The Hague Airport and the A13 motorway. There is a direct connection to the city centre and Rotterdam Central Station. This 4-star hotel has rooms and suites. All rooms have free Wi-Fi, a flat-screen TV and coffee and tea facilities. The luxurious rooms and suites offer more space and comfort. Regardz Airport Hotel Rotterdam is located 15 minutes from the city centres of Rotterdam and Delft. You can walk and make bike tours in the nature reserve Park Zestienhoven.
Inntel Hotels Rotterdam Centre
Inntel Hotels Rotterdam Centre, Leuvehaven 80, Stadscentrum, 3011 EA Rotterdam Inntel Hotels Rotterdam lies at the foot of the Erasmus Bridge. It offers free entrance to Wellness Club H2O and modern accommodation with spectacular views and free Wi-Fi. The Wellness Club includes a swimming pool, Finnish sauna, Turkish steam bath and tropical rain shower. The Life Fitness Gym has professional State of the Art Life Fitness equipment.The restaurant has views over the skyline of the city and the Erasmus Bridge. From Inntel Hotels Rotterdam Centre you can easily use the tram and metro that stops right in front of the hotel. The harbour and Cruise terminal is a 15-minute walk.
Novotel Rotterdam Brainpark
Novotel Rotterdam Brainpark, K.P. van der Mandelelaan 150, Kralingen-Crooswijk, 3062 MB Rotterdam Novotel Rotterdam Brainpark is a comfortable and modern 4-star hotel, located 10 minutes by car from the city centre. Hotel guests can park their car for free at the hotel. The spacious hotel rooms offer excellent comfort and have a large working space. Each room has a private bathroom and coffee and tea facilities. The rooms are quiet and well-kept. The Novotel has 2 computers in the lobby that offer free internet access. There is also a special play area for children which includes an Xbox console.
Bilderberg Parkhotel Rotterdam
Bilderberg Parkhotel Rotterdam, Westersingel 70, Stadscentrum, 3015 LB Rotterdam Bilderberg Parkhotel Rotterdam is ideally situated next to the museum park, only 15 minutes' walk from Rotterdam Central Railway Station. The hotel offers spacious rooms and a wholesome breakfast buffet. The proximity to Rotterdam Central Station makes it possible to discover the areas around Rotterdam as well.
Van der Valk Hotel Rotterdam
Van der Valk Hotel Rotterdam - Blijdorp, Energieweg 2, Noord, 3041 JC Rotterdam Conveniently located just 2.5 km from the city centre and Rotterdam Central station, Van der Valk Hotel Rotterdam - Blijdorp provides modern decorated accommodation with free parking. Van der Valk hotel Rotterdam - Blijdorp enjoys a natural setting in Roelof Langerakpark, next to the Blijdorp Zoo. Guests can choose from a variety of high-quality accommodation with modern facilities. The hotel is just 5 minutes' drive from Rotterdam The Hague Airport and 200 metres from the A20/A13 motorway. It is also well-serviced by regular public transport to the city centre and airport.