Hertz Car Hire Bordeaux Airport
Last Updated: 14th Jan, 2022
We will compare car hire prices from Hertz rent a car at Bordeaux airport in order to get you the cheapest rates even cheaper that the price Hertz will charge you.
The Hertz car rental desk is located on the ground floor inside the terminal building at Bordeaux Airport. This area is known as the connecting wing as it connects block A and Block B of the airport.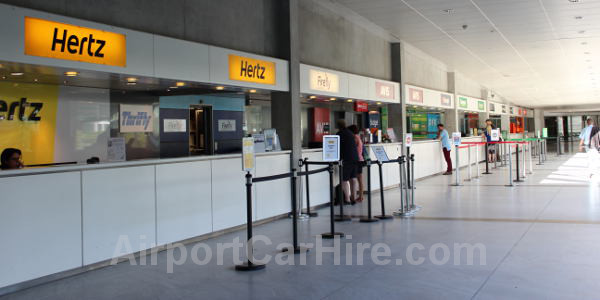 Hertz Rent A car desk Bordeaux Airport
Hertz Car Rental FAQ
What is the most popular hire car from Hertz at Bordeaux Airport?
The most popular car to hire at Bordeaux airport is the Renault Clio from as little as €21 per day
Can I rent a car at Bordeaux Airport from Hertz if I am over 70?
Yes, you can hire a car from Hertz at Merignac Bordeaux Airport BOD up to 99 years of age with no extra charges or medical certificate requirement. Contact us we will be glad to assist you by comparing your options and to get you the best deal.
Can I rent a car Hertz in Bordeaux Airport if I am under 25?
Yes, you can hire a car from Hertz in Bordeaux Airport if you are over 21. Young driver's age: 21 to 24 years. Charge 40.84 EUR per day. Maximum 490.03 EUR. Please contact us directly and we will be glad to explain how to get the best deal for your age group.
Can I take a Hertz hire car from France to visit a different Country?
Yes Hertz will allow you to take a rental car cross border, but you will need to get permission first. There will be additional fees to cross an International border. Hertz vehicles may only be taken in the following countries: Andorra, Austria, Belgium, Denmark, Finland, Germany, Gibraltar, Ireland, Italy, Liechtenstein, Luxembourg, Monaco, Netherlands, Norway, Portugal, San Marino, Spain (not including the Spanish enclaves of Ceuta and Melilla), Sweden, Switzerland and the United Kingdom (including Northern Ireland).
Can I take a rental car from Bordeaux and drop it off in a different city?
Yes but you will need to get permission first. There will be an additional one way rental fee if you leave the car in a different location to the pick location. Please note a penalty charge of € 600.00 may apply, should you omit to declare you will be driving the vehicle out of France.
How long do I need to hold a licence in order to rent a car from Hertz at Bordeaux?
A full licence held for minimum of 1 year with no major endorsements. UK licence holders need to present the photo card. When renting within the EU, customers who do not hold a driving licence issued by an EU/EEA country or Switzerland must also present an International Driving Permit along with their domestic licence.
Which documents do I need to hire a car from Hertz?
The principle driver will need to have the following documents in his or her name. A full licence, a credit card, the voucher we will send you when you complete your booking, and a passport. A printed version of your voucher must be produced upon arrival at the rental desk. Failure to present the voucher means the car rental agent may charge you at the local rates. With Budget rentals you will also need one original form of proof of address.
What is the Hertz fuel policy?
Normally it is Full to Full but will depend on the car you select. Your vehicle will be supplied with a full tank of fuel. To avoid incurring fuel charges, you will need to return it with the same amount of fuel as it had when you collected it. You may be required to leave a fuel deposit reserved or charged on your credit card, this will be released or refunded when you return the car full. Missing fuel will be charged on your return. The price per litre charged by the rental agent may be significantly higher than the price at the local service station. A refuelling charge may also be applicable.

Hertz Rating Bordeaux Airport Reviews
This rating is taken from feedback we received from customers that booked with Hertz at Bordeaux Airport . It is based on over 10000 customer reviews
Our rating is based on overall value for money, cleanliness of the car, service at the Hertz rental desk, car hire pick-up process, and the car hire drop-off process at Hertz rent al desk at Bordeaux Airport.