Car Hire For The Over 70s
Last Updated: 24th July, 2019
We welcome experienced drivers over 70 years of age. If you wish to hire a car and you are over 70 years of age or even over 75 we got the right car for you. In fact you can rent a car up to 99 years of age with most suppliers when you book with us.
As we deal with over 800 Car Rental Companies at 32,000 locations in 176 countries, the maximum age may vary from country to country. So after doing a quote select the car you like and then click on IMPORTANT INFORMATION, situated beside the logo of the car company. A new page will then open.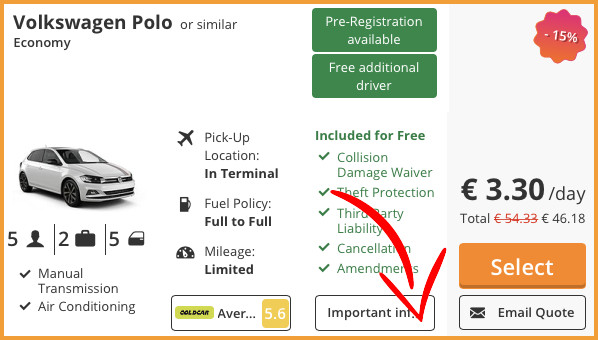 At the very top under drivers age you will see the age permitted for this particular car. Bear in mind if you exceed the age permitted just select a different car until you find your own age group

Example
Driver's age
25 to 99 years.
Customers who fall outside the age limitations will not be able to hire a car. Please note that if applicable, this fee will be included in the rental price and will be payable on arrival at the rental desk in the local currency.
In the above example there is no additional fee for anyone over 25. It is only charged if you are between 21 to 24 years of age. Anyone over 99 and under 21 will not be able to hire a car.
This will depend on the location you are visiting. For example in Dubrovnik Orynx Rent a car do not charge a supplement while all other companies do. So be sure to check each supplier until you find the one that matches your requirements
In which countries can I hire a car if I am over 70?
At AirportCarHire.com we work with major car hire suppliers worldwide that will rent you a car up to 99 years old. There are a small few exceptions in some countries but if you send us your requirements we will get back to you with a quote.
Car hire for over 70 and up to 99 years is available in the following locations at no extra charge. Many more locations are available, please contact us for more details.

Is there an additional rental fee on car hire if I am over 70?
The majority of our rentals have no additional fees for drivers that are over 70. Send up your rental requirements and we will be happy to assist you.
Can I add an additional driver who is over 70?
Yes, an additional driver can be added to your car hire, providing the driver has a full licence for more then 1 year and is under the age of 99.
Can I hire a minibus or luxury car if I am over 70?
Yes you can hire a minibus or luxury car right up to the age of 99