Bilbao Airport Car Hire Spain
Last Updated: 30th June, 2023
BILBAO AIRPORT CAR HIRE provides car rental from leading rent a car companies such as Hertz, Avis, Alamo, Budget Dollar, National Car Rental, Sixt, Thrifty Europcar all providing the best discount car rental in Spain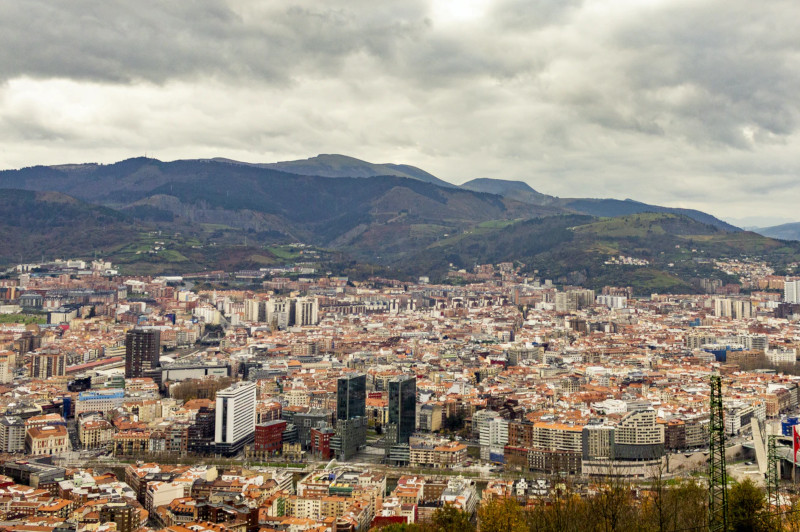 Bilboa Spain.
Bilbao Car Rental FAQ
Which is the best car hire company at Bilbao Airport BIO in Spain?
Based on feedback from our customers who hired a car at at Bilbao Airport, Enterprise Car Rental have the best customer satisfaction rating with a score of 8.5 out of a maximum of 10 points.
Can I rent a car at Bilbao Airport Spain if I am over 70?
Yes, you can hire a car in Bilbao from some car rental companies up to 99 years of age, with no extra charges or medical certificates required . Contact us we will be glad to assist you by comparing the leading car hire companies to get you the best deal.
Can I rent a car at Bilbao Airport if I am under 25?
You can hire a car at Bilbao Airport at 18 years of age, with no additional fees. OK Car Hire young driver's age: 19 to 25 years. Charge 10 EUR per day. Sixt young driver's age: 18 to 22 years Charge 19.49 EUR per day. Maximum 215.88 EUR. Goldcar young driver's age: 22 to 24 years. Charge 7.95 EUR per day. Maximum 96 EUR. Please contact and we will be glad to explain how to get the best deal for your age group.
Can I take a rental car from Spain to visit a different country?
Yes some car hire companies will allow you to take a rental car cross border, but you will need to get let them know beforehand. When driving into Portugal please purchase a temporary electronic toll tag at the border in order to drive on Portuguese toll roads. With Avis you may drive a vehicles can only be driven into following countries: Germany, Andorra, Austria, Belgium, Denmark, Vatican City, France, Finland, Netherlands, Italy, Lichtenstein, Luxembourg, Portugal, San Marino, Sweden, Switzerland and Gibraltar. There will be additional fees to cross an International border. Budget cars cannot be taken out of Spain
Can I take a rental car from Bilbao and drop it off in a different city?
Yes some car hire companies will allow one way rentals, however you will need to let them know before hand. There will be an additional one way rental fee if you leave the car in a different location to the pick location
How long do I need to hold a licence in order to rent a car at Bilbao Airport?
This will depend on which car hire supplier you choose. With Avis and Hertz a full licence held for minimum of 1 year with no major endorsements. Goldcar A full licence held for minimum of 4 years. Europcar a full licence held for minimum of 2 years with no major endorsements. UK licence holders need to present the photo card. Please contact us and we will get the right car for you at the best price or click on the Important Information Button beside the car hire logo when you get a quote on out website.
What documents do I need to hire a car at Bilbao Airport?
The principle driver will need to have the following documents in his or her name. A full licence, a credit card, the voucher we will send you when you complete your booking, and a passport. A printed version of your voucher must be produced upon arrival at the rental desk. Failure to present the voucher means the car rental agent may charge you at the local rates. With Budget rentals you will also need one original form of proof of address.
What is the fuel policy for a hire car at Bilbao Airport?
This will depend on the car hire supplier you select. The vast majority of cars have a full to full fuel policy, which means your vehicle will be supplied with a full tank of fuel. To avoid incurring fuel charges, you will need to return it with the same amount of fuel as it had when you collected it. You can also choose pick up full return empty. This maybe more convenient if you wish to drop the car back without delays, but it will be more expensive.

Bilbao Car Rental Locations
Car hire Bilbao Airport
Rental Desks Airport Aeropuerto De Sondika, Bilbao, ES - 48016 Bilbao BIO
Car hire Bilbao city centre
Bilbao Avda, Sabino Arana, 9, Bilbao Bilbaob
Train Station Estacion De RENFE, Plz Circular, 2, Bilbao - RENFE Train Station Bilbao - RENFE Train Station
Bilbao Airport information
Airport Name: Bilbao Airport, Aeropuerto de Bilbao
Airport Code: BIO
ICAO: LEBB
Address: E- 48180 Loiu Vizcaya Bilbao Spain
City: Bilbao
Country: Spain
Telephone:
Time Zone: GMT + 1
Coordinates:
Driving Directions to Bilbao Airport BI-631 is the main access road for Bilbao Airport
Car Parking: Long and Short Term Parking Facilities available
Taxi service: Available in front of terminal
Train service: No Train connection at Bilbao Airport but take the Bizkaibus to Bilbao bus and train stations
Bus service: Bizkaibus Line 3247 connects the Bilbao Termibus with the airport.
Car Hire: The car rental desks are located in the arrivals hall
Information Desk: Located in the arrivals hall
Facilities:

Shops, Restaurants and Bars
ATM's and Bank
WiFi Facilities
Two VIP Lounges
Tourist Desk
Flight Destinations from Bilbao Airport
Flights and destinations from Bilbao Airport
Aer Lingus Dublin
Air Berlin Düsseldorf , Palma de Mallorca
Air Europa Fuerteventura, Gran Canaria, Ibiza, Lanzarote, Palma de Mallorca, Tenerife-North, Tenerife-South
Air France operated by Brit Air Paris-Charles de Gaulle
Brussels Airlines Brussels
easyJet London-Stansted, Ibiza
Iberia Madrid
Iberia operated by Air Nostrum A Coruña, Alicante, Santiago de Compostela, Seville, Valencia, Vigo
Lufthansa Frankfurt
Lufthansa Regional operated by Lufthansa CityLine Düsseldorf, Munich, Stuttgart
Quantum Air Lanzarote, Madrid, Malaga, Palma de Mallorca, Seville
Spanair Barcelona, Lanzarote, Las Palmas de Gran Canaria, Madrid, Tenerife-South, Munich
TAP Portugal operated by Portugália Lisbon
Vueling Airlines Amsterdam [begins 28 March], Barcelona, London-Heathrow, Malaga, Seville
Hotels Near Bilbao Airport

Hotel Abando<
Hotel Abando Built in 1991, this modern hotel is situated in the heart of the financial district of Bilbao. We are fully equipped with all modern conveniences and provide a relaxed welcoming setting for your stay. Renovated in 2006, the hotel consists of 7 floors and 141 rooms, of which 27 are singles, 109 are doubles, 2 family rooms as well as 3 suites.
The new Meliá Bilbao Hotel
The new Meliá Bilbao Hotel is located in the heart of the centre for business, entertainment and culture in the city of Bilbao. Discover some of the most beautiful works of art in the world in the emblematic Guggenheim Museum, the new Conference Centre and Euskalduna Concert Hall, or in the Fine Arts Museum in Doña Casilda Park.
NH Villa de Bilbao
NH Villa de Bilbao is located in the heart of Bilbao, close to the football stadium and the Euskalduna Palace and minutes away from the Guggenheim and the Finer Arts Museums. It is surrounded by many restaurants and 'tapas' bars where you may enjoy the best pintxos in the city. At the restaurant 'la pergola' you may taste the local and traditional cuisine and also a delicious and an extended buffet breakfast. Spacious rooms equipped with heating and air conditioning. There's a concerted gym closed to the hotel. It also has a private parking and access to Internet
Ercilla Lopez de Haro<
Ercilla Lopez de Haro The genuine five star hotel in Bilbao: Frank Gehry drew his first sketches of the Guggenheim Museum in one of its rooms. It has ever since been related to the museum and chosen by every distinguished visitor to the city: from Jane Fonda to the Dalai Lama, along with Gwyneth Paltrow or Lenny Kravitz, have made this hotel their home in Bilbao. Located in Bilbao city centre, the hotel is ideally situated just a 5 minute walk away from the Guggenheim Museum and next to the rest of city attractions.
Hotel Carlton
Hotel Carlton This elegant 5-star hotel in Bilbao is one of the city's most emblematic buildings and dates from 1926. It boasts a central position in Plaza de Federico Moyúa and an elegant restaurant. The hotel was designed in 1919 and is an architectural delight. Wander through the grand interiors and admire fabulous details such as the wide staircase and a beautiful domed ceiling with stained-glass details. Bedrooms are luxuriously spacious and may feature classical or contemporary design. Beds are king-size and you can browse the wireless internet for free. Famous guests include King Alfonso XII, the writer Federico García Lorca and the singer Maria Callas.