Car Hire Granada Airport GRX
Federico García Lorca Granada Jaén
Last Updated: 30th June, 2023
Book your car hire at Granada Airport in two easy steps. With free amendments and cancellation you can book with confidence knowing that you will always get the best price.
Granada Airport is situated between Malaga Airport and Almeria Airport. It is a small airport with less then 1 million passengers arriving each year, it is ideally located for anyone visiting Southern Spain.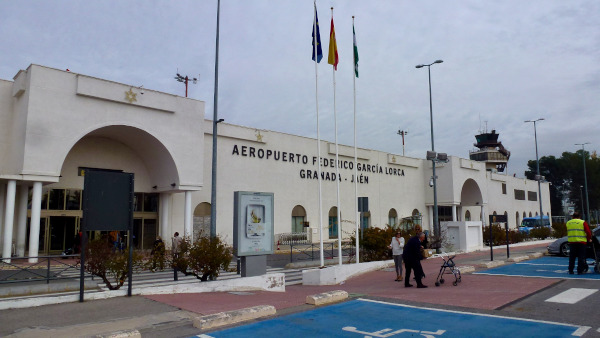 Car Hire at Granada Airport is supplied by OK rent a car and Avis and Budget. Their car rental desk can be found at the lower end of the airport directly in front of the arrivals door.
Granada Car Rental FAQ
Which is the best car hire company at Granada Airport GRX in Spain?
Based on feedback from our customers who hired a car at at Granada Airport, Sixt rent a car have the best customer satisfaction rating with a score of 8.4 out of a maximum of 10 points.
Is it safe to rent a car during Coronavirus Covid-19 in Granada Spain?
Yes, car hire is one of the safest methods of transport during Covid-19. Car rental companies are essential service providers and will remain open during the Covid-19. Additional precautions and safety measures are currently in place. All cars are deep cleaned and sanitised along with the rental office in line with WHO guidelines. Avis Goldcar, Europcar, Hertz, Sixt, are thecar hire companies that sanitise rental cars in Granada Spain.
Can I rent a car at Granada Airport Spain if I am over 70?
Yes, you can hire a car in Granada from some car rental companies up to 99 years of age, with no extra charges or medical certificates required . Contact us we will be glad to assist you by comparing the leading car hire companies to get you the best deal.
Can I rent a car at Granada Airport if I am under 25?
You can hire a car at Granada Airport at 18 years of age, with no additional fees. OK Car Hire young driver's age: 19 to 25 years. Charge 10 EUR per day. Sixt young driver's age: 18 to 22 years Charge 19.49 EUR per day. Maximum 215.88 EUR. Goldcar young driver's age: 22 to 24 years. Charge 7.95 EUR per day. Maximum 96 EUR. Please contact and we will be glad to explain how to get the best deal for your age group.
Can I take a rental car from Spain to visit a different country?
Yes some car hire companies will allow you to take a rental car cross border, but you will need to get let them know beforehand. When driving into Portugal please purchase a temporary electronic toll tag at the border in order to drive on Portuguese toll roads. With Avis you may drive a vehicles can only be driven into following countries: Germany, Andorra, Austria, Belgium, Denmark, Vatican City, France, Finland, Netherlands, Italy, Lichtenstein, Luxemburg, Portugal, San Marino, Sweden, Switzerland and Gibraltar. There will be additional fees to cross an International border. Budget cars cannot be taken out of Spain
Can I take a rental car from Granada and drop it off in a different city?
Yes some car hire companies will allow one way rentals, however you will need to let them know before hand. There will be an additional one way rental fee if you leave the car in a different location to the pick location
How long do I need to hold a licence in order to rent a car at Granada Airport?
This will depend on which car hire supplier you choose. With Avis and Hertz a full licence held for minimum of 1 year with no major endorsements. Goldcar A full licence held for minimum of 4 years. Europcar a full licence held for minimum of 2 years with no major endorsements. UK licence holders need to present the photo card. Please contact us and we will get the right car for you at the best price or click on the Important Information Button beside the car hire logo when you get a quote on out website.
What documents do I need to hire a car at Granada Airport?
The principle driver will need to have the following documents in his or her name. A full licence, a credit card, the voucher we will send you when you complete your booking, and a passport. A printed version of your voucher must be produced upon arrival at the rental desk. Failure to present the voucher means the car rental agent may charge you at the local rates. With Budget rentals you will also need one original form of proof of address.
What is the fuel policy for a hire car at Granada Airport?
This will depend on the car hire supplier you select. The vast majority of cars have a full to full fuel policy, which means your vehicle will be supplied with a full tank of fuel. To avoid incurring fuel charges, you will need to return it with the same amount of fuel as it had when you collected it. You can also choose pick up full return empty. This maybe more convenient if you wish to drop the car back without delays, but it will be more expensive.

Car Hire Granada Airport Reviews
These reviews are taken from feedback we received from over 10,000 customers over the last 12 months that booked car hire at Granada Airport Spain.
Granada Car Rental Locations
Airport Aeropuerto de Granada, Nacional 342, Granada Granada GRX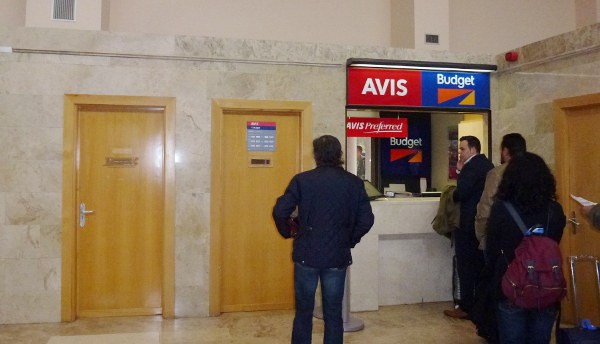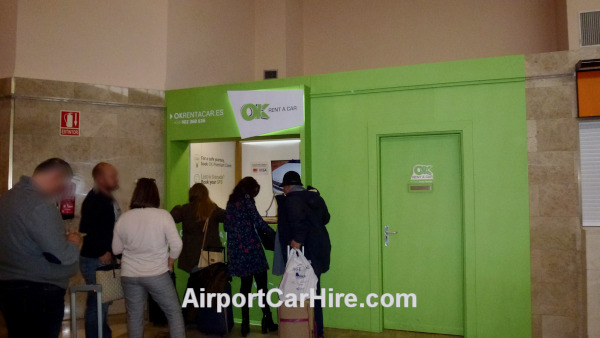 Car hire Granada city centre
Centre c/ San Antón s/n, Hotel San Antón, Granada City
Train Station Estacion de RENFE, Avd Andaluces, S/N, Granada - RENFE Train Station Granada
Granada Airport Information
Airport Name:
García Lorca Granada Jaén
Airport Code:
GRX
ICAO:
LEGR
Address:
Ctra. De Malaga, S/N, Santa Fé, 18329, Granada
City:
Granada
Country:
Spain
Telephone:
+34 958245200
Time Zone:
GMT + 1
Coordinates:
Driving Directions to Granada Airport
Main access roads to Granda Airport are the E-902 and the N-342 depending which direction you are travellling from
Car Parking:
Long and Short Term Parking Facilities 400 car parking spaces available at Granda airport.
Taxi service:
Available in front of terminal
Train service:
No train servie to Granada airport
Bus service:
available to city centre on regular basis, a 45 minute journey.
Car Hire:
The car rental desks are located directly opposit the exit doors from the baggage area.
Information Desk:
Located in the arrivals hall
Facilities:
Granada Airport officially know as Federico García Lorca Granada Jaén Airport is situated 15 KM West of the city of Granada and 100 Km south of Jaén. It operates mainly domestic flights within Spain with a few international to Italy and UK. Passenger numbers are approx 1 million per year. Granada Airport is close for the skiing location of Sierra Nevada montains.
Destinations from Granada Airport
Air Europa Palma de Mallorca
Iberia Madrid
Air Nostrum Melilla
Ryanair Bologna, Girona Liverpool London-Stansted Madrid Milan-Orio al Serio
Spanair Barcelona
Vueling Airlines Barcelona, Paris-Charles de Gaulle

Granada See & Do
Visit the UNESCO-listed Alhambra citadel and gardens, which is the most popular visitor attraction in all of Spain. Built in the 13th centuary, by the Nasrid dynasty in the final years of Moorish rule in Spain.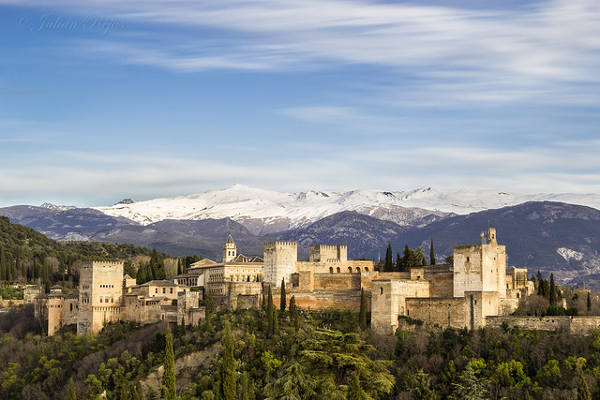 Granada City Car Hire
Pickup Address:
Granada - Airport Aeropuerto de Granada, Nacional 342, Granada Granada - Almunecar Paseo San Cristobal, 7 Edificio Vista Azul, Almunecar, Almunecar Granada - Centre c/ San Anton s/n, Hotel San Anton, Granada City Granada - Train Station Estacion de RENFE, Avd Andaluces, S/N, Granada - RENFE Train Station
Opening Hours:
Monday: 08:00 - 20:00
Tuesday: 08:00 - 20:00
Wednesday: 08:00 - 20:00
Thursday: 08:00 - 20:00
Friday: 08:00 - 20:00
Saturday: 09:00 - 14:00
Sunday: 09:00 - 14:00
---
Granada Train Station Car Hire
Car Hire is available at Granada Train Station Avis Alquiler de Coches & Europcar
Avis Granada
Pickup Address:
Opening Hours:
Monday: 09:00 - 19:00
Tuesday: 09:00 - 19:00
Wednesday: 09:00 - 19:00
Thursday: 09:00 - 19:00
Friday: 09:00 - 19:00
Saturday: 09:00 - 19:00
Sunday: 09:00 - 12:30
Closed for lunch 13:00 - 16:00
---
Europcar Granada
Pickup Address:
Avenida de Andaluces s/n, Estacion De Tren de Granada, 18014 Granada, Spain
Opening Hours:
Monday: 08:00 - 20:00
Tuesday: 08:00 - 20:00
Wednesday: 08:00 - 20:00
Thursday: 08:00 - 20:00
Friday: 08:00 - 20:00
Saturday: 09:00 - 14:30
Sunday: 09:00 - 14:30
Closed for lunch 14:00 - 17:00
* Always check the car hire voucher we will issue you for any last minute changes to opening times
Granada Airport Photos