Car Hire Pisa Airport
Last Updated: 30th June, 2023
Cheapest Car Hire in Pisa Italy Guaranteed! Free amendments and no credit card booking fees all inclusive prices and unlimited mileage. Compare our car hire prices at Pisa City Centre and Pisa Galileo Galilei Airport in Italy from the leading rental car companies Alamo, Budget, Hertz, Sixt and Europcar. SPECIAL INTERNET OFFERS we sourced the best car rental rates for you to save you time and money. Choose a convertible or an open top Jeep for touring Tuscany Region or for larger party 7 seat mini vans Ford Galaxy and VW Touran. Opel Vivaro or Fiat Ducato 9 seat minibus also available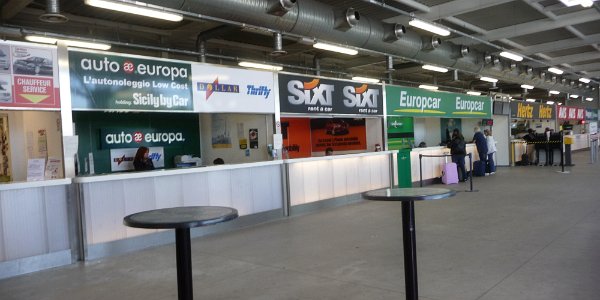 Pisa Galileo Galilei Airport is one of the two main airport serving the Tuscany Region the other is Florence Airport. Pisa Airport is convenient to pick up car hire if you are touring the Tuscany region and nearby towns of Pisa, Florence, Siena, Arezzo, Peccioli, Lucca, Livorno, Certaldo, San Gimignano, Volterra.
Alternatively you may rent the car in Pisa and drop it it off in Rome or any of the major cities in Italy. Cross border car rental also available, just type in you pick up city and drop off city and we will give you a fully inclusive price. With free cancellations and amendments, and no credit card fees you have nothing to lose by locking in the price. That why we guarantee you the best car hire prices in Pisa Tuscany.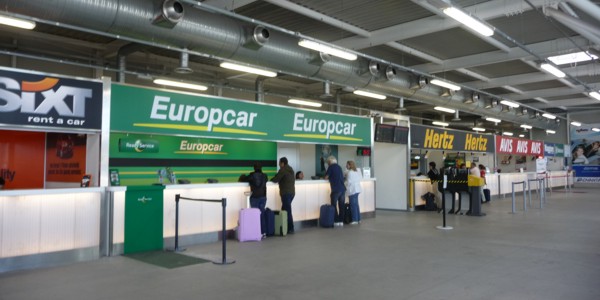 Car Hire at Pisa Airport is on-site but not inside the airport terminal. It is situated 500 meters from the terminal building once you exit Pisa airport arrivals hall. You can walk to the Car Hire Building or use the Shuttle bus which departs every few minutes from outside the terminal. The journey takes only a couple of minutes. All Car Rental desks are situated there. There are no car hire desk within the Airport terminal itself. Car Rental at Pisa airport is supplied by Auto Europa, Dollar, Thrifty, Sixt, Europcar, Hertz, Avis Liberty, Easy Car Maggiore, National, Budget and Locauto. For best prices always book in advance. It's so easy to compare car hire at Pisa Airport and book securely online.
Pisa airport car hire drop off
Returning your hire car to Pisa Airport if very straightforward. On arrival at the Pisa airport terminal follow the signs for the Car Hire Terminal which will bring you to P5. This is located only 500 metre to the left of the terminal building. A shuttle bus will be available to bring you to the terminal.
Pisa Car Rental FAQ
Which is the best car hire company at Pisa Airport?
Based on feedback from over 10,000 customers Locauto come out the winner with a score of 8.2.
Can I rent a car at Pisa Airport with a debit card?
Yes you can hire a car at Pisa Airport with a debit card issued by a bank. Conditions of debit card use: card must be in main driver's name. MasterCard or VISA only. Debit cards must be issued by a bank, and numbers must be embossed. Please note, the deposit amount will be charged if using a debit card and associated transactions fees may apply. Maximum rental duration 28 days if using a debit card. Prepaid and electronic cards (Visa Electron) are not accepted. Be sure to check the filter for Both Credit and Debit Cards on the left side under the heading Cards Accepted At Pick-Up. This will display the car hire companies that will accept Debit Cards. Please contact us and we will be glad to explain how rent a car with a debit card
Is it safe to rent a car during Coronavirus Covid-19 at Pisa Airport?
Yes, car hire is one of the safest methods of transport during Covid-19. Car rental companies are essential service providers and will remain open during the Covid-19. Additional precautions and safety measures are currently in place. All cars are deep cleaned and sanitised along with the rental office in line with WHO guidelines. Alamo, Avis, Budget, Dollar, Enterprise, Hertz, National, Sixt, Thrifty are the car hire companies that sanitise rental cars at Pisa Airport.
Can I rent a car in Pisa Airport Italy if I am over 70?
Yes, you can hire a car in Pisa from selected car rental companies up to 99 years of age with no extra fees. We will compare the leading car hire companies for you to get you the best deal.
Can I rent a car in Pisa Airport if I am under 25?
You can hire a car at Pisa Airport at 18 years of age, with no additional fees. Sixt, Europcar and Ecovia will also rent to young drivers but will charge a supplement from €17 per day. We will explain how to get the best deal for your age group.
Age Requirements to Rent a Car in Pisa Italy
The minimum age to rent a car at Pisa Airport is 21 but there will be a supplement. The maximum age is 99. Please confirm the driver's age requirement for the car you choose, as the age requirement may vary according to the size of the car. Please see the ages requirement for each of the car hire companies in Pisa
Can I take a rental car cross border from Pisa to another EU country?
Yes some car hire companies will allow you to take a rental car cross border, but you will need to get permission first. There will be additional fees to cross an International border.
How long do I need to hold a licence in order to rent a car in Pisa Airport?
A full licence held for minimum of 1 year with no major endorsements. UK licence holders need to present the photo card
Which documents do I need to hire a car at Pisa Airport?
The principle driver will need to have the following documents in his or her name. A full licence, a credit card, the voucher we will send you when you complete your booking, and a passport.
What is the fuel policy for a hire car in Pisa Airport?
The vast majority of cars have a full to full fuel policy, which means Your vehicle will be supplied with a full tank of fuel. To avoid incurring fuel charges, you will need to return it with the same amount of fuel as it had when you collected it.
Convertible Car Hire in Tuscany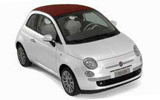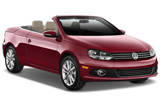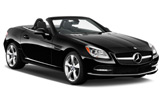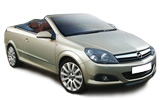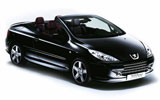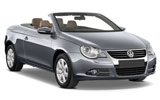 Pisa Car Rental Locations
All the major car rental companies have desks at Pisa Galileo Galilei Airport which is only 2km from Pisa city centre, if you prefer you can also pick up your hire car in Pisa city at Via San michele degli Scalzi, 16, Pisa, 56100, Italy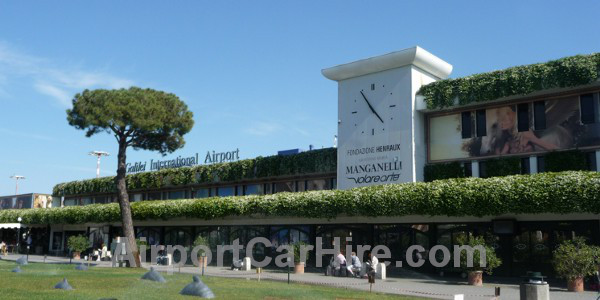 Pisa Galileo Galilei Airport terminal building
Pisa City Via San michele degli Scalzi, 16, Pisa, 56100, Toscana
Pisa Airport Galileo Galilei Pisa Galileo Galilei Airport, Pisa
Pisa Airport Information
Pisa Airport officially know as Pisa Galileo Galilei Airport is the main airport serving the Tuscany region. It is situated just 10km from Pisa city centre and is easily accessible by Car, bus, and rail. The airport caters for close to 5 million passengers per year.
Airport Name: Pisa Airport
Airport Code: PSA
ICAO: LIRP
Address: Piazzale D'ascanio, 1, 56121 Pisa PI, Italy
City: Pisa
Country: Italy
Telephone: 039 050 849111
Fax:
Location: Pisa Airport
Time Zone: GMT + 1
Coordinates: 43° 41′ 2″ N, 10° 23′ 33″ E
Car Hire: The car rental companies are located 500 metres from the terminal building. You can walk to them in minutes or avail of the free bus service.
Driving Directions to Pisa Airport just off the motorway connecting Pisa & Florence.
Car Parking: Long and Short Term Parking Facilities available
Public Transport:
Taxi service: available in front of terminal
Train service: Trains run every between Pisa Airport and Pisa Centrale railway station Stazione di Pisa Centrale
Bus service: operates from out side the airport to Pisa City centre
Information Desk: Is situated on the ground floor in the arrival hall

Arrivals & Departures at Pisa Airport
Flight Destinations from Pisa Airport
Air France operated by Brit Air Paris-Charles de Gaulle
Air One AthensC atania, Lamezia Terme, Olbia, Palma de Mallorca, Prague, Rome, Tirana
Albanian Airlines Tirana
Alitalia Rome-Fiumicino
Belle Air Tirana
British Airways London-Heathrow
Delta Air Lines Seasonal: New York-JFK
easyJet Berlin-Schönefeld, Bristol, London-Gatwick, London-Luton, Lyon, Paris-Orly
Germanwings Cologne/Bonn
Air Nostrum Madrid
Jet2.com Belfast-International, Edinburgh, Leeds/Bradford, Manchester, Newcastle upon Tyne
Lufthansa Regional operated by Air Dolomiti Munich
Meridiana Fly Sharm el-Sheikh
Neos Mahon
Norwegian Air Shuttle Copenhagen, Oslo-Gardermoen
Ryanair Alghero, Alicante , Bari, Beauvais, Billund, Brindisi, Cagliari, Charleroi, Constanţa, Dublin, East Midlands, Edinburgh, Eindhoven, Fuerteventura, Girona, Glasgow-Prestwick, Gothenburg-City, Hahn, Ibiza, Lamezia Terme, Las Palmas de Gran Canaria, Krakòw, Leeds/Bradford, Liverpool, London-Stansted, Lübeck, Malaga, Malta, Marrakech, Memmingen , Palermo, Porto, Reus, Oslo-Torp, Santander, Seville, Stockholm-Skavsta, Tampere, Tenerife-South, Trapani, Valencia, Weeze
Transavia.com Amsterdam
Vueling Airlines Barcelona
Wind Jet Catania, Lampedusa, Moscow-Domodedovo, Palermo, St Petersburg

Pisa
Pisa, a Tuscan city know mainly for its leaning tower but also for its friendly hospitality, is positioned at the mouth of the River Arno on the Tyrrhenian Sea. An important naval base in ancient Roman times, modern Pisa is a lively university town, proud of its heritage and its modern contributions to Italian culture. Surrounded by historic walls, the best way to see what Pisa's central area has to offer is by walking. The half hour stroll from the Campo dei Miracoli to the train station runs through a pedestrian street with a variety of interesting sights, shops, and restaurants. Soak up the atmosphere, visit the top attractions, and then head out for a drive to see what else the region can add to your holiday.
Pisa See & Do
Someone said something about the leaning tour of Pisa? Yes, the city is known worldwide for this landmark, but you should know that if you decide to visit it, you have got more than 20 historic churches, several bridges across the River Arno, and also various medieval palaces to capture in the pictures of your holiday photo album. The bell tower of the Cathedral is also surrounded by many works of art and architecture, and all of them are situated in the city's Piazza del Duomo. Seems like you have got a lot of places to drive to!
First things first, you for sure have to be dying for taking that photo like you are holding The Leaning Tower of Pisa. Luckily for you, you have a big parking lot right at your service, and you will not have to be worried about your rental car. You will be able to access the Piazza dei Miracoli too, and from there, you can wonder around as much as you want. The square is dominated by other treasures, the Cathedral, the Baptistery, and the Monumental Cemetery. Do you know what this means? You will be able to see the breathtaking architecture of the Cathedral, the baptistery where the famous Galileo was baptized and the cemetery that it is said to have been built around a shipload of sacred soil from Golgotha.
Of course that the benefit of having a rental car consists in the fact that you are able to make road trips anytime you want, and your holiday in Pisa is not an exception! How about driving to Genoa, since it is just one hour and a half away? The city of Genoa is not only one of Europe's largest cities on the Mediterranean Sea, but it is the largest seaport in Italy too. This city did not receive the title of "La Superba" ("The Proud One") for nothing! Not only that it is known for its impressive landmarks, but a part of the old city has even been listed as a World Heritage Site.
Since you are feeling adventurous and willing to explore even more of the Italian beauty, you absolutely have to drive to Florence. "The Athens of the Middle Ages", how this city has been called, is a perfect getaway location from Pisa. Forbes did not listed it as one of the most beautiful cities in the world for nothing, did they? Centre of culture, art, history, and fashion, Florence will for sure make you stay a little longer than planned before you return to Pisa.
Another city that is worth paying it a visit is Siena. Since you are in the area and you have got you rental car with you, you might be anxious to see this city, famous for its art, museums, medieval cityscape, cuisine and the Palio, a horse race held twice a year.
Must See Attractions in Pisa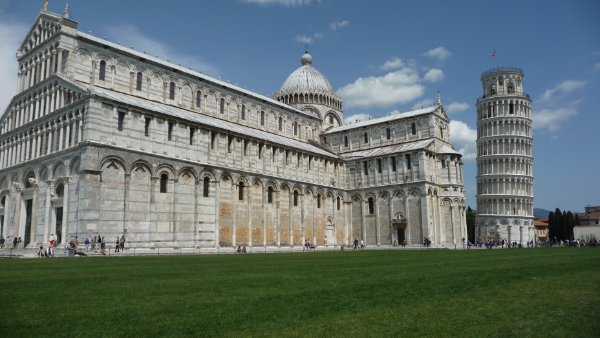 The Leaning Tower of Pisa
must be one of the world's most iconic - and most photographed - buildings of all time so no stay would be complete without a trip to see it's strangely angled structure. The tower is housed in the Piazza dei Miracoli (known as both the Cathedral Square and the Square of Miracles) and it is actually the bell tower of the city's cathedral. The leaning tower measures 55.86 m from the ground on the low side and 56.70m on the high side – a disproportionate lean of almost 4 metres! Did you know that there are also two other leaning towers in the city? One is situated at the southern end of central Via Santa Maria, and the other sits halfway along the Piagge riverside promenade; not as impressive but certainly worth a peek.
Pisa is also home to more than twenty historic churches, a multitude of palaces and some beautiful bridges that cross the River Arno. Visit the Knights' Square (Piazza dei Cavalieri), to view the impressive façade of the Palazzo della Carovana. Venture into the Borgo Stretto area to meander the medieval streets and then marvel at the Lungarno avenues skirting the river. Make sure you visit the Gothic-Romanesque church of San Michele in Borgo. If you like flowers and gardens, stop by the Orto botanico di Pisa, Europe's oldest botanical garden housed within a university and the perfect place for a relaxing stroll. The town hall, adorned with interior frescoes of early sea victories, is a lovely 14th century gothic building and a good example of architecture of its time.
Scenic Drives From Pisa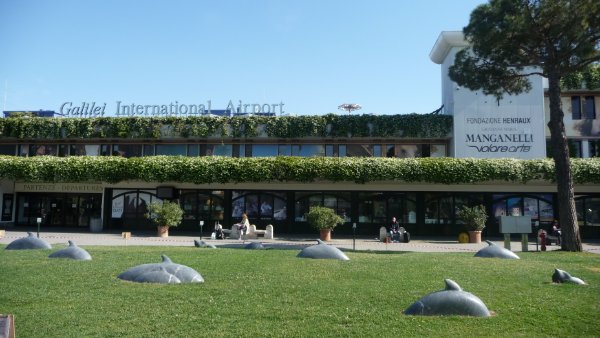 You can collect your hire car from
Pisa Galileo Galilei, Airport
and tour the Tuscany region head east to
Florence
, to see a very different Italian city. A UNESCO heritage site, Florence is a bustling and chic city where ancient and modern work side by side to create a very special atmosphere. Take another leisurely drive to Chianti, marveling at the rolling countryside and lush vineyards along the way – and why not try a tipple when you're there? A lovely route is to head east out of Pisa on the main highway, turning south towards Ponsacco after approximately 10 miles. Continue on by visiting
Volterra, San Gimignano, and Poggibonsi
in turn, and then head eastwards until you hit Chianti.
Hotels Near Pisa Airport

Hotel Bologna, Via Mazzini, 57, 56125 Pisa
The elegant Hotel Bologna is set in the historic centre of Pisa, 5 minutes' walk from the train station. It offers free Wi-Fi, and a free shuttle to the airport. All rooms have minibar, and flat-screen TV with satellite channels. They feature floor-to-ceiling windows, wooden floors and independent heating. Breakfast at the Bologna is a varied buffet including fruit, cold meats, and fresh bread and cakes. It can be enjoyed on the courtyard terrace, or provided to take away for early check-outs. The bar offers free tasting of traditional Tuscan products every evening. The Campo dei Miracoli and the famous Leaning Tower are a 12-minute walk from the hotel. The highway that links Pisa with Florence and Livorno is 3km away.
AC Hotel Pisa by Marriott, Via delle Torri S/N, 56124 Pisa
The AC Pisa is 4 km from Pisa city centre and 5 km from Galileo Galilei Airport. With a modern design, it offers air-conditioned rooms with a free minibar. The rooms feature stylish furniture and have an elegant feel. They include a TV with satellite channels, and a private bathroom with toiletries and hairdryer. A buffet breakfast is served every morning in the hotel's dining room. There are spacious public areas where guests can relax. Pisa AC hotel provides free external parking
AC Pisa Hotel
AC PISA located in the neighbourhood of Cisanello, one of the areas experiencing the fastest urban development in the city, this hotel combines business customers with tourism due to its proximity to the Business Area and to the famous Piazza dei Miracoli (4km). The hotel AC Pisa, with easy access to the sea (30 minutes) and beautiful Tuscan cities such as Lucca and Forte dei Marmi, is the ideal place where to start the discovery of Tuscany. Its 107 rooms (which include 3 suites) are full of rich details, such as wi-fi connection, special lights and free minibar, to guarantee everyday a top quality stay.
Hotel Relais dell'Orologio
Hotel Relais dell'Orologio This prestigious manor is a tower house of the 14th century skilfully and carefully restored and then converted into an exclusive 5 stars hotel. The Relais is located in the heart of Pisa, a few steps away from Piazza dei Miracoli where the Duomo and the famous leaning Tower can be admired. The airport, which is only 5 km away, can be easily reached either by public transport or private cars. The Relais Dell'Orologio welcomes its guests in an elegant and exclusive setting thus at the same time preserving the warmth and tradition of a family run hotel.

NH Cavalier
NH Cavalieri this hotel is a modern building with 6 floors, including the ground floor. It consists of 100 rooms, 3 meeting rooms with a capacity to seat 80 people. It is situated in the heart of the city, only a short walk away from the central train station and 1km away from the airport. It has an ideal location to reach the central offices, the university, the best shops as well as the splendid monuments (the famous Torre Pendente etc). The restaurant offers delicious local and international specialities.