Car Hire Sicily Catania Airport
Vincenzo Bellini Airport
Last Updated: 7th Jan, 2023
Catania Fontanarossa Airport car hire provides cheap car hire from the following rent a car companies, Hertz, Avis, Alamo, Budget Dollar, National Car Rental, Sixt, Thrifty Europcar. Catania Fontanarossa Airport named after the famous opera composer Vincenzo Bellini is situated 4km south west of the city of Catania on the island of Sicily in Italy. The Airport is beside the A19 Motorway which link to Palermo in the northwest of the island.
Further Reading Do I need to rent a car in Sicily?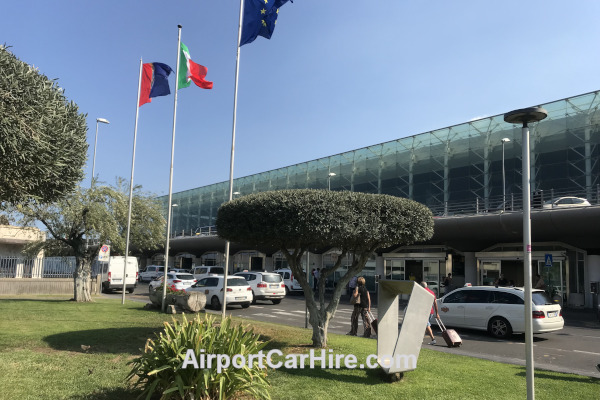 Catania Car Rental FAQ
Which is the best car hire company at Catania Airport Sicily?
Based on feedback from our customers who hired a car at at Catania Airport, Locauto had the best customer satisfaction rating with a score of 8.1 out of a maximum of 10 points.
Do I need a credit card to rent a car in Catania Airport Sicily?
No, you do not need a credit card to rent a car in Catania Airport Sicily. We have an arrangement with leading car rental suppliers at Catania Airport who will accept a debit card for payment.
Can I rent a car without paying a deposit in Catania Airport Sicily?
Yes you get rent a car without paying a deposit or by paying a very low deposit. When you book car hire with us you choose how much deposit you wish to pay. You can choose from Zero to €500 or €501 to €1000. First get a quote and on the left hand side of the results page simply select the amount of deposit you wish to pay. We will then send you a quote based on the amount you choose
Can I rent a car at Catania Airport Sicily with a debit card?
Yes you can hire a car at Catania Airport with a debit card issued by a bank. Conditions of debit card use: card must be in main driver's name. MasterCard or VISA only. Debit cards must be issued by a bank, and numbers must be embossed. Please note, the deposit amount will be charged if using a debit card and associated transactions fees may apply. Maximum rental duration 28 days if using a debit card. Prepaid and electronic cards (Visa Electron) are not accepted. Be sure to check the filter for Both Credit and Debit Cards on the left side under the heading Cards Accepted At Pick-Up. This will display the car hire companies that will accept Debit Cards. Please contact us and we will be glad to explain how rent a car with a debit card
Is it safe to rent a car during Coronavirus Covid-19 at Catania Airport?
Yes, car hire is one of the safest methods of transport during Covid-19. Car rental companies are essential service providers and will remain open during the Covid-19. Additional precautions and safety measures are currently in place. All cars are deep cleaned and sanitised along with the rental office in line with WHO guidelines. Alamo, Avis, Budget, Dollar, Enterprise, Hertz, National, Sixt, Thrifty are the car hire companies that sanitise rental cars at Catania Airport.
Can I rent a car at Catania Airport Italy if I am over 70?
Yes, you can hire a car in Catania from selected car rental companies up to 99 years of age with no extra charges. Contact us we will be glad to assist you by comparing the leading car hire companies to get you the best deal.
Can I rent a car at Catania Airport if I am under 25?
You can hire a car at Catania Airport at 18 years of age, with no additional fees. Interrent charge for young driver's if aged 21 to 24 years €9.95 EUR per day. Maximum 120 EUR. Includes 22% tax. Sixt will charge young driver's aged between 18 to 24 years €21 per day. Includes 22% tax. Please contact us and we will be glad to explain how to get the best deal for your age group.
Age Requirements to Rent a Car in Catania Italy
The minimum age to rent a car at Catania Airport is 21 but there will be a supplement. The maximum age is 99. Please confirm the driver's age requirement for the car you choose, as the age requirement may vary according to the size of the car. Please see the ages requirement for each of the car hire companies in Catania
Can I take a rental car from Sicily to visit another country?
Yes some car hire companies will allow you to take a rental car cross border to Austria, Belgium, Denmark, Finland, France, Germany, Italy, Luxemburg, Norway, Netherlands, Slovenia, Croatia, Portugal, Great Britain, Spain, Czech Republic, Estonia, Great Britain, Finland, Hungary, Latvia, Lithuania, Ireland, Poland, Romania, Switzerland, Slovakia, Iceland, Malta, Andorra, Bosnia-Herzegovina & Moldova, but you will need to get permission first. There will be additional fees to cross an International border.
Can I take a rental car from Sicily and drop it off in a different Country?
Yes some car hire companies will allow one way rentals cross border, you will need to get permission first. There will be an additional one way rental fee if you leave the car in a different location to the pick location.
How long do I need to hold a licence in order to rent a car in Catania Airport?
A full licence held for minimum of 1 year with no major endorsements. UK licence holders need to present the photo card
Which documents do I need to hire a car at Catania Airport?
The principle driver will need to have the following documents in his or her name. A full licence, a credit card, the voucher we will send you when you complete your booking, and a passport.
What is the fuel policy for a hire car in Catania Airport?
The vast majority of cars have a full to full fuel policy, which means your vehicle will be supplied with a full tank of fuel. To avoid incurring fuel charges, you will need to return it with the same amount of fuel as it had when you collected it.
Catania Airport Car Rental Desks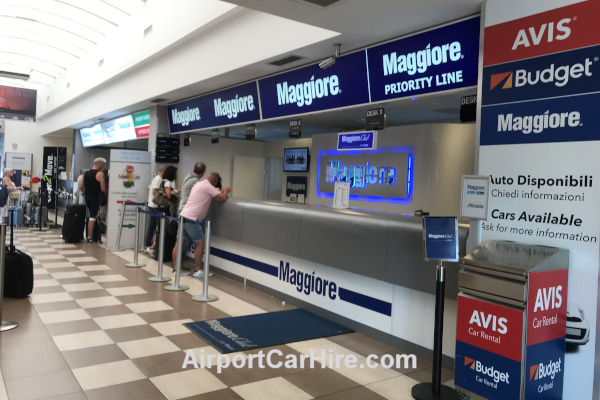 Car Hire Desks at Catania Airport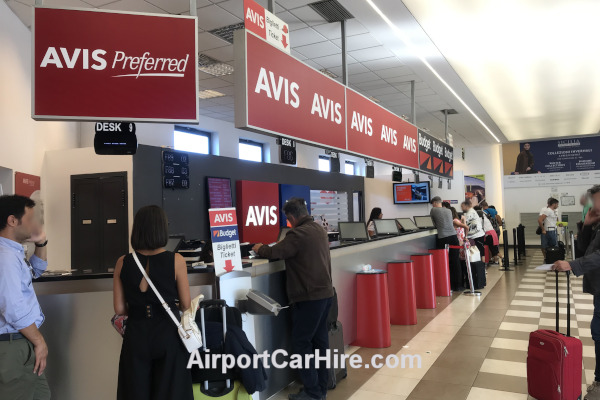 Avis Car Rentals Desk Catania Airport
Which is the best car hire company at Catania Airport?
This rating is taken from feedback we received from our customers that booked car hire at Catania Airport in Sicily. Locauto have the best customer satisfaction rating with a score of 8.1 out of a maximum of 10 points
Catania Fontanarossa Car Rental Locations
Car hire is available form the following locations in Sicily
Agrigento c/o Hotel Amici, Via Acrone nr. 5 (Piaza Stazione), Agrigento, 92100, Sicilia Italy Agrigento
Caltanissetta Via Maddelena Calafato 41, Caltanissetta, 93100, Sicilia Italy Caltanissetta
Capo D'Orlando Via Messina, 16, Capo D'Orlando Italy Capo D'Orlando
Catania Piazza Giovanni Verga, Catania, Sicily Italy Catania
Catania Airport FONTANAROSSA AIRPORT - In Terminal, Catania, Cantania Italy Catania CTA
Cefalu Via Roma 123,, Cefalu, Cefalu Italy Cefalu
Cinisi Contrada Scalette snc, Cinisi-Palermo, 90045, Sicilia Italy Cinisi-Palermo
Comiso Contrada Bellona Snc Italy Comiso, Sicily
Enna Aeroporto di Bolzano, Bolzano BZ, 39100, Italy Italy
Gela CIRCONVALLAZIONE G VERGA 100/104, GELA,SICILY, 93012 Italy GELA,SICILY
Giardini Di Naxos Via Recanati ,21, Giardini Di Naxos, 98030, Sicilia Italy Giardini Di Naxos Melilli via Luigi Einaudi, 6/10, Terrasini Italy Melilli
Messina Via VItalytorio Emanuele II 75, Messina, Sicily Italy Messina
Milazzo Via Dei Mille 32, Milazzo-Messina, I-98057, Sicily Italy Milazzo-Messina
Palermo Via Mariano stabile, 6.a, Palermo, Sicily Italy Palermo
Palermo Airport Palermo Punta Raisi Airport, Palermo, Sicily Italy Palermo PMO
Palermo Fiat Center spare Italy Palermo
Palermo Train Station c/o Stazione Ferroviaria Notarbartolo - Piazza Notorbartolo, Palermo, 90100, Sicilia Italy Palermo
Pozzallo Via Dell'arno, 10 Italy Pozzallo (sicily)
Pozzallo Port C/o Porto Turistico Italy Pozzallo (sicily)
Ragusa Via Archimede N. 192, by RivendItalya Autorizzata Piaggio, Ragusa, Sicily Italy Ragusa
Sciacca Via VItalytorio Emanuele 9, Sciacca, 92019 Italy Sciacca
Siracusa Via Pausania N.6, Siracusa, Sicily Italy Siracusa
Taormina Via Apollo Arcageta,, Taormina, 4- 98039, Taormina Italy Taormina
Trapani c/o Stazione MarItalytima, o Di Trapani, Sicily Italy o Di Trapani
Trapani - Mazara Del Vallo Via Salemi 101a, Mazzara del Vallo, 91026 Italy Mazzara del Vallo
Trapani - Selinunte c/o Hotel Paradise Beach, Contrada Belice di Mare, Castelvetrano, 91022, Sicilia Italy Castelvetrano
Trapani Airport c/o Stazione MarItalytima, Porto di Trapani, Trapani, Sicily Italy Trapani TPS
VItalytoria Via G. Cavestro 1, VItalytoria Italy VItalytoria
Sicily -Trapani Santa VItalyo Lo Capo Via Amodeo. 15, San VItalyo Lo Capo, 91010 Italy San VItalyo Lo Capo
Sicily -Trapani Seaport Via 1 Dorsale Z.I.R., Trapani, 91100 Italy Trapani
Catania Fontanarossa Airport Information
Airport Name: Catania Fontanarossa Airport
Airport Code: CTA
ICAO: LICC
Address: Via Fontanarossa, 95121 Catania CT, Italyy
City: Catania Fontanarossa
Country: Italy
Telephone: +39 095 723 9111
Time Zone: GMT + 1
Coordinates:
Driving Directions to Catania Fontanarossa Airport
Car Parking: Long and Short Term Parking Facilities available
Taxi service: Available in front of terminal
Train service:
Bus service: Directly in front of the airport terminal
Car Hire: The car rental desks are located in the arrivals hall
Information Desk: Located in the arrivals hall
Facilities:

Flight Destinations from Catania Airport Sicily
p>Aer Lingus Dublin
Air Nostrum Barcelona, Madrid
Air Berlin Berlin-Brandenburg Berlin-Tegel Cologne/Bonn, Düsseldorf, Frankfurt, Munich, Stuttgart, Zurich Basel/Mulhouse
Air Italy Naples
Air Malta Malta, Munich
Air One Milan-Malpensa, Pisa, Turin, Venice-Marco Polo, Verona
Alitalia Bologna, Florence, Milan-Linate, Rome-Fiumicino
Alitalia CityLiner Genoa, Naples, Trieste, Venice-Marco Polo
Austrian Airlines Vienna
Blue Air Bacău, Bucharest
Blu-express Bari, Rome-Fiumicino Cagliari, Heraklion, Palma de Mallorca, Rhodes
British Airways London-Gatwick
Brussels Airlines Brussels
EasyJet Geneva, London-Gatwick, Milan-Malpensa, Paris-Charles de Gaulle
Germanwings Cologne/Bonn, Hamburg , Hanover, Stuttgart
Helvetic Airways Berne
Jetairfly Brussels
Lufthansa Munich
Berlin-Brandenburg , Berlin-Tegel
Lufthansa Regional
operated by Eurowings Düsseldorf
Luxair Luxembourg
Meridiana Fly Bologna, Milan-Linate, Rome-Fiumicino, Turin, Verona
Norwegian Air Shuttle Copenhagen, Oslo-Gardermoen
Sky Work Airlines Berne
Swiss International Air Lines Geneva, Zürich
Thomas Cook Airlines Belgium Brussels
Thomson Airways Birmingham , London-Gatwick, Manchester
Transavia Amsterdam
Transavia France Paris-Orly
Travel Service
operated by Smart Wings Prague
Trawel Fly
operated by Mistral Air Milan-Orio al Serio
Volotea Genoa , Venice-Marco Polo , Florence, Ancona
Vueling Barcelona
Wizz Air Bucharest, Budapest
XL Airways France Paris-Charles de Gaulle
Catania Fontanarossa See & Do
You can't get better than a scenic coastal drive filled with dramatic backdrops and gorgeous coastal towns and hamlets for exploring. The dramatic coastline is a real draw and the refreshing sea breeze is the perfect way to cool off in the hot summer sun. Although beautiful at any time of year, the best time to tackle the Amalfi Coast is at the beginning and end of tourist season (May and September to October) when the roads are quieter.
Trapani to Marsala
One of our favourites, this short but intriguing drive gives you a different view of Sicily, complete with brightly coloured windmills, salt marshes and impressive views over the Egadi Islands. In Trapani, visit the 14th century Church of Sant'Agostino with its beautiful rose window, the magnificent Basilica-Sanctuary of Maria Santissima Annunziata and the Baroque Palazzo della Giudecca.
Then, to start your scenic drive, leave Trapani heading south towards Marsala to enjoy a picturesque stretch of road. Marvel at the impressive working windmills that frequently dot the landscape, pumping seawater into storage basins ready to grind the salt after harvest. Visit the salt museum at Contrada Nubia in Paceco to learn all about the salt trade and ancient harvesting methods. Continue on to Marsala, enjoying some of the region's most ancient salt marshes as a backdrop.
When you reach Marsala, take a pleasant drive through the town, taking in its array of statues and coastal views.Take the time to stop and view the three islands: Favignana is the largest of the three, Maritimo the most ancient and furthest away and Levanzo is the smallest. Schedule a visit to the islands via a 20-minute hydrofoil trip. The islands are packed with beautiful bays and coves and ancient caves containing Neolithic wall paintings.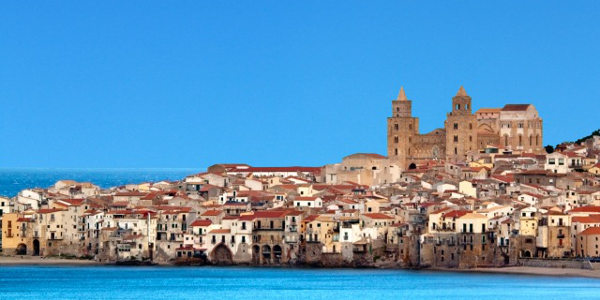 Mount Etna: Zafferana Etnea to Nicolosi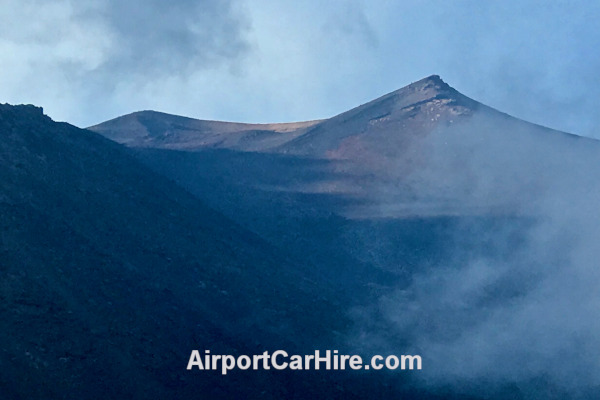 Mount Etna Sicily
For something a bit more adventurous, why not try this short volcanic drive? Zafferana Etnea and Nicolosi are gateway towns to Mount Etna and Rifugio Sapienza and offer a signposted driving loop atop the volcano which takes you from one to the other via Rifugio – home of the Etna funivia.
The roads are good and the scenery is splendid, different to any other drive you will experience on Sicily. The perfect contrast to the popular scenic coastal routes, this also provides you with excellent hiking trails around the volcano. Rifugio Sapienza is the highest point you can drive on the volcano, offering plenty of excitement as well as great views. Zafferana Etna is 19 km from Rifugio Sapienza and takes approximately half an hour to drive. Nicolosi is an additional 19 km from Rifugio, making the journey an hour in total.
Hotels Near Catania Fontanarossa Airport

NH Parco degli Aragonesi,
NH Parco degli Aragonesi, Viale Kennedy s/n, 95100 Catania Just 2 km from Catania Airport this NH hotel offers features an outdoor swimming pool and a private beach. A shuttle to/from the airport, city centre, and industrial area is available on request. Each room has its own, private balcony, air conditioning, and a TV with Sky Gold channels. Wi-Fi is available in public areas, with the first 30 minutes free of charge. Set in lush gardens NH Parco degli Aragonesi is set next to the sea in the Lidi Playa beach area. The hotel offers free parking.
Hotel Royal,
Hotel Royal, Via Antonino di Sangiuliano 337, 95124 Catania Hotel Royal enjoys a fantastic location, just a short stroll from the Roman amphitheatre and the Duomo Cathedral. The roof terrace offers great views of central Via Crociferi. This elegant hotel is a beautiful example of genuine Baroque architecture from the 18th century. Your room at the Royal Hotel is complete with free wired internet access, plus an LCD TV with surround sound. Choose the Superior option and in addition you will have a four-poster bed and a small terrace. The Suite features a comfortable sitting area and a hydromassage shower. The restaurant is set on the beautiful terrace and serves traditional Sicilian cuisine and a great selection of local and international wines.
Il Principe Hotel Catania
Il Principe Hotel Catania, Via Alessi 24, 95124 Catania Principe Hotel is surrounded by baroque architecture in Catania's historic centre. Located on the Alessi Steps between Via Etnea and Via Crociferi, it offers a wellness centre and free Wi-Fi. The rooms at Il Principe Hotel Catania all have parquet floors and elegant furnishings. Each room includes satellite TV and a private bathroom. Suites offer a seating area and a jacuzzi bath. Il Principe lies 1.5 km from Catania Centrale Train Station. The airport is a 12-minute drive away. Free public parking is available near the hotel.
Liberty Hotel,
Liberty Hotel, Via San Vito, 40, 95124 Catania An early 20th century Liberty style villa in the heart of Catania, carefully transformed in a magnificent yet intimate hotel of refined architecture. Hotel Liberty, few steps away from the commercial and historic centre of Catania, it the ideal site for profitable business stays or for interesting holidays. Discounts apply for long stays at the Hotel Liberty.
Excelsior Grand Hotel,
Excelsior Grand Hotel, Piazza G. Verga 39, 95129 Catania The prestigious Excelsior Grand Hotel is set in the heart of Catania. It combines classic architecture with modern facilities including Wi-Fi, modern conference rooms and a fitness centre. The hotel was reopened in 2001 following complete refurbishment. Most of the elegant guest rooms feature a panoramic balcony with a view of Mount Etna or the piazza. Relax in the fitness centre complete with hydromassage showers, Turkish bath and gym. The conference rooms are all bright and spacious and have a maximum capacity of 350 people.