Verona Airport Car Hire Italy
Aeropuerto de Verona-Villafranca Autonoleggio
Last Updated: 30th June, 2023
Cheap car hire at Verona Airport in Italy. Airport Car Hire Network will shop around to bring you massive savings on car rental at Verona Airport from the best rent a car companies Hertz, Avis, Maggiore, Locauto, Sixt, Europcar. Vernona Airport also known as Villafranca Airport is located midway between the city of Milan and Venice. It is just 5 km south west of Verona city and only 140 km from both Milan and Bologna in Northern Italy. Aeropuerto de Verona-Villafranca is a medium size airport with less then 4 million passengers per year mainly from Europe but also Africa. The airport has a nice selection of shops, cafes, and restaurant for you to browse.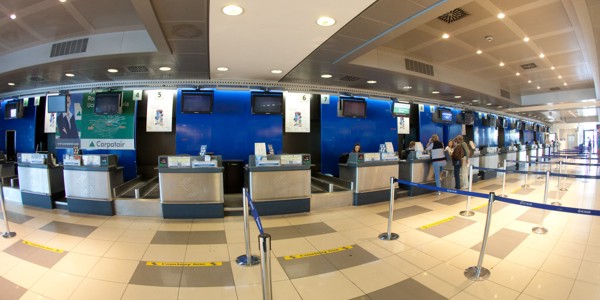 Book your car hire in Verona Italy with the confidence that you are getting the best deal. We offer best price guarantee. Free Cancellation & Free Amendments. Lock in the price now as you have nothing to loose.
Age Requirements to Rent a Car in Verona Italy
The minimum age to rent a car at Verona Airport is 18 but there will be a supplement. The maximum age is 99. Please confirm the driver's age requirement for the car you choose, as the age requirement may vary according to the size of the car. Please see the ages requirement for each of the car hire companies in Trieste
Which is the best car hire company at Milan Malpensa Airport?
This rating is taken from feedback we received from our customers that booked car hire, based on overall value for money, cleanliness of the car, service at the rental desk, car hire pick-up process, car hire drop-off process. Alamo have the best customer satisfaction rating with a score of 8.2 out of a maximum of 10 points
Verona Car Rental FAQ
Which is the best car hire company at Verona Airport in Italy?
Based on feedback from over 10,000 customers who hired a car at at Verona Airport, Alamo Car Hire have the best customer satisfaction rating with a score of 8.2 out of a maximum of 10 points.
Can I rent a car at Verona Airport with a debit card?
Yes you can hire a car at Verona Airport with a debit card issued by a bank. Conditions of debit card use: card must be in main driver's name. MasterCard or VISA only. Debit cards must be issued by a bank, and numbers must be embossed. Please note, the deposit amount will be charged if using a debit card and associated transactions fees may apply. Maximum rental duration 28 days if using a debit card. Prepaid and electronic cards (Visa Electron) are not accepted. Be sure to check the filter for Both Credit and Debit Cards on the left side under the heading Cards Accepted At Pick-Up. This will display the car hire companies that will accept Debit Cards. Please contact us and we will be glad to explain how rent a car with a debit card
Can I rent a car at Verona Airport Italy if I am over 70?
Yes, you can hire a car in Verona from some car rental companies up to 99 years of age with no extra charges. Contact us we will be glad to assist you by comparing the leading car hire companies to get you the best deal.
Can I rent a car at Verona Airport if I am under 25?
You can hire a car at Verona Airport at 18 years of age, with additional fees. Alamo has the cheapest young driver's fee for drivers 22 to 24 years. Charge 15.57 EUR per day. Includes 22% tax. Sixt will charge young driver's age: 18 to 24 years. Charge 21 EUR per day. Includes 22% tax. Locauto fee for younger driver's age.: 22 to 24 years. Charge 11 EUR per day. (Excludes tax). Please contact us and we will be glad to explain how to get the best deal for your age group.
Can I take a rental car from Verona to visit a different Country?
Yes some car hire companies will allow you to take a rental car cross border, but you will need to get permission first. There will be additional fees to cross an International border. Alamo policy is Cross border fees are applicable. Renter is allowed to drive the vehicle only in the countries included in the following list: Vatican City, San Marino, France, Spain, Andorra, Gibraltar, Portugal, United Kingdom, Ireland, Germany, Belgium, Holland, Luxembourg, The Principality of Monaco, Switzerland, Austria, Norway, Sweden, Finland, Denmark, Liechtenstein, Slovenia, Croatia, Montenegro, Czech Republic, Slovakia. In case of tolls/traffic fines, an administrative charge may apply. Administrative charge rate is 48.80 EUR inclusive of VAT.
Can I take a rental car from Verona and drop it off in a different city?
Yes some car hire companies will allow one way rentals, however you will need to let them know before hand. There will be an additional one way rental fee if you leave the car in a different location to the pick location
How long do I need to hold a licence in order to rent a car at Verona Airport?
A full licence held for minimum of 1 year with no major endorsements. UK licence holders need to present the photo card.
What documents do I need to hire a car at Verona Airport?
The principle driver will need to have the following documents in his or her name. A full licence, a credit card, the voucher we will send you when you complete your booking, and a passport. A printed version of your voucher must be produced upon arrival at the rental desk. Failure to present the voucher means the car rental agent may charge you at the local rates. If your form of identification does not include or match your current address, then a separate printed proof of address is required
What is the fuel policy for a hire car at Verona Airport?
This will depend on the car hire supplier you select. The vast majority of cars have a full to full fuel policy, which means your vehicle will be supplied with a full tank of fuel. To avoid incurring fuel charges, you will need to return it with the same amount of fuel as it had when you collected it. You can also choose pick up full return empty. This maybe more convenient if you wish to drop the car back without delays, but it will be more expensive.

Verona Car Rental Locations
You can pick up your hire car at Verona Airport Villafranca VRN or if you prefer at Porta Nuova near the Deutsche Bank in Verona Piazza XXV Aprile, RRS Porta Nuova,
Verona Airport Information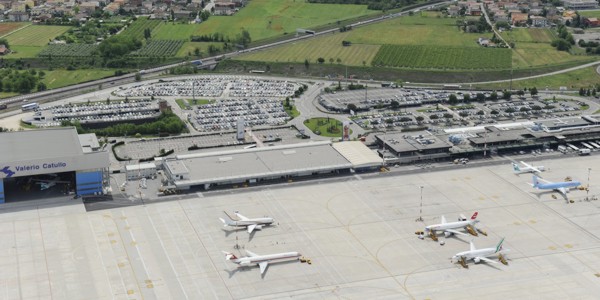 Airport Name: Verona Villafranca Airport
Airport Code: VRN
ICAO: LIPX
Address: Villafranca Airport, 37060 Caselle di Sommacampagna Verona Italy Verona
City: Verona
Country: Italy
Telephone: +39 0458095611
Location: Verona Airport Valerio Catullo Villafranca Airport is located just 5 kms from Verona centre
Time Zone: GMT + 1
Coordinates: 45°23′47″N 010°53′17″E
Driving Directions to Verona Airport Verona Airport main access roads are the A4 or A22. Verona Airport is 160kms from Milano and 60kms from Vicenza , 90 minutes from Bologna and Venice.
Car Parking: Long and Short Term Parking Facilities available with over 4000 car parking spaces with 700 of these being are indoor.
Public Transport:
Taxi service: available in front of terminal
Train service: take the Aerobus from Verona Airport to the train stations in Verona centre just a 10 minute journey. Taxi from Verona Airport to the city centre may cost 15-20 euro.
Bus service: a shuttle Aerobus runs regularly between Verona Airport and Verona Puerto Nuova railway station in Verona city centre. Ticket may cost around 5 euro.
Car Hire: The car rental companies' desks are located in the arrivals hall
Information Desk: is situated in the arrivals hall

Flight Destinations from Verona Airport
Aer Lingus Dublin
Air Dolomiti Vienna, Zurich, Moscow-Domodedovo
Régional Paris-Charles de Gaulle
Air Italy Naples
Air One Catania
Alitalia Rome-Fiumicino
Alitalia CityLiner Rome-Fiumicino
Belle Air Pristina, Tirana
Blue Panorama Seasonal: La Romana
British Airways London-Gatwick
EasyJet London-Gatwick, Paris-Charles de Gaulle
Flybe Seasonal: Southampton
Germanwings Seasonal: Cologne/Bonn
EuroLOT Seasonal: Kraków, Poznań
Air Dolomiti Munich
CityLine Frankfurt
Meridiana Fly Alghero, Cagliari, Catania, Chișinău, Fuerteventura, Olbia, Palermo, Tenerife-South
Monarch Manchester Neos Boa Vista, Heraklion, Ibiza, Kos, Marsa Alam, Menorca, Mersa Matruh, Rhodes, Sal, Sharm el-Sheikh, Tenerife-South
Nouvelair Seasonal: Djerba, Monastir
Royal Air Maroc Seasonal: Casablanca
S7 Airlines Moscow-Domodedovo
Transavia.com Amsterdam
Volotea Bari PalermoIbiza, Menorca
Wizz Air Bucharest
Verona See & Do
The city of Verona is one of the most popular touristic destinations from northern Italy, and not only it has been  awarded World Heritage Site status by UNESCO due to its urban structure and architecture, but it represents the set of no more than three of Shakespeare's plays. Behold, lovers of the Shakespearian world, you will be able to walk between the walls where "Romeo and Juliet", "The Two Gentlemen of Verona", and "The Taming of the Shrew" actually took place! Go ahead and book those flight tickets, and do not forget to rent a car, since you will have a lot of driving around to do!
Verona is also called "Little Rome", due to its imperial importance, and this city surely deserves the title. If you want to be stunned, you absolutely have to take your rental car and drive to the Arena di Verona. These friendly walls have hosted over 20,000 concerts and shows, right in the middle of town's square.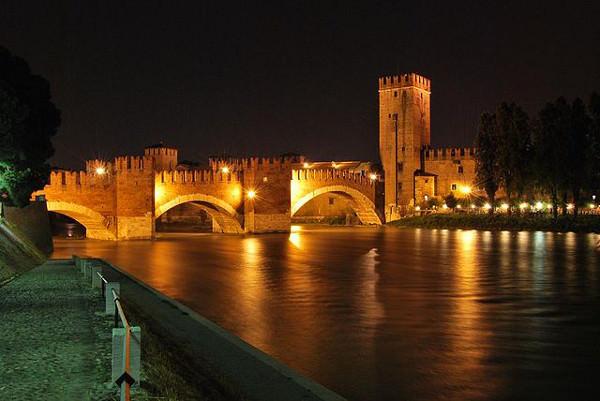 Known for its several annual fairs, shows, and operas, when in "Little Rome", reserving some tickets at the Arena Museo Opera it's a must. The setting of the old arena and watching the spectacle while the sun sets; that is definitely worth your while!
Of course, once you've had a taste from all these Italian beauties, you will want for sure to see even more. Thank God that you have already rented a car and you are able to have a getaway anywhere near Verona. Feeling in the mood for a fashion show? No worries, even though Verona has a fashion of her own and can be a small Mecca for shopping enthusiasts, you can take your car for a spin in Milan. You will be amazed by how fast you are going to get there, not to mention the fact that you might feel you need to get a bigger truck from all the shopping you will be tempted to do there.
Big fan of natural beauties and water combined? You will not believe how close to the biggest lake in Italy you have been! Lake di Garda has been a luxury destination even for the ancient Romans, and they sure knew a thing or another about living a life of wealth! This region is not only packed with perfect views for selfies, but the history behind it will amaze you.
What better way to make your trip to Verona memorable, if not taking a road trip to its vineyards? The area of Veneto is known worldwide for its many different red and white wines, especially Valpolicella and Soave. Do you even know how lucky you are because you had the idea of renting a car? This way, you are able to tour the countryside, visiting wine destinations. They even have a "Strade del Vino" (Street of Wine), imagine that! So, what are you waiting for?
Hotels Near Verona Airport


Hotel Fiera, Via Zannoni Ugo 26-8, Fiera, 37136 Verona
Hotel Fiera is near Verona's Congress Centre, a short bus ride into town, and just 3 stops to Porta Nuova Railway Station. Here you will find a choice of rooms and free parking. The bus stop is just outside the Fiera Hotel, allowing you quick access to all of Verona's best sights, including the Arena and Juliet's house. All rooms come with satellite TV and pay-per-view channels. At the hotel's mini gym, you will find a variety of training equipment, available for free. Meals are served throughout the day at the Fiera's restaurant, which also serves a buffet breakfast including fresh fruit and a choice of breads.
Hotel Colomba d'Oro,
The Colomba d'Oro enjoys a central position in the historic centre of Verona, just 150 metres away from the famous Arena and close to the main historical buildings and monuments. Set in a lively and touristy shopping and restaurant district, the hotel boasts excellent transport links making it easy to reach all other city destinations. The railway station is 1.5 km away, Verona International Fair 2.5 km and Verona-Villafranca Airport is 11 km from the hotel.
Residenza Giacomo
Residenza Giacomo Puccini, Viale Roma 33, Citta Antica, 37121 Verona Set in an 18th-century building on the banks of the Adige River, Residenza Giacomo Puccini overlooks Castelvecchio Museum. It offers elegant rooms with decorative walls and air conditioning. Rooms have calm pastel colour schemes and classic furniture. They feature a minibar and flat-screen TV, plus a private bathroom with organic toiletries. A buffet breakfast is served each morning until 11:00 and guests have discounts at local restaurants for dinner. Free Wi-Fi is available throughout the property and private parking is available. Giacomo Puccini Residenza is 5 minutes' walk from Verona Arena and 900 metres from the central square of Piazza delle Erbe. Juliet's house is 10 minutes away on foot..
Hotel Maxim
Set in a quiet residential part of Verona, the Maxim offers spacious rooms with satellite TV. The hotel provides free underground parking, 3km from Arena di Verona Amphitheatre. Hotel Maxim's air-conditioned rooms include a minibar, and private bathroom equipped with hairdryer and toiletries. A continental style buffet breakfast is served daily. The hotel restaurant is open for lunch and dinner, and offers a range of Italian dishes. Buses to Porta Nuova Train Station stop 200 metres from the hotel. The city centre is a 20-minute ride away, or 10 minutes by car.