Milan Linate Car Hire
Last Updated: 30th June, 2023
Milan Linate provides discount car rental in Milan City Centre and at Milan Airport Terminal from the following rent a car companies. Hertz, Avis, Alamo, Budget Dollar, National Car Rental, Sixt, Thrifty Europcar. Car rentals is fully inclusive with a no excess insurance option. One way rentals from Milan to Rome and Palermo in Sicily. Rent a car anywhere in Italy. We guarantee the best prices for rent a car Milan Linate Airport. For car hire in other locations in Milan please check out Milan Car Hire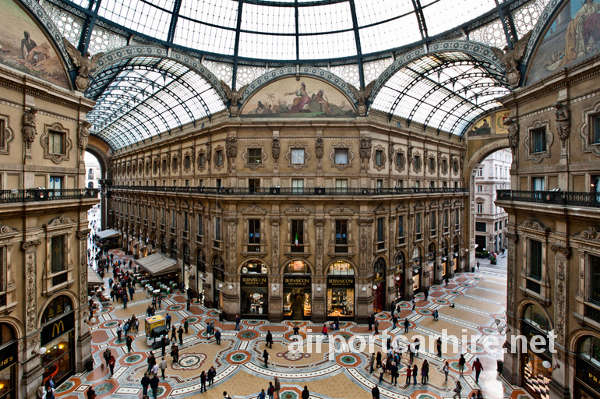 Milan Linate Car Rental FAQ
Which is the best car hire company at Milan Linate Airport LIN?
Based on feedback from over 10,000 customers who hired a car at at Milan Linate Airport, Locauto had the best customer satisfaction rating with a score of 8.4. out of a maximum 10.
Can I rent a car at Milan Linate Airport with a debit card?
Yes you can hire a car at Milan Linate Airport with a debit card issued by a bank. Conditions of debit card use: card must be in main driver's name. MasterCard or VISA only. Debit cards must be issued by a bank, and numbers must be embossed. Please note, the deposit amount will be charged if using a debit card and associated transactions fees may apply. Maximum rental duration 28 days if using a debit card. Prepaid and electronic cards (Visa Electron) are not accepted. Be sure to check the filter for Both Credit and Debit Cards on the left side under the heading Cards Accepted At Pick-Up. This will display the car hire companies that will accept Debit Cards. Please contact us and we will be glad to explain how rent a car with a debit card
Can I rent a car at Milan Linate Airport Italy if I am over 70?
Yes, you can hire a car in Milan Linate from selected car rental companies up to 99 years of age with no extra charges. Contact us we will be glad to assist you by comparing the leading car hire companies to get you the best deal.
Can I rent a car at Milan Linate Airport if I am under 25?
You can hire a car at Milan Linate Airport at 18 years of age, with no additional fees. Please contact us and we will be glad to explain how to get the best deal for your age group.
Can I take a rental car from Milan Linate to other EU Countries?
Yes some car hire companies will allow you to take a rental car cross border, but you will need to get permission first. There will be additional fees to cross an International border.
How long do I need to hold a licence in order to rent a car in Milan Linate Airport?
A full licence held for minimum of 1 year with no major endorsements. UK licence holders need to present the photo card
Which documents do I need to hire a car at Milan Linate Airport LIN?
The principle driver will need to have the following documents in his or her name. A full licence, a credit card, the voucher we will send you when you complete your booking, and a passport.
What is the fuel policy for a hire car in Milan Linate Airport?
The vast majority of cars have a full to full fuel policy, which means your vehicle will be supplied with a full tank of fuel. To avoid incurring fuel charges, you will need to return it with the same amount of fuel as it had when you collected it.
Milan Linate Car Rental Locations
Airport Linate LINATE AIRPORT - In Terminal, Milan, Milan Italy Milan LIN
Car hire Milan city centre
Airport Malpensa Milan Malpensa Airport, Milan Italy Milan MXP
Centra Train Station Stazione Centrale Milano, Milan Italy Milan
FieramilanocItalyy Via Alcuino, 16 Italy Milan
Giambellino Via Lorenteggio 35 Italy Milan
Largo Augusto LARGO AUGUSTO,10 - MILANO, MILAN, 20122 Italy MILAN
Lorenteggio c/o Galba Viaggi - Piazzale Siena, 2, Milano, 20147, Lombardia Italy Milano
Melegnano VIA DELLA REPUBBLICA 48 Italy
Novegro Segrate Italy Milan
Piazza Armando Diaz Piazza Armando Diaz, 6, Milano, 20123, Lombardia Italy Milano
Pindaro Via Pindaro, 7/9, Milano, 20128 Italy Milano Porta Romana Via Calderon de la Barca 2, Milano, 20122 Italy Milano
Ripamonti VIA GIANFRANCESCO PIZZI 5, Ripamonti Italy Ripamonti
San Siro Palazzo Congressi Milano Fiori, Assago, 20090, Lombardia Italy Milan
Via Galvani Via Luigi Galvani, 12, Milano, 20124, Lombardia Italy Milano
Via Gluck Via Cristoforo Gluck, Milano, 20125, Lombardia Italy Milano
Via Novara Via Novara 363/a Italy Milan
Via VItalytore Via VItalytor Pisani, 7, Milan Italy Milan
Viale Espinasse Viale Espinasse, 137, Milano, 20151, Lombardia Italy Milano
Viale Sarca Delivery service from 5085, Sesto San Giovanni, 20099 Italy Sesto San Giovanni
Viale Umbria Viale Umbria, 19, Milano, 20135, Lombardia Italy Milano
Milan- Arese c/o CENTRO TECNICO FIAT V.LE LURAGHI SNC, ARESE Italy ARESE
Milan Linate Airport Information
Airport Name: Milan Linate Airport
Airport Code: LIN
ICAO: LIML
Address: Viale Enrico Forlanini, 20090 Segrate MI, Italy
City: Milan Linate
Country: Italy
Telephone: +39 02 232323
Time Zone: GMT + 1
Coordinates: 45°26′58″N 009°16′42″E
Driving Directions to Milan Linate Airport Linate Airport is situated 7 km east of the city of Milan After Leaving Milan take the a XXII Marzo and Viale Corsica;at the ringroad, take the exit marked Linate Take the Autostrada 8 for north Milan and Varese and Autostrada 4 for Milan and to Novara, west of Milan. If you are travelling to the Alps to Switzerland via Como, the Autostrada 1 leads southeast to Piacenza, and the Autostrada 7 leads south to Genoa. There is a toll on most major roads
Car Parking: Long and Short Term Parking Facilities available
Taxi service: Available in front of terminal
Train service:
Bus service:
Car Hire: The car rental desks are located in the arrivals hall
Information Desk: Located in the arrivals hall
Facilities:

Flight Destinations from Milan Linate Airport
Aer Lingus Dublin
Air Berlin Berlin-Tegel, Düsseldorf, Stuttgart
Air France Paris-Charles de Gaulle
Air Malta Malta
Alitalia Alghero, Amsterdam, Barcelona, Bari, Berlin-Tegel Brindisi, Brussels, Bucharest, Cagliari, Catania, Comiso, Copenhagen Düsseldorf Lamezia Terme, London-Heathrow, Naples, Palermo, Paris-Charles de Gaulle, Paris-Orly, Pescara, Reggio Calabria, Rome-Fiumicino, Warsaw-Chopin Athens, Bordeaux Corfu , Heraklion, Ibiza Lampedusa, Menorca , Mykonos Pantelleria, Prague, Rhodes , Santorini Thessaloniki Barcelona, Bari, Berlin-Tegel, Brussels, Comiso, Düsseldorf, Frankfurt, London-City, Naples, Rome-Fiumicino, Trieste, Vienna Dubrovnik Menorca Palma de Mallorca Split Trapani
Blue Air Bucharest
Blu-express Reggio Calabria
British Airways London-Heathrow
Brussels Airlines Brussels
easyJet London-Gatwick, Paris-Orly, Rome-Fiumicino
Iberia Madrid
KLM Amsterdam
Lufthansa Frankfurt
Meridiana Catania, Naples, Olbia
Niki Vienna
Scandinavian Airlines Copenhagen, Stockholm-Arlanda
Silver Air Marina di Campo
Swiss International Air Lines Zurich

Hotels Near Milan Linate Airport

Hotel Montini Linate Airport,
Hotel Montini Linate Airport, Via di Vittorio 39, 20068 Peschiera Hotel Montini provides modern, comfortable rooms in the immediate surroundings of Milan Linate Airport. There is a free shuttle bus to the airport and the metro station. The free shuttle service runs from 07:00 until 23:00. If you wish to be picked up from the airport please specify it in your booking form. ATM bus number 66 stops 100 metres from the Montini and provides connection to the city centre. Rooms at Hotel Montini come with LCD TV, Wi-Fi access. American buffet breakfast is served. Electric bicycles are available for you to explore the surrounding area.
Novotel Milano Linate Aeroporto,
Novotel Milano Linate Aeroporto, Via Mecenate 121, Forlanini, 20138 Milan Novotel Milano Linate Aeroporto features an outdoor swimming pool, a modern restaurant, and an elegant bar. The hotel offers a free shuttle service to/from the airport, a 10-minute drive away. The hotel is just off the Tangenziale Est motorway. The tram that stops 300 metres away will take you to Milan's Cathedral in approximately 30 minutes.
Country Hotel Borrome,
Country Hotel Borrome, Via Bruno Buozzi 04, 20068 Peschiera Country Hotel Borromeo offers you a relaxing, green location just 5 minutes' drive from Linate Airport. Take advantage of the hotel's free shuttle service to the airport. The hotel's shuttle service runs from 07:00 until 23:00 and will pick you up or drop you off at Linate Airport. Milan city centre is a 30-minute drive away. The Borromeo is also situated just 300 metres from Milan's Idroscalo Park. Enjoy a walk in your spare time or try one of the many sports on offer here. Relax in airy, modern rooms at Hotel Borromeo. All are well-decorated in a contemporary style and feature LCD satellite television as well as Wi-Fi internet access
Air Hotel Milano Linate,
Air Hotel Milano Linate, Via Francesco Baracca 2, 20090 Segrate (Show map) Air Hotel is a 4-star establishment surrounded by a quiet, green, extensive park, only 500 metres from Milano Linate Airport. Free shuttle provided. The free shuttle bus from/to Linate Airport (between 05:00 and 24:00) is offered in connection with flight timetables. The service is available on request. Shuttles depart from departures exit number 4. Once in Linate you can use various transport links to reach Milan city centre in approximately 25 minutes. The comfortable rooms of Air Hotel Milano Linate are soundproofed to guarantee a relaxing rest, and provided with modern comforts including a 21'' LCD TV set and free internet connection.