Chios Airport Car Hire
Omiros Airport Chios National Airport
Last Updated: 20th Jul, 2022
Chios Airport is 3kms from the city centre. The Island of Chios situated in the Aegean Sean lying between Greece and Turkey. Airport car hire network will source special offers and discounts car rental from the following rent a car companies in Greece Hertz, Avis, Alamo, Budget Dollar, National Sixt, Thrifty Europcar.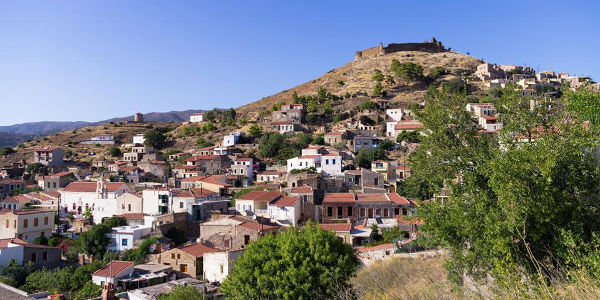 Chios Car Rental FAQ
Which is the best car hire company at Chios Airport in Greece?
Based on feedback from over 10,000 customers who hired a car at at Chios Airport, Thrifty Car Hire have the best customer satisfaction rating with a score of 8.8 out of a maximum of 10 points.
Can I rent a car at Chios Airport with a debit card?
Yes you can hire a car at Chios Airport with a debit card issued by a bank. Conditions of debit card use: card must be in main driver's name. MasterCard or VISA only. Debit cards must be issued by a bank, and numbers must be embossed. Please note, the deposit amount will be charged if using a debit card and associated transactions fees may apply. Maximum rental duration 28 days if using a debit card. Prepaid and electronic cards (Visa Electron) are not accepted. Be sure to check the filter for Both Credit and Debit Cards on the left side under the heading Cards Accepted At Pick-Up. This will display the car hire companies that will accept Debit Cards. Please contact us and we will be glad to explain how rent a car with a debit card
Can I rent a car at Chios Airport Greece if I am over 70?
Yes, you can hire a car in Chios from some car rental companies up to 99 years of age with no extra charges. Contact us we will be glad to assist you by comparing the leading car hire companies to get you the best deal.
Can I rent a car at Chios Airport if I am under 25?
You can hire a car at Chios Airport at 20 years of age, with additional fees. Young driver's age: 20 to 23 years. Charge 10 EUR per day (Excludes tax). Please contact us and we will be glad to explain how to get the best deals for your age group.
Can I take a rental car from Chios to visit a different Country?
Vehicles must not be taken out of Greece.
Can I take a rental car on a ferry to a Greek Island?
Yes most companies will allow it, but it is advisable to check in advance as it varies from company to company.
How long do I need to hold a licence in order to rent a car at Chios Airport?
A full licence held for minimum of 1 year with no major endorsements. UK licence holders need to present the photo card.
What documents do I need to hire a car at Chios Airport?
The principle driver will need to have the following documents in his or her name. A full licence, a credit card, the voucher we will send you when you complete your booking, and a passport. A printed version of your voucher must be produced upon arrival at the rental desk. Failure to present the voucher means the car rental agent may charge you at the local rates. If your form of identification does not include or match your current address, then a separate printed proof of address is required
What is the fuel policy for a hire car at Chios Airport?
This will depend on the car hire supplier you select. The vast majority of cars have a full to full fuel policy, which means your vehicle will be supplied with a full tank of fuel. To avoid incurring fuel charges, you will need to return it with the same amount of fuel as it had when you collected it. You can also choose pick up full return empty. This maybe more convenient if you wish to drop the car back without delays, but it will be more expensive.

Chios Airport Car Hire Locations
Chios Car Rental Locations
Car Hire Chios Airport
Airport CHIOS JKH Apt., Chios, Chios JKH
Car Hire on Chios
Chios Downtown 114 Egeou Ave. & Kokkali Str., Chios, Chios Island
Karfas Oceania OCEANIA HOTEL, KARFAS

Chios Airport Information
Airport Name: Chios Airport
Airport Code: JKH
ICAO: LGHI
Address: Chios Greece
City: Chios
Country: Greece
Telephone: +302271081400
Fax: +302271021237
Time Zone: GMT + 2
Coordinates: 38°20′35″N 026°08′26″E
Driving Directions to Chios Airport
Car Parking: Long and Short Term Parking Facilities available
Taxi service: Available in front of terminal
Train service:
Bus service:
Car Hire: The car rental desks are located in the arrivals hall
Information Desk: Located in the arrivals hall
Facilities:

Flight Destinations from Chios Airport
Aegean Airlines - Athens
Austrian Airlines - Vienna
Sky Express - Mytilene, Rhodes, Samos and Mykonos
Chios See & Do
How does a visit to the fifth largest of the Greek islands sound? Oh, you have not considered checking the island of Chios yet? Well, there is a first time for everything, and this location deserves your attention for sure. Why, you may ask. Well, maybe you are the type of person that just want to spend a lovely vacation at the beach, and Chios has a lot of those to offer. Interested in history and finding out all the details of the Byzantine period? The castle of Chios is waiting for you to drive your rental car there since the 10th century. Luckily for you, a parking lot has been built along the years.
Castle of Chios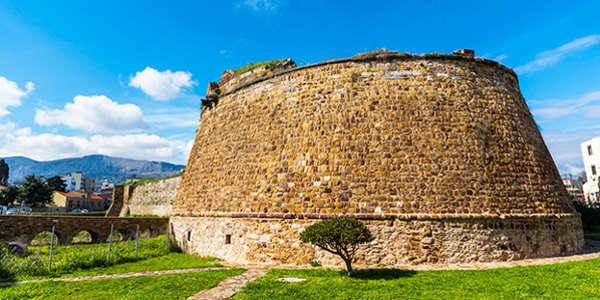 As previously mentioned, it is impossible to visit Chios without paying a visit to the castle of Chios. This landmark tells the story of the Ottoman occupation and of the island throughout the ages. You will be able to see not only the beautiful architecture, but there are a lot of cafes and restaurants too. Did anyone said something about free parking area? Yes, you have been blessed!
Since you are already taking this journey through history, why not continue it by driving to the Medieval City of Mesta? It has been built in the 14th century as to protect themselves from the Ottomans, and it is still very well preserved. This city will amaze you with its original buildings, narrow alleys and hidden passageways. Make sure you take your camera with you, this is the perfect place for some pictures!
Pyrgi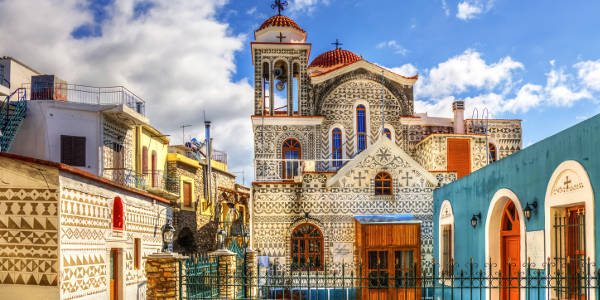 Up for some more historical landmarks? Then you must definitely take your rental car for a spin to Pyrgi. Make sure you still have memory left on that camera, because this is the perfect place for some more shots. Just picture this, you will not find two houses that look the same, the designs here are unique. Do your best into finding the old entrance to the village, the central tower, the well, the remains of the rooftop links, those will make you feel like the visit was worth it.
Aren't you feeling a little bit tired from all those history lessons? Then hop into you rental and car and let's see what the island of Chios has to offer in terms of beaches! Oh, there is Vroulidia, check this out! The landscape is amazing, and if you are in an adventurous mood, why not try and see how is the view from the top? Blue turquoise sea, white and yellow cliffs, ample parking atop the beach; could you ask for more?
f you are not yet convinced, try Emborios beach, it is about 6 miles from Vroulidia. Compare these two, you might find yourself not being able to decide which one you like more. As a black-cobble beach, Emborios has all the chances to make you fall in love! What do you say, are you renting that car or what?
Chios Must DO Drives
Rent a car in Chios and drive to see the UNESCO World Heritage Site of the 11th century monastery of Nea Moni. Also enjoy a visit to the medieval villages in the Kambochoria region known for the production of mastich tree resin. Chios has a number of fine beaches to visit by car such as Karfas, Lithi, Giossontas and Nagos and the beach next to Homer's Stone at Daskalopetra Beach.
Soak up some of the local history with a visit to the Archaeological Museum of Chios, the Ioustiniani Museum and the Byzantine Museum of Chios. Take a drive in your car hire to the seaside town of Vrontados with its many beautiful gardens, olive and almond trees and other delights. The beautiful village of Karyes where you can enjoy a coffee and watch the world go by.
Hotels Near Chios Airport

Grecian Castle Hotel
Grecian Castle Hotel the renovated Fegoudakis Corporation constructed a new, modern and comfortable resort with the warm Chian hospitality. This renovated showpiece graces the roads of Chios island, offering its guests a very exclusive atmosphere in a breath-taking setting. The architecture of the complex, which consists of five buildings, follows the distinctive Chiotiko medieval and modern style which contrasts against the well tendered gardens, overflowing with colorful flowers. Located close to the airport on the main road, Grecian castle is just ten minutes walk from the city, Chios town
Kyveli Apartments
Kyveli Apartments are located in Vrontados at the picturesque fisherman's harbour and the magnificent beach of Daskalopetra - the place of the temple of the ancient goddess of Kyvele and the legendary stone where Homer taught. The Kyveli Apartments Hotel, surrounded by lovely gardens the private swimming pool, promises fun and relaxation during your leisure time. Enjoy the panoramic sea view in the friendly, familiar atmosphere of the large sitting area with TV and lounge bar. Kyveli apartments are ideal for family holidays. All the rooms are A class and overlook the crystal clear sea and the hotel gardens with its swimming pool and poolside snack bar.
Sea Breeze Hotel Apartments
Sea Breeze Hotel Apartments surrounded by a forest of mastic trees and olive groves in Agios Ioannis - Agios Emilianos, Sea Breeze Hotel Apartments offers apartments with breathtaking sea views and its own beach infront. The hotel is beautifully located between the cosmopolitan beach of Agia Fotini and the beach of Agios Emilianos.Sea Breeze Hotel Apartments & Residences combines the privacy and comforts of home with the quality services of a hotel. Each of the apartments has a living area with fully equipped kitchen, satellite TV and cd player.