Corfu Airport Car Hire
Ioannis Kapodistrias Airport
Last Updated: 1st May, 2021
Ioannis Kapodistrias Airport named after Ioannis Kapodistrias the first Governor of Greece is better know as Corfu International Airport. It is situated between Pontikonisi 1KM away and the town of Corfu which is only 3 KM north of the Airport.
Pick up your car hire at Corfu Airport to tour this magnificent island at your own pace. Choose from our great selection of cars which include Ford, Toyota BMW open top convertibles, 4X4 and Jeeps all at great prices. We have sourced the best fully inclusive rental rates, for car hire in Corfu, from the worlds top 100 approved car rental companies; both local and international. Looking for Cheap Car Hire Corfu Greece? Get a Cheap Fast & Simple Quote unlimited mileage and no excess option We shop around for the best rates for you. Car Hire for 19 to 99 years All Inclusive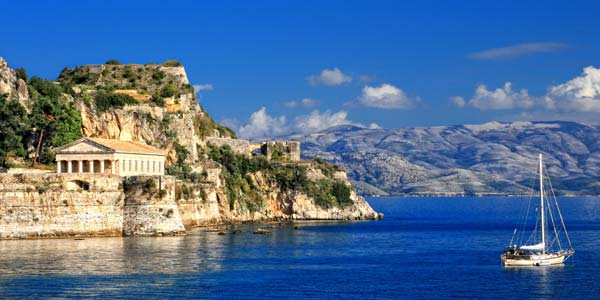 One way car rental on the the island of Corfu us available at the following locations Acharavi Corfu - Airport International Corfu city centre Ethniki Lefkimi Louis Corcyra Beach Louis Grand Hotel, Louis Kerkyra Golf Louis Regency Beach Corfu
Corfu Car Rental FAQ
What is the best car hire company at Corfu Airport?
Based on feedback from over 10,000 customers who hired a car at Corfu Airport, Enterprise had the best customer satisfaction rating with a score of 9.0.
Can I rent a car at Corfu Airport with a debit card?
Yes you can hire a car at Corfu Airport with a debit card issued by a bank. Conditions of debit card use: card must be in main driver's name. MasterCard or VISA only. Debit cards must be issued by a bank, and numbers must be embossed. Please note, the deposit amount will be charged if using a debit card and associated transactions fees may apply. Maximum rental duration 28 days if using a debit card. Prepaid and electronic cards (Visa Electron) are not accepted. Be sure to check the filter for Both Credit and Debit Cards on the left side under the heading Cards Accepted At Pick-Up. This will display the car hire companies that will accept Debit Cards. Please contact us and we will be glad to explain how rent a car with a debit card
Can I rent a car at Corfu Airport Greece if I am over 70?
Yes, you can hire a car in Corfu from selected car rental companies up to 99 years of age with no extra charges. Contact us we will be glad to assist you by comparing the leading car hire companies to get you the best deal.
Can I rent a car at Corfu Airport if I am under 25?
You can hire a car at Corfu Airport at 21 years of age, with no additional fees. We will explain how to get the best deal for your age group.
How long do I need to hold a licence in order to rent a car in Corfu Airport?
A full licence held for minimum of 1 year with no major endorsements. UK licence holders need to present the photo card
Which documents do I need to hire a car at Corfu Airport?
The principle driver will need to have the following documents in his or her name. A full licence, a credit card, the voucher we will send you when you complete your booking, and a passport.
What is the fuel policy for a hire car in Corfu Airport?
The vast majority of cars have a full to full fuel policy, which means Your vehicle will be supplied with a full tank of fuel. To avoid incurring fuel charges, you will need to return it with the same amount of fuel as it had when you collected it.
Car Hire Reviews Corfu Airport
This rating is taken from feedback we received from over 10,000 customers that booked car hire at Corfu Airport in Greece over the last 12 months.
Corfu Car Rental Locations
You can rent a car at Corfu Airport and any one of the following locations.
Corfu Car Rentals
Acharavi Acharavi, Corfu, Island
Airport Int Corfu International Airport, Corfu Island CFU
Ethniki Lefkimi Main Office, Ethnike Lefkimi, Corfu Island
Louis Corcyra Beach Corfu Holiday Palace, Corfu Kanoni, 49100,
Louis Grand Hotel, Louis Grand Hotel, Glyfada, 49100
Louis Kerkyra Golf Louis Kerkyra Golf, Alykes Potamou, 49100
Louis Regency Beach Louis Regency Beach, Ag. Ioannis Melitieon, 49084
Moraitika MORAITIKA, CORFU, 49084
Nafsikas 39 Nafsikas Street, Corfu Island
New Port 132, Theotoki Str., New Port, Corfu Island
Corfu Airport Information
Corfu Airport is 3kms of Corfu town centre. Passangers are offered a wonderful view of the hills of Kanoni as well as Pontikonisi and Vlaherna Monastery when flying into Corfu Airport or Ioannis Kapodistrias Airport so called after the first Governor of Greece. Corfu is the seventh largest of the Greek Islands and is located in the Ionian Sea.
Airport Name: Corfu Airport or Kerkyra Airport Ioannis Kapodistrias
Airport Code: CFU
ICAO: LGKR
Address: Kerkyra
City: Corfu
Country: Greece
Telephone: 302661030180
Time Zone: GMT + 2
Coordinates: 39°36′07″N 19°54′42″E
Driving Directions to Corfu Airport
Car Parking: Long and Short Term Parking Facilities available
Public Transport:
Taxi service: available in front of terminal
Train service: There is no train service available here
Bus service: available from outside the terminal.
Car Hire: The car rental companies' desks are located in the arrivals hall
Information Desk: The Information Desk can be found in the Arrivals Hall in Corfu Airport.

Corfu See & Do
Corfu is a Greek island in the Ionian Sea, Corfu is probably one of the best-known holiday destinations in this part of Europe. An interesting mix of ancient buildings, impressive natural scenery, lush flora and vibrant nightlife, Corfu is awash with romance, history and charm.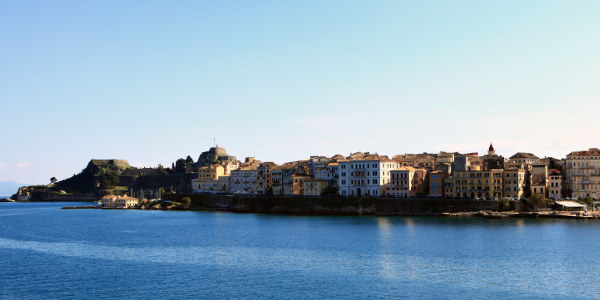 Must see attractions in Corfu
Top visitor attractions in Corfu city begin with the Old Town; a large labyrinth of cobbled streets, ancient walls and seaside promenade on the wide peninsular section of the city. Visit the old Venetian fortress, sometimes used for cultural events, as well as the lovely classical St. George's Church. The western part of the old town is alive with restaurants and bistros and the perfect spot to sample good local cuisine.
The New Fortress dominates the north-east section of the city and is now open to the public for tours of the maze-like medieval corridors and walls. Make sure you check out the fish market, and then head to the Palaia Anaktora and its gardens for an intriguing stroll, complete with Venetian stone aquarium and various turrets. Visit The Garden of the People with its spiral steps leading from the sea and its Museum of Ancient Art for a peek at an impressive oriental collection. Climb up to the great cross for excellent views, or wander along the coast to snap impressive photos of it lit up at night
.
If you're looking for history and culture, the Byzantine Museum of Antivouniotissa houses rare Byzantine art, while the Archaeological Museum has been celebrated world wide for its important collection of artifacts.
The Serbian Museum of Corfu is dedicated to the Serbian soldiers that fell in the First World War. Alternatively, try the Music Museum of the Philharmonic Society of Corfu; its collection has interesting displays of scores, instruments and painting relating to the island.
Take a boat trip to Pontikonisi Island, home of the monastery of Pantokrator for a change of scenery and when you return, sit back with a glass of local wine to enjoy some traditional cantádes singing. The Municipal Theatre of Corfu has a regular programme of events worth watching also.
Recommended scenic drives in Corfu
Your hire car will be waiting at Corfu Airport International, ready for some exciting scenic driving adventures. Drive 2km south to the ancient city of Corcyra between the sea-lake of Halikiopoulo and the Bay of Castrades for lovely views and a visit to the tomb of Menekrates. Head to the Achilleion Palace in the traditional village of Gastouri for unique beauty, ornate gardens, elaborately decorated interior walls and magnificent statues.
Perama is the perfect viewing point for Mouse Island, and home to the Convent of Vlachernas. Watch a sunrise behind the hill known as the Throne of Kaiser in Pelekas, and continue on through green hills and quaint villages to Paleokastritsa. This is recognized as one of the most beautiful villages on the island; home to six small coasts with rugged bays and azure waters. Make sure you leave enough time to visit Nausica Cave and Blue Eye cave, the monastery and wishing well before taking a boat trip around the coast.
The island of Corfu has so much to offer you, you might need to prolong your holiday. Just imagine that the history of this island goes back into the Greek mythology, and even the birth of it is related to the lives of gods. The name of Corfu did not make itself known worldwide only in those times, but it was also a bulwark of the European States against the Ottoman Empire in the 17th century. And this lovely destinations has its charm even in our days, or else you would not be thinking about visiting it, right?
First thing you have to know, when in Corfu, if did not pay at least one visit to the Old Town, then you have come here for nothing. Not only that it is full of amazing architecture, but when driving towards it, you have the opportunity to experience that Greek charm at its best.
Another must in Corfu is the Old Fortress. Guess which is the best way to get there! Exactly, by renting a car and be able to be comfortable and amazed at the same time. When there, be prepared for some of the most amazing views of the island, and of Albania too. Of course, the most stunning sights are from the top of it, and after going past all those natural beauties and that Byzantine Age mosaic, you for sure must feel ambitious and eager to get even more from Corfu.
In the mood for some more of what this island has to offer? Prepare for one of the most memorable drives of your life, since Mount Pantokrat is now waiting for you. For those of you who are really adventurous, it is preferable to drive your rental car from the west and being able to visit the villages of Sokrakio, Nymfes, Episkepsi and descend toward the east, in Pyrgi. After discovering all these amazing places, you will have the chance to park your car near the top and admire Corfu itself, as well as other islands around it.
If history is more of your thing, then you will be pleased to find out that you can actually visit Sissy's Palace and the possibility is at just one spin of your car keys away. Yes, we are talking about the empress of Austria. The palace is built in the Pompeian style, and it is a lovely way to spend a family afternoon. The statues, the gardens, and the beautiful sights around it will make you feel like you had not have enough of it.
Of course, since you are on Greek lands, going to the beach is like breathing. Having so many options, such as Paleokastritsa Beach, La Grotta Beach or Ipsos Beach might make you think that you will not have when to visit them all, but it is a good thing that you have already rented a car that will ease your way to it!
Hotels Near Corfu Airport

Blue Bay Escape Hotel
Blue Bay Escape Hotel is ideally positioned, overlooking golden sands and the beautiful Ionian Sea, this modern complex offers superb entertainment, including mountain biking and is a great choice for families. Those in search of relaxation can unwind with massages, or take a dip in the cool, blue pool.
Corfu Holiday Palace
located in Kanoni, 4km from Corfu town and 4 km from the airport, the location is one of outstanding beauty with elevated panoramic view s of the Ionian sea. On one side overlooking the picturesque Convent of our Lady Vlacherna, the fully renovated hotel is the only one with a direct view to the famous "Mouse Island", the trademark of Corfu Island. On the other side, a beautiful view of Lake Halikiopoulou and distant hills. Surrounded by the sparkling blue waters of the Ionian Sea, the beautiful island of Corfu is the most famous of the Greek islands and has long been a favoured holiday destination. Legend has it that this was Odysseus' last port of call during his journey home from troy.
The Hotel Hellinis
was renovated with elegance in year 2002, Hellinis Hotel provides a superior class for its category, redesigned to induce its guests in an atmosphere of relaxed elegance blending stylish decor with functional character and sense of comfort. Continuing its tradition on attention to detail and personalised service, Hotel Hellinis presents a distinctive experience of warm hospitality ideal for business or pleasure all year round. Enjoying a privileged location near Corfu Town in the most well know area of Kanoni, the Hotel Hellinis is one of the most known hotels on Corfu. The hotel is set on Corfu's most popular tourist hot spot attraction, right next to the Pontikonisi (Mouse Island)
Bella Venezia Hotel
is centrally located, just steps from Corfu Town's "Spianada", this restored historical mansion offers comfortable rooms with breakfast included, within a lovely garden setting. Bella Venezia Hotel is housed in a beautiful neo-classical mansion, providing a haven of peace in the heart of Corfu's vibrant capital. Each of the guest rooms is comfortably furnished and appointed with a work area and air conditioning. Check your emails using free wireless internet access. Bella Venezia's excellent location is just a short walk from Corfu's most important attractions, including the museums and fortresses. There are also many restaurants, shops and cafes nearby.
Corfu Mare Hotel
is a newly renovated boutique hotel and is ideally situated in a quiet area, just 1 km away from Corfu town.To stimulate the senses of guests, rooms are decorated according to themes with trendy and unusual wallpapers, colours and furniture. There are 2 rooms and a lobby bathroom for guests with special needs
Hotel Dalia
is just a short walk from Corfu Airport and 200 metres from Garitsa Bay, the cosy Dalia Hotel features free wireless internet access and helpful and friendly staff. Enjoy clean rooms appointed with comfortable beds and air conditioning during your stay at Dalia. The friendly staff team is at your convenience 24 hours a day. Enjoy the 15-minute walk to the historic centre of Corfu Town. The magnificent Monrepos Palace is also within walking distance of Hotel Dalia