Ioannina Car Hire
Last Updated: 18th Jan, 2023
Ioannina National Airport is situated 5 kilometers from Ioannina city centre in Northwest Greece.
We will compare the market to get you the cheapest car prices at Ioannina National Airport from Drive rent a car, AVIS Hertz Europcar,Budget and Sixt. We save you time and money by comparing the prices, terms and conditions of the leading car hire companies at Ioannina National Airport. Book great value car hire that is fully inclusive with no hidden extras.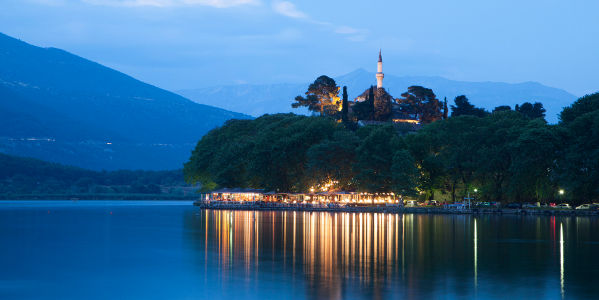 Ioannina Airport Car Rental FAQ
What is the best car hire company at Ioannina Airport?
Based on feedback from over 10,000 customers who hired a car at at Ioannina Airport, Alamo have the best customer satisfaction rating with a score of 8.2 out of a maximum of 10 points.
Can I rent a car at Ioannina Airport with a debit card?
Yes you can hire a car at Ioannina Airport with a debit card issued by a bank. Conditions of debit card use: card must be in main driver's name. MasterCard or VISA only. Debit cards must be issued by a bank, and numbers must be embossed. Please note, the deposit amount will be charged if using a debit card and associated transactions fees may apply. Maximum rental duration 28 days if using a debit card. Prepaid and electronic cards (Visa Electron) are not accepted. Be sure to check the filter for Both Credit and Debit Cards on the left side under the heading Cards Accepted At Pick-Up. This will display the car hire companies that will accept Debit Cards. Please contact us and we will be glad to explain how rent a car with a debit card
Is it safe to rent a car during Coronavirus Covid-19 at Ioannina Airport?
Yes, car hire is one of the safest methods of transport during Covid-19. Car rental companies are essential service providers and will remain open during the Covid-19. Additional precautions and safety measures are currently in place. All cars are deep cleaned and sanitised along with the rental office in line with WHO guidelines. Alamo, Avis, Budget, Dollar, Enterprise, Hertz, National, Sixt, Thrifty are the car hire companies that sanitise rental cars at Ioannina Airport.
Can I rent a car at Ioannina Airport if I am over 70?
Yes, you can hire a car in Ioannina Airport from selected car rental companies up to 99 years of age with no extra charges. Contact us we will be glad to assist you by comparing the leading car hire companies to get you the best deal.
Can I rent a car at Ioannina Airport if I am under 25?
You can hire a car at Ioannina Airport at 21 years of age, with no additional fees. Enterprise Car Hire currently charge young driver's aged between 21 to 24 years $25 USD per day (Includes tax). While budget charge $35 per day if you are 21 to 24. Please contact and we will be glad to explain how to get the best deal for your age group.
Age Requirements to Rent a Car at Ioannina Airport Greece
The minimum age to rent a car at Thessaloniki Airport is 21 but there will be a supplement. The maximum age is 99. Please confirm the driver's age requirement for the car you choose, as the age requirement may vary according to the size of the car. Please see the ages requirement for each of the car hire companies in Thessaloniki
Can I take a rental car from Greece to a different country?
Unfortunately No it is not possible.
Can I take a rental car from Ioannina Airport and drop it off in a different city in Greece?
Based on availability, one-way rentals may be allowed. You will need to check with the car hire supplier as each supplier will have different travel restrictions. When you do a quote on out site you can view the travel restrictions for each supplier. There will be an additional one way rental fee if you leave the car in a different location to the pick location.
How long do I need to hold a licence in order to rent a car at Ioannina Airport?
A full licence held for minimum of 1 year with no major endorsements. UK licence holders need to present the photo card
Which documents do I need to hire a car in Greece?
The principle driver will need to have the following documents in his or her name. A full licence, a credit card, the voucher we will send you when you complete your booking, and a passport. A printed version of your voucher must be produced upon arrival at the rental desk. Failure to present the voucher means the car rental agent may charge you at the local rates. With Budget rentals you will also need one original form of proof of address.
What is the fuel policy for a hire car at Ioannina Airport?
This will depend on the car hire supplier you select. The vast majority of cars have a full to full fuel policy, which means your vehicle will be supplied with a full tank of fuel. To avoid incurring fuel charges, you will need to return it with the same amount of fuel as it had when you collected it. You can also choose pick up full return empty. This maybe more convenient if you wish to drop the car back without delays, but it will be more expensive.

Ioannina Airport Information
Airport Name: Ioannina Airport King Pyrrhus Airport
Airport Code: IOA
ICAO: LGIO
Address: Leof. Grammou 135, Exochi 454 45, Leof. Grammou 135, Exochi 454 45, Greece Greece
City: Ioannina
Country: Greece
Time Zone: GMT + 2
Coordinates: 39.4147 20.4921
Driving Directions to Ioannina Airport
Car Parking: Long and Short Term Parking Facilities available
Taxi service: Available in front of terminal
Train service: No Train Service
Bus service: Buses operate from the terminal. building to Ioannina
Car Hire: The car rental desks are located in the arrivals hall
Information Desk: Located in front of the main terminal building
Facilities:

Hotels Near Ioannina Airport

Suites Hotel Apartments Krikonis
Suites Hotel Apartments Krikonis offers you a friendly and pleasant accommodation with a country-inn feeling into the town of Ioannina. The resort has 25 rooms, single, double, triple, quadruple and junior suites are offered.All rooms can be booked with and without breakfast. A rich English breakfast is served each morning. Ice creams, coffee and drinks are served throughout the day at the pool bar.
Dovitel Boutique Hotel
Dovitel Boutique Hotel consists of 31 spacious rooms, including 4 suites, equipped with all the modern means for a comfortable and unforgettable stay. Special care has been attributed to the practicality of the accommodations where the high standards materials and the subtle décor compose a good taste and relaxing environment, creating the guest the sense of feeling like home despite being
Epirus Palace & Congress Center
Epirus Palace & Congress Center relaxation and rest, in superbly designed rooms with richly appointed living rooms and comfortably bedrooms to accommodate your personal requirements. Elegantly decorated bedrooms, welcomes you with a variety of delights around every moment. Rooms & Suites at Epirus Palace Hotel are fully equipped with central heat, mini bar, satellite TV, and marbled bathrooms. Only 5 minutes distance from the city of Ioannina, our hotel can offer hospitality to the most important conferences, meetings and banquets. Our inspired decoration can access a creative climate for creative businesses. Each conference room is fully air-conditioned and has full audiovisual facilities.