Rhodes Airport Car Hire
Diagoras International Airport Rhodes
Last Updated: 30th June, 2023
The most popular location for car rental in Rhodes is Diagoras International Airport. The airport is located 15 km South West of the capital city of Rhodes.
If you are looking for cheap car hire in Rhodes we will shop around and compare car rental prices to get you the best car hire deals. We only deal with the major car hire companies, Avis Budget, Europcar, Europcar, Hertz, Kosmo and Prima which are all operating at Diagoras International Airport.
Compare the above car hire companies in seconds. We will give you a fast and simple to understand quote with no hidden fees and charges. Book your car hire in advance and save on transfers from Rhodes airport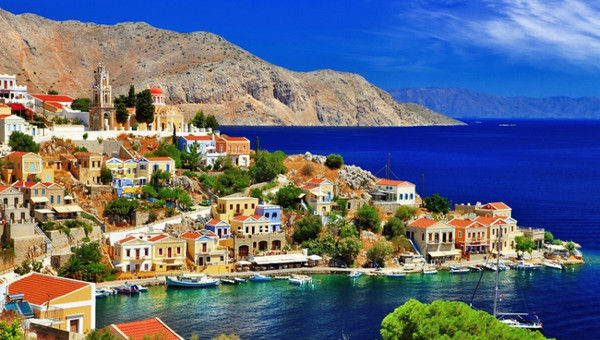 Rhodes, Greece
Rhodes is one of the largest islands off mainland Greece, part of the Dodecanese islands. With its clear blue seas and days of sunshine it is no wonder that the people from mainland Greece enjoy holidaying on Rhodes Island also. Steeped in history you can explore the many churches, monasteries, Minoan settlements, acropolis from ancient times in Rhodes.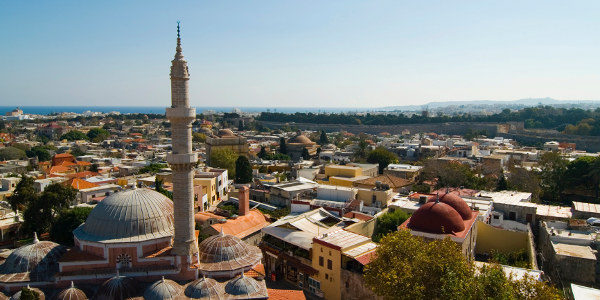 Rhodes, Greece
Rhodes is a beautiful and very unique island which boasts amazing beaches, an incredible coastline, historical monuments, restaurants, shopping and more.Rhodes refereed to locally as Rhodos, is one of the largest of the Dodecanese islands at approximately 1.400 square kilometres in size and with just over 100,000 inhabitants. Rhodes coastline is approximately 220km in length and is breathtakingly beautiful. Rhodes is semi-mountainous in areas, particularly in the west of the island.
It is truly beautiful and very unique island which boasts amazing beaches, an incredible coastline, historical monuments, and restaurants just waiting to be explored.

The city of Rhodes is positioned at the Northern point of the island. Rhodes city is characterized by its "Old Town", an amazing medieval castle, lying side by side with the "New Town", a complete contrast and reminder of the extensive history and variety of influences that have made modern Rhodes what it is today.
The Greeks in Rhodes are known for their generosity, hospitality and warm nature. Many of the Greeks on Rhodes can speak English, German and often Scandinavian languages as well. This is largely due to the popularity of this island as a travel destination for many European countries.
Car Rental Rhodes FAQ
Can I rent a car in Rhodes if I am over 70?
Yes, you can hire a car in Rhodes from selected car rental companies up to 99 years of age with no extra charges. Get a quote Rhodes Car Hire for the best deals for the over 70's.
Can I rent a car at Rhodes Airport with a debit card?
Yes you can hire a car at Rhodes Airport with a debit card issued by a bank. Conditions of debit card use: card must be in main driver's name. MasterCard or VISA only. Debit cards must be issued by a bank, and numbers must be embossed. Please note, the deposit amount will be charged if using a debit card and associated transactions fees may apply. Maximum rental duration 28 days if using a debit card. Prepaid and electronic cards (Visa Electron) are not accepted. Be sure to check the filter for Both Credit and Debit Cards on the left side under the heading Cards Accepted At Pick-Up.
Can I rent a car in Rhodes if I am under 25?
You can hire a car in Rhodes at 23 years of age, with no additional fees, and at 21 for an additional supplement.
Can I take a rental car off the island of Rhodes?
Yes some car hire companies will allow you to take a rental car off the island, but you must get permission first. If you are interested using ferry boat, please inform supplier at time of pickup. Ferry-travel fee will be payable at rental desk.
How long do I need to hold a licence in order to rent a car in Rhodes?
A full licence held for minimum of 1 years with no major endorsements. UK licence holders need to present the photocard
What is the fuel policy on rental cars in Rhodes?
The vast majority of cars have a full to full fuel policy, which means Your vehicle will be supplied with a full tank of fuel. To avoid incurring fuel charges, you will need to return it with the same amount of fuel as it had when you collected it.
Car Rental Companies in Rhodes
We will compare the following Rhodes car hire companies in seconds to find you the cheapest car hire prices in Rhodes.

















Rhodes Car Hire Locations
Car Hire Reviews Rhodes Airport
This rating is taken from feedback we received from over 10,000 customers that booked car hire at Rhodes Airport in Greece over the last 12 months.
Rhodes Car Rental Locations
You can rent at Diagoras International Airport or at different locations across the island of Rhodes
Rhodes Car Hire Locations
Rhodes - Airport Rhodes Airport, Rhodes, Rhodes
Rhodes - Akti Miaouli Grand Hotel - 1, Akti Miaouli, Rhodes Island
Rhodes - Faliraki Sun Palace Hotel, Faliraki, 85100
Rhodes - Iraklidon 41 Iraklidon Str, Rhodes Island
Rhodes - Kameirou Avenue 14th klm, Rhodes-Kameirou Ave., Rhodes
Rhodes - Kremasti 207,Eleftherias Av., Kremasti
Rhodes - Lardos Lofiarika, Lardos, Rhodes
Rhodes - Pefkos Village Pefkos Village office, Rhodes
Rhodes - Rodos Palace Hotel Rodos Palace Hotel, Rhodes
Rhodes - Sun Palace Hotel Rhodes, Sun Palace Hotel, 851 00 Faliraki, Rhodes, 851 00
Rhodes - Sunwing Hotel Sunwing Hotel, Rhodes
Rhodes-Lindos Lindos, Vliha, Rhodes-Lindos, 85107
Rhodos - Papanikolaou St. Georgiou Papanikolaou st.17a, Rhodes
Rhodes Airport Information
Airport Name: Rhodes Airport
Airport Code: RHO
ICAO: LGRP
Address: Diagoras 851 06
City: Rhodes
Country: Greece
Telephone: 30 2241 088700
Fax:
Location: Rhodes Airport
Time Zone: GMT +
Coordinates: N 36.405418, E 28.086191
Driving Directions to Rhodes Airport
Car Parking: Long and Short Term Parking Facilities available
Public Transport:
Taxi service: available in front of terminal
Train service: Bus service: Buses to the city centre are available
Car Hire Rhodes Airport: The car rental companies desks are located in the arrivals hall
Information Desk: is located in the arrivals hall

Flights & destinations from Rhodes Airport
Aegean Airlines Athens, Larnaca , Rome-Fiumicino, Thessaloniki
Air Berlin Basel/Mulhouse , Berlin-Tegel, Dresden, Düsseldorf, Erfurt, Frankfurt, Münster/Osnabrück, Munich, Nuremberg, Paderborn/Lippstadt, Rostock, Zürich
Air Italy Polska Warsaw
Arkefly Amsterdam
Astra Airlines Kos, Larnaca, Mykonos, Santorini, Skiathos
Athens Airways Alexandroupolis , Athens, Thessaloniki
Austrian Airlines operated by Lauda Air Vienna
bmi East-Midlands
Condor Berlin-Schönefeld , Düsseldorf, Frankfurt, Hamburg, Hanover, Leipzig/Halle, Munich, Stuttgart
Cyprus Airways Heraklion, Larnaca
easyJet London-Gatwick , Milan-Malpensa , Liverpool
Edelweiss Air Zürich
Germanwings Cologne/Bonn
Hello Basel/Mulhouse, Zürich
Jat Airways Belgrade
Jetairfly Brussels, Liège
Jet2.com Leeds/Bradford , Newcastle , Manchester
Luxair Luxembourg
Niki Graz, Linz, Salzburg, Vienna
Norwegian Air Shuttle Oslo-Gardermoen
Novair Gothenburg, Malmö , Stockholm-Arlanda
Olympic Air Astypalaia, Athens, Chios, Heraklion, Karpathos, Kasos, Kastelorizo, Kos, Lemnos, Mytilene, Samos, Sitia, Thessaloniki
Sky Express Heraklion, Mykonos , Santorini
Thomas Cook Airlines Belfast-International, Birmingham, Bristol, Cardiff, East Midlands, Glasgow-International, Leeds/Bradford, London-Gatwick, Manchester, Newcastle
Thomson Airways Birmingham, Bristol, Cardiff, Doncaster/Sheffield, East Midlands, Exeter, Glasgow-International, London-Gatwick, London-Luton, London-Stansted, Manchester, Newcastle
Transavia.com Amsterdam, Eindhoven, Groningen, Maastricht, Rotterdam, Twente
Transavia.com France Paris-Orly
Trawel Fly Milan-Orio al Serio
TUIfly Basel/Mulhouse , Berlin-Tegel , Cologne/Bonn , Düsseldorf , Frankfurt , Hamburg , Hanover , Leipzig/Halle , Munich , Nuremberg , Stuttgart , Zweibrücken
White Airways Lisbon
Wizz Air Budapest
XL Airways France Paris-Charles de Gaulle, Lyon.
Rhodes Information
Rhodes Island is the main city on the island of Rhodes in the Dodecanese, Greece. Famous since ancient times, Rhodes was once home to one of the seven wonders of the ancient world. Although this masterpiece is now lost, the island continues to retain plenty of relics and monuments that capture the character and charm of its bygone days. One of the best-preserved medieval towns in Europe, Rhodes town has rightly earned its place as a UNESCO World Heritage Site. Add to that the sparkling blue seas, excellent climate and cuisine, and you have a first class holiday destination. .
Must see attractions in Rhodes
In Rhodes city, take a walk across the moat and through the arched entryway of Porte d' Amboise to visit the 15th century Palace of the Grand Masters. A perfectly preserved Byzantine fortress, this imposing structure is an integral part of the city and its history. Also visit the Governor's Palace, the well-known Hotel des Rhodes and the gorgeous mosque of Suleiman the Magnificent. The local windmills are beautiful, quaint little structures dotted along the waterline and well worth seeing. Get to know more about aquatic life in the aquarium and visit the archaeological museum, housed in the important medieval Hospital of the Kings, for a rich collection of ancient treasures.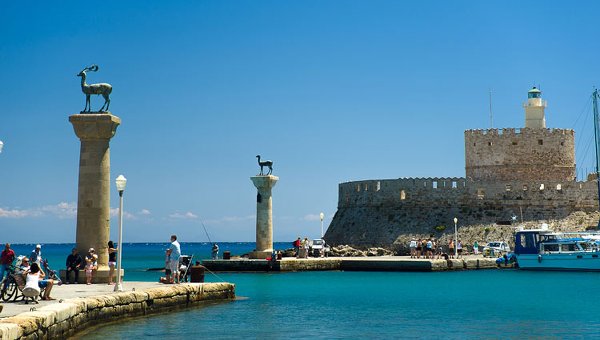 Rhodes
For a relaxing afternoon, enjoy ambling around the cobbled streets such as the Street of the Knights, taking time to explore the artisan foods, crafts and shops. Walk the walls of the old town and marvel at the medieval towers, gothic buildings and impressive facades. Head to Mandraki Port for lovely sea views; this Byzantine harbour is home to some recently excavated medieval shipwrecks. You can also visit the market for some top quality local produce. After visiting the port area, walk up to Monte Smith, the highest point of the town, for excellent panoramic photos of the marina.
Scenic drives in Rhodes
Collect your hire car at Rhodes airport and enjoy some of the beauty spots nearby. Just 3km outside of Rhodes town you can see the Theatre and Temple of Apollo at the Acropolis of Rhodes. Continue on to Filerimos, to view its restored monastery, the underground Chapel of Agios Georgios with its beautiful frescoes, and the 3rd century Temple of Athena and Zeus Polias. The Valley of Butterflies is an unusual, incredibly beautiful spot approximately 30km from Rhodes. A preserved nature area of lush valleys and waterfalls, it is a purposely protected haven for butterflies, where you can view a variety of species.
Heading 47km south of Rhodes town, travelling past picturesque villages, lush citrus groves, vineyards and aged olive trees, you will find Lindos, home to an Acropolis overlooking the Aegean. After viewing the ruins, take a swim in the secluded Stegna Beach before taking a trip to the ancient city of Kamiros to view its altar and public baths. For hot medicinal springs and a beautiful beach, try Kallithea, a wild, rocky spot that's just 8km outside of the city. Head a bit further to Tsambika, 28km outside of the city, for idyllic turquoise waters, golden sands and picture-perfect scenery; an ideal spot for sun bathing, sea swimming and relaxation.
Rhodes Road Trip
"The Island of the Knights" is one of the most popular tourist destinations in Europe. Wait, you do not know which island is that? Rhodes, of course! It is called that way after the Knights of Saint John of Jerusalem, who once conquered it. Besides the obvious reasons why you should visit it, like admiring the sights and going to any of its amazing beaches, Rhodes has a lot more to offer. It was one of the Seven Wonders of the Ancient World, and that is due to the Colossus of Rhodes. Also, the Medieval Old Town of Rhodes has been declared a World Heritage Site, so that says much about its historical value. Come on, let's take that rental car for a spin and discover this island!
If you want to be sure that you are going to get that 100% historical sense of the picture, then the Medieval City is definitely first on your must visit list. The sight of it is stunningly beautiful, and it would be a real loss not to drive towards it. In terms of architecture and culture, it is sort of the West meets the East, and this will give you a lot to explore and admire. Just be sure that you will have enough gas!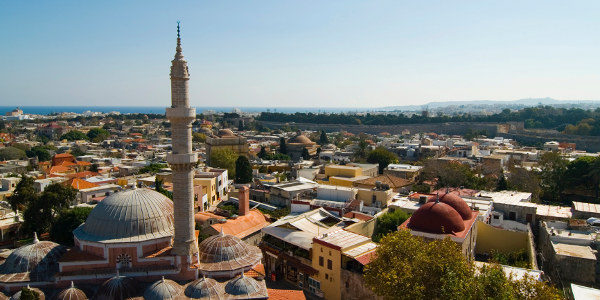 Rhodes
Why not continue your drive through history by going to another landmark, the Ancient Kamiros. The baths, the columns, the temples, the cistern, the house, those are all ruins that are meant just to fascinate you through how well they have been preserved. Of course that wherever you stand, you will have the chance to see amazing views, but if you manage to get to the top of the mountain, the greatness of the place is vowed to take your breath away.
If you are one of those people who love going to the beach, then you for sure know that a location like Rhodes is just the perfect fit for you. Since you have a variety of beaches, sometimes it might be difficult to choose. Who said you have to pick? Does not the sunny weather and the fact that you decided to rent a car make you want to visit them all? Prasonisi is a best way to start if you are in for one of the most amazing experiences of your life. Just imagine that you will have the privilege to drive towards a beach where two seas, the Mediterranean Sea and the Aegean Sea met each other. How often can you say that you have been at the crossroads of two seas? Thank God for all that parking space!
Feeling exhausted already? But how about all those are beaches that are waiting for you to give them a chance? Either we are talking Oasis Beach, Lardos Beach, Ladiko Beach, or any other of them, the only thing standing between you and the opportunity to see them all is you renting that car!
Don't Miss
The Valley of the Butterflies, Petaloudes
The valley of the Butterflies or Petaloudes is an enchanting, lush, natural park located on the western side of Rhodes. It is approximately 27km from Rhodes city and around 20km from Rhodes airport. This is one of the most popular attractions in Rhodes and once you visit this idyllic site you will see why. As the name suggests the main attraction at Petaloudes are the beautiful butterflies that visit this valley between the months of June through till September (with August being the prime month for the butterflies) in order to reproduce. Trickling streams, waterfalls, quaint wooden bridges, all add to the idyllic setting at Petaloudes. There is also a restaurant in the park overlooking a waterfall.
Historical Site of the Acropolis of Lindos
Towering over the quaint city is the Acropolis of Lindos, a historical monument dating back to the Neolithic period. Built on this site are many other historic monuments including the temple of the Lindian Athena which is built on the highest point of the site.
This is truly an unforgettable experience. As you explore the sandstone remnants that were once filled with life, you cannot help but feel humbled as you become a part of this incredible history.
Mandraki Harbour
Take a stroll around Mandraki harbour which has been a very active harbour for over 2500 years. Located just outside the Old town this picturesque harbor is worth seeing. The two famous deer statues are at the entrance of the harbor and are said to be located where the "Colossus of Rhodes" used to lie. Surrounding the harbor you will witness an array of unique and grand buildings, each representing different periods in Rhodes history and the influence of different cultures that have played a role in shaping this unique island.
Old Town of Rhodes
The grand medieval castle was built in approximately 14 century BC by the Knights of John in order to protect its inhabitants from any external dangers. The medieval castle is now the oldest inhabited medieval city in Europe. This truly grand and majestic castle is now the very active highlight of the Modern city of Rhodes, with hundreds of restaurants, shops and attractions it is incredible to walk within the walls of this historic castle.
Archeological Museum of Rhodes
The medieval building of the hospital of the Knights is home to the Archeological Museum. The completion of the building was in approximately 1489 and is an attraction in itself. On display in the Museum are various artifacts that have been discovered during the many excavations on the Island. These artifacts are from a variety of historical periods.
he Archeological museum has six rooms and a garden which exhibit these amazing artifacts. Some of the highlights in the museum are the statues "the Head of a Grieving Woman" from the 4th century BC and the striking statue of Aphrodite bathing from the 1st Century BC.
Pefkoi Pefkos Beach
Pefkoi or Pefkos beach is approximately a 10 minute drive from Lindos and is probably one of the most pristine beaches on Rhodes Island. Adding to the beaches magic is its narrow stretch of sand; waves wash up to the cliff face surrounding the beach, at times covering the sand completely. As you relax on your sun bed you can put your feet in the sand underneath you and feel the waves wash under you, so beautiful and very relaxing. There are limited amenities on this beach; however, shops and restrooms can be located in the nearby restaurants and hotels.
Ancient Kameiros Kamiros
The archeological site of Kameiros is amazing. The city of Kameiros was one of the three most powerful cities in Rhodes during the Dorian period. Archeological findings suggest that this suburb was constructed in approximately 6th Century BC. Present day Kameiros stretches across the northwest coast of Rhodes. This suburb is said to have been built on three levels with the Acropolis, temple of Athena and the Stoa reportedly built at the highest point of the city. Unfortunately, during a major earthquake of 226BC large amounts of the city were destroyed, including the temple of Athena. Not only is the site magnificent but the views from the site are too. The decline of Kameiros occurred gradually due to the inhabitants abandoning the area, the reasons are still unknown.
Faliraki Water Park
After you have seen the many sites that Rhodes has to offer it is definitely time to cool off at Faliraki Water Park. The biggest water park in Europe, it is the perfect place to cool off on a scorching summer's day. The park caters for all ages with different rides appropriate for different age groups. There are lifeguards on site and food and drinks are available.
The Palace of the Grand Master of the Knights of Rhodes
This is definitely one of the most beautiful and awe inspiring buildings in all of Rhodes. A majestic and eerie palace; located in the medieval part of Rhodes city, a truly magnificent building. Originally constructed in the 14th century the palace was then destroyed in 1856 and was reconstructed by the Italians who at this time occupied Rhodes. In 1948 when Rhodes was reunited with the rest of Greece the palace was then transformed into a museum.
Hotels Near Rhodes Airport

Hotel Mediterranean.
is set in the heart of Rhodes' most popular sandy beach near the Aquarium, minutes away from Rhodes city, next to the Casino and a small distance from the Medieval City, Castle of the Knights and Ancient Ruins. Perfectly positioned, Mediterranean is one of the very few hotels of the island that combines the benefit of proximity to Rhodes town, for those who seek to take advantage of the city life or explore the attractions of the Medieval town, with the comforts and hospitality provided by a luxury hotel on the beach front.
Rodos Park Suites & Spa Hotel
in an unbeatable location , spectacular view culinary excellence personal service and a harmonious balance of well being are only some of the features of Rodos Park Suites & Spa. In the most beautiful spot of the town, surrounded by green parks and gardens, the Hotel Rodos Park Suites & Spa , with 30 rooms and 29 elegant and sophisticated suites offers an exclusive accommodation with the signature of the personal service. The open air Restaurant " Le Bistro" next to the pool, combines the culinary splendor with a unique atmosphere.
The Best Western Plaza Hotel in Rhodes
is a 4 star hotel, located in one of the nicest areas of Rhodes or Rodos town. Close to all amenities and main attractions of the island, it is the ideal location for the holiday makers and the business visitors alike.Open All year round. Your gateway to the Greek Islands. It is a very welcoming & relaxing hotel, in the centre of the modern city of Rhodes, just 400m from the famous Medievall Walled Town Of Rhodes and Mandraki Marina, 200 m from Elli beach and the Casino of Rhodes. It is a perfect base either for a relaxing holiday and exploring the attractions and myths of the Island or for Business Traveler who wants everything within easy reach