Thessaloniki Airport Car Rental
Last Updated: 3rd March, 2019
Thessaloniki Airport Makedonia is located 15 km South East of Thessaloniki. With over 5 million passengers per year it is now the fourth busiest airport in Greece, behind Athen, Heraklion in Crete and Rhodes. The terminal is laid out over three floors. The first floor is arrivals, second floor is departures and the third floor is bars and restaurants with a viewing area to watch planes arrive and depart.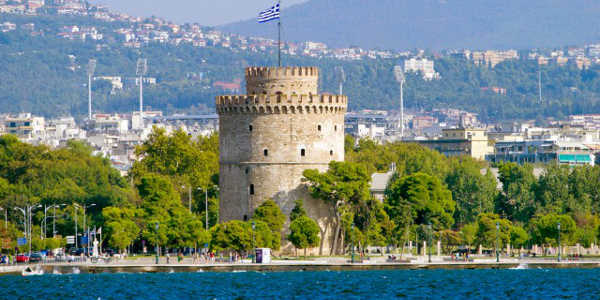 Thessaloniki airport car hire network will you get you the cheapest car hire deals in Thessaloniki Greece. We compare the prices from the leading rent a car companies such as Avis, Hertz, Budget for you to save you time and money.
style="width:100%">
Thessaloniki Car Rental Locations

Thessaloniki
Pickup Address:
Thessaloniki

Opening Hours:
Monday: 08:00 - 18:00
Tuesday: 08:00 - 18:00
Wednesday: 08:00 - 18:00
Thursday: 08:00 - 18:00
Friday: 08:00 - 18:00
Saturday: 09:00 - 14:00
Sunday: Closed
---
Thessaloniki Car Rental Locations
You can pick up or frop off your car at Thessaloniki Airport Makedonia or in the following locations in Thessaloniki city centre
Thessaloniki City Car Hire
Downtown 19 Kountouriotou Str, Thessaloniki
G.Papandreou Street 35, Thessaloniki, 54646
Georgikis Scholis Georgikis Scholis 130,
Thessaloniki Airport Information
Airport Name: Thessaloniki Airport
Airport Code: SKG
ICAO: LGTS
Address: Thessaloniki
City: Thessaloniki
Country: Greece
Telephone: 00 231 098 5001
Location: Thessaloniki Airport
Time Zone: GMT + 2
Coordinates: 40°31′11″N 22°58′15″E
Driving Directions to Thessaloniki Airport
Car Parking: Long and Short Term Parking Facilities available
Public Transport:
Taxi service: available in front of terminal
Train service: Bus service: From out side the main terminal
Car Hire: The car rental companies desks are located in the arrivals hall
Information Desk: On the ground floor

Flight Destinations from Thessaloniki Airport
Aegean Airlines
Athens, Chania, Düsseldorf, Frankfurt, Heraklion, Kos , Larnaca, Milan-Malpensa, Munich, Mykonos , Mytilene, Rhodes, Santorini Stuttgart
Air Berlin
Berlin-Tegel , Dresden , Düsseldorf , Erfurt , Frankfurt , Hamburg ,Hannover , Leipzig/Halle , Munich, Nuremberg , Paderborn/Lippstadt , Stuttgart, Zürich
Air One
Rome-Fiumicino
Athens Airways
Athens, Chania, Chios, Corfu/Kerkyra, Mytilene, Rhodes, Samos
Austrian Airlines
Vienna
Austrian Airlines
Air Vienna
Blue Air
Bucharest-Băneasa, London-Stansted, Paphos
British Airways
London-Gatwick
Cyprus Airways
Larnaca, Paphos, Paris-Charles de Gaulle
Czech Airlines
Prague
EasyJet
Basel-Mulhouse Berlin-Schönefeld, Dortmund, London-Gatwick, Milan-Malpensa
Georgian Airways
Tbilisi
Germanwings
Cologne/Bonn, Stuttgart
Jat Airways
Belgrade
Jetairfly
Brussels
Kuban Airlines
Krasnodar
Malév Hungarian Airlines Budapest
Olympic Air Athens
, Chios, Corfu, Heraklion, Kalamata, Limnos, Mytilene, Samos, Skiros, Preveza, Kefalonia, Zakynthos
Rossiya St Petersburg
Sky Express
(Greece) Kos
Swiss International Air Lines
Zürich
TAROM
Bucharest-Henri Coandă
Tatarstan Airlines
Kazan, Moscow, Heraklion
Thomas Cook Airlines
London-Gatwick , Manchester
Thomson Airways
Birmingham, Bristol, East Midlands, London-Gatwick, London-Luton, Manchester, Newcastle upon Tyne
Ural Airlines Yekaterinburg
Viking Airlines
Stockholm-Arlanda
VIM Airlines
Moscow-Domodedovo
Wizz Air
Prague
Thessaloniki See & Do
Thessaloniki, or the co-capital of Greece, as it is often called, has to be on your bucket list when considering paying a visit to the land of gods. The city is known worldwide as a very popular tourist destination. What do you think, does its vibrant cultural environment, such as festivals and other major events, have something to do with it, or is it because Thessaloniki is home of numerous Byzantine monuments, including the Paleochristian and Byzantine monuments, a UNESCO World Heritage Site? You know how they say, why not all of them? Let's go and check it!
If you are all about a deep understand of the historical Greek Macedonia, the Archeological Museum is the perfect choice for you. Good thing you have already rented a car so it will be really easy for you to get there. You will be pleased to find out what this museum has to offer you, from the most explicit exhibit of Prehistoric Macedonia, the metropolis of Macedonia, the gold of Macedonia, and last but not least, Thessaloniki. For those of you who are history and archeology fans, this drive is worth your while.
Thessaloniki has a lot to offer you, and beautiful old churches are on the list. If you are in the mood of visiting a church, the "must not miss" is the Church and Crypt of Ayios Dimitrios. The historical journey will be unforgettable, since you may consider it as a museum in a shape of a crypt. The beautiful icons and the mosaics will charm you from the minute you walk in there, not to mention the relics of St. Dimitrios are kept there.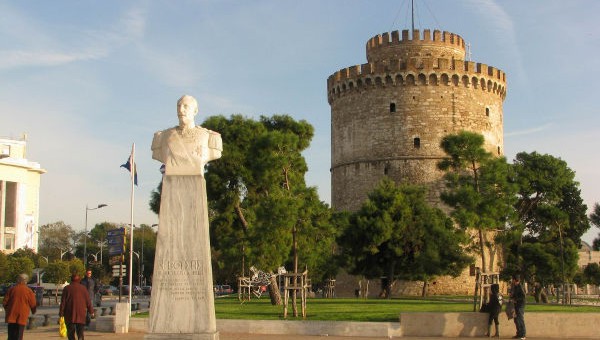 If you are in the mood for some fun, then you should take your rental car for a spin to the Aristotelous Square. Attention shopping lovers, the well known Tsimiki road is nearby! Oh, but maybe the fancy cafes and restaurants along the way have already caught your eye. If not, then you must be in luck, since the Thessaloniki sea side is just 2 minutes away. They did not call it the European Youth Capital in 2014 for nothing, did not they?
Do you know what else Thessaloniki has to offer you? The perfect opportunity to go to Athens. Not to be mean, the city of Thessaloniki is great, but you already have that rental car, and let's be honest, who could resist knowing all about Greece, nevertheless seeing it with your own eyes? Just picture this, you having the opportunity to visit the home to two UNESCO World Heritage Sites, the Acropolis of Athens and the medieval Daphni Monastery, then chilling at the Glyfada Beach while admiring the sights of the capital. Now just go ahead and rent that car, the lands of Greece are just waiting to be explored!
Boasting an incredible climate, beautiful seascapes, and seemingly never-ending ancient treasures, Thessaloniki is a beautifully preserved city to visit, retaining its charm and culture. Cosmopolitan, historically important and lively, it's the perfect destination for any curious, adventurous or sun-seeking traveller. With such a large number of ancient remains and ruins on show, Thessaloniki feels like an open-air museum. Visit the impressive 2nd Century AD forum, the 4th century Rotunda church and the Triumphal Arch of Galerius. Also seek out the Galerius Maximianus Palace and various temples – all within easy reach. Make sure you also take time to see the Modiano glass roof covered market, the archaeological museum and book an evening of entertainment at the Thessaloniki Concert Hall.
Recommended scenic drives in Thessaloniki
If you have around six hours to spare, take a day trip to Athens. The drive will take you through gorgeous countryside, including rugged coasts, wild plains and impressive mountainous terrain. Collect your hire car from Thessaloniki airport, sort out a packed lunch and plenty of water, then head into the sun to discover what the Greek capital has to offer.
For a shorter drive, try Kavala, a 6th century port town with a historic old centre, gorgeous panoramic views over the port and plenty of excellent seafood. Kavala is also the gateway to the island of Thassos, just a short boat trip across the ocean. Vergina is another lovely destination that also offers a pretty driving route. Only 90km from Thessaloniki, this beautiful is home to a UNESCO World Heritage burial site.
Outdoor lovers and those seeking tranquil relaxation should try the Edessa waterfalls; approximately 1.5 hours drive from Thessaloniki. Expect gorgeous waterfalls that you can walk and swim under, hiking and cycling trails and stunning views that celebrate the beauty of nature.
Hotels Near Thessaloniki Airport

Avalon Hotel Thessaloniki
No 903 RantchOf Thermi , Thessaloniki, 57001 Welcome to Avalon Hotel Thessaloniki, synonym of luxury in every aspect. Its unique location – 1.5km from Macedonia Airport & 15 minutes drive from City Centre makes it an ally of every demanding Guest. You will experience special treatment in a warm and friendly atmosphere. Enjoy the immediate service and an excellent trained staff and let your self escape in the pleasant warmth of an earthly heaven that will certainly satisfy your highest demands. Hotel Avalon is a meeting point for professionals as well as for guests of pleasure that search for absolute luxury. During your stay you will have the chance to taste distinguished.
The Golden Star Hotel
Aktis 73 Perea, Thessaloniki, 57019 The Golden Star Hotel is a modern, totally renovated property, situated on its own blue flag awarded private beach just 20 minutes from Thessaloniki's city centre. The 44 fully renovated guestrooms, over four floors, have light, modern decor with light wood furniture and bright fabrics. All of the rooms open out on to balconies. Amenities include A/C, Satellite TV, direct-dial phones, wireless Internet access, hairdryers, sofa beds and refrigerators. Bathrooms have bathrobes and hair dryers. Visitors are well located to explore the area with shopping, a gym and bowling just 100 meters from the hotel, and the Regency
Queen Olga Hote
44 Vas. Olgas Ave , Thessaloniki, 54641 Built with high standards and designed by artists, Gueen Olga hotel is known for its high quality service. The hotel features 148 rooms, a restaurant with view on the Thermaikos Gulf, a lounge/bar, wireless internet corners, 3 conference rooms and indoor and outdoor parking lots. It has a privileged location near the city center and at the same time in peaceful surroundings.
Tourist Hotel
Mitropoleos 21 , Thessaloniki, 54624 Tourist hotel is located next to Aristotelus Square, in the heart of the city and and it offers it's services since 1923. We are between the famous seaside road and the notorius commercial market of Tsimiski street, only 100 meters away from Ladadika ( old part of town ). Tourist Hotel's friendly staff team is happy to help you with any enquiries and local information. Tourist Hotel has become a landmark in Thessaloniki, setting the standards for aesthetics and quality of service.
Les Lazaristes Domotel
Les Lazaristes Domotel is located directly opposite the arts centre, Moni Lazariston, Les Lazaristes Domotel offers modern luxury and free parking just 10 minutes' drive away from Thessaloniki centre. The hotel?s restaurant, located by the outdoor pool, serves breakfast buffet and Greek and International cuisine. The bar and lounge serve Cuban cigars. Domotel's ideal location allows direct access to the city centre, the White Tower, Ladadika, the airport, harbour, the railway station and the main highway..
Excelsior Hotel
is a boutique hotel located in the center of Thessaloniki. State of the art technology and chic interiors come as a pleasant surprise within the historical early 20th century of the Building. 34 Boutique rooms offer ambience of peace and calm in a city that never sleeps. Homemade delicacies for breakfast can be enjoyed either in the mezzanine floor, or the hotels lavish roof garde
Electra Palace Hotel Thessaloniki
is a 5-star hotel features a rooftop terrace garden and an ideal location, facing Aristotelous Square, just minutes from Eleftherias Square and Thermaikos Gulf. Electra Palace Hotel Thessaloniki?s historic architectural style reflects on the city?s Byzantine history. All rooms and suites are tastefully decorated and furnished.Guests can enjoy breakfast, lunch, and dinner on the rooftop restaurant while taking in panoramic views of the Thermaikos Gulf, Mount Olympus, the Seich Sou Hill, and Thessaloniki?s old castles.Electra Palace is ideally situated within the business, cultural and shopping heart of the city. Nearby attractions include the White Tower, and the Byzantine History Museum. Electra Palace is 15 km from Macedonia International Airport, 1 km from the main railway station and 500 metres from the port.