Car Hire Kefalonia Airport
Cephalonia International Airport
Last Updated: 30th June, 2023
Kefalonia Airport open in 1971 is located on the Island of Kefalonia, is the largest of Greece's Ionian Islands, close to the town of Argostoli. Greece's Ionian Islands being Zakynthos, Lefkada, Kerkyra(Corfu), Paxi(Paxos), Ithaki, Kythira and Kefalonia. Kefalonia was the film location for Captain Corelli's Mandolin starring Nicholas Cage and Penelope Cruz and John Hurt.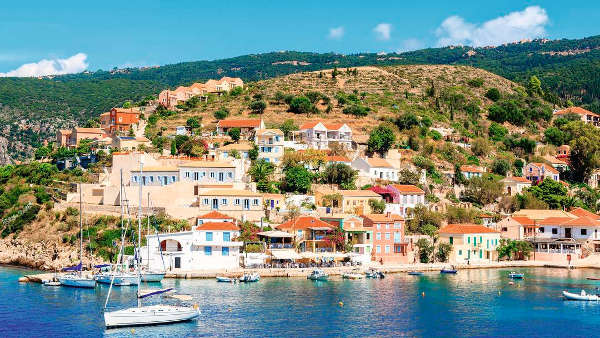 Kefalonia Airport CarHire Network provides discount car rentals from the following rent a car companies in Kegalonia Hertz, Avis, Alamo, Budget Dollar, National Sixt, Thrifty Europcar
Kefalonia Car Rental FAQ
What is the best car hire company at Kefalonia Airport?
Based on feedback from over 10,000 customers who hired a car at Kefalonia Airport, Enterprise Car Hire had the best customer satisfaction rating with a score of 9.1. We will compare all car hire companies at Kefalonia Airport in order to get you the best deal to suit your requirements.
Can I rent a car at Kefalonia Airport with a debit card?
Yes you can hire a car at Kefalonia Airport with a debit card issued by a bank. Conditions of debit card use: card must be in main driver's name. MasterCard or VISA only. Debit cards must be issued by a bank, and numbers must be embossed. Please note, the deposit amount will be charged if using a debit card and associated transactions fees may apply. Maximum rental duration 28 days if using a debit card. Prepaid and electronic cards (Visa Electron) are not accepted. After the search results appear be sure to check the filter for Both Credit and Debit Cards. This is located on the search results page at the bottom of the left column under the heading Cards Accepted At Pick-Up. This will display the car hire companies that will accept a debit card for car hire at Kefalonia Airport. Please feel free to contact us TEL +353 (0)16852606 and we will be glad to assist you.
Can I rent a car at Kefalonia Airport Greece if I am over 70?
Yes, you can hire a car at Kefalonia Airport from selected car rental companies up to 99 years of age. There is no additional fees. Contact us and we will be glad to assist you by comparing the leading car hire companies to get you the best deal.
Can I rent a car at Kefalonia Airport if I am under 25?
You can hire a car at Kefalonia Airport if you are over 21 years of age. Young driver's age: 21 to 24 years. Charge 5 EUR per day. Maximum 70 EUR. Includes 24% tax. Please contact us directly and we will be glad to explain how to get the best deal for your age group.
Can I take a rental car from Greece to another country?
Vehicles must not be taken out of Greece.
Can I take a rental car on a ferry to a Greek Island?
Yes most companies will allow it, but it is advisable to check in advance as it varies from company to company.
How long do I need to hold a licence in order to rent a car in Kefalonia Airport?
A full licence held for minimum of 1 year with no major endorsements. UK licence holders need to present the photo card
Which documents do I need to hire a car at Kefalonia Airport?
The principle driver will need to have the following documents in his or her name. A full licence, a credit card, the voucher we will send you when you complete your booking, and a passport.
What is the fuel policy for a hire car in Kefalonia Airport?
The vast majority of cars have a full to full fuel policy, which means Your vehicle will be supplied with a full tank of fuel. To avoid incurring fuel charges, you will need to return it with the same amount of fuel as it had when you collected it.
Kefalonia Car Hire Locations
Kefalonia Car Rental Locations
Car hire Kefalonia Airport
Kefalonia - Airport Meet & Greet service, Kefalonia, Kefalonia EFL
Car hire Kefalonia city centre
Argostoli 18,Vergoti Str.,, Kefalonia, Argostoli
Efimia Paraliaki odos 29, Ag. Efimia, Kefalonia, Kefalonia Island
Lassi Lassi, Kefalonia
Rizospaston Rizospaston 29, 282 00, Lixouri, Kefalonia Island
Xi Xi, Katogis,, Kefalonia,, 282 00, Kefalonia Island
Kefalonia Airport Information
Airport Name:
Kefalonia Island International Airport
Airport Code:
EFL
ICAO:
LGKF
Address:
28100 Minies, Kefalonia Greece
City:
Argostoli
Country:
Greece
Telephone:
+30 2671029900
Time Zone:
GMT + 2
Coordinates:
Driving Directions to Kefalonia Airport
Car Parking:
Car parking spaces are limited as this is a small terminal, some long term and short term parking spaces available but limited.
Taxi service:
Available in front of terminal
Train service:
No train service
Bus service:
Private mini vans available to travel to near by towns from Kefalonia Airport. Some hotels have their own private transport to the hotel.
Car Hire:
The car rental desks are located in the arrivals hall
Information Desk:
Located in the arrivals hall
Facilities
Enen though Kefalonia Airport is a small airport it offers the visitor the following facilities:
Restaurants and Shops and Pubs
Duty Free Shop
Information Desk
Car Parking
Post Office
Tourist Information Desk
Post Office
Flight Destinations from Kefalonia Airport
Adria Airways Graz, Klagenfurt, Ljubljana
Aegean Airlines Athens
Austrian Airlines Vienna
Aviolet Blue Panorama Airlines Rome-Fiumicino
Czech Airlines Prague easyJet Summer seasonal: London-Gatwick, Manchester,[6] Milan-Malpensa
Flybe Birmingham
Jet2.com East Midlands, Edinburgh, Leeds/Bradford, Manchester
Mistral Air Bari, Naples
Norwegian Air Shuttle Oslo-Gardermoen
Olympic Air Athens
Ryanair Bergamo, London-Stansted, Pisa
Scandinavian Airlines Stockholm-Arlanda
Sky Express Corfu, (PSO), Heraklion, (PSO), Kythira (PSO), Preveza/Lefkada (PSO), Zakynthos(PSO)
Small Planet Airlines London-Gatwick, Poznań, Warsaw, Katowice
Thomas Cook Airlines Birmingham, Bristol , London-Gatwick, London-Stansted,[10] Manchester, Newcastle upon Tyne Thomson Airways Birmingham, Bristol, Cardiff, London-Gatwick, London-Luton, London-Stansted, Manchester, Newcastle upon Tyne TUI Airlines Netherlands Amsterdam [11]
Transavia Amsterdam
Vueling Rome-Fiumicino

Hotels Near Kefalonia Airport

Aenos Hotel
Aenos Hotel Argostoli, Vallianou Square , Argostoli,, 28100 Hotel AENOS has its roots back to the 18th century. It was originally build in 1780 and served as a family mansion for permanent residence. It belonged to Count Metaxas, a family connected with important historical events of recent history of Greece. Today the Hotel Aenos in Argostoli is open with every convience for the visitor. Argostoli is a town of historical significance, it replaced the Castle of St. George as the capital of Cephalonia in 1757, an event that marked its development as the commercial and administrative center of Cephalonia. . In 1941, during the Second World War, Mussolini's forces occupied Cephalonia and AENOS HOTEL was turned to the officers' club. The catastrophic earthquake in 1953 destroyed most of the Ionian Islands.
The Apostolata Island Resort & Spa
The Apostolata Island Resort & Spa is situated on the South-East coast of the island of Kefalonia. Is set on a hillside which slopes gently to the sea with wonderful panoramic views. Additionally, nesting grounds for the Caretta-Caretta Turtle can be found in the area. Surrender to comfort at the Apostolata Island Resort & Spa. Beautifully situated on a hillside, slopping gently to the sea allowing dazzling Mediterranean views. Enjoy pampering spa treatments, sailing, and swimming, followed by delicious meals in our sea Pearl Restaurant. Visit the village of Scala, famous for its Roman Villa or explore the village of Poros all within easy reach of our Kefalonia hotel.
Panorama Hotel
Panorama Hotel offers beautiful views of the sea and the bay of Argostoli, Panorama provides self-catering accommodation at Fanari, 500 metres from the island's capital, Argostoli. All apartments feature a fully equipped kitchen with fridge and kitchen table. Each has its own bathroom and balcony with views of the bay of Argostoli. The complex features a swimming pool, a garden and a private parking area. The cosmopolitan beaches of Platis Yialos and Makris Yialos can be found within 1.5 kilometres from the hotel.