Mykonos Car Rental
Last Updated: 3rd March, 2019
Mykonos Airport is located 4km from Chora town. It mainly operates during the summer months. It is the tenth busiest airport in Greece with just under a million visitors per annum.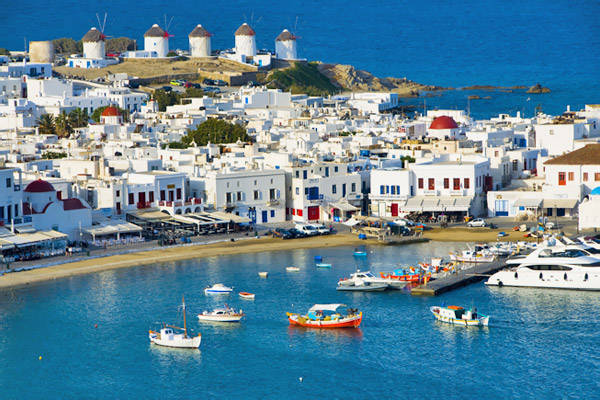 Mykonos Airport Car Hire we compare the following rent a car companies.Hertz, Advance Avis, Budget, Sixt, to get you the cheapest car hire in Mykonos. Large selection of car to choose from VW golf, Ford Fiesta, Jeeps, convertibles, and large 7 seat passenger vans.
Car Rental Companies in Mykonos




Mykonos Car Rental Locations
Car Hire Mykonos Airport
Airport EFL Airport (Prima RAC), Mykonos JMK
Car Hire Mykonos
Airport EFL Airport (Prima RAC), Mykonos JMK
Kato Mili Kato Mili, Chora Mykonou, Mykonos, 84600
Louis Theoxenia Myloi Mykonou, Mykonos, 84600
Mykonos Port PORT OF MYKONOS, MYKONOS
Omvrodektis Omvrodektis, Myconos
Mykonos Airport Information
Airport Name: Mykonos Airport
Airport Code: JMK
ICAO: LGMK
Address: Mykonos Greece
City: Mykonos
Country: Greece
Telephone:
Time Zone: GMT + 2
Coordinates: 37.260646 025.205317
Car Hire: Advance rent a car, AVIS, Budget, Hertz, and Sixt car rental desks are located in the arrivals hall
Driving Directions to Mykonos Airport
Car Parking: Long and Short Term Parking Facilities available
Taxi service: Available in front of terminal
Train service: There is no train service
Bus service: A bus service operates to the town
Information Desk: Located in the arrivals hall
Facilities: Dutyfree shops, cafes, restaurants

Disabled Persons & PRM:
Disabled Persons and Persons with Reduced Mobility (PRM), who will require assistance at the airport, should request it in advance. Assistance can be requested by contacting the airline or travel agency at least 48 hours before the departure time of the flight.
Flight Destinations from Mykonos Airport
Aegean Airlines
Athens, Thessaloniki
Air Berlin Munich
, Nuremberg , Stuttgart
Astra Airlines
Kos, Larnaca, Rhodes, Santorini, Skiathos
Athens Airways
Athens, Thessaloniki
AtlasJet
Istanbul-Atatürk
Austrian Airlines
operated by Lauda Air Vienna
Blu-express
Rome-Fiumicino
EasyJet
London-Gatwick , Milan-Malpensa , Paris-Orly Rome-Fiumicino
Edelweiss Air
Zürich
Germanwings
Cologne/Bonn
Olympic Air
Athens
Sky Express
Heraklion, Rhodes, Santorini
Thomson Airways
Manchester
Thomas Cook Airlines
(Belgium) Brussels
Mykonos See & Do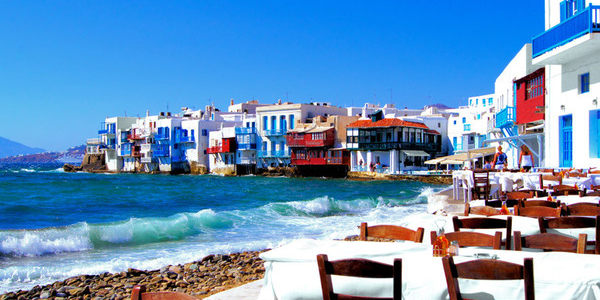 Talking about Little Venice, since you are already on the road with that rental car of yours, how about driving over there? The building are right against the sea wall, and if you are feeling really romantic, you can actually dine by the water and feel the water spray on your toes. Prepare yourself for a nice shopping tour, since there are a lot of shops in the area.
Castle Panigirakis is another do-not-miss location. You will most likely feel like royalty when walking in, but the grounds of the castle are not to be neglected either. This place is lovely if you are into sightseeing, but the history associated with it will also fascinate you.
Since your journey through Mykonos has just started and you have a lot of fuel in your tank to wonder around the island, then you should give the Monastery of Paleokastro a chance. This church is very representative for the orthodox confession, and in terms of architecture and history, it is a true wonder! Just imagine two chapels and a fortified square tower at the foot of a tall conical hill as a sight!
As previously mentioned, Mykonos is the perfect place if you are looking for a nice, comforting holiday at the beach. It's either Lia Beach, Psarou Beach, or Panormos Beach, alongside with the many others, you have all the place you dreamed and all the parking space you need in order for you to get that true taste of a wonderful vacation on one
Mykonos don't miss
Mykonos one of the Islands off mainland Greece, part of the Cyclades Islands and considered one of the cosmopolitan islands favoured by the jet set in earlier years. Mykonos is connected to mainland Greece by several regular flights.
Exploring Mykonos in your rent a car visit the whitewashed village of Ano Mera and visit the Panagia Tourliani Monastery.
Looking for a Beach stop try Kalo Livadi Beach or Elias Beach and the film Shirley Valentine was filmed on the Agios Ioannis Beach.
Visit Hora the capital of Mykonos and explore the town with it lovely white houses.
A must see is Mykonos's famous Windmills which were used to grind grain in olden times.
The Alefkandra quarter or Little Venice Mykonos to enjoy seeing the sun go down.
Tour the Island of Delos off Mykonos
Take a tour also of the Old Town of Mykonos.
Hotels Near Mykonos Airport

Porto Mykonos Hotel
Porto Mykonos Hotel boasts the most ideal location in the town of Mykonos, overlooking the quiet pace of the Port and the dark colors of the sea through the rooms' windows and balconies. The charm of the Cyclades and the lifestyle of Mykonos are combined with the serenity of a privileged location, just a short stroll away from Mykonos town. The hotel's sea view pool offers magnificent views for sunbathers and, after sunset, it is lit with candles and sparkling lights from town that evidence the active nightlife at the short distance.
Andronikos Hotel
Throughout the ANDRONIKOS HOTEL, at every turn, a unique concept and design is unveiled before you: the atmospheric surroundings and the relaxed ambience of the hotel lead you into a new way of experiencing free time. This 'new generation' hotel is built on the edge of the town of Mykonos and lies within easy reach from every centre of activity on this cosmopolitan island. We try to pleasantly surprise, excite and release you into your vacation. We offer peace, rejuvenation and reverie to remember.
Villa Nireas
Villa Nireas is a brand new with an eye catchy sea view complex consisted of two maisonettes, suitable for 4 persons, one maisonette for 2 persons and two apartments for 2 persons. "Villa Nireas" lies only 4Km from the capital "Chora" of Mykonos and just 300m from Platy Gialos beach, one of the most beautiful beaches with crystal clear blue water, picturesque local taverns and water sport facilities. Daily boats from Platy Gialos set sail to the most famous and appreciated beaches of the island such as Paraga, Paradise, Super Paradise, Agrari and Elia. The Owners Zouganeli Family, invested their loving care and attention to detail aiming to synthesize traditional Cycladic architecture with modern comforts and facilities. Unique decoration of each apartment, built shower equipment according to Mycenaean architecture and the hand-made furnishings are testifying the owner's lust and love for natural material. Traditional houses but, equipped with all these modern comforts focalizing everything is needed for dreaming unforgettable vacations, with patios where the sight travels uninterrupted into the unbounded deep blue of the sea.