Santorini Car Rental FAQ
What is the best car hire company at Santorini Airport?
Based on feedback from over 10,000 customers who hired a car at Santorini Airport, Hertz Car Hire had the best customer satisfaction rating with a score of 8.4. We will compare all car hire companies at Santorini Airport in order to get you the best deal to suit your requirements.
Can I rent a car at Santorini Airport with a debit card?
Yes you can hire a car at Santorini Airport with a debit card issued by a bank. Conditions of debit card use: card must be in main driver's name. MasterCard or VISA only. Debit cards must be issued by a bank, and numbers must be embossed. Please note, the deposit amount will be charged if using a debit card and associated transactions fees may apply. Maximum rental duration 28 days if using a debit card. Prepaid and electronic cards (Visa Electron) are not accepted. After the search results appear be sure to check the filter for Both Credit and Debit Cards. This is located on the search results page at the bottom of the left column under the heading Cards Accepted At Pick-Up. This will display the car hire companies that will accept a debit card for car hire at Santorini Airport. Please feel free to contact us TEL +353 (0)16852606 and we will be glad to assist you.
Can I rent a car at Santorini Airport Greece if I am over 70?
Yes, you can hire a car at Santorini Airport from selected car rental companies up to 99 years of age. There is no additional fees. Contact us and we will be glad to assist you by comparing the leading car hire companies to get you the best deal.
Can I rent a car at Santorini Airport if I am under 25?
You can hire a car at Santorini Airport if you are over 21 years of age. Young driver's age: 21 to 24 years. Charge 5 EUR per day. Maximum 70 EUR. Includes 24% tax. Please contact us directly and we will be glad to explain how to get the best deal for your age group.
Can I take a rental car from Greece to another country?
TMost car hire companies in Greece will not permit a hire car to be taken outside of Greece. However we have arrangements with two companies that will allow travel into following European Countries: Andorra, Belgium, Bulgaria, Bosnia, Denmark, Finland, France, Gibraltar, Germany, Great Britain, Ireland, Liechtenstein, Luxembourg, Monaco, Netherlands, Norway, Austria, Portugal, Sweden, Switzerland, Croatia, Italy, the Vatican, San Marino, Poland, Romania, Slovakia, Slovenia, Serbia, Czech Republic, From, Hungary and Spain. Restrictions do apply. Out of country rentals require prior approval and are charged an additional 10 EUR per day with a 90 EUR fee for the green card.
Can I take a rental car on a ferry to a Greek Island?
Yes most companies will allow it, but it is advisable to check in advance as it varies from company to company.
How long do I need to hold a licence in order to rent a car in Santorini Airport?
A full licence held for minimum of 1 year with no major endorsements. UK licence holders need to present the photo card
Which documents do I need to hire a car at Santorini Airport?
The principle driver will need to have the following documents in his or her name. A full licence, a credit card, the voucher we will send you when you complete your booking, and a passport.
What is the fuel policy for a hire car in Santorini Airport?
The vast majority of cars have a full to full fuel policy, which means Your vehicle will be supplied with a full tank of fuel. To avoid incurring fuel charges, you will need to return it with the same amount of fuel as it had when you collected it.
Santorini Car Rental Locations
Car hire Santorini Airport
Airport Santorini Airport terminal, Santorini Island JTR
Car hire Santorini
Santorini delivery service, Santorini
Akrotiri Delivery Service, Akrotiri
Fira Fira, Santorini, Santorini
Kamari Delivery Service, Kamari
Koloumbo Delivery Service, Koloumbo
Messaria Messaria, Santorini Island
Monolithos Delivery Servise, Monolithos
Oia delivery service, Oia
Perisa Delivery Service, Perisa
Perivolos Deliveru Service, Perivolos
Pirgos Delivery Service, Pirgos
Port Santorini Port, Santorini
Vothonas Delivery Service, Santorini - Vothonas
Santorini Airport Information
Airport Name:
Santorini Airport
Airport Code:
JTR
ICAO:
LGSR
Address:
Monolithos, 84700 Santorini Greece
City:
Santorini
Country:
Greece
Telephone:
+30 2286026400
Fax:
+30 2286033349
Time Zone:
GMT + 2
Coordinates:
Driving Directions to Santorini Airport
Car Parking:
Long and Short Term Parking Facilities available
Taxi service:
Available in front of terminal
Train service:
No train service
Bus service:
o Fira, from here buses can be taken to other towns. Buses to Thira, 10 or 15 mins. Many hotels in Santorini have their own buses for airport transfers.
Car Hire:
The car rental desks are located in the arrivals hall
Information Desk:
Located in the arrivals hall in Santorini Airport
Facilities:
Flight Destinations from Santorini Airport
Aegean Airlines Athen Larnaca Thessaloniki Bucharest Tel Aviv-Ben Gurion
Air Serbia Belgrade
Alitalia Milan-Linate
Astra Airlines Mykonos, Thessaloniki
Austrian Airlines Graz, Linz, Vienna
British Airways London-Heathrow
BA CityFlyer London-City
Blue Panorama Airlines Bologna, Catania, Rome-Fiumicino
Condor Düsseldorf, Frankfurt, Munich, Stuttgart
EasyJet London-Gatwick, Manchester, Milan-Malpensa, Rome-Fiumicino
Edelweiss Air Zürich
Finnair Helsinki Germanwings Cologne/Bonn
Germania Hamburg
HolidayJet Airways Zürich Jet Time Copenhagen
Jetairfly Brussels
Minoan Air Heraklion
Meridiana Bologna, Milan-Malpensa, Naples, Verona
Niki Vienna
Norwegian Air Shuttle Copenhagen, Helsinki, London-Gatwick Oslo-Gardermoen, Stockholm-Arlanda
Novair Oslo-Gardermoen
Ryanair Athens
Scandinavian Airlines Bergen, Oslo-Gardermoen, Stavanger, Trondheim
Sky Express Heraklion, Mykonos, Volos
Small Planet Airlines London-Gatwick
TAROM Bucharest
Thomas Cook Airlines Birmingham, London-Gatwick, Manchester, Newcastle upon Tyne
Thomson Airways Birmingham, Bristol London-Gatwick, Manchester
Transavia.com Amsterdam
Transavia.com France Nantes, Paris-Orly
Volotea Athens Naples, Palermo, Venice
Vueling Barcelona, Bilbao, Florence, Rome-Fiumicino
Santorini See & Do
Someone said something about a hot long summer? Well, let's see how hot it can get when visiting the island of Santorini, since it's the remnant of a volcanic caldera. No, there is no need for you to be worried, that volcano already erupted, but luckily for you, you have a lot of sights to check out as a consequence. Picture this: an enormous central lagoon surrounded by high steep cliffs from three sides, just to have the forth side separated from the sea by a much smaller island, Therasia. Not enough? No worries, you will have endless possibilities in terms of history and landmarks visiting.
Let's start the drive through Santorini with a pit stop to the Ancient Thera. You have plenty of space to park your rental car next to the site, so not having enough energy for exploring it is out of the question. Do your best to climb to the top because once you will get there, the views that you are about to see will be unforgettable. You cannot be in Santorini without visiting Ancient Thera, even more if you are a fanatic about archeological sites.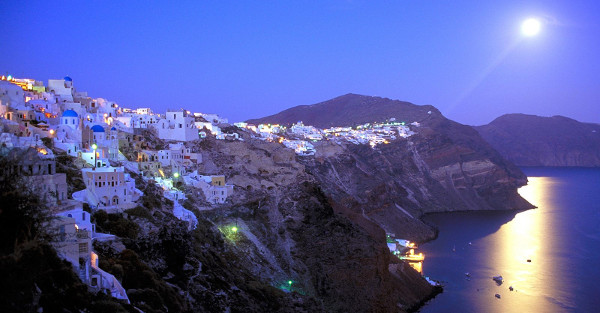 Santorini Greece
One of the perfect place to go to since you already have that rental car of yours is the Monastery of Profitis. Since is the highest point in the entire island, guess who is going to be able to take a look at the entire island? Feeling like on the top of the world already?
Another cannot miss in Santorini is the Red Beach. Yes, it is red as its name says! Take your camera with you, this one must be immortalized. A big red cliff looking like it was just cut right out of the island, surrounded by that turquoise water? It is possible, it is accessible by car, it is real and it is waiting for you to drive over there!
Up for some more picturesque views from the same "blue water, red cliffs" category? Then drive your rental car to the Amoundi Bay, the place will make you want to move in Santorini permanently. After all, who could deny a nice lunch next to the waters of the Aegean Sea? Fresh sea food is included in the menu, of course. For those of you who are in an adventurous mood, this is the perfect place for going to a swim or doing some cliff jump.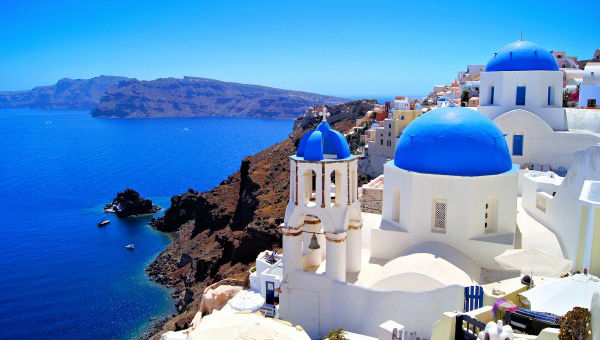 Santorini Greece
After all this fun and chilling in the lovely sun of Santorini, driving to the Santo Winery seems like a good idea, isn't it? Breathtaking views, amazing wine selection, who could ask for more? The winery has not only a great location, since it's overlooking the port, but it also has massive wine flights, all of which recommends it as the perfect place to spend at least an entire afternoon while on the island of Santorini. Rented that car yet?
Driving in Santorini
Grab your rental car, selfie stick, and sunblock for a personalized tour of Santorini. When people around the world imagine seaside Greece, this is what they are seeing in their minds. With white-washed cube buildings lining rocky cliffs and the turquoise ocean below, life couldn't get much better than on this picturesque island.
Inheriting its rugged shaped scenery from a volcanic eruption in 16th century BC, the Greek isle of Santorini overlooks the Aegan Sea, where you may see one of the most colorful sunsets of your life. A popular place to see this sunset is in the town of Oia, which sits at the northernmost point of the island; therefore, starting your road trip in the south is recommended.
Begin in Akrotiri, where you can explore an archaeological site that was buried under the detrimental volcanic eruption mentioned above. Rumor has it that this site inspired Pluto's tale of Atlantis because of its remarkable remnants frozen in time. Another notable activity in Akrotiri is sea kayaking, where you can escape the crowds, learn a new sport, and hear about the historical magic of the Santorini isle.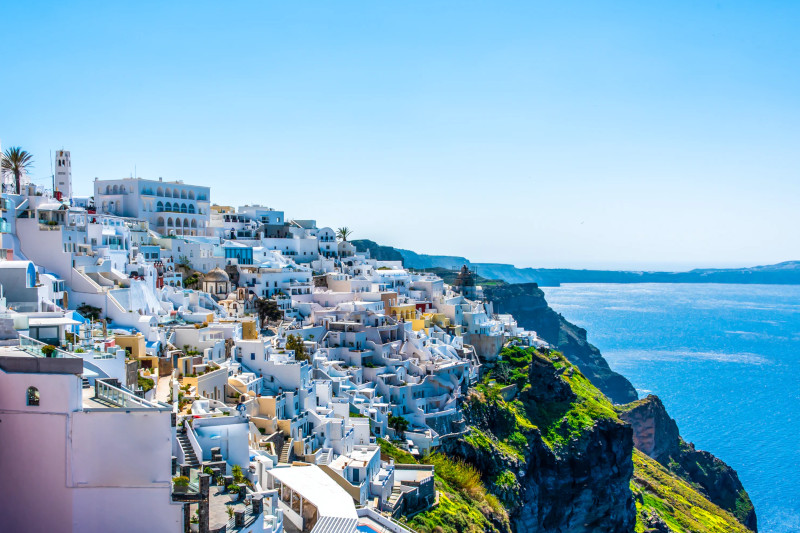 Santorini village, Greece
If you're a beach fan (and who isn't?), you'll want to spend time at Perissa Beach, one of the nicest beaches in Santorini. You'll find sanction in the village of Perissa through electric bicycling or simply lounging under a tiki-style umbrella. Don't forget to stop by casual spot Bob's Bar for a refreshing island cocktail or take the family to the Santorini Waterpark.
To see more Greek ruins, you'll want to drive onto Kamari, where tourists love to venture through ancient Thera, a town founded in 9th century BC by Spartan colonists. From here, you'll be at the highest point of Santorini creating the best view of the island making it well worth the trek upwards.
Further north from Kamari sits Fira, where there are a few more tourist attractions including The White Door Theatre for a unique night out. If you're a fan of wine, history, and culture, Fira is for you as there are centuries-old cathedrals, wineries and wine bars, art galleries, and multiple museums. There are also a few options for tours to see wildlife, go sailing, or learn more about the location.
Out from there you can stop by Koloumpos Beach or drive straight into Oia, the town mentioned above where you'll definitely want to time your arrival to watch the sunset. Travelers rave about this and say that you will NOT want to miss it. You can see it from a boat tour out on the ocean, or you can join the town as they crowd to see the breathtaking moment. A couple of vantage points are the castle and the windmills, but asking the locals beforehand could lead you to the best spot. If you are here during any part of the day, there is more to explore like the Amoudi Bay or the picturesque winery at Domaine Sigalas.
From paradise beaches to ancient ruins, the extraordinary culture and landscape in Santorini is profuse, intriguing, and worthy of a charming island drive.
Hotels Near Santorini Airport

Atlantida Villas
Atlantida Villas resort is located in Oia, overlooking the Santorinian Caldera & opposite the volcano. The hotel offers various types of traditional accommodations as studios ,apartments & suites all accommodation are built such a way that overlooking the caldera of Santorini, aiming at satisfying all visitors of the complex. Atlantida Villas traditional hotel of Santorini hotels belong to A class category of Santorini hotels due to this location it is the ideal place for quiet and peaceful vacations in Greece.
Dana Villas
Dana Villas enjoy an excellent location at a quiet area just outside Fira's centre, offering magnificent views of the volcano and the famous Santorini sunset. The hotel has a 70 square metre swimming pool, pool bar, restaurant, café, an outdoor heated Jacuzzi and a wedding terrace. Dana Villas offers a variety of well-appointed and elegantly decorated rooms and suites. Each is equipped with cable TV, air condition, DVD and CD players, safety deposit box and coffee making facilities. The view of the volcano, caldera and breathtaking sunset are guaranteed from all our room types and open air premises. Besides the many facilities, Dana Villas complement guests with free wireless internet access and 24 hour reception service. Free minibus transfer to the port and the airport is provided to all guests during the summer season.
Porto Fira Suites
Porto Fira Suites, Caldera Cliffs these traditional suites sitting on the edge of the cliff offer panoramic views of Fira Bay and the volcano. Porto Fira Suites feature uniquely shaped king size beds, wireless internet, satellite TV and balconies overlooking Santorini's world-famous sunsets. Airport shuttle service is provided and the helpful staff is happy to arrange for bicycle or car rental. Free Wi-Fi internet access is available throughout the property. Porto Fira Suites' location close to Fira, provides the perfect base for walks around the old quarter of Fira or boat excursions to the volcano and the island of Nea Kameni.
Aroma Suites
Aroma Suites, Agiou Mina, Fira with stunning views to the volcanic island of Nea Kameni and Aegean Pelagos, this little hotel offers guests comfortable accommodation in a great location. Built in the charming style of Cycladic architecture, Aroma Suites provides a serene, quiet haven for relaxation on the magnificent island of Santorini. With gentle lighting and vibrant joyful colours, rooms are clean and simply decorated to themes of herbs or spices such as Lemongrass and Spearmint. All rooms have air conditioning and balconies with wonderful views
Blue Palace Bay
Blue Palace Bay is a family run hotel in Perivolos of Santorini. It is situated just a few meters from the black, sandy beach of Perissa. Its privileged location makes it the ideal lodging for short or long term vacations. The hotel is build according to the traditional style of Cyclades islands with blue and pale colourings prevailing at all its spaces. It has spacious and sunny apartments that can accommodate up to four guests. They have traditional furnishing and all the necessary facilities for a pleasant stay. All rooms are equipped with A/C, satellite TV, bathroom and safe deposit boxes. A balcony with breathtaking view to the sea and the swimming pool is available to all rooms