Kos Airport Car Hire KGS
Kos International Airport Hippocrates
Last Updated: 30th June, 2023
Kos Airport Car Hire Network will compare car hire in Kos to provide you with the best deal and cheapest car rental on the Island of Kos in Greece. We will discount prices from the following rent a car companies. Advance car Rental, Hertz, Avis, Budget Dollar, National Sixt, Thrifty, New fleet of cars available for business or pleasure.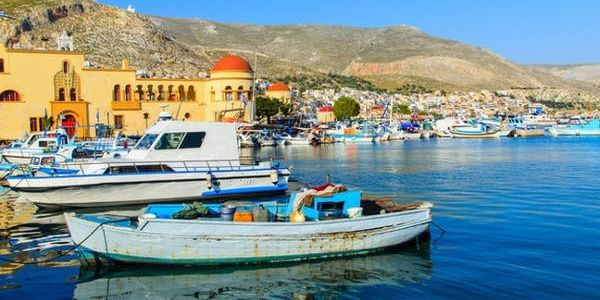 Kos Harbour, Greece
Most popular rental cars are Suzuki Jimny jeep with Gps to tour the beautiful island of Kos. If you are looking for cheap car hire in Kos Greece let us search the market for you to get the best prices for a hire car.
Kos Airport is just 24 km from Kos city centre a journey that will take approximately 30 minutes along the Epar Od Ko-Kefalou. The journey to and from the city centre takes about 30-35 minutes. 
Kos Car Rental FAQ
What is the best car hire company at Kos Airport?
Based on feedback from over 10,000 customers who hired a car at Kos Airport, Enterprise Car Hire had the best customer satisfaction rating with a score of 9.1. We will compare all car hire companies at Kos Airport in order to get you the best deal to suit your requirements.
Can I rent a car at Kos Airport with a debit card?
Yes you can hire a car at Kos Airport with a debit card issued by a bank. Conditions of debit card use: card must be in main driver's name. MasterCard or VISA only. Debit cards must be issued by a bank, and numbers must be embossed. Please note, the deposit amount will be charged if using a debit card and associated transactions fees may apply. Maximum rental duration 28 days if using a debit card. Prepaid and electronic cards (Visa Electron) are not accepted. After the search results appear be sure to check the filter for Both Credit and Debit Cards. This is located on the search results page at the bottom of the left column under the heading Cards Accepted At Pick-Up. This will display the car hire companies that will accept a debit card for car hire at Kos Airport. Please feel free to contact us TEL +353 (0)16852606 and we will be glad to assist you.
Can I rent a car at Kos Airport Greece if I am over 70?
Yes, you can hire a car at Kos Airport from selected car rental companies up to 99 years of age. There is no additional fees. Contact us and we will be glad to assist you by comparing the leading car hire companies to get you the best deal.
Can I rent a car at Kos Airport if I am under 25?
You can hire a car at Kos Airport if you are over 21 years of age. Young driver's age: 21 to 24 years. Charge 5 EUR per day. Maximum 70 EUR. Includes 24% tax. Please contact us directly and we will be glad to explain how to get the best deal for your age group.
Can I take a rental car from Greece to another country?
TMost car hire companies in Greece will not permit a hire car to be taken outside of Greece. However we have arrangements with two companies that will allow travel into following European Countries: Andorra, Belgium, Bulgaria, Bosnia, Denmark, Finland, France, Gibraltar, Germany, Great Britain, Ireland, Liechtenstein, Luxembourg, Monaco, Netherlands, Norway, Austria, Portugal, Sweden, Switzerland, Croatia, Italy, the Vatican, San Marino, Poland, Romania, Slovakia, Slovenia, Serbia, Czech Republic, From, Hungary and Spain. Restrictions do apply. Out of country rentals require prior approval and are charged an additional 10 EUR per day with a 90 EUR fee for the green card.
Can I take a rental car on a ferry to a Greek Island?
Yes most companies will allow it, but it is advisable to check in advance as it varies from company to company.
How long do I need to hold a licence in order to rent a car in Kos Airport?
A full licence held for minimum of 1 year with no major endorsements. UK licence holders need to present the photo card
Which documents do I need to hire a car at Kos Airport?
The principle driver will need to have the following documents in his or her name. A full licence, a credit card, the voucher we will send you when you complete your booking, and a passport.
What is the fuel policy for a hire car in Kos Airport?
The vast majority of cars have a full to full fuel policy, which means Your vehicle will be supplied with a full tank of fuel. To avoid incurring fuel charges, you will need to return it with the same amount of fuel as it had when you collected it.
Kos Information
Famous for its lush landscape, historical sites and ruins, fabulous climate and friendly atmosphere, Kos offers a traditional village feel, combined with lively nighttime entertainment. The old harbour in Kos town is a real focal point, with its lovely views over the sea and imposing castle of the Knights of the Order of Saint John at its entrance.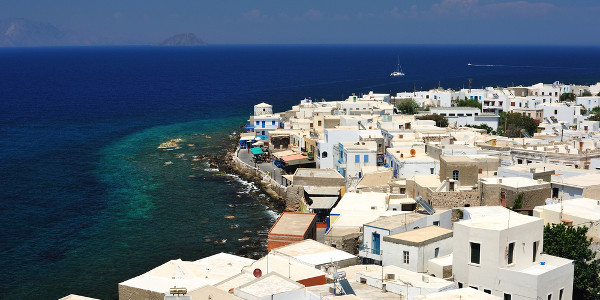 Kos Town, Greece
Traverse the ancient stairways to the Thermes bathhouse and the Agora and follow in the footstep of ancient ancestors. Visit the informative Archaeological Museum and the Folk Museum to get a feel for how the island of Kos and its people have evolved through the ages. The cosmopolitan marina on the outskirts offers yacht hire, boutique shopping and high-class eateries for a day of decadence.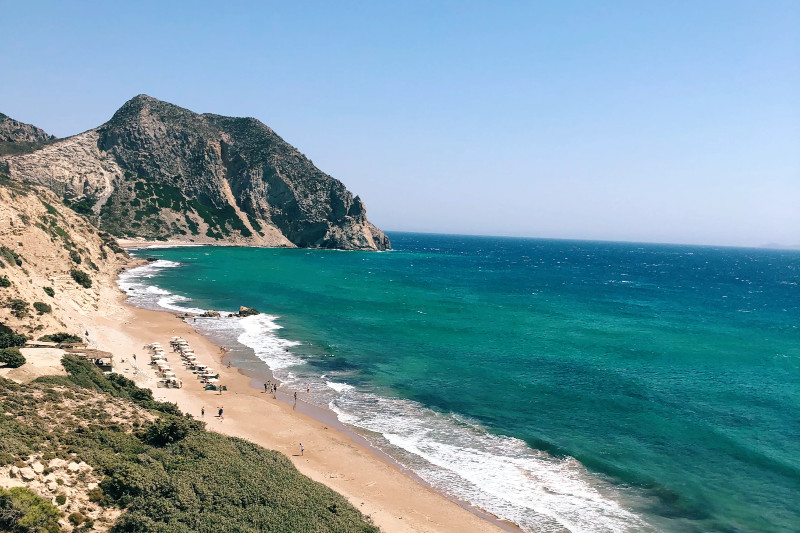 Kos Beach, Greece
Scenic drives in Kos
Collect your hire car at Kos airport or in any of the downtown locations and head out to explore what the rest of the island has to offer. Just 11km from Kos Town, Tigaki is a beautiful and relaxing haven, perfect for sun worshippers and beach lovers who'd like to get away from it all for the day. Explore the mountainous roads leading to the pretty village of Asfendiou, visit some of the sprawling vineyards and wander the beautiful greenery of Pyli. Antimachea is another worthwhile drive; while you're there, visit the traditional 20th century House of Antimachia, the medieval castle and the Old Priest's Mill.
Kos Car Rental Locations
Kos airport and in the following locations on the island 2 Charmylou Street, Club Mediterranee, 4 Georgiou Papandreou street, Lagas village hotel, Vas. Georgiou B Avenue 46
Kos Downtown Car Rental
Kos - Airport Kos Airport, Kos, Kos Island
Kos - Charmylou 2 Charmylou Street, Kos Island
Kos - Club Mediterranee Club Mediterranee, Kos Island
Kos - Downtown 4 Georgiou Papandreou Str., Kos Island
Kos - Kardamena LAGAS VILLAGE HOTEL, KARDAMENA, 85300
Kos - Vas. Georgiou B Avenue 46 Vas. Georgiou B Avenue, Kos, Kos Island
Kos Airport Information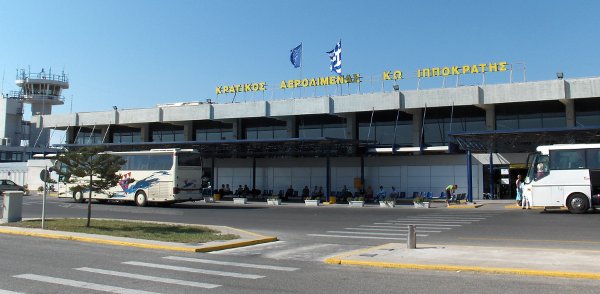 Kos Airport, Greece
Airport Name: Kos Airport Hippocrates
Airport Code: KGS
Address: Kos 853 02, Greece
City: Kos
Country: Greece
Telephone: +30 2242056000
Fax: +30 2242051833
Location: Kos Airport Hippocrates is 22kms from the town of Kos and is close to the village of Antimahia. Olympic and Aegean Airlines are the main national airlines. Kos, one of the Greek Islands, part of the Dodecanese islands is situated in the Aegean Sea, off the coast of Turkey and lying north east off the Island of Crete.
Time Zone: GMT + 2
Driving Directions to Kos Airport Take the Epar Od Ko-Kefalou to the airport from Kos City
Car Parking: Long and Short Term Parking Facilities available
Public Transport:
Taxi service: available in front of terminal
Train service: Bus service: KTEL bus service operates from KOS Airport to KOS town centre.
Car Hire: The car rental companies desks are located in the arrivals hall. Avance, Avis Budget, Hertz Thrifty, Sixt
Information Desk: is located just inside the main entrance


Flight Destinations from Kos Airport
The following airlines operate flights to and from Kos Island International Airport
Adria Airways Ljubljana
Aegean Airlines Athens, Thessaloniki
Air Berlin Basel/Mulhouse, Berlin-Tegel, Cologne/Bonn, Dresden, Düsseldorf, Hamburg, Hanover , Leipzig/Halle, Münster/Osnabrück , Munich, Nuremberg, Paderborn/Lippstadt, Zürich
Arkefly Amsterdam
Astra Airlines Larnaca, Mykonos, Rhodes, Santorini, Skiathos
Austrian Airlines operated by Lauda Air Vienna
BMI East-Midlands
Condor Berlin-Schönefeld Düsseldorf Frankfurt, Hamburg Leipzig/Halle Munich Stuttgart
Edelweiss Air Geneva , Zürich
El Al Tel Aviv
Israir Tel Aviv
Jet2 Manchester [
Jat Airways Belgrade
Jetairfly Brussels
Monarch Airlines London-Gatwick, Manchester
Neos Milan-Malpensa, Milan-Linate, Verona, Bologna, Rome-Fiumicino
Niki Linz, Salzburg, Vienna
Norwegian Air Shuttle Stockholm-Arlanda
Olympic Air Athens, Leros, Rhodes
Sky Express Heraklion, Thessaloniki
Smart Wings Prague
TUIfly Basel/Mulhouse , Cologne/Bonn , Düsseldorf , Frankfurt , Hamburg , Hanover , Munich , Nuremberg , Stuttgart
Thomas Cook Airlines Birmingham, Bristol, East Midlands, Glasgow-International, London-Gatwick, Manchester, Newcastle upon Tyne
Thomas Cook Airlines (Belgium) Brussels, Liege
Thomas Cook Airlines Scandinavia Billund, Copenhagen, Oslo-Gardermoen
Thomson Airways Birmingham, Bristol, Cardiff, Doncaster/Sheffield, London-Gatwick, Manchester
Transavia Amsterdam, Paris-Orly
Kos Road Trips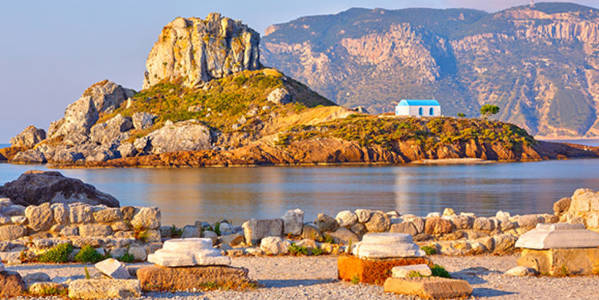 Kos Beach, Greece
The island of Kos, as any other corner of the beautiful Greece, has that irresistible charm, that mix of history and lovely beaches. When in Kos, you have two options. Either focus on the historical part, with its 14th century fortress at the entrance of the harbour, or the Ancient Agora, that was considered one of the biggest in the ancient world, either decide to explore, sunbathe and dive into those amazing clear waters from one of the numerous beaches you will encounter. The choice is yours, but as someone once said, why not both?
Since anyone can be fascinated by the thought of how people of another culture live and what are their traditions, why not starting to know their past and learn a little more about their history? One of the best suggestions is try visiting a little gem of location, called the Roman Odeon of Kos. Good thing that parking your rental car is really accessible, and you will have plenty of time to admire the original architecture of the walls, the fascinating tunnels underneath and the unique mosaic off the side.
Antimachia Castle
Talking about the 14th century did not make you a little bit curious? You will be pleased to find out that the entry to the Antimachia Castle is free, and driving there is the best way to access the area. This fortress has it all! Nice view to the sea and Karmadera, the sight of mountain Diakon behind and a lot of untouched natural beauty all around it.
Another similar landmark is the Paleo Pili fortress. It has a parking lot next to that enchanting little chapel, so you have no reason not to add it on your bucket list, more since you have already rented that awesome car! Of course, amazing views when getting to the top of it and the historical atmosphere induced by the well preserved site are included.
Xerokambos Beach
Didn't you get in the mood for some relaxation from all this serious talk? Well, you will be then happy to know that a lot of amazing beaches are at your disposal! One of them is the Xerokambos beach. This is a must visit when in Kos, since is an exotic beach and is known to offer one of the best experiences of a lifetime. Not only that you can take your rental car and drive towards it, but Xerokambos promises to offer you the cleanest of the sands, the loveliest of the waters and the most private and quiet time of your holiday, all in one place.
Still, there are a lot of adventure lovers out there, and for them, the Aquatica Water Park is the most preferable option. What else to do on this sunny island if not having a blast trying the slides and the rides that this park has to offer? The most awesome thing? There is an entire parking lot just waiting for you and your rental car!

Hotels Near Kos Airport

The Imperial Hotel,
Kos was established by the Stamatiadis family in the early 80's . The Imperial is a family-run hotel which aims to give guests that particular feeling of having your holidays amongst friends. The family efforts are being rewarded by the increasing number of repeat guests over the years.
Hotel Imperial is situated in Kos Town, 500 m from the harbour. The nearest beach is only 250 m away. The location is ideal for all kind of tastes. The hotel is at the side street parallel to the main one leading to the harbour. The area provides for shopping, entertainment and relaxation. There are plenty of shops, mini & supermarkets, tavernas & restaurants, coffee shops & bars at a walking distance.
Lagas Aegean Village
Lagas Aegean Village is a hotel resort located on the golden sandy shores of the south coast of Kos Island. Its' layout and use of space is characteristic of the distinctive Aegean architecture. Built on a slope, every corner offers magnificent views of the endless deep blue Aegean Sea. The main building lounges are located at the bottom of the slope, while all 328 rooms are situated on the hillside, which are accessed by the 24-hour complimentary mini-bus service. All rooms have been renovated and refurbished.