Chania Airport Car Hire
Ioannis Daskalogiannis Airport
Last Updated: 1st May, 2021
Chania International Airport, know as Ioannis Daskalogiannis Airport CHQ is situated on the North West side of Crete near Souda Bay just 10 kms to the city of Chania. It is named after the 18th century Cretan rebel Ioannis Daskalogiannis. One of two International Airports on the Greek Island of Crete.
Chania Airport Car Hire in Crete will compare the prices of the local car hire companies Avis, Hertz, Budget, Sixt, Europcar and many more to get the best deal for you. Car rental prices are fully inclusive and clearly laid out so you know exactly what you are getting. Choose from small mini and budget car to open top jeeps and convertibles. 7 and 9 seater jeeps are also available for larger groups. Whichever you choose you can be assure of the cheapest car hire in Crete
Crete Chania Car Rental FAQ
What is the best car hire company at Crete Chania Airport?
Based on feedback from over 10,000 customers who hired a car at Crete Chania Airport, Enterprise Car Hire had the best customer satisfaction rating with a score of 9.1. We will compare all car hire companies at Crete Chania Airport in order to get you the best deal to suit your requirements.
Can I rent a car at Chania Airport Crete with a debit card?
Yes you can hire a car at Chania Airport with a debit card issued by a bank. Conditions of debit card use: card must be in main driver's name. MasterCard or VISA only. Debit cards must be issued by a bank, and numbers must be embossed. Please note, the deposit amount will be charged if using a debit card and associated transactions fees may apply. Maximum rental duration 28 days if using a debit card. Prepaid and electronic cards (Visa Electron) are not accepted. Be sure to check the filter for Both Credit and Debit Cards on the left side under the heading Cards Accepted At Pick-Up. This will display the car hire companies that will accept Debit Cards. Please contact us and we will be glad to explain how rent a car with a debit card
Can I rent a car at Crete Chania Airport Greece if I am over 70?
Yes, you can hire a car at Crete Chania Airport from selected car rental companies up to 99 years of age. There is no additional fees. Contact us and we will be glad to assist you by comparing the leading car hire companies to get you the best deal.
Can I rent a car at Crete Chania Airport if I am under 25?
You can hire a car at Crete Chania Airport if you are over 21 years of age. Young driver's age: 21 to 24 years. Charge 5 EUR per day. Maximum 70 EUR. Includes 24% tax. Please contact us directly and we will be glad to explain how to get the best deal for your age group.
Can I take a rental car from Greece to another country?
TMost car hire companies in Greece will not permit a hire car to be taken outside of Greece. However we have arrangements with two companies that will allow travel into following European Countries: Andorra, Belgium, Bulgaria, Bosnia, Denmark, Finland, France, Gibraltar, Germany, Great Britain, Ireland, Liechtenstein, Luxembourg, Monaco, Netherlands, Norway, Austria, Portugal, Sweden, Switzerland, Croatia, Italy, the Vatican, San Marino, Poland, Romania, Slovakia, Slovenia, Serbia, Czech Republic, From, Hungary and Spain. Restrictions do apply. Out of country rentals require prior approval and are charged an additional 10 EUR per day with a 90 EUR fee for the green card.
Can I take a rental car on a ferry to a Greek Island?
Yes most companies will allow it, but it is advisable to check in advance as it varies from company to company.
How long do I need to hold a licence in order to rent a car in Crete Chania Airport?
A full licence held for minimum of 1 year with no major endorsements. UK licence holders need to present the photo card
Which documents do I need to hire a car at Crete Chania Airport?
The principle driver will need to have the following documents in his or her name. A full licence, a credit card, the voucher we will send you when you complete your booking, and a passport.
What is the fuel policy for a hire car in Crete Chania Airport?
The vast majority of cars have a full to full fuel policy, which means Your vehicle will be supplied with a full tank of fuel. To avoid incurring fuel charges, you will need to return it with the same amount of fuel as it had when you collected it.
Chania Airport Crete Airport Car Hire Locations
Chania Car Rental Locations
You can rent a car at Chania airport where or in other locations in Chania listed below
Chania Car Hire
Chania Anapafseos St 2 Anapafaseos Street, Chania, Crete Island
Chania Downtown 12 El. Venizelou Str., Chania, Crete Island
Chania Kato Stalos Chania Hotel, Chania, Crete Island
Chania marna Agia Marina, Chania, Crete Island
Chania Nea Kydonia Shopping Center of Agia Marina, Nea Kydonia, Crete
Chania Platanias Chania -, Crete Island, Platanias
Chania Port Meet & Great Service, Chania
Chania-Louis Princess Hotel Louis Creta Princess Hotel, Chania, 73014

Car Hire for drivers aged 19 & 25 years in Crete
Young drivers aged between 19 and 25 years of age, can rent a car in Crete. Drivers aged 19 to 21 will need to pay an additional daily fee. The amount will vary based on the age group and the rental company. Europcar have the highest fee of €20 per day but this only applies to 19 to 21 year olds. Over 22 there are no additional fees. Goldcar charges young driver's age 21 to 24 years €5 per day.
This fee will be included in the rental price and will be payable on arrival at the rental desk in Crete in Euros.
Car Hire For over 70's in Crete
Drivers between the ages of 65 to 99 may rent a car in Crete without incurring any additional supplement fees. All the rates quoted are fully inclusive and have no hidden fees. This is the drive away price.
Drivers over 100 years of age are unfortunately unable to rent a car in Crete.
Driving licence requirements in Crete
A full licence held for minimum of 1 years with no major endorsements. UK licence holders need to present the photo card.
Chania Airport Information
Airport Name:
Chania Airport
Airport Code:
CHQ
ICAO:
LGSA
Address:
Chania 731 00, Greece
City:
Chania
Country:
Greece
Telephone:
30 2821 083800
Fax:
Location:
Chania Airport
Time Zone:
GMT + 2
Coordinates:
N 35.531746 E 24.149677
Car Hire:
The car rental companies' desks are located in the arrivals hall
Driving Directions to Chania Airport
Car Parking:
Long and Short Term Parking Facilities available
Public Transport:
Taxi service:
available in front of terminal
Train service:
Bus service:
From the fron of the building operates a service into Chania
Information Desk:
At the arrivals hall
Flight Destinations from Chania Airport
Aegean Airlines Athens, Thessaloniki
Air Berlin Berlin-Tegel Nuremberg
Air Italy Polska Katowice, Warsaw
Athens Airways Athens, Thessaloniki
Austrian Airlines Lauda Air Graz , Linz , Vienna
Condor Düsseldorf, Frankfurt, Munich, Stuttgart
Iberworld Barcelona, Kalmar, Karlstad, Luleå, Madrid, Norrköping, Odense, Skellefteå, Sundsvall, Umeå, Visby, Växjö, Örebro, Östersund
Jat Airways Belgrade
Luxair Luxembourg
Novair Copenhagen, Gothenburg, Oslo, Stockholm
Olympic Air Athens, Thessaloniki
Smart Wings Prague
Thomson Airways Birmingham, London-Gatwick, Manchester
Transaero Moscow-Vnukovo
transavia.com Amsterdam
TUIfly Nordic Billund, Copenhagen, Gothenburg, Helsinki, Malmo, Norrköping, Oslo, Stockholm-Arlanda, Stockholm-Skavsta
Diagoras International Airport Chania
Arrivals & Departures Times
Chania Hotels Crete
Place/Crete.htm">

Chania See & Do
Crete is the largest of the Greek islands and surrounded by the Mediterranean, the island of Crete enjoys a typical warm climate, with an intriguing inner landscape of mountains and valleys, gorges, rivers and lakes. Once the centre of Minoan culture.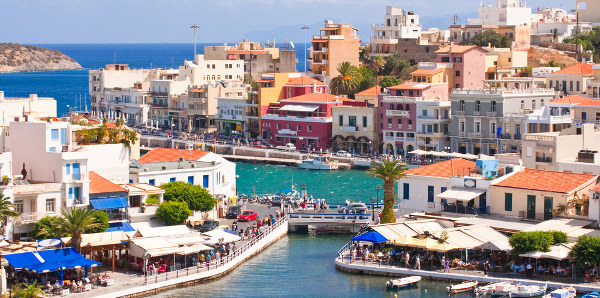 Crete is recognised as the oldest recorded civilisation in the whole of Europe. Nowadays, it's a thriving island that successfully retains its own traditions, culture and charm, making it the perfect tourist destination. Wherever you choose to stay, you're guaranteed an unforgettable holiday.
For historical sights, try the Minoan ruins of Knossos, the largest Bronze Age archaeological site on the island. Amongst the palace remains you'll see intact frescoes, houses and roads, providing an unforgettable glimpse into the past.
At the Bronze Age site of Phaistos, in the southern part of the island, you'll see stunning remains of an old palace complex in a beautiful hillside setting, just 5km from the sea. The classical site of Gortys is also worth a visit, just 45km from the capital, known for its Praetorium, fragments of written laws and its mention in The Odyssey.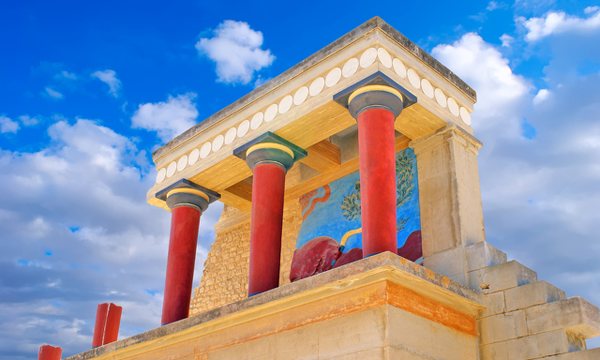 Heading indoors, the Heraklion archeological museum has the most impressive display of Minoan artifacts. Important buildings to visit in Crete include the venetian-style Gouverneto Monastery in the Akrotiri peninsular and the Monastery of Arkadi, a venetian-baroque church in Rethymnon. Both are stunning examples of architectural possibilities and important to the island's colourful history.
Beach lovers will be amazed at the array of lovely beaches on offer, all round the island. There are 28 beaches alone in Rethymnon and 34 in and around the capital, Heraklion. The best way to find a favourite spot is to drive along the coastal roads and find a secluded, peaceful haven. For adventurous sorts, the Ideon Andron Cave on Mount Ida, the highest mountain in Crete, and Dikteon Andron Cave in the Mount Dicte region are the most important ancient sacred caves on the island and open to visitors.
Scenic drives in Crete
Depending on where you are staying on the island, pick up your hire car at either Airport Heraklion or Airport Chania and head out to explore. Crete is considered to be one of the most beautiful islands and most scenic driving spots in the whole of Europe, so whatever route you take, relax and enjoy the unspoilt beauty.
Places that are particularly outstanding include the protected natural palm forest of Vai in the east, with its lovely beach. The Dionysades islands are another must see; take a boat trip to these protected islands to view rare plants and animals including a rare falcon. Head to the Samaria Gorge - a World Biosphere Reserve - in the southwest of the island and witness incredible natural beauty and landscape diversity; if you're lucky, you'll spot the rare kri kri Cretan goat.
Hotels Near Chania Airport

The Akali Hotel
The Akali Hotel is located approximately 800 meters from the old town of Chania. The beaches of Nea Chora are half kilometre away. The Akali Hotel was built in 1988 and the name comes from "Akali", the daughter of King Minoas in ancient Crete and mother of Kydon, the founder of Hania town, the hotel itself is situated in the west of Hania, on the main road to Kolymbari. Offering a warm Cretan atmosphere and hospitality, the hotel is open all year.
Kydon Hotel
Kydon Hotel is set in one of the most convenient locations in the heart of Chania, opposite of the famous Market hall and just a few minutes walk from the Old town and the Venetian harbour. The rooms, suites and public areas are characterized by discreet luxury, comfort and modern decoration. Most of the rooms offer an incredible panoramic view of the Old town, the Venetian harbour and the Cretan Sea
Halepa Hotel
Halepa Hotel this relaxing haven is conveniently located just minutes away from the city centre of Chania, in the well known area of Halepa, from which it has received its name. Nestled in a quiet side road of Halepa area, the Halepa Hotel blends the charm and personality of yesterday with the amenities and technology of today, making an ideal place for those seeking the historic and modern in one destination. It has since 1990 being offering accommodation services and it's many visitors are a great proof that when they seek a relaxing environment, they will definitely find it within it's renowned hospitality. The New Classical architecture has remained even after being converted into a luxurious accommodation facility, as this building has played a great role in Cretan history. Halepa area itself sits just outside the city centre, next to Dikastiria.
Galaxy Hotel
Heraklion's premier hotel for business and leisure. Completely renovated in 2008 it offers an unsurpassed combination of world-class luxury facilities, warm and professional service, convenient location, and glorious food & beverage. Previous and current guests include Prime Ministers and Presidents from Greece and all around the world, his All Holiness the Ecumenical Patriarch, members of Royalty and others. Moreover, the Galaxy has historically played an important role in the social, economic and cultural life of Heraklion, remaining an epicentre of social, conference and arts activity.
Sofia Hotel
in 2009 we renovated our rooms, in order to offer you a really pleasant and comfortable accommodation. Our purpose is to please every visitor, whether he is on a business trip or on vacation. Our hotel is located 1 km from Heraklion's airport and 2 km from the harbour and the beach. Its about 5 minutes by bus to the city centre.
The Capsis Astoria
The Capsis Astoria is centrally located in the capital of Crete, this hotel is set next to the Archaeological Museum of Heraklion and within walking distance of the centre's main services, landmarks and nightlife. The Capsis Astoria features a private pool area with a stunning view of the Aegean Sea. Dine or enjoy a drink by this swimming pool during the summer months. Each of the property's rooms has been fully renovated and offers a modern setting for your stay. The walls are decorated with charming black and white photographs depicting the history of Heraklion.