USA Car Hire
Last Updated: 8th Jan, 2023
We will compare car rental prices in the Unites States for you to get you the best deal for car rental. We wil compare prices form Hertz, Avis, Dollar, National, Thrifty and many more.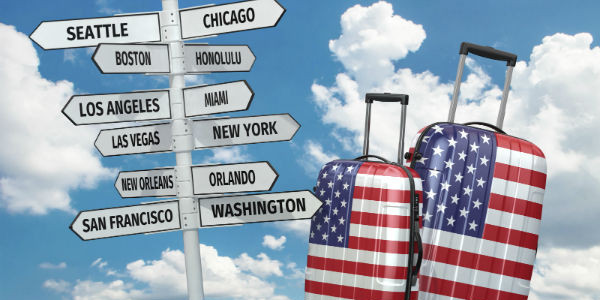 Because the United States is a huge country, with diverse terrain and climates it also has a history and love affair with the car and specifically with road trips - they are the quintessential American vacation. One of the best ways to enjoy this incredible pastime is by renting a car, available at all international airports and in all major cities through the USA.
One of the most exciting things about taking a USA road trip is that the time of year will help determine your sights. While summer offers the warmest and sunniest weather, hitting the road in the northern States during the fall can give you a spectacular view of the fall foliage; a sea of orange and red leaves mixed with the crisp autumn air is sure to be an energising and inspiring trip.
We will shop around to provide you with the Best Car Hire Rates from approved car rental companies in the USA including Hertz, Avis, Alamo, Budget, Dollar, Sixt, Thrifty.
Road Trips USA
The United States is a fairly safe country, but may have some driving rules you are unfamiliar with. Keep in mind that rules may change from one state to the next, so be sure to understand and follow local laws. Here are some handy tips to keep in mind for your USA road trip;
The USA still uses the imperial system for measurements, so expect to see miles per hour and distances expressed in miles.
Be sure to check if you need to obtain documents in addition to your drivers licence - your USA car hire service should be able to provide the information you need.
The USA road system is highly developed and well maintained. Toll roads are called turnpikes, which are often faster than the free highways.
Interstate highways which run north to south are labeled with odd numbers, I-5 on the Pacific coast and I-95 on the Atlantic. East to west highways are given even numbers, with I-8 near the Mexican border and I-94 near the Canadian border.
For five centuries, travellers have brought their hopes and dreams to America. For the earliest pioneers, it was a virgin wilderness ready to be shaped into a "New World," a potential paradise wasted on its native peoples. Millions of immigrants followed, to share in the building of the new nation and to better their lives, far from the hidebound societies of Europe and Asia. Eventually, slaves, who had been shipped over from Africa and the Caribbean, joined them as free citizens. As the United States expanded to fill the continent, something genuinely new was created: a vast country that took pride in defining itself in the eyes of the world.
Every traveller in the United States be they foreigners on a coast-to-coast road trip or locals exploring their extraordinarily diverse land – has some idea of what to expect. American culture has become so thoroughly shared throughout the globe that one of the principal joys of getting to know the country is the repeated, delicious shock of the familiar. Yellow taxis on busy city streets; roadside mailboxes straight out of Peanuts cartoons; wooden porches overlooking the cotton fields; tumble-weed skittering across the desert; endless highways dotted with pick-up trucks and chrome-plated diners; the first sight of the Grand Canyon, or the Manhattan skyline now more than ever an indelibly iconic image.
In this guide, we've picked out the highlights across the entire USA, from Maine to Hawaii, and Alaska to Florida. We've divided the country region by region and state by state, and covered every area of every state. As well as the big cities and national parks, we've explored the highways and byways, singling out detours worth making, and places to avoid. For every area covered, we've done more than simply provide up-to-date practicalities: we've delved into the history and provided background on the people who have made America what it is. Our hope is to inform and entertain travellers, and to point in unexpected directions as well as to the obvious landmarks, no matter whether you've lived here all your life or are seeing it all for the first time.
Pacific Coast
Enjoy a scenic ride along the Pacific coast, from Washington to California. This trip is best done in the spring or summer, but can also be a fantastic fall drive. Much of the coast is public land, which means visitors are welcome and most of it is parkland or in a more natural state.
Start in Olympic National Park, nearly a million square miles of rugged wilderness which has mountains, glaciers and dense forest. Camp or hike in the park, selecting your entry point depending on what you want to see. The most popular point in the park is Hurricaine Ridge, which offers breathtaking views of the mountains and colourful wildflowers in the late spring.
Keep heading south and cross the mouth of the Columbia river into Oregon. You will find many small towns and other spots for outdoor recreation. Make sure to stop in some of the uniquely named scenic areas, such as Cape Foulweather, a 500 foot headland with an amazing view and the Devil's Punchbowl, where you can see the violent confrontation of ocean and land.
Once in California you will reach the Redwood forests and the "Avenue of the Giants", a stretch of highway that alternates between the natural majesty of the enormous redwoods and kitschy souvenir stands reminiscent of the 1950's. You even have the chance to drive through the centre of an ancient - still living - redwood tree.
Stop off in San Francisco for a return to civilization, driving through the city's famous hills dotted with Victorian houses. Drive across the Golden Gate Bridge or visit Alcatraz in the bay.
As you get further south, you can head inland to drive through the mountains around San Luis Obispo to enjoy the dramatic views or continue on to Los Angeles to see some stars. Make sure you visit one of the many beaches along the coast, famous for their sun and surf.
Route 66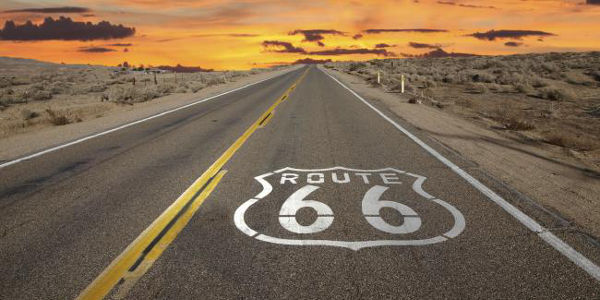 Probably one of the most famous USA road trip roads, Route 66 takes you across the country, starting in Chicago, Illinois and ending in Santa Monica, California. You will cross through 8 states on this 2000 (or so) mile journey.
In Illinois, check out Chicago, Springfield and Lincoln. Get back to nature in Midewin National Tallgrass Prairie Preserve or learn about the prehistoric indigenous peoples of the area at Cahokia Mounds State Historic Site
Missouri offers the Route 66 State Park, Meramec Caves and a slight detour takes you to Branson for some incredible music and musical history
Don't blink or you may miss Kansas, since Route 66 only runs through 13.2 miles of it. You can still stop at the Galena Mining and Historical Museum for a bit of American history or the Old Riverton Store for a sandwich.
Once you're in Oklahoma, you can visit Tulsa, Arcadia and Oklahoma City. Pay your respects at the Will Rogers Memorial or grab lunch at Lucille's Roadhouse.
The 200 miles of Route 66 that passes through Texas is dotted with ghost towns, although you can still find the odd storefront still open for a cup of coffee or some lunch, such as the Midpoint Cafe. The landscape is flat plains, which have their own sort of tedious beauty.
Once you enter New Mexico, be sure to visit Santa Fe and Albuquerque, since you will probably be missing civilization after the plains. Take a slight detour to Inscription Rock and Chaco Canyon for a change of pace
Arizona offers some incredible natural beauty with Painted Desert and Petrified Forest National Park and, of course, the Grand Canyon. Don't miss Meteor Crater and Sunset Crater either. In fact, make sure you have lots of time for Arizona, since there is so much to see and do.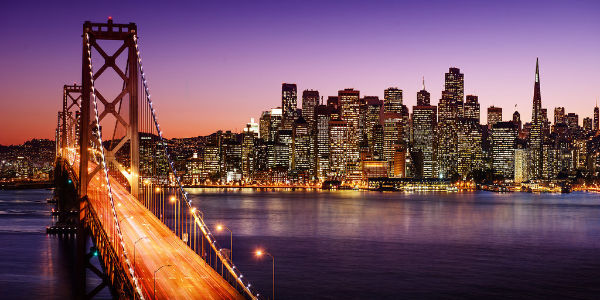 Finally arriving in California, you will find yourself in the Mojave Desert. From sand dunes and Joshua trees you will transition slowly to mountains and reach the San Gabriel Valley. Drive through this paradise and visit the many towns along the way. Keep going to reach the brass plaque that marks the end of Route 66 in Santa Monica, at the Pacific Ocean. Walk south along the walkway to reach Venice Beach and enjoy bohemian California life.