Hartsfield–Jackson Atlanta Airport Car Hire USA
Last Updated: 14th Jan, 2022
Great deals on car hire at Hartsfield–Jackson Atlanta Airport. Book in advance and save up to 30%. We will compare the car rentals prices in Atlanta from all the leading companies Hertz, Avis, Alamo, Budget Dollar, National Sixt, Thrifty, Ez rent a car and Enterprise rent a car. Hartsfield JacksoAirport is situated 12 km south of the city of Atlanta, Georgia. It is a major hub for the South East of the USA. Hartsfield–Jackson is the busiest airport in the United States and second busiest in the world with more then 250,000 passengers on 2,600 flights per day.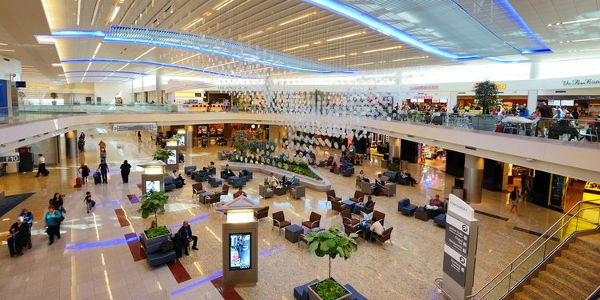 Atlanta, Georgia is a delightful destination and a great sounding board to see and experience much of what the American South has to offer. Southern hospitality, Civil War memorials, and beautiful homes are abundant in Atlanta, in Georgia, and the surrounding cities and states. Make Atlanta's Hartsfield-Jackson International Airport your starting point and drive the great American highways to truly explore the South.

Flight Destinations from Hartsfield–Jackson Atlanta Airport
Very easy to rent a car in the USA with Airport Car Hire Network. Everything went according to plan

- Nick Swanton / London UK.
Hartsfield–Jackson Atlanta Car Rental FAQ
Which is the best car hire company at Hartsfield–Jackson Atlanta Airport in Georgia?
Based on feedback from over 10,000 customers who hired a car at at Hartsfield–Jackson Atlanta Airport, Enterprise have the best customer satisfaction rating with a score of 8.3 out of a maximum of 10 points.
Can I rent a car at Hartsfield–Jackson Atlanta Airport with a debit card?
Yes you can hire a car at Hartsfield–Jackson Atlanta Airport with a debit card issued by a bank. Conditions of debit card use: card must be in main driver's name. MasterCard or VISA only. Debit cards must be issued by a bank, and numbers must be embossed. Please note, the deposit amount will be charged if using a debit card and associated transactions fees may apply. Maximum rental duration 28 days if using a debit card. Prepaid and electronic cards (Visa Electron) are not accepted. Be sure to check the filter for Both Credit and Debit Cards on the left side under the heading Cards Accepted At Pick-Up. This will display the car hire companies that will accept Debit Cards. Please contact us and we will be glad to explain how rent a car with a debit card in Hartsfield–Jackson Atlanta
Is it safe to rent a car during Coronavirus Covid-19 at Hartsfield–Jackson Atlanta Airport?
Yes, car hire is one of the safest methods of transport during Covid-19. Car rental companies are essential service providers and will remain open during the Covid-19. Additional precautions and safety measures are currently in place. All cars are deep cleaned and sanitised along with the rental office in line with WHO guidelines. Alamo, Avis, Budget, Dollar, Enterprise, Hertz, National, Sixt, Thrifty are the car hire companies that sanitise rental cars at Hartsfield–Jackson Atlanta Airport.
Can I rent a car at Hartsfield–Jackson Atlanta Airport Georgia if I am over 70?
Yes, you can hire a car in Hartsfield–Jackson Atlanta from selected car rental companies up to 99 years of age with no extra charges. Contact us we will be glad to assist you by comparing the leading car hire companies to get you the best deal.
Can I rent a car at Hartsfield–Jackson Atlanta Airport if I am under 25?
You can hire a car at Hartsfield–Jackson Atlanta Airport at 21 years of age, with no additional fees. Alamo fees for young driver's age: 21 to 24 years. Charge 27 USD per day. (Includes tax). Please contact us directly and we will be glad to explain how to get the best deal for your age group.
Age Requirements to Rent a Car in Hartsfield–Jackson Atlanta Airport
The minimum age to rent a car at Hartsfield–Jackson Atlanta Airport is 21 but there will be a supplement. The maximum age is 99. Please confirm the driver's age requirement for the car you choose, as the age requirement may vary according to the size of the car. Please see the ages requirement for each of the car hire companies at Hartsfield–Jackson Atlanta Airport
Can I take a rental car from Hartsfield–Jackson Atlanta to visit a different state?
Yes some car hire companies will allow you to take a rental car cross border, but you will need to get permission first. There will be additional fees to cross an International border.
Can I take a rental car from the USA to Canada or Mexico?
In most cases, vehicles may be driven across the Canadian border, this will depend on which car supplier at Hartsfield–Jackson Atlanta Airport you choose. Vehicles may be driven into Mexico with prior authorization and from any locations in California, Arizona, New Mexico and Texas. An additional Mexican insurance must be purchased locally to do so. The cost of Mexican insurance is between $38.00 - $48.00 USD per calendar day plus taxes and fees, which will assist with breakdown issues. PERS is not available in Mexico. Due to Mexican Law, Mexican citizens are not permitted to drive U.S. owned vehicles in Mexico. Any attempts to do so will result in fines and penalties.
Can I take a rental car from Hartsfield–Jackson Atlanta and drop it off in a different city?
Based on availability, one-way rentals may be allowed to some U.S. cities. You will need to check with the car hire supplier as each supplier will have different travel restrictions. When you do a quote on out site you can view the travel restrictions for each supplier. There will be an additional one way rental fee if you leave the car in a different location to the pick location.
How long do I need to hold a licence in order to rent a car at Hartsfield–Jackson Atlanta Airport?
A full licence held for minimum of 1 year with no major endorsements. UK licence holders need to present the photo card
Which documents do I need to hire a car in the USA?
The principle driver will need to have the following documents in his or her name. A full licence, a credit card, the voucher we will send you when you complete your booking, and a passport. A printed version of your voucher must be produced upon arrival at the rental desk. Failure to present the voucher means the car rental agent may charge you at the local rates. With Budget rentals you will also need one original form of proof of address.
What is the fuel policy for a hire car at Hartsfield–Jackson Atlanta Airport?
This will depend on the car hire supplier you select. The vast majority of cars have a full to full fuel policy, which means your vehicle will be supplied with a full tank of fuel. To avoid incurring fuel charges, you will need to return it with the same amount of fuel as it had when you collected it. You can also choose pick up full return empty. This maybe more convenient if you wish to drop the car back without delays, but it will be more expensive.
Hartsfield–Jackson Atlanta Car Rental Locations
Car Hire Atlanta Airport
Car Hire Atlanta City
Atlanta 1775 Pleasant Hill Rd. Atlanta US
Atlanta Sandy Springs 475 Technology Parkway Atlanta US

Hartsfield–Jackson Atlanta Airport Information
Airport Name:
Hartsfield–Jackson Atlanta Airport
IATA
ATL
ICAO:
KATL
Address:
Atlanta Georgia
City:
Atlanta
Country:
Georgia
Telephone:
Time Zone:
Coordinates:
33°38′12″N 084°25′41″W
Driving Directions to Atlanta Airport
Car Parking:
Long and Short Term Parking Facilities available
Taxi service:
Available in front of terminal
Train service:
Bus service:
Car Hire:
The car rental desks are located in the arrivals hall
Information Desk:
Located in the arrivals hall
Facilities:
Flight Destinations from Hartsfield–Jackson Atlanta Airport
Air Canada Express
Air France
Alaska Airlines
British Airways
Delta Airlines
ExpressJet
Southwest Airlines
United Airlines
Virgin Atlantic
Hartsfield–Jackson Atlanta See & Do
Stone Mountain Park, Georgia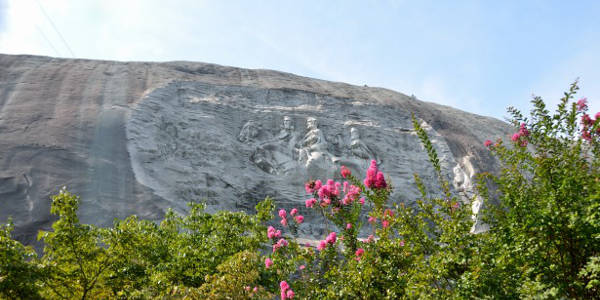 Stone Mountain is one of the most unique places to visit in Georgia, located thirty minutes to the east of Atlanta. From Atlanta's airport, take Interstate 285 east to Highway 10 east. Stone Mountain is the world's largest bas-relief sculpture, all carved on the side of a mountain of granite. Designed by Gutzon Borglum, the man who created the famous Mount Rushmore carvings in South Dakota, Stone Mountain depicts three Confederate Army heros, Civil War, President Jefferson Davis and Generals Robert E. Lee and Thomas J. "Stonewall" Jackson. Stone Mountain Park is a theme park that also includes hiking and biking trails and a tram ride to get a close up look at the sculpture. During the busier summer months, you can also see a laser show on Stone Mountain with music and fireworks.
Athens, Georgia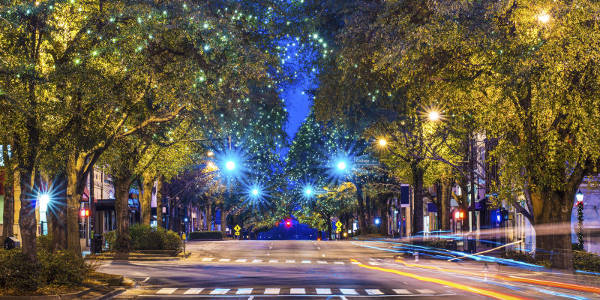 While you are on the east side of Atlanta, follow Highway 78 east for 1.5 hours over to Athens. Athens, Georgia is the most popular college town in the Peach State. Home to the University of Georgia Bulldogs, Athens has all the quintessential things that make up a small college town, including great local restaurants, a thriving nightlife, and music, music, music! Famous bands like R.E.M., Widespread Panic, the B-52s, and Drive-By Truckers all hail from Athens. The locals even play a game called "Stiped." If you see Michael Stipe, lead singer of R.E.M., around town, then you can proudly say you've been "Stiped," so keep your eyes out! Stop by World Famous to catch a great live show, but first make sure to try their poutine and drink a local Georgia brew. Asheville, North Carolina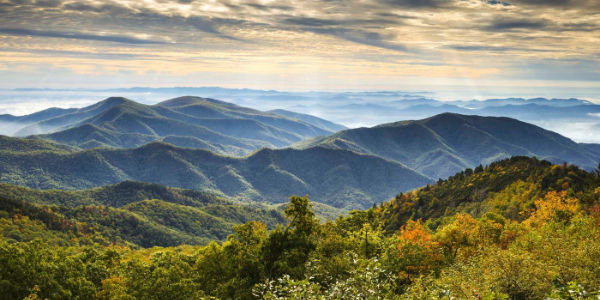 Asheville, North Carolina
One of the most unique cities in the South is Asheville, North Carolina. Expensive to fly into, it is a great drive from Atlanta. Just take Interstate 85 north to Interstate 26 north for a relaxing and scenic 3.5 hour drive up into the magnificent Blue Ridge Mountains. Asheville has been declared one of the top cities to travel to in the world by Frommer's and most visitors would agree. A healthy balance of college students and families, there are many things to do. You can eat at a local vegan restaurant, visit one of the best microbreweries in the country, or tour America's largest home, The Biltmore Estate. The Biltmore Estate was the residence of the elusive Vanderbilt family but has been opened up to the public to tours. Make sure to sample wine from their vineyard.
Birmingham, Alabama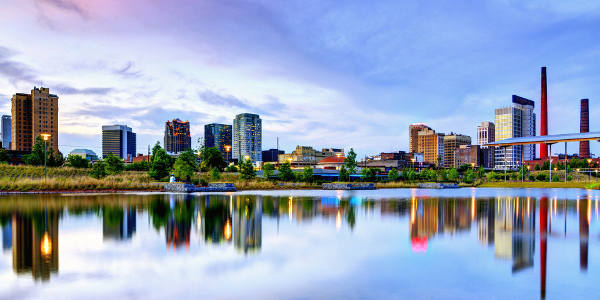 Another state to visit is Georgia's neighbour to the west, Alabama. Hop on Interstate 20 and cruise west for two and a half hours. Birmingham is Alabama's largest city, has that southern hospitality charm, and has recently undergone a cultural makeover. They have upped the ante on many of their city's festivals and their food scene. Don't miss a visit to the Sloss Furnaces, a National Historic Landmark that currently functions as an interpretive museum of the local industry. Perhaps the city's most famous site, it was once an old pig iron-producing blast furnace. Visitors and ghosts often visit, as the Sloss Furnaces are notoriously haunted.