Boston Logan International Airport Car Hire USA
Last Updated: 1st May, 2021
Boston Logan Airport Car Hire provides discount car rental from Hertz, Avis, Alamo, Budget Dollar, National Sixt, Thrifty, Ez rent a car and Enterprise rent a car in Boston Logan Airport USA. For great savings and the best deals for car hire in Boston let us give you a quote.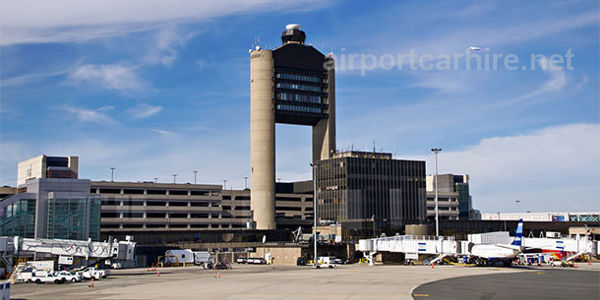 Boston, Massachusetts is one of the most famous New England cities in America. Compared to the larger states out west, New England is very compact and it is easy to see many fascinating cities. Check out these amazing New England destinations, all within a reasonable drive from the Boston airport

Boston Logan International Car Rental FAQ
Which is the best car hire company at Boston Logan International Airport in Massachusetts?
Based on feedback from over 10,000 customers who hired a car at at Boston Logan International Airport, National Car Hire have the best customer satisfaction rating with a score of 8.8 out of a maximum of 10 points.
Can I rent a car at Boston Airport Massachusetts with a debit card?
Yes you can hire a car at Boston Airport with a debit card issued by a bank. Conditions of debit card use: card must be in main driver's name. MasterCard or VISA only. Debit cards must be issued by a bank, and numbers must be embossed. Please note, the deposit amount will be charged if using a debit card and associated transactions fees may apply. Maximum rental duration 28 days if using a debit card. Prepaid and electronic cards (Visa Electron) are not accepted. Be sure to check the filter for Both Credit and Debit Cards on the left side under the heading Cards Accepted At Pick-Up. This will display the car hire companies that will accept Debit Cards. Please contact us and we will be glad to explain how rent a car with a debit card in Boston
Is it safe to rent a car during Coronavirus Covid-19 at Boston Logan Airport?
Yes, car hire is one of the safest methods of transport during Covid-19. Car rental companies are essential service providers and will remain open during the Covid-19. Additional precautions and safety measures are currently in place. All cars are deep cleaned and sanitised along with the rental office in line with WHO guidelines. Alamo, Avis, Budget, Dollar, Enterprise, Hertz, National, Sixt, Thrifty are the car hire companies that sanitise rental cars at Boston Airport.
Can I rent a car at Boston Logan Airport Massachusetts if I am over 70?
Yes, you can hire a car in Boston Logan International from selected car rental companies up to 99 years of age with no extra charges. Contact us we will be glad to assist you by comparing the leading car hire companies to get you the best deal.
Can I rent a car at Boston Logan Airport if I am under 25?
You can hire a car at Boston Logan International Airport at 21 years of age, with no additional fees. Alamo have the best prices for young driver's age: 21 to 24 years. Charge 27 USD per day. (Includes tax). While Sixt rent a car Young driver's age: 21 to 24 years. Charge 60.99 USD per day. (Includes tax). Please contact and we will be glad to explain how to get the best deal for your age group.
Age Requirements to Rent a Car in Boston Airport Massachusetts
The minimum age to rent a car at Boston Airport is 21 but there will be a supplement. The maximum age is 99. Please confirm the driver's age requirement for the car you choose, as the age requirement may vary according to the size of the car. Please see the ages requirement for each of the car hire companies at Boston Airport
Can I take a rental car from Boston Logan International to visit a different state?
Yes some car hire companies will allow you to take a rental car cross border, but you will need to get permission first. There will be additional fees to cross an International border.
Can I take a rental car from the USA to Canada or Mexico?
In most cases, vehicles may be driven across the Canadian border, this will depend on which car supplier at Boston Logan International Airport you choose. Vehicles may be driven into Mexico with prior authorization and from any locations in California, Arizona, New Mexico and Texas. An additional Mexican insurance must be purchased locally to do so. The cost of Mexican insurance is between $38.00 - $48.00 USD per calendar day plus taxes and fees, which will assist with breakdown issues. PERS is not available in Mexico. Due to Mexican Law, Mexican citizens are not permitted to drive U.S. owned vehicles in Mexico. Any attempts to do so will result in fines and penalties.
Can I take a rental car from Boston and drop it off in a different city?
Based on availability, one-way rentals may be allowed to some U.S. cities. You will need to check with the car hire supplier as each supplier will have different travel restrictions. When you do a quote on out site you can view the travel restrictions for each supplier. There will be an additional one way rental fee if you leave the car in a different location to the pick location.
How long do I need to hold a licence in order to rent a car at Boston Logan International Airport?
A full licence held for minimum of 1 year with no major endorsements. UK licence holders need to present the photo card
Which documents do I need to hire a car in the USA?
The principle driver will need to have the following documents in his or her name. A full licence, a credit card, the voucher we will send you when you complete your booking, and a passport. A printed version of your voucher must be produced upon arrival at the rental desk. Failure to present the voucher means the car rental agent may charge you at the local rates. With Budget rentals you will also need one original form of proof of address.
What is the fuel policy for a hire car at Boston Logan International Airport?
This will depend on the car hire supplier you select. The vast majority of cars have a full to full fuel policy, which means your vehicle will be supplied with a full tank of fuel. To avoid incurring fuel charges, you will need to return it with the same amount of fuel as it had when you collected it. You can also choose pick up full return empty. This maybe more convenient if you wish to drop the car back without delays, but it will be more expensive.
Boston Logan International Car Rental Locations
Car Hire Boston Logan International Airport
Boston Airport 2 TOMAHAWK DRIVE, EAST BOSTON, 02128, MA EAST BOSTON US BOS
Car Hire Boston City
Boston 270 Atlantic Avenue, Boston, 02110, MA Boston US
Boston - Cambridge St., Government Center, 209 Cambridge St., Boston, Massachusetts, MA Boston US
Boston Harbour Hotel 30 Rowes Wharf, Boston, 02110, Massachusetts Boston US

Boston Logan International Airport Information
Offically Lt. General Edward Lawrence Logan International Airport is situated on the east side of Boston. It has six runaways and is the largest airport in New England with over 30 million passengers per year.
Airport Name: Boston Logan International Airport
IATA BOS
ICAO: KBOS
Address: Boston Logan International USA
City: Boston Logan International
Country: USA
Telephone: 1800 235-6426
Time Zone:
Coordinates:
Driving Directions to Boston Logan International Airport
Car Parking: Long and Short Term Parking Facilities available
Taxi service: Available in front of terminal
Train service:
Bus service:
Car Hire: The car rental desks are located in the arrivals hall
Information Desk: Located in the arrivals hall
Facilities:

Airlines at Boston Logan Airport
Aer Lingus Aeromexico
Air Canada
Air France
Alaska Airlinesv Alitalia
American Airlines
British Airways
Delta Air Lines
Emirates
Hainan Airlines
Icelandair
Japan Airlines
JetBlue Airways
Porter Airlines
SATA International
Southwest Airlines
Spirit Airlines
Swiss International
United Airlines
Virgin America
Virgin Atlantic
Boston Logan International See & Do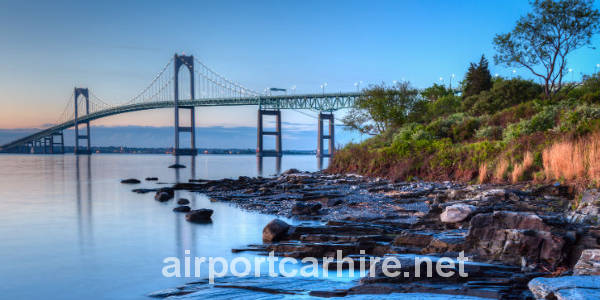 Newport, Rhode Island
Newport has been a glamorous destination for decades and dazzles visitors with its beauty and historic sites. Take Interstate 93 south from the Boston airport to state Highway 24 south to Newport, a total traveling time of close to two hours, depending upon traffic. A classic example of seaside New England, the spectacular beaches and harbours help Newport feel like a semi-exotic location. Take a guided tour to see the many glamorous mansions in town. With many delicious restaurants to visit, make sure to try stuffed quahogs, or head over to The Red Parrot for their speciality, the Monsta Lobsta BLT.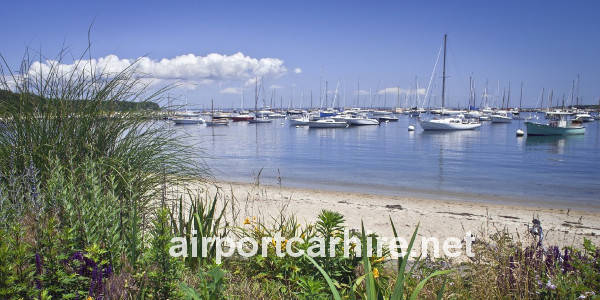 Martha's Vineyard, Massachusetts
Take Highway 3 south out of Boston for 1.5 hours and then hop on the Woods Hole - Vineyard Haven Ferry to visit one of the most iconic islands in New England. Martha's Vineyard is a 180 square mile island that delights its visitors with its cobblestone streets, lighthouses, and its opulent sea captain's houses. Miles of pristine beaches and numerous nature trails make it an ideal day trip for the entire family. Blend in with the locals and the famous families who vacation on the island by traveling on bike or on foot.
Portland, Maine
Head north on Interstate 93 from the Boston airport, connect to Interstate 95 north and enjoy the two hour drive up the Maine coast to the largest city in Maine, Portland. Located on the Casco Bay peninsula, this year-round destination is always enjoyable and particularly lively during the summer months. A small and slightly quirky fishing town, Portland has great music venues, brewpubs, and a growing restaurant scene. Central Provisions is one of the newer restaurants that has been receiving a lot of buzz. The downtown, known as Old Port, is particularly memorable with its cobblestone streets, clothing boutiques, and many a seafood restaurant that always have the day's catch available.
Concord, Montpelier, and Burlington
New England's manageable size means it is possible to catch three state capital cities all in one day. Arriving in Boston will be your first capital city to visit, then head north on Interstate 93 to the capital of New Hampshire, Concord. Visit their downtown and New Hampshire State House and then head on Interstate 89 north to Montpelier, the capital of Vermont. With a population of less than 10,000, it is one of the smallest state capitals in the U.S. Stop by Hubbard Park for a hike to stretch your legs and climb the 54-foot observation tower to see wonderful views of New England. Continue on Interstate 89 north to Burlington, Vermont after a combined 3.5 hours of driving. Burlington is a captivating town with the charm and the relaxed vibe of Boulder, CO, or Madison, WI. Set on the pristine waters of Lake Champlain, Burlington is worth the drive. Make sure to try the local maple syrup, a New England specialty. Visit The Skinny Pancake and order from its "Breakfast All Day" menu that is sure to please.
To see these sites of New England, all accessible from the Boston Airport, book online now. Reservations can be made in three easy steps using our simple and secure booking process. We will make sure to find the perfect car for you!