Cincinnati Airport Car Hire USA
Last Updated: 7th Jan, 2023
Cincinnati Airport Car Hire offers discount car rental from Advantage Hertz, Avis, Alamo, Budget Dollar, National, Thrifty, and Enterprise rent a car in Cincinnati Airport USA or if you prefer downtown Cincinnati. Shuttle bus service available from the baggage reclaim to the rental lots.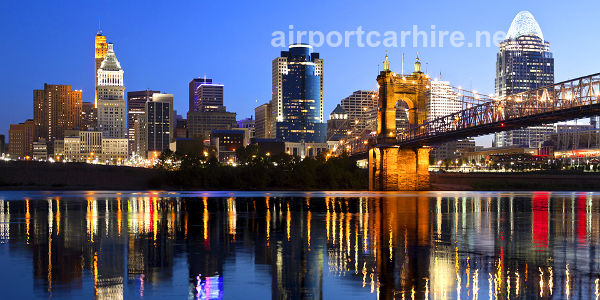 The Cincinnati Northern Kentucky International Airport is best airport to fly into to visit the highlights of Kentucky. Cincinnati is a wonderful city to visit as well, but when you fly here, it is highly recommended to advantage of your proximity to Kentucky, rent a car and explore the beloved Bluegrass State and all that it has to offer.

Cincinnati Car Rental FAQ
Which is the best car hire company at Cincinnati Airport in Kentucky?
Based on feedback from over 10,000 customers who hired a car at Cincinnati Airport, Alamo Car Hire have the best customer satisfaction rating with a score of 8.3. out of a maximum of 10 points
Can I rent a car without paying a deposit in Cincinnati Airport USA?
Yes you get rent a car without paying a deposit or by paying a very low deposit. When you book car hire with us you choose how much deposit you wish to pay. You can choose from Zero to €500 or €501 to €1000. First get a quote and on the left hand side of the results page simply select the amount of deposit you wish to pay. We will then send you a quote based on the amount you choose
Can I rent a car at Cincinnati Airport USA with a debit card?
Yes you can hire a car at Cincinnati Airport with a debit card issued by a bank. Conditions of debit card use: card must be in main driver's name. MasterCard or VISA only. Debit cards must be issued by a bank, and numbers must be embossed. Please note, the deposit amount will be charged if using a debit card and associated transactions fees may apply. Maximum rental duration 28 days if using a debit card. Prepaid and electronic cards (Visa Electron) are not accepted. Be sure to check the filter for Both Credit and Debit Cards on the left side under the heading Cards Accepted At Pick-Up. This will display the car hire companies that will accept Debit Cards. Please contact us and we will be glad to explain how rent a car with a debit card
Can I rent a car at Cincinnati Airport Kentucky if I am over 70?
Yes, you can hire a car in Cincinnati from selected car rental companies up to 99 years of age with no extra charges. Contact us we will be glad to assist you by comparing the leading car hire companies to get you the best deal.
Can I rent a car at Cincinnati Airport if I am under 25?
You can hire a car at Cincinnati Airport at 21 years of age, with no additional fees. Alamo fee for young driver's age: 21 to 24 years. Charge 27 USD per day. (Includes tax) Please contact us directly and we will be glad to explain how to get the best deal for your age group.
Age Requirements to Rent a Car in Cincinnati Airport
The minimum age to rent a car at Cincinnati Airport is 21 but there will be a supplement. The maximum age is 99. Please confirm the driver's age requirement for the car you choose, as the age requirement may vary according to the size of the car. Please see the ages requirement for each of the car hire companies at Cincinnati Airport
Can I take a rental car from Cincinnati to visit a different state?
Yes some car hire companies will allow you to take a rental car cross border, but you will need to get permission first. There will be additional fees to cross an International border.
Can I take a rental car from the USA to Canada or Mexico?
In most cases, vehicles may be driven across the Canadian border, this will depend on which car supplier at Cincinnati Airport you choose. Vehicles may be driven into Mexico with prior authorization and from any locations in California, Arizona, New Mexico and Texas. An additional Mexican insurance must be purchased locally to do so. The cost of Mexican insurance is between $38.00 - $48.00 USD per calendar day plus taxes and fees, which will assist with breakdown issues. PERS is not available in Mexico. Due to Mexican Law, Mexican citizens are not permitted to drive U.S. owned vehicles in Mexico. Any attempts to do so will result in fines and penalties.
Can I take a rental car from Cincinnati and drop it off in a different city?
Based on availability, one-way rentals may be allowed to some U.S. cities. You will need to check with the car hire supplier as each supplier will have different travel restrictions. When you do a quote on out site you can view the travel restrictions for each supplier. There will be an additional one way rental fee if you leave the car in a different location to the pick location.
How long do I need to hold a licence in order to rent a car at Cincinnati Airport?
A full licence held for minimum of 1 year with no major endorsements. UK licence holders need to present the photo card
Which documents do I need to hire a car in the USA?
The principle driver will need to have the following documents in his or her name. A full licence, a credit card, the voucher we will send you when you complete your booking, and a passport. A printed version of your voucher must be produced upon arrival at the rental desk. Failure to present the voucher means the car rental agent may charge you at the local rates. With Budget rentals you will also need one original form of proof of address.
What is the fuel policy for a hire car at Cincinnati Airport?
This will depend on the car hire supplier you select. The vast majority of cars have a full to full fuel policy, which means your vehicle will be supplied with a full tank of fuel. To avoid incurring fuel charges, you will need to return it with the same amount of fuel as it had when you collected it. You can also choose pick up full return empty. This maybe more convenient if you wish to drop the car back without delays, but it will be more expensive.
Cincinnati Car Rental Locations
Car Hire Cincinnati Airport
Use the shuttle bus at the baggage reclaim to bring you to the rental lots.
Car Hire Cincinnati City
at many locations around the city please clcik the quote button

Cincinnati Airport Information
Airport Name: Cincinnati Airport
IATA CVG
ICAO: KCVG
Address: 2939 Terminal Dr, Hebron, KY 41048, Cincinnati USA
City: Cincinnati
Country: USA
Telephone: 01 800 859 7673151
Time Zone:
Coordinates: 39°02′56″N 084°40′04″W
Driving Directions to Cincinnati Airport
Car Parking: Long and Short Term Parking Facilities available for 12,000 Cars
Taxi service: Available in front of terminal
Train service:
Bus service:
Car Hire: A shuttle service operates from the baggage claim to the parking lots
Information Desk: Located in the arrivals hall
Facilities:

Flight Destinations from Cincinnati Airport
Air Canada Express Allegiant Air
American Eagle
Branson Air Express
Delta Air Lines
Delta Connection
Frontier Airlines
Ultimate Air Shuttle
United Express
US Airways Express
Cincinnati See & Do
Lexington, Kentucky
Visit the Horse Capital of the World, Lexington, Kentucky by driving south from the Cincinnati Northern Kentucky International Airport on Interstate 75 for a little over one hour. For animal lovers, visit the 1200-acre Kentucky Horse Park and see over 50 different breeds of horses, as well as many museums and shows. Book a spot on a Horse Farm Tour and visit horses at their homes. If it's the races that you love, place your bets at the Keeneland Race Course.
No trip to Lexington is complete without touring and tasting some world famous Kentucky bourbon. Kentuckians are very proud of their distilleries and are excited for visitors to visit them and sample their beloved bourbon. They have even created a Kentucky Bourbon Trail that showcases where 95 percent of Kentucky's bourbon comes from, all located around a between Lexington and close by Louisville. Tour the distilleries in the Lexington area which, includes Buffalo Trace, Woodford Reserve, Wild Turkey, and Four Roses.
Louisville, Kentucky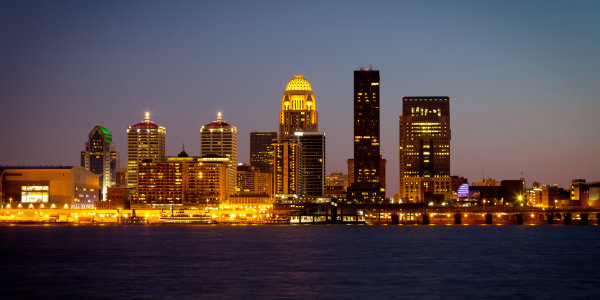 Another must-see Kentucky city is Louisville. The pronunciation of Louisville is tricky to nail down, and the locals pronounce it more like Lu-ee-ville or Lu-ull-ville. To get there take Interstate 71 south from the Cincinnati airport for 1.5 hours or take Interstate 64 west out of Lexington for 1.5 hour . Louisville has close access to five bourbon distilleries, including Jim Beam, Barton 1792, Kentucky Bourbon Distillers, Heaven Hill, and Maker's Mark. It is these five distilleries and the four Lexington-based distilleries that make up the Kentucky Bourbon Trail. It is remarkable that these nine distilleries have made such a name for themselves and are known around the world for the bourbon they make. While in Louisville make sure to visit Churchill Downs, where the Kentucky Derby is held, and the Louisville Slugger Museum.
Mammoth Cave National Park, Kentucky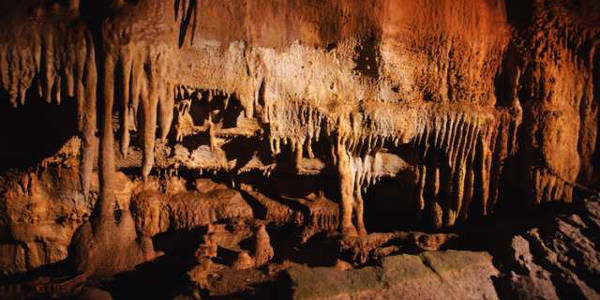 After visiting Louisville, continue south on Interstate 65 for 1.5 hours to visit the world's longest known cave system, Mammoth Cave. With over 400 miles of the cave explored, adults and kids alike will love going on the guided tour and seeing all of the stalactites and stalagmites. Being part of the national park system means the cave is being preserved for future generations to enjoy. The national park also provides opportunities to experience the great Kentucky outdoors by hiking, or canoe and kayak on the Green River which passes through the park.
Dayton, Ohio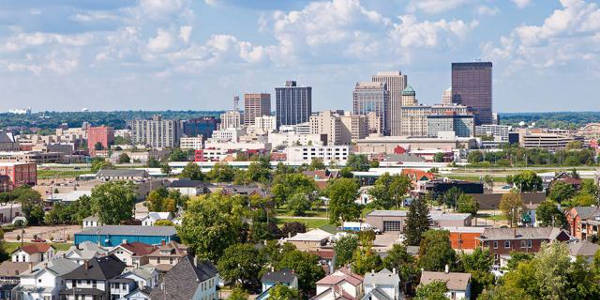 A short one hour drive north on Cincinnati on Interstate 75 takes you to Dayton, Ohio, home to the National Aviation Heritage Area. The Heritage Area is made up of over fifteen aviation-associated sites in and around Dayton and is centered around the activities of the Wright Brothers and the Dayton Aviation Heritage National Historical Park. Other notable sites include the National Museum of the United States Air Force, which includes seventeen acres of airplane hangars, the Neil Armstrong Air and Space Museum, Grimes Field, and many more. If you are a big fan on aviation, visit during July for the two day Dayton Air Show.
Northern Kentucky and southwest Ohio are waiting for you to explore them! We will help find the perfect rental car for you to see all the sites. Book online with our secure three step process today!