San Diego Airport Car Hire USA
Last Updated: 8th Jan, 2023
Car Hire at San Diago Airport from Hertz, Avis, Alamo, Budget Dollar, National Sixt, Thrifty, Ez rent a car and Enterprise rent a car. We will compare prices for you saving you time and money
Nestled in at the southern tip of one of the largest, most beautiful, and well-loved states, San Diego, California is a welcome paradise for many travelers. California is an unparalleled state with many destinations worth driving to see. San Diego itself is well known for its gorgeous weather and its local attractions, but it is the destinations that are a short drive outside of San Diego that really make it worth the visit.

San Diego Car Rental FAQ
Which is the best car hire company at San Diego Airport in California?
Based on feedback from over 10,000 customers who hired a car at at San Diego Airport, National have the best customer satisfaction rating with a score of 8.6 out of a maximum of 10 points.
Can I rent a car at San Diego Airport with a debit card?
Yes you can hire a car at San Diego Airport California with a debit card issued by a bank. Conditions of debit card use: card must be in main driver's name. MasterCard or VISA only. Debit cards must be issued by a bank, and numbers must be embossed. Please note, the deposit amount will be charged if using a debit card and associated transactions fees may apply. Maximum rental duration 28 days if using a debit card. Prepaid and electronic cards (Visa Electron) are not accepted. Be sure to check the filter for Both Credit and Debit Cards on the left side under the heading Cards Accepted At Pick-Up. This will display the car hire companies that will accept Debit Cards. Please contact us and we will be glad to explain how rent a car with a debit card in California
Is it safe to rent a car during Coronavirus Covid-19 at San Diego Airport?
Yes, car hire is one of the safest methods of transport during Covid-19. Car rental companies are essential service providers and will remain open during the Covid-19. Additional precautions and safety measures are currently in place. All cars are deep cleaned and sanitised along with the rental office in line with WHO guidelines. Alamo, Avis, Budget, Dollar, Enterprise, Hertz, National, Sixt, Thrifty are the car hire companies that sanitise rental cars at San Diego Airport.
Can I rent a car at San Diego Airport California if I am over 70?
Yes, you can hire a car in San Diego from selected car rental companies up to 99 years of age with no extra charges. Contact us we will be glad to assist you by comparing the leading car hire companies to get you the best deal.
Can I rent a car at San Diego Airport if I am under 25?
You can hire a car at San Diego Airport at 21 years of age, with no additional fees. Budget Car Rental Young driver's age: 21 to 24 years. Charge 35 USD per day. (Includes tax)Please contact us directly and we will be glad to explain how to get the best deal for your age group.
Age Requirements to Rent a Car in San Diego Airport California
The minimum age to rent a car at San Diego Airport California is 21 but there will be a supplement. The maximum age is 99. Please confirm the driver's age requirement for the car you choose, as the age requirement may vary according to the size of the car. Please see the ages requirement for each of the car hire companies at San Diego Airport California
Can I take a rental car from San Diego to visit a different state?
Yes some car hire companies will allow you to take a rental car cross border, but you will need to get permission first. Vehicles rented in the United States can be driven in any state in the United States (including the District of Columbia). Vehicles must be returned to the location from which they were rented unless Provider has authorized at the time of the reservation that the vehicle can be returned to a different location. Vehicles rented in Alaska must be returned to Alaska. Vehicles may not be driven into Mexico. Vehicles rented in the United States can be driven into Canada, with the exception of 12 or 15 passenger vans, but must be returned to the United States unless Renter has pre-arranged with Provider to drop the vehicle off at one of Provider's approved locations in Canada whereby a transborder fee may apply. Canadian residents renting vehicles in the United States may not drive vehicles into Canada
Can I take a rental car from the USA to Canada or Mexico?
In most cases, vehicles may be driven across the Canadian border, this will depend on which car supplier at San Diego Airport you choose. Vehicles may be driven into Mexico with prior authorization and from any locations in California, Arizona, New Mexico and Texas. An additional Mexican insurance must be purchased locally to do so. The cost of Mexican insurance is between $38.00 - $48.00 USD per calendar day plus taxes and fees, which will assist with breakdown issues. PERS is not available in Mexico. Due to Mexican Law, Mexican citizens are not permitted to drive U.S. owned vehicles in Mexico. Any attempts to do so will result in fines and penalties.
Can I take a rental car from San Diego and drop it off in a different city?
Based on availability, one-way rentals may be allowed to some U.S. cities. You will need to check with the car hire supplier as each supplier will have different travel restrictions. When you do a quote on out site you can view the travel restrictions for each supplier. There will be an additional one way rental fee if you leave the car in a different location to the pick location.
How long do I need to hold a licence in order to rent a car at San Diego Airport?
A full licence held for minimum of 1 year with no major endorsements. UK licence holders need to present the photo card
Which documents do I need to hire a car in the USA?
The principle driver will need to have the following documents in his or her name. A full licence, a credit card, the voucher we will send you when you complete your booking, and a passport. A printed version of your voucher must be produced upon arrival at the rental desk. Failure to present the voucher means the car rental agent may charge you at the local rates. With Budget rentals you will also need one original form of proof of address.
What is the fuel policy for a hire car at San Diego Airport?
This will depend on the car hire supplier you select. The vast majority of cars have a full to full fuel policy, which means your vehicle will be supplied with a full tank of fuel. To avoid incurring fuel charges, you will need to return it with the same amount of fuel as it had when you collected it. You can also choose pick up full return empty. This maybe more convenient if you wish to drop the car back without delays, but it will be more expensive.
San Diego Car Rental Locations
Car hire San Diego Airport
San Diego - Airport San Diego Airport, 2942 Kettner Blvd, San Diego, CA 92101 San Diego US SAN
Car hire San Diego city centre
San Diego 11520 West Bernardo Ct US

San Diego Airport Information
Airport Name: San Diego Airport
IATA SAN
ICAO:
Address: 3225 N Harbor Dr, San Diego, CA 92101, United States
City: San Diego
Country: California
Telephone: 001 (619) 400-2404
Time Zone: PST GMT -7
Coordinates: 32°44′01″N 117°11′23″W
Driving Directions to San Diego Airport
Car Parking: Long and Short Term Parking Facilities available
Taxi service: Available in front of terminal
Train service:
Bus service:
Car Hire: The car rental desks are located in the arrivals hall
Information Desk: Located in the arrivals hall
Facilities:

Flight Destinations from San Diego Airport
Southwest Airlines
United Airlines
Delta Air Lines
Alaska Airlines
American Airlines
San Diego See & Do
San Diego Road Trips
San Diego is one of the few cities in America with quick access to Mexico. Take Interstate 5 south directly from the airport and drive the 35 minutes south to Tijuana, Mexico. There you will find tequila, sombreros, souvenirs, and lots of amazing traditional Mexican dishes. You can continue exploring in Mexico by heading down highway 1D to Ensenada. A unique town with world-class surfing, off-road races, and wine tastings, there is something for everyone. Stop in for a margarita at Hussongs, Ensenada's oldest bar that claims to have invented the margarita.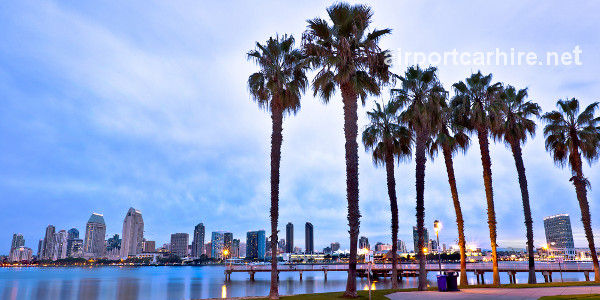 San Diego is close to vineyards in all directions. Take Interstate 15 north out of San Diego to visit Southern California's wine country in Temecula. An hours drive will bring you to more than 40 wineries that you can visit, take tours, and enjoy tastings. Festivals take place year round and it is well worth the drive to visit one. Feeling adventurous? Take a hot air balloon ride while in Temecula and see the entire valley from the air.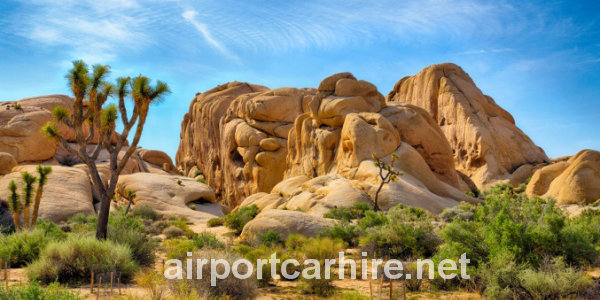 Continue on Interstate 15 north out of Temecula from about 1.5 more hours to discover and explore Joshua Tree National Park. Joshua Tree is an American national treasure. Numerous trails offer astonishing views, but there are also many rock climbers to watch for those who want to relax. While near Joshua Tree, visit Pappy and Harriet's, also known as Pioneertown, off of Highway 62. It is a old western Hollywood set that was built in the 1940s and is now known for live music, bikers, and barbeque. It is a fun example of what people typically think of when they think of the great American west.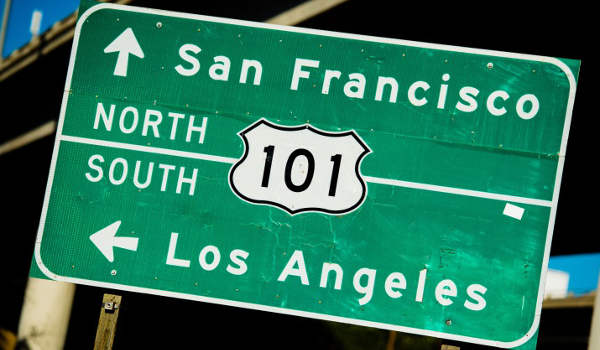 Finally, for the classic, All-American experience, take Interstate 5 from the airport and drive north along the southern California shoreline. Better yet, take Interstate 5 up to Los Angeles, cut over to the Interstate 405, and cruise on to one of the most famous highways in America, U.S. Route 101. It is the longest highway in California and the United States. Built in 1926, it is one of the last remaining U.S. routes in existence. The best way to travel this iconic road is in a classic convertible with the wind in your hair. A marvelous destination with easy access from San Diego, every visitor to the area should rent a car and drive this great American road.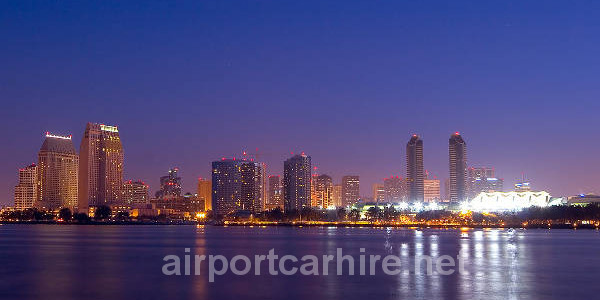 If you want to see and experience these amazing sights, all within driving distance of the San Diego airport, book your car rental in San Diego now online. Use our simple and secure booking process to make your reservation in three easy steps, and we will find the perfect car rental deal for you!