Kansas City Airport Car Hire USA
Last Updated: 1st May, 2021
We compare car hire prices in Kansas City airport MCI and down town Kansas city to bring to you the best deals from the top rent a car companies in Missouri. ACE, Hertz, Avis, Alamo, Budget Dollar, FOX National, Thrifty, are located at Kansas City Airport terminal building. The Gray Rental Car Shuttle stops at the marked shelters. Always book your car rental in Kansas City Airport in advance obtain the best prices.
Kansas City International Airport is situated 24 km (15 miles) Northwest of Kansas city in Missouri. It is the 36th busiest airport in the US with nearly 5 million passengers per annum.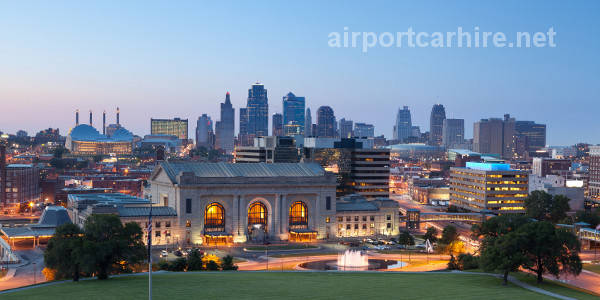 Kansas City Car Rental FAQ
Which is the best car hire company at Kansas City Airport in Missouri?
Based on feedback from over 10,000 customers who hired a car at at Kansas City Airport, National Car Hire have the best customer satisfaction rating with a score of 8.8 out of a maximum of 10 points.
Can I rent a car at Kansas Airport with a debit card?
Yes you can hire a car at Kansas Airport with a debit card issued by a bank. Conditions of debit card use: card must be in main driver's name. MasterCard or VISA only. Debit cards must be issued by a bank, and numbers must be embossed. Please note, the deposit amount will be charged if using a debit card and associated transactions fees may apply. Maximum rental duration 28 days if using a debit card. Prepaid and electronic cards (Visa Electron) are not accepted. Be sure to check the filter for Both Credit and Debit Cards on the left side under the heading Cards Accepted At Pick-Up. This will display the car hire companies that will accept Debit Cards. Please contact us and we will be glad to explain how rent a car with a debit card in Kansas
Is it safe to rent a car during Coronavirus Covid-19 at Kansas Airport?
Yes, car hire is one of the safest methods of transport during Covid-19. Car rental companies are essential service providers and will remain open during the Covid-19. Additional precautions and safety measures are currently in place. All cars are deep cleaned and sanitised along with the rental office in line with WHO guidelines. Alamo, Avis, Budget, Dollar, Enterprise, Hertz, National, Sixt, Thrifty are the car hire companies that sanitise rental cars at Kansas Airport.
Can I rent a car at Kansas City Airport Missouri if I am over 70?
Yes, you can hire a car in Kansas City from selected car rental companies up to 99 years of age with no extra charges. Contact us we will be glad to assist you by comparing the leading car hire companies to get you the best deal.
Can I rent a car at Kansas City Airport if I am under 25?
You can hire a car at Kansas City Airport at 18 years of age, with no additional fees. Please contact and we will be glad to explain how to get the best deal for your age group.
Age Requirements to Rent a Car in Kansas Airport
The minimum age to rent a car at Kansas Airport is 21 but there will be a supplement. The maximum age is 99. Please confirm the driver's age requirement for the car you choose, as the age requirement may vary according to the size of the car. Please see the ages requirement for each of the car hire companies at Kansas Airport
Can I take a rental car from Kansas City to visit a different state?
Yes some car hire companies will allow you to take a rental car cross border, but you will need to get permission first. There will be additional fees to cross an International border.
Can I take a rental car from the USA to Canada or Mexico?
In most cases, vehicles may be driven across the Canadian border, this will depend on which car supplier at Kansas City Airport you choose. Vehicles may be driven into Mexico with prior authorization and from any locations in California, Arizona, New Mexico and Texas. An additional Mexican insurance must be purchased locally to do so. The cost of Mexican insurance is between $38.00 - $48.00 USD per calendar day plus taxes and fees, which will assist with breakdown issues. PERS is not available in Mexico. Due to Mexican Law, Mexican citizens are not permitted to drive U.S. owned vehicles in Mexico. Any attempts to do so will result in fines and penalties.
Can I take a rental car from Kansas City and drop it off in a different city?
Based on availability, one-way rentals may be allowed to some U.S. cities. You will need to check with the car hire supplier as each supplier will have different travel restrictions. When you do a quote on out site you can view the travel restrictions for each supplier. There will be an additional one way rental fee if you leave the car in a different location to the pick location.
How long do I need to hold a licence in order to rent a car at Kansas City Airport?
A full licence held for minimum of 1 year with no major endorsements. UK licence holders need to present the photo card
Which documents do I need to hire a car in the USA?
The principle driver will need to have the following documents in his or her name. A full licence, a credit card, the voucher we will send you when you complete your booking, and a passport. A printed version of your voucher must be produced upon arrival at the rental desk. Failure to present the voucher means the car rental agent may charge you at the local rates. With Budget rentals you will also need one original form of proof of address.
What is the fuel policy for a hire car at Kansas City Airport?
This will depend on the car hire supplier you select. The vast majority of cars have a full to full fuel policy, which means your vehicle will be supplied with a full tank of fuel. To avoid incurring fuel charges, you will need to return it with the same amount of fuel as it had when you collected it. You can also choose pick up full return empty. This maybe more convenient if you wish to drop the car back without delays, but it will be more expensive.