Nevada Car Hire USA
Last Updated: 14th Jan, 2022
Nevada is known primarily for the never-ending party that is Las Vegas, but the real sights to be seen on a road trip go far beyond that. Explore wild terrain in national parks, and venture along stretches of endless highway on a road trip through Nevada.
Begin your journey through the desert in the oasis of Las Vegas. Las Vegas McCarran International Airport is the perfect place to hire a car. If the lights and glitter of Las Vegas excite you, spend a few days here gambling, partying, shopping, or watching the world-class shows before venturing onwards.
After Las Vegas, head south to one of Nevada's most impressive manmade features off the strip – Hoover Dam. Afterwards, drive to Overton just off the I-15 and explore the Lost City Museum where you will see artifacts and old buildings from the lost civilization of Anasazi. Other than Lake Mead in the distance you are surrounded by harsh desert, which makes for an interesting contrast.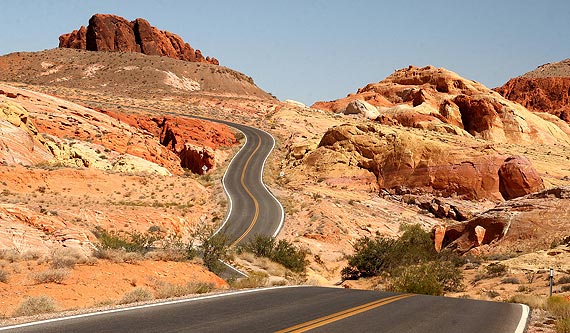 Nevada See & Do
Moapa Valley Drive
Outside of Overton along the Moapa Valley Drive, you'll take yourself through the red sandstone wind-carved sculptures in the Valley of Fire. The Valley of Fire State Park has excellent hiking trails like the Petroglyph Canyon Trail and the White Domes Trail.
Head north along the winding Highway 95 up to Carson City. Near the capital of the state lies Lake Tahoe, a pristine lake with gorgeous hiking trails like the ones along Snow Valley Peak and great lakeside activities. The beautiful state park will be a welcome oasis before driving the exciting US-50 across Nevada.
Known as "The Loneliest Road in America", the US-50 byway crosses about 600 km of mountain ranges and long stretches of road. More scenic that the common I-80 used to cross Nevada, the byway intersects mining towns along the way like Eureka.
Riches below were originally discovered in 1864 here and became a booming mining town and one of the most populated in the state. Now, the town holds much historic glory for you to discover at old venues like the Opera House and one of many saloons that dot the town.
With so much to see in the Silver State, it's almost too much to fit into just one road trip. The beauty of Nevada stretches all across the state and there is much to see in the state parks and small towns to explore along what is sure to be a road trip to remember.