Seattle Tacoma Airport Car Hire USA
Last Updated: 14th Jan, 2022
Rent a Car at Seattle Tacoma Airport Washington from all the leading car hire companies in Seattle. Hertz, Avis, Dollar, Thrifty, Alamo Enterprise and Budget. Don't waste time shopping around, let us do it for you, saving you time and money. Best prices guaranteed. To get to the rent a car desks you will need to take a shuttle bus from outside baggage claim at the north and south ends of the main terminal. When returning your car rental take SR518 and follow signs for Rental Cars.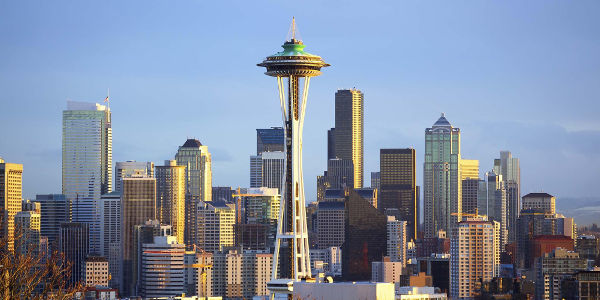 Seattle Tacoma Car Rental FAQ
Which is the best car hire company at Seattle Tacoma in ƒ USA?
Based on feedback from over 10,000 customers who hired a car at at Seattle Tacoma, AVIS have the best customer satisfaction rating with a score of 8.3 out of a maximum of 10 points.
Can I rent a car at Seattle Tacoma USA with a debit card?
Yes you can hire a car at Seattle Tacoma with a debit card issued by a bank. Conditions of debit card use: card must be in main driver's name. MasterCard or VISA only. Debit cards must be issued by a bank, and numbers must be embossed. Please note, the deposit amount will be charged if using a debit card and associated transactions fees may apply. Maximum rental duration 28 days if using a debit card. Prepaid and electronic cards (Visa Electron) are not accepted. Be sure to check the filter for Both Credit and Debit Cards on the left side under the heading Cards Accepted At Pick-Up. This will display the car hire companies that will accept Debit Cards. Please contact us and we will be glad to explain how rent a car with a debit card
Can I rent a car at Seattle Tacoma Washington USA if I am over 70?
Yes, you can hire a car in Seattle Tacoma from selected car rental companies up to 99 years of age with no extra charges. Contact us we will be glad to assist you by comparing the leading car hire companies to get you the best deal.
Can I rent a car at Seattle Airport if I am under 25?
You can hire a car at Seattle Airport at 21 years of age, with no additional fees. Enterprise Car Hire currently charge young driver's aged between 21 to 24 years $25 USD per day (Includes tax). While budget charge $35 per day if you are 21 to 24. Please contact and we will be glad to explain how to get the best deal for your age group.
Age Requirements to Rent a Car in Seattle Tacoma Airport
The minimum age to rent a car at Seattle Tacoma Airport is 21 but there will be a supplement. The maximum age is 99. Please confirm the driver's age requirement for the car you choose, as the age requirement may vary according to the size of the car. Please see the ages requirement for each of the car hire companies at Seattle Tacoma Airport
Can I take a rental car from Washington to visit a different state?
Yes some car hire companies will allow you to take a rental car cross border, but you will need to get permission first. There will be additional fees to cross an International border.
Can I take a rental car from the USA to Canada or Mexico?
In most cases, vehicles may be driven across the Canadian border, this will depend on which car supplier at Seattle Tacoma you choose. Vehicles may be driven into Mexico with prior authorization and from any locations in California, Arizona, New Mexico and Washington. An additional Mexican insurance must be purchased locally to do so. The cost of Mexican insurance is between $38.00 - $48.00 USD per calendar day plus taxes and fees, which will assist with breakdown issues. PERS is not available in Mexico. Due to Mexican Law, Mexican citizens are not permitted to drive U.S. owned vehicles in Mexico. Any attempts to do so will result in fines and penalties.
Can I take a rental car from Seattle and drop it off in a different city?
Based on availability, one-way rentals may be allowed to some U.S. cities. You will need to check with the car hire supplier as each supplier will have different travel restrictions. When you do a quote on out site you can view the travel restrictions for each supplier. There will be an additional one way rental fee if you leave the car in a different location to the pick location.
How long do I need to hold a licence in order to rent a car at Seattle Airport?
A full licence held for minimum of 1 year with no major endorsements. UK licence holders need to present the photo card
Which documents do I need to hire a car in the USA?
The principle driver will need to have the following documents in his or her name. A full licence, a credit card, the voucher we will send you when you complete your booking, and a passport. A printed version of your voucher must be produced upon arrival at the rental desk. Failure to present the voucher means the car rental agent may charge you at the local rates. With Budget rentals you will also need one original form of proof of address.
What is the fuel policy for a hire car at Seattle Tacoma?
This will depend on the car hire supplier you select. The vast majority of cars have a full to full fuel policy, which means your vehicle will be supplied with a full tank of fuel. To avoid incurring fuel charges, you will need to return it with the same amount of fuel as it had when you collected it. You can also choose pick up full return empty. This maybe more convenient if you wish to drop the car back without delays, but it will be more expensive.
Seattle Tacoma Car Rental Locations
Car Hire Seattle Tacoma Airport
Seattle Airport (SEA) SEA-TAC INTL AIRPORT,17205 INTERNAL, 98188
Car Hire Seattle Tacoma City
Seattle - Downtown 1301 6TH AVE.,HILTON HOTEL, 98101, WA SEATTLE US
Seattle - Financial District 14333 Aurora Ave N. Ste 3 Seattle US

Seattle Tacoma Airport Information
Airport Name: Seattle Tacoma Airport
IATA SEA
ICAO: KSEA
Address: 17801 International Boulevard, Seattle, Washington 98158
City: Seattle Tacoma
Country: Washington
Telephone: ++1 206 787-5388 br> Time Zone: GMT -8
Coordinates: 47°26′56″N 122°18′34″W<
Driving Directions to Seattle Tacoma Airport
Car Parking: Long and Short Term Parking Facilities available
Taxi service: Aituated 3rd floor of the parking garage l
Train service: The Link Light Rail service runs from 5 a.m. to 1 a.m
Bus service:
Car Hire: The car rental desks are located in the arrivals hall
Information Desk: Located in the arrivals hall
Facilities:

Flight Destinations from Seattle Tacoma Airport
Air Canada
Air Canada Express
Alaska Airlines
All Nippon Airways
American Airlines
Asiana Airlines
British Airways
Condor
Delta Air Lines
Emirates
EVA Air
Frontier Airlines
Hainan Airlines
Hawaiian Airlines
Icelandair
JetBlue Airways
Korean Air
Lufthansa
Southwest Airlines
Sun Country Airlines
United Airlines
US Airways
Virgin America
Seattle Tacoma See & Do
Seattle road trips
Seattle is truly a gem of the gorgeous and green pacific northwest. Surrounded by nature and beauty, some of the most unique places to visit are outside of Seattle, yet within a short distance from the airport. Put these highlights of the pacific northwest on your list of places to visit.
Mount Rainier
Driving Time: 2½ hours
Due to the fact that Seattle receives rainfall an average of 155 days a year, many visitors do not see Mt. Rainier. It is breathtaking road trip for those who are lucky enough to visit on the sunny days. The Paradise area of Mt. Rainier National Park is open year-round and is gorgeous during every season. Covered in snow during the winter and spring, Mt. Rainier is a wildflower wonderland during the summer and covered in reds, oranges, browns, and golds in the fall.
Snoqualmie Falls
Driving Time: 45 minutes
One of the greatest things about 155 days of rain a year means that there are always roaring, majestic waterfalls to go and enjoy. Snoqualmie Falls is a 270-foot waterfall on the Snoqualmie River that attracts over one million visitors a year. At the top of the falls is an observation deck and there are hiking trails to the bottom if you're feeling adventurous. For a fun side trip stop at local winery Chateau Ste. Michelle.
From Seattle-Tacoma Airport, take Interstate 405 north to Interstate 90 east to exit 25. Then drive on Highway 18 and Snoqualmie Parkway north to the entrance of the falls.
Tacoma Museums
Driving Time: 30 minutes
When flying into the Seattle-Tacoma Airport, make sure you visit both cities. One of the highlights of Tacoma is its Museum Row on Pacific Avenue. A wonderful place to spend an afternoon or a full day, stop by the Museum of Glass, Tacoma Art Museum, Washington State History Museum or the Children's Museum of Tacoma. In 2012, the LeMay - America's Car Museum opened its doors and is a great spot for families.
From the airport, take Interstate 5 south to exit 133 for Interstate 705 north and follow signs to the museums.
Coupeville, Whidbey Island
Traveling Time: 2 - 2 ½ hours
Whidbey Island's Coupeville is sometimes referred to as Mussel Beach, so if you like fresh shellfish, journey north to this magical shellfish haven. The second-oldest town in Washington, Coupeville overlooks Penn Cove, America's largest and oldest mussel farm. Work up an appetite by strolling through town and touring buildings from the 19th century. Then feast on mussels at Toby's Tavern or Front Street Grill, which has created over ten different recipes for mussels, with the most popular menu item being the coconut-green curry.
From the airport, take Interstate 5 north for about an hour to exit 182 for Highway 525 north. Washington State Ferries connects to Whidbey Island from Mukilteo via a 20 minute ferry ride. Coupeville is 28 miles from the ferry landing via Highway 525 on Whidbey Island.